Snow Blankets Scarsdale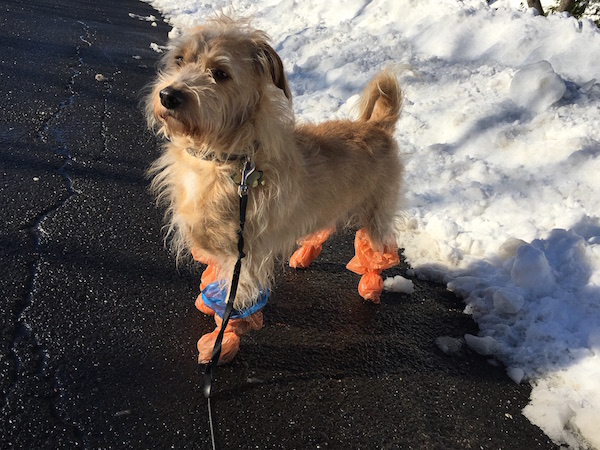 Scarsdale received at least a foot of snow on Saturday January 23rd. As the Village Manager's office asked everyone to refrain from using the roadways or parking on the street, most stayed indoors for the duration of the storm, leaving the snowfall undisturbed until Sunday. We awoke to bright sunny skies and a beautiful winter wonderland. Here are a few snow photos from around town. If you have more to share, please send them to scardalecomments@gmail.com.
See the photo on the left of my house on Colvin Road around 9 pm on Saturday night:
On Sunday morning, Theodore Bear (at top) donned orange plastic shoes made from plastic newspaper bags to protect his feet against the salt and snow.
A friend on Dickel Road sent this shot below of her patio.
Todd Finger shared the photo below of snow banks in front of Metro Deli on Palmer Avenue.
And while everyone was inside watching, Mayor Jon Mark reported that "the Department of Public Works did a terrific job overnight of clearing the streets following an impressive snowfall. The Village's 25 miles of sidewalks will be cleared over the next several days and the mountains of snow in the Village Center will also be trucked away. We appreciate residents' patience while the crews go about the task of tiding up the Village. Merchants are reminded that they are responsible for clearing the sidewalks in front of their stores."
Below find a picture of the Village Center at 10:12 am on Sunday morning.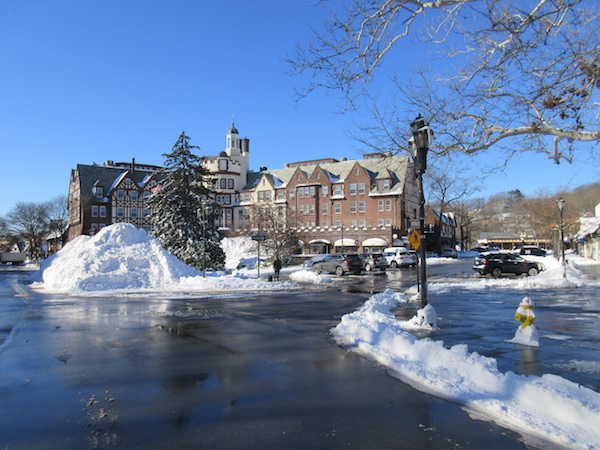 BLOG COMMENTS POWERED BY DISQUS