Mix Up the Workout at MYX Fitness
Oh, how we fretted in Scarsdale when Body Fit closed. Although there are plenty of gyms cycling and yoga studios to join, Body Fit offered their own unique approach that devotees feared they would never find again in Scarsdale. But when they heard the MYX Fitness had opened, former customers and many others headed over to tour MYX's beautiful new facility and sample their diverse workout menu.
Located in the Golden Horseshoe Shopping Center, (side note: there's parking! And it's free!) MYX was founded by Cindi Fisher of Scarsdale and her partner Stefanie Rosenzweig who describes MYX as "...an upscale, boutique fitness spot." But what is boutique fitness and why might you want to try it? Stefanie answered this for me. "Boutique fitness may be a bit more expensive than the traditional big box gym (it's pay-per-class), but we offer smaller class sizes so you are able to receive more personalized attention and form correction than when there are 40+ people squeezed into a room," she said. Personally, I loved that no one seemed to be pushing for a mat or for weights because there were so many fewer people than at "the gym" when I tried out MYX's classes. Stefanie added, "At MYX, you only pay for the classes you use and our passes never expire. There's no fee to join and you don't get charged when you're not using the facilities like with gym memberships."
This was my first experience with boutique fitness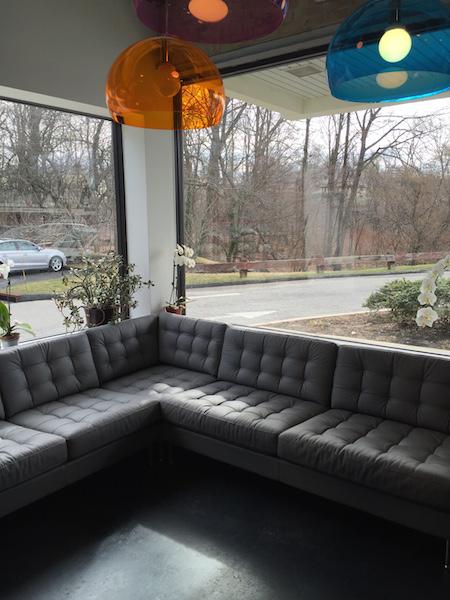 and I quickly saw the appeal. When you walk into MYX, you get a locker and choose a couple of numbers to make it lock. (Stefanie is always ready with the master key for people like me, for example, who forgot the TWO numbers I chose.) There are couches in the entry area and socializing is encouraged. There are amenities galore like almonds to grab on-the-go, name brand toiletries, clean and gorgeous bathrooms, and even a shower loaded with everything you might need. Heart rate monitors are distributed before each work out to allow you to monitor yourself during the class as well as over time through the web-based tracking system employed by MYX.
So how does MYX differentiate its fitness training from other places in the area? Stefanie said, "We offer classes no one else is offering in a desirable, boutique setting: HIIT , TRX, Boxing, Tabata (Q-MYX), and more and all of the classes are a full 60-minutes. At MYX, you can take 10 different types of classes and you're not locked into just one type of workout." She continued by saying, "We have secured some of the best fitness instructors in the area and between their energy, passion, and experience paired with our personalized customer service, it has not been surprising to see new faces every day as well as the same people now continuing to come back." The instructors I chatted with gave me the sense that they felt honored to be teaching there.
MYX's philosophy is based on muscle confusion and continuously changing the workout routine to increase your fitness level and change your body. Without a change in type of exercise, we hit an inevitable plateau- both with our bodies and our minds. MYX works with clients to strategically alternate through different classes to maximize the workout. Rochelle W., a very happy new client, testified to the fact that she's never felt better since beginning classes at MYX. "MYX opened at the right time for me as I was ready to get serious about exercising. I love the variety of the classes and quality of the teachers. I have significantly improved my fitness level and have lost weight and inches."
Classes are not limited to women. Eric T. just finished up a workout with MYX instructor Harry Otto and said, "Classes are hard core and great!"
Nutrition services are offered as well. "MYX Reboot" is a 4-week customized meal plan paired with a workout schedule to help get someone started on the path to a healthier lifestyle.
And for germaphobes, I witnessed the cleaning staff come in immediately after the classes to clean the mats before they were used again. I don't know about you but when I see someone pour sweat onto a mat and then they roll it up and stick it back in the rack at the end of their workout, I say "ew" out loud.
MYX gives back to the community and beyond with $1/person/class donated to a charity of the month. This month they are raising money for the PaulieStrong Foundation.
MYX is open 7 days a week in the Golden Horseshoe Shopping Center at 1142 Wilmot Road, Scarsdale. 914-472-6000. http://www.myxfitness.com.
This is sponsored content from MYX Fitness.