Love in the Age of Alzheimer's: Wedding Bells at The Ambassador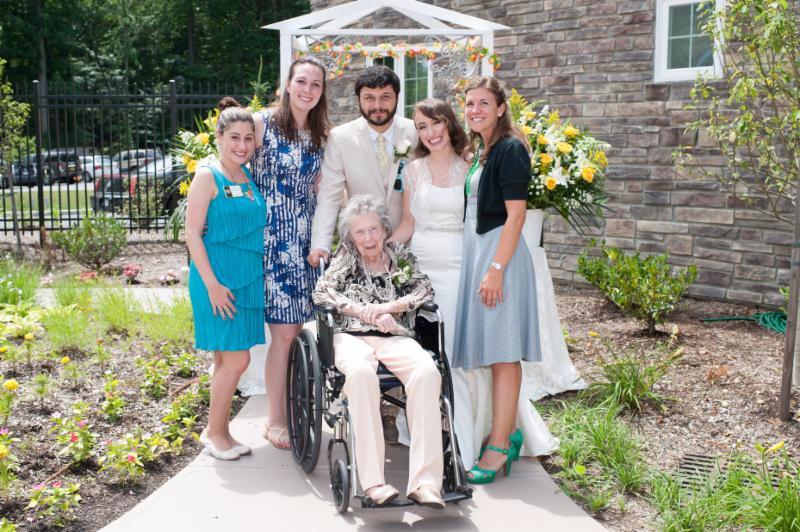 Jessie Appel always thought she would get married at her grandmother's house on Shelter Island. But when her grandmother moved to the Ambassador of Scarsdale, it appeared that Jessie would have to shelve her plans. However, when the staff at the newly opened community heard about the wedding dilemma, they stepped in and proposed a plan that would allow Jessie to marry her fiancé Mack Kronberg at her grandmother's home .... her new home that is.
"Jessie had pretty much given up on her dream to marry at her grandmother's home," recalls Mack. "But then, shortly after we got engaged, we went to visit The Ambassador, and as we passed the courtyard, this powerful image took hold of us standing there saying our vows amid the flowers and greenery and this strong community that has accepted Mrs. Reilly and us with open arms."
Marianne Reilly, Jessie's mother and Mrs. Reilly's daughter, agrees. "I find this ceremony and this place to be sacred because they celebrate life as it is now," she says. "We're all in this together."
In attendance at the July 10th ceremony were the couple's immediate family and close friends, as well as residents of The Ambassador's Memory Care Community, and their loved ones, who have become an extension of Jessie's family. Reveling in her roles as gracious host and proud grandmother, Mrs. Reilly delivered a brief yet poignant toast. "Today is the day that my granddaughter is getting married to the one she loves," she enthused. "I wish her happiness with love. It is an honor to be here on Jessica and Mack's wedding day!"
"It was a wonderful feeling to help Mrs. Reilly be at her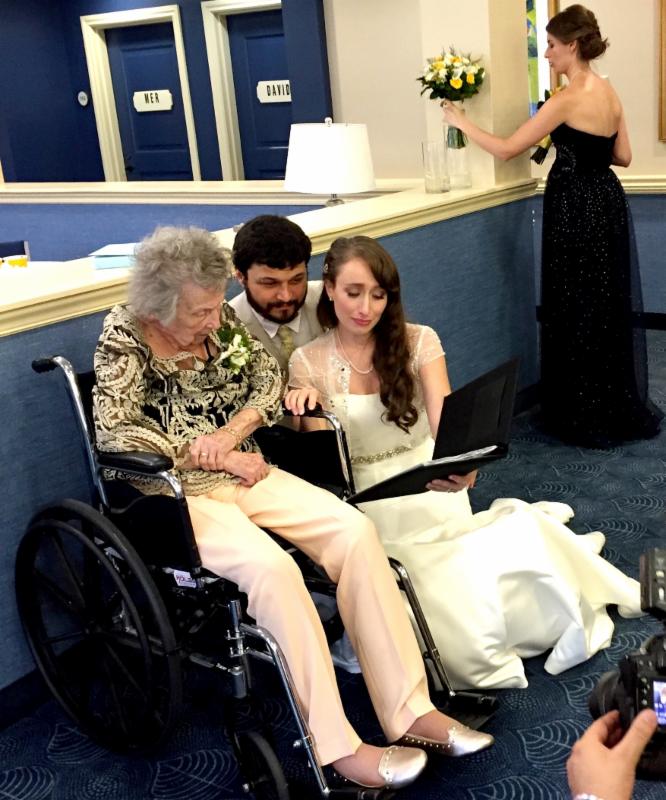 granddaughter's wedding," says Sarah Rouke, the Memory Care Community Director. Given Mrs. Reilly's flagging health and memory -- the dementia-related drivers of her move to The Ambassador -- her attendance wouldn't have been possible had the ceremony occurred elsewhere, she adds.
Mrs. Reilly presented the newlyweds with a homemade book of marital advice from residents of the Ambassador.
Kerry Mills, founder of Engaging Alzheimer's, and a dementia coach for The Ambassador's Memory Care Community said, "Jessie and Mack's desire to have Mrs. Reilly present emphasizes that the deep connection people share surpasses memory and verbal communication."
After the main event, The Ambassador hosted an intimate reception, where the in-house chef rolled out a surprise wedding cake. The bride said, "This has been so much better than the fairy tale wedding I imagined as a little girl," says Jessie. "This is our reality, and we're incredibly happy."