A Team to Watch: Raiders Field Hockey
After beating back-to-back Class A State champions Mamaroneck in their season opener last Wednesday, it became obvious that Scarsdale Girl's Field Hockey is a team to watch this year. The Raiders shut out Mamaroneck 4-0, turning the tables from last year's 5-0 loss. Sophomore starter Julia Jamesley was excited about Wednesday's win, and believes that the momentum from their victory will propel the team forward through the rest of the season. "After finally beating Mamaroneck, I think we are all very determined to play our hardest and push ourselves to win most of our games."
The team lost nine seniors after last year's season, providing an opportunity for underclassmen to step up and play bigger roles. Team Captain and All State player Erin Nicholas noted that this year's team is younger and much less experienced than last year's, but what they are lacking in experience, they are making up in athleticism. "We have a lot more speed this year which helps us quickly transition the ball from defense to offense," Nicholas said. She also mentioned that there are advantages to having a younger team. " A lot more kids on this year's team are determined to do well and work hard both in games and during practice". Jamesley also recognized the way that the underclassmen are handling the loss of experienced from last season. " Even though we lost a lot of key players, we are definitely creating a strong dynamic, the underclassmen are trying to step up, and we are beginning to work better as a team."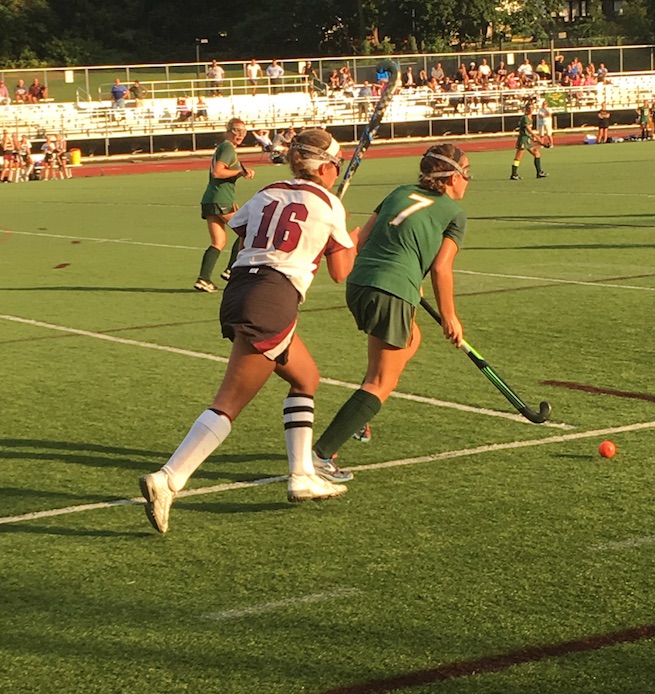 Coming off their win on Wednesday, the Raiders played their most formidable opponent, Lakeland, on Friday. The Lakeland team has dominated New York State Girl's Field Hockey for the past decade, winning seven straight Class B State Championships with their most recent state win in 2015. Although many teams would be wary about playing such a strong team, the Raiders embraced this challenge and used it as a way to hone their skills. "The benefits of playing a strong team like Lakeland is that we can learn from the way they played against us" Nicholas said. "When playing such a great team, our weaknesses are exposed. This helps us learn more about our team and the things we can work on both individually and as a group." This mentality helped the Raiders, leading them to fight until the last whistle, ultimately losing 3-1. The Raiders looked strong throughout the entire game, with Lakeland capitalizing on only minor lapses in the team's play. Nicholas is excited to treat this game as a learning experience to help the team for the rest of the season. "We can now watch film on how they played to see what worked well for them that we could maybe implement into our play."
Looking forward to the rest of the season, the Raiders hope to continue improving and bonding as a team. Spectators should be excited to see how much this young ambitious team can accomplish this season.