50 Years Later: The SHS Class of 1968 Returns for a Memorable Reunion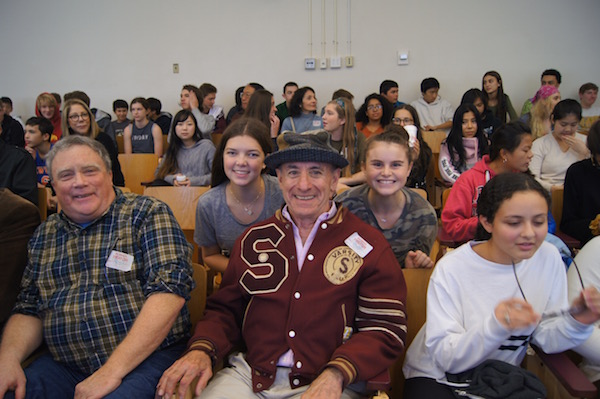 They came from as far as Switzerland and San Diego and as near as Edgewood and Edgemont to remember their high school years, which for some, were the best in their lives. 220 members of The Scarsdale High School Class of 1968 returned to the 'Dale from October 12-14, 2018 to reconnect with old friends, tour former haunts and examine how their classmates and Scarsdale has changed in the past 50 years.
The original class of over 400 students has already lost 50 members, who were memorialized with a video and ceremony on Saturday October 13th. However, the bonds among class members remain strong as more than half of the class made the trip back.
5th Grade Class Heathcote School circa 1960The celebration began on Friday October 12 with tours of the elementary schools. This class (pictured above) was among the first to attend the newly built Heathcote Elementary School. In the words of Gary Marcus, who forwarded the class picture above, "In the 1950's Heathcote was seen as a new model school for a modern era - from its open architecture to hiring Charity Bailey as our music teacher. Ms. Bailey was African American singer and actress teaching white suburban kids songs that slaves sang while picking cotton "Cotton needs picken so bad." This alone was emblematic of the forward looking tenor of Heathcote at that time."
The Heathcote Class of 1961 - Reunited 50 years later
50 years later, the class of '68 was among the first alumni to have lunch in the new learning commons at Scarsdale High School, completed in the spring of 2018. Accustomed to more traditional classrooms, some asked what this type of space was for, and why it was needed. Principal Kenneth Bonamo explained that the learning commons was "designed with the modern adolescent in mind and reflects today's methods of teaching and learning."
Superintendent Thomas Hagerman welcomed the visitors, telling them, "Our goal is to create people like you!"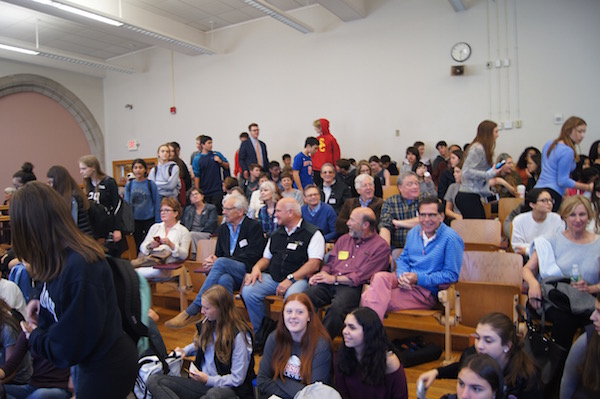 Following lunch, the group joined three classes of students in the Little Theater for a forum led by Social Studies Department Chair John Harrison titled, "1968-Then and Now." He opened by telling the group about the remarkable historic events of the spring of 1968 when the country was involved in the controversial Vietnam War, Martin Luther King was assassinated, President Lyndon Johnson announced he would not seek a second term and Robert F. Kennedy was murdered while campaigning for the presidency.
The returning class said that these events defined their senior year. They remembered boarding buses to Washington DC to attend the Poor People's March to protest homelessness, where one woman said she helped to build a symbolic lean-to in Resurrection City for Ralph Abernathy.
Others said that SHS grads who were then students at Columbia University returned to Scarsdale to discuss whether or not the students should stage a strike, and many graduated wearing black arm bands to protest the war. Speaking about the events of 1968, Marcia Bell said, "We were serious and somber."
The men of the class discussed the lottery for the draft that was held that year. During the war years the government held a lottery by birthdates and drafted those in the top third of the draw. SHS class member Bob Green said, "Four days after I graduated from high school I was on a plane to Vietnam. It was a shock to go from Scarsdale to Vietnam. " He warned the students, "Don't blow away your grades."
Another big difference between 1968 and 2018 were the rules for female students. In those days, girls could not wear pants, and short skirts were not allowed. One woman remembered having the length of her skirt checked with a ruler.
Girls could play only club, not varsity sports. However, Pamela Lessing noted that these were changing times for women. She was the only girl interested in marksmanship and a friend invited her to shoot with the team at the SHS rifle range, no longer present on the grounds. She earned a varsity letter but was initially not permitted into the all male Varsity Club. After the dean's prevailed she was the first woman in the club, but had to hunt down her own varsity jacket.
Another alum noted that when the class entered their freshman year at SHS, no one had heard of marijuana. But by the time they graduated, a good number of them had tried it.
What did they do for fun? Some rode the bus up Post Road to go to one of the many movie theaters in White Plains while others had fond memories of ice skating on Library Pond and Duck Pond.
Technology has also revolutionized education. Stephanie Diamond told the teens, "We didn't have computers or smart phones. We had Texas Instrument calculators. We had to know how to do the math in our heads or on our slide rules."
Diana Raphael remembered history class with famed teacher Eric Rothschild. She said, "I never had a teacher like Mr. Rothschild again. On the first day of class he threw the history text book into the trash can and said we would be using all original sources."
Graduation was different as well. The date was June 21, 1968. For the first time the ceremony was held outside, in a courtyard of the school that no longer exists. Fred Friendly was the speaker. Echoing the tone of the times, he told the graduating seniors, "The one thing I am going to ask you is "help!" The prom was held in the school's cafeteria that same night and following a tradition, after the prom, everyone piled into the car and headed for Jones Beach where they slept outside overnight.
Robin Schaffer, now of Edgemont, spoke wistfully about changes in parenting style. He said, "When we were growing up our parents were somewhat remote. They were busy doing what they were doing. We had a certain amount of freedom. We were our own actors. In each successive decade the kids have less freedom, less ability to make decisions. We were set loose in 1968 – but we had choices. Kids have no choices today. Their parents are into their lives eight ways until Sunday."
Linda Hillman Chayes, a member of the Class of '68 and a former member of the Scarsdale School Board said the following about the weekend:
"We graduated from Scarsdale High in 1968 in the midst of a cultural upheaval. The Vietnam War was raging and we witnessed the assassinations of Martin Luther King and Bobby Kennedy. We were leaving home, going off to college, at a point in time that called into question many of the assumptions and beliefs we had grown up with.
Maybe this is one reason why our class created such a strong community – such that 50 years later--our reunion this past weekend brought back together 220 Scarsdale alums. With the energies of many great leaders and doers in the class we had a wonderful three-day reunion full of moving and engaging activities that created their own new set of memories.
It was at our 20th year reunion in 1988 that I looked around at my fellow classmates and felt that if my kids turned out like them, I would be very happy. Three years later, we left New York City and moved the family back to Scarsdale."
The three-day reunion continued with dinners, a memorial celebration for the 50 classmates who have passed away, a trivia contest, a roundtable discussion and Sunday brunch at Chat in Scarsdale.
In the few hours I spent with the class of '68 it was evident that Scarsdale had been pivotal in their lives; when they attended school here and in the decades that followed.