SHS Students Raise Money To Fight Cancer and Lend a Hand At Hitchcock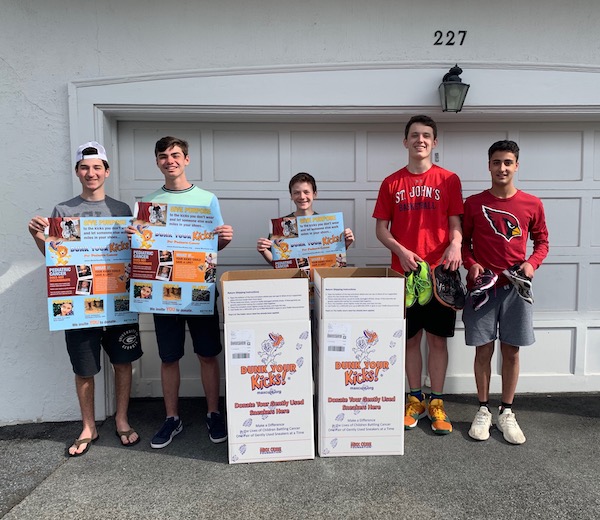 From left to right: Dean Glucksman, Jack McEvoy, Max McEvoy, Aidan Mansfield, Marc Ifrah (not in picture: Ford Lenchner, Rahim & Rhomy Mohamed)This spring marked the Fifth Annual Dunk Your Kicks sneaker collection, led by Dean Glucksman and his friends Jack and Max McEvoy, Aidan Mansfield, Marc Ifrah, Ford Lenchner and Rahim and Rhomy Mohamed. The DYK's campaign and initiative is intended to bring awareness to those families fighting pediatric cancer and to help the environment by keeping old "kicks" out of landfills. The money raised through the resale of this affordable footwear helps low-income and military families living in the U.S. with a child battling cancer.

With the support of local businesses and institutions including Barry's Bootcamp, Flywheel Sports, Pushlab Fitness, Club Pilates in Scarsdale and Ardsley, UFC of Mamaroneck, Westchester Reform Temple, Congregation Kol Ami and Temple Beth-El Synagogue Center of New Rochelle, these boys collected over 250 pairs of gently used sneakers. In addition, Dean held his third consecutive Max Cure Foundation March Madness NCAA basketball bracket and raised over $3,500 for the foundation.
SCOUTS LEND A HAND AT HITCHCOCK
The Scarsdale Boy Scouts Troop 4 helped out its charter organization, Hitchcock Church. The boys assisted with spring planting on Monday, May 6th. Their work can be seen by anyone driving past the church in Greenacres.