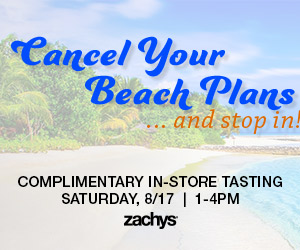 Time to cancel your beach plans and take advantage of the insane deals happening in store this weekend! Stop by Zachys on Saturday August 17 from 1-4 pm.
The summer weather is still here, and we know it won't last long. However, we are cooking up a deal that's sure to make you question whether you need to haul out to the beach after all. As part of efforts to bring you great options at incredible deals, we are offering over 20 wines with amazing savings that you'll just have to see to believe.
This event is our way of giving you a great deal and making room for all the items you've requested and love seeing in Zachys. All you need to do is take a drive into Scarsdale and you'll see just how amazing this deal is. Afterall it's not every day you can get some off these wines for more than 50% off. Faiveley, Henri Boillot, Terrebrune and San Filippo are just a few of the names you'll see during this deal of Zachys lifetime. Hurry in and don't miss out!
Categories
Powered by JCal Pro - the Joomla Calendar