Scarsdale Shoppers Enjoy Great Deals at the Scarsdale Sidewalk Sale
Wednesday, 01 August 2018 14:44
Last Updated: Wednesday, 01 August 2018 20:52
Published: Wednesday, 01 August 2018 14:44
Sarah Kazan
Hits: 1956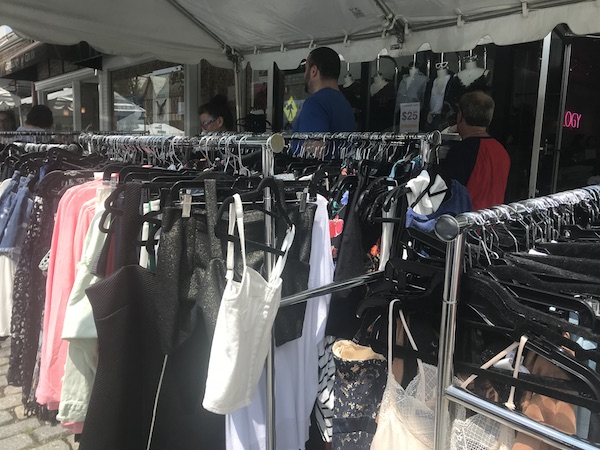 Scarsdale shoppers flocked to the Scarsdale Sidewalk Sale in search of deals from their favorite stores on July 26-28. Scattered showers forced the shopper to huddle underneath tents and awnings but did not dampen their enthusiasm for the search through racks and bins. Many stores offered free samples, including Bango Bowls which provided a taste of their açaí bowls. Other freebies included lip tint from Babo Botanicals and Italian ices courtesy of the Scarsdale Fire Department. Food, books, clothing, jewelry, gifts and discounts on services sweetened the pot.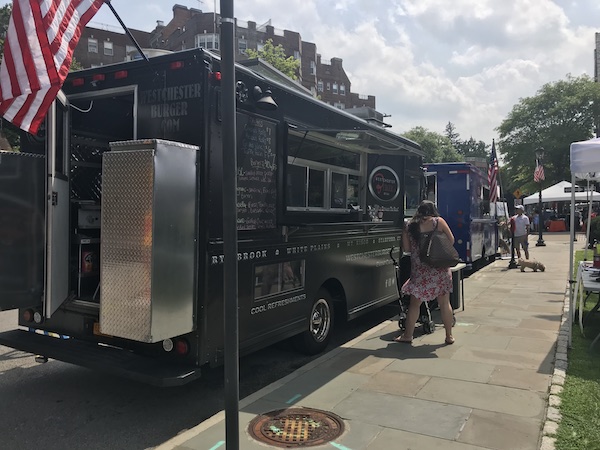 There was something for everyone. The Scarsdale Police and Fire Departments each had their own tents and taught children how to stay safe. Children could also get their picture taken in a fire truck.
On Friday and Saturday food trucks from Westchester Burger Company and The Souvlaki offered hungry shoppers a full menu. On Saturday, children gathered in Chase Park to hear a free performance from Songs for Seeds, which also offers music classes for children. The children sang and danced along with the band, and had a great time.
Commenting on the sale, Darci DeMatteo, the new Executive Director of the Scarsdale Business Alliance said, "The Scarsdale Sidewalk Sale was a wonderful event. The town was buzzing and we were thrilled to be able to collaborate with the village, the police and fire departments and the merchants to create energy, lots of foot traffic for the retailers and enthusiasm among the community members. We are thrilled the new Scarsdale Business Alliance was able to pull this together in such a short amount of time and we look to make it even better for next year."
Ken Giddon, President of Rothmans added, "The Scarsdale Sidewalk Sale was a huge success! It's not only good for the merchants to generate sales in the summer months, but it's an amazing opportunity to see so many residents out and about socializing, shopping and having fun."