Cannon to Leave School Board, District Announces Retirement of Administrator and Teachers
Details

Written by

Joanne Wallenstein

Hits: 1910
Nina CannonBoth her board colleagues and the administration appeared to be surprised by school board member Nina Cannon's announcement at the BOE meeting on Monday night that she has decided not to run for a second term on the school board. Well-liked and respected, it was assumed that Cannon would continue to serve and move into a leadership position on the board during her second two-year term.
However, citing the responsibilities of her full-time job at Hunter College, Cannon said she was finding it difficult to manage her professional responsibilities and the time commitments she has as a board member, including attendance at board meetings and liaison assignments. She said, "I value the work we do at the table," but felt that she could not commit to another three years. She assured the board that her "term does not end until June," and vowed to "carry out her commitment."
Cannon has joined a growing list of recent board members who opted to retire after one term on the board. In recent years Joel Gurin, Jonathan Lewis, Sunil Subakrishna and Art Rublin have all decided not to serve a second three year term which left voids for experienced members to assume the roles of board vice president and president.
In June, in addition to Cannon, both Leila Maude and William Natbony will complete their six years of service on the School Board. The newly elected School Board Nominating Committee will now need to nominate three candidates to serve.
In other personnel changes, Assistant Superintendent Drew Patrick announced the following retirements as of July 1, 2019:
Larry Chatzinoff – Assistant Principal at the Scarsdale Middle School
Cheryl Higgins – Teacher at Heathcote Elementary School
Kate Krahl - Social Studies Teacher Scarsdale High School
Deb Krisanda – Teacher at Greenacres Elementary School
Lisa Onofri – Teachers at Heathcote Elementary School
Elizabeth Ungar – Math Teacher at Scarsdale High School
Here is an announcement from the School Board Nominating Committee about their candidate recruitment:
SBNC seeks candidates to nominate for three seats on the Scarsdale School Board: Nina Ledis Cannon not seeking second term on Board of Education.
The School Board Nominating Committee (SBNC) is seeking to identify potential candidates to serve on the Scarsdale Board of Education. The SBNC held its first meeting of 2019 on January 13th and is now engaged in active outreach to build a robust candidate pool.
Over the next several weeks, SBNC members will recruit and review candidates in order to nominate three candidates for the nonpartisan slate in the next school board election. The school board election and budget vote are slated for Tuesday, May 21, 2019. Bill Natbony and Leila Maude are completing their tenures on the board and Nina Ledis Cannon has chosen not to seek renomination.
The SBNC invites all Scarsdale School District residents to propose names of qualified individuals to serve on the Scarsdale Board of Education by email to sbncchair@gmail.com. A candidate must be at least 18 years old, a U.S. citizen, a qualified voter, and a resident of the Scarsdale School District for at least one year prior to the May 21st school board election date. Jordan Copeland, SBNC Chair, stated: "The non-partisan SBNC process is critical to the excellence of our Board of Education and our schools. This year we will be proposing three new candidates for the Board, so this is a rare opportunity for service-minded Scarsdalians to help shape the educational policies that profoundly affect the children of our community."
Interested candidates should complete a biographical information form and submit it via email to the SBNC Chair, Jordan Copeland, at sbncchair@gmail.com as soon as possible, but no later than 5:00 PM on Tuesday, February 26, 2019. Forms are available on the SBNC website at www.scarsdalesbnc.com. Please see the "Join the School Board" tab or contact the SBNC Chair for further information.
Contacts:
Jordan Copeland, Chair
Tanya Singer, Vice Chair
Looking Back at a Semester Abroad in Copenhagen
Details

Written by

Carly Glickenhaus

Hits: 1990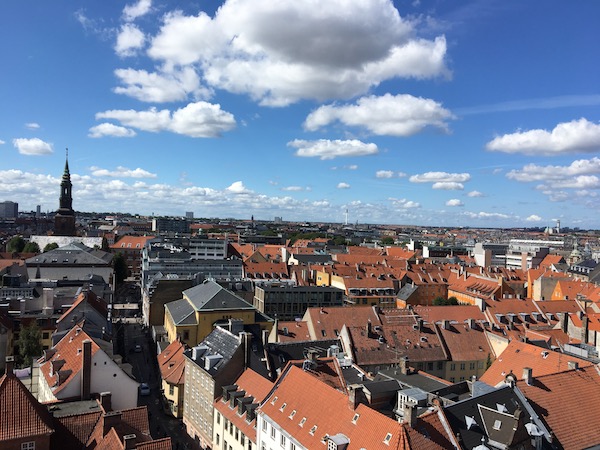 The American students leaving for their semester abroad, in a mass migration every year, are looking for very different things. My experience as a vegan D1 athlete studying counterterrorism in Denmark was probably not typical. As a student at the Danish Institute of Study Abroad, I travelled to Western Denmark, Dublin, and Belfast with a program called Terrorism and Counterterrorism from a European Perspective.
Though I was confident that I was smart, curious, and responsible enough to live in Denmark, it ended up taking more effort than just the skills I already had. Anyone can go abroad, but to enjoy almost every moment of the semester and get the most out of my investment took a tenacious and proactive effort on my part.
People say college is the first time you truly live on your own, but I'd say it is study abroad. College is like the game little kids play when they pretend to be adults, serving each other plastic food from the plastic kitchen in the basement while parents cook real food upstairs. College lets you feel a bit like an adult while still acting like a child.
Without the resources and cushioning of my university campus, my semester abroad was the first time I truly lived on my own. Sure, I could call my parents in an emergency, but only if that emergency happened after 2:00PM my time. Living on my own in a foreign country meant no student health center with my medical records and insurance card on file. Spraining my ankle turned in to an unintended field trip to the hospital to experience socialized medicine for myself. When I got food poisoning, I could not walk into my mom's room to tell her I threw up. I cleaned the communal bathroom sink while the toilet stared me down and mocked me for missing.
Taking care of myself meant being hyper-aware for my own safety but also for my education. My terrorism class travelled to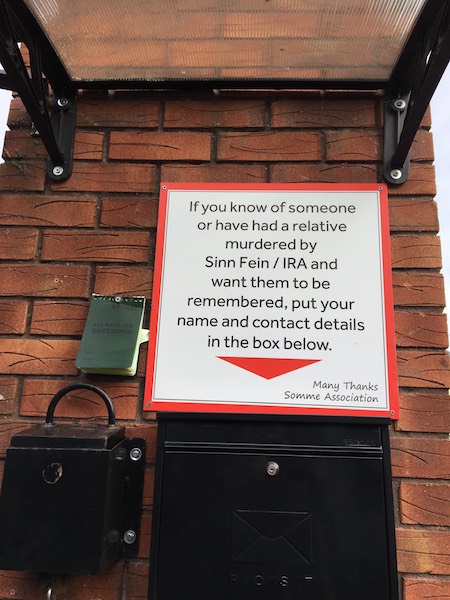 Street Sign in BelfastNorthern Ireland to study the history of sectarian conflict and the I.R.A. Our days were spent walking the alleyways of the city where we read propaganda from both sides of the conflict between the Catholics and Protestants. I watched the victim of a violent assault, head wounds freshly wrapped, order a pizza in Belfast, under the glow of lights from the police vans. I travelled with classmates who were as eager as I was to understand how violence can become a cultural norm -- a more powerful experience than all my lectures on the Prisoner's dilemma.
Keeping up with my normal routine of rowing before or between classes, I realized how much I'd relied on my dining hall for my chosen lifestyle. I couldn't swipe in to the dining hall for a quick and easy meal paid for by invisible currency on my student card. Grocery shopping in the U.S. was more an errand than an activity itself. But in Denmark, I needed to allocate enough time to forage for nutrients, especially since I'm not the typical omnivore. The same products I knew at home stood before me, but masked by the hieroglyphics of the Danish language, so walking through each aisle was a sensory overload. A few times, employees spotted the bewildered eyes of an outsider and asked me in English if I was looking for something in particular. Most of the time, my squinted eyes were hunting for the obscure health-food specialties. "Almond flour?" I asked the eager teen making twice my state's minimum wage. I was usually offered almonds and flour, and figured it wasn't worth asking for organic crunchy unsalted almond butter.
My zealot veganism ironically started in Denmark, a country whose primary export to the US is bacon. Inspired by a contagious biking culture, I was excited to be part of the Scandinavian sustainability model. Denmark is aiming to run on 100% renewable energies by 2050, and I was captured by the passionate commitment to rethink energy sources, starting with my own carbon footprint. I did not expect to enter such a niche subculture, a cult united by soy chorizo, and leave with a poster that says "If it's not your mom, it's not your milk," which will ward off unwanted carnivores on my college dorm door this semester.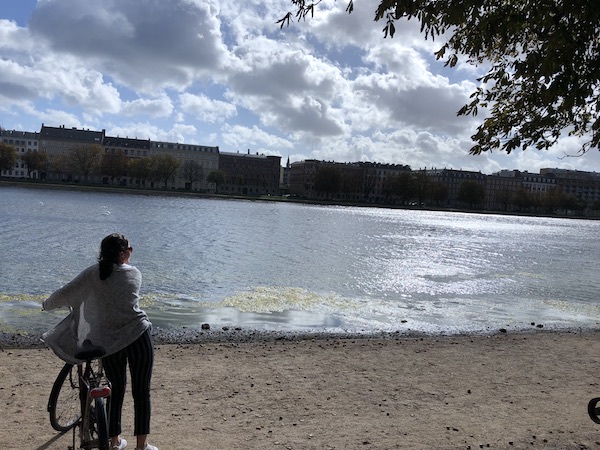 Biking in CopenhagenInstead of going to the bike shops where all the Americans were renting their bikes, I tried to live like the locals and rent a bike off the Danish equivalent of CraigsList. A man named Claus sold me a "bike" to be delivered by a man named Gizmo, who I waited on the street to meet along with my roommate for added security. Gizmo had apparently come earlier than our arranged time, which I discovered when I found a bike with backward handlebars and no brakes on the sidewalk. This bike matched the picture I'd seen online about as much as a Tinder profile using The Rock's body. It would have saved me time, angst and a Paypal account to rent a bike from a reputable dealer. But I did get to practice lawyer skills and advocate for myself as if I was an adult. Gizmo will never know that I'm just a 20-year old girl trying to save 200 kronor for cinnamon rolls. I politely demanded my money back using a few new Danish words, and realized that when I was sure enough of myself, adults would actually listen to me and respect my demands.
Selecting Copenhagen for my semester abroad turned out to be one of the best decisions I ever made. I evaluated cities like I would people, seeking out the spectacularly unpretentious ones that don't go out of their way to impress anyone, unlike Paris and New York. I wanted to find a place that was unapologetically itself, with the unsubtle and bold character that marks Danish humor. As a student in the U.S. capital, Copenhagen called to me because it is not at the forefront of American minds as a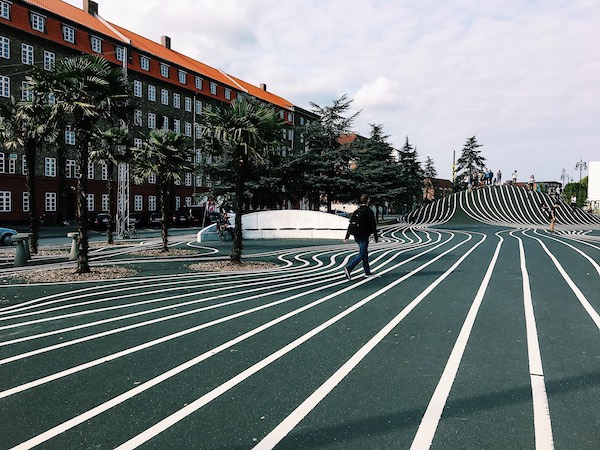 Superkilen Park in Copenhagentourist destination or a pertinent European epicenter in news and U.S. politics. That meant I knew nothing about Danish culture and had no preconceived understanding of Danish politics or national identity. Copenhagen is full of surprises and contradictions, making it difficult to label.
I had looked for a city that fit my personality, so I didn't end up travelling every weekend like many of my classmates. Like loving a person, I didn't want to love my new home only for its shiniest moments, like the most perfect cloudless days swimming in the Baltic sea. The frigid Danish storms threatened to sweep my 5'3" frame off my pink bike on the windiest of days, and I surrendered to the Scandinavian winters to learn to enjoy the great indoors.
It was a fine balance to seek out things that scared my parents and me but weren't dangerous … like travelling by myself. That set me up for Thanksgiving dinner at a B-rated Chinese restaurant in the Red Light District of Amsterdam.
Avoiding travelling in a pack like many of the American students abroad, I braved a hostel where I was the only girl in a dark room of 20 beds. My miserable experiences with surprise visitors in a smoky apartment rented through the bankrupt European version of Airbnb "Yes Student" were well worth the pain. I sought to avoid hanging out with the same familiar people, eating the foods that were most comfortable, taking the classes that looked easy and shying away from speaking the language. Despite this independence, abroad accelerates friendships faster than a kindergarten recess. In fact, there's no stronger bond than three girls getting locked out of their Airbnb leaving us to adapt and problem-solve until the sun rose over Berlin.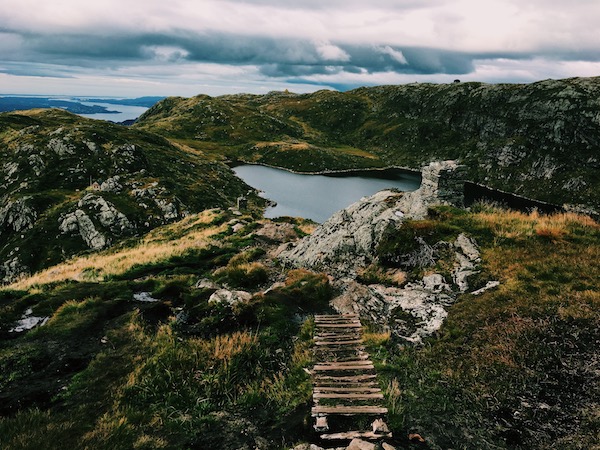 Hike in Bergen Studying abroad in Denmark granted me the time and opportunity to reflect on my own sense of national identity. I would like to incorporate the European pace and work-life balance into my own lifestyle. Nonetheless, hearing many Europeans label Americans with blanket assumptions created by today's news, I realized that as much as I fit in to to the culture I experienced in Scandinavia, I have a strong affiliation with an American generation that seeks to reshape our national image and our face to the rest of the world.
Carly Glickenhaus is a junior at Georgetown University on the Lightweight Rowing team, where she is studying Economics and Security. She studied abroad at DIS: Study Abroad in Scandinavia in a European Counterterrorism program.
Environmental Hazards Pose Risks to Children in Schools: Speak Up Now
Details

Written by

Joanne Wallenstein

Hits: 3625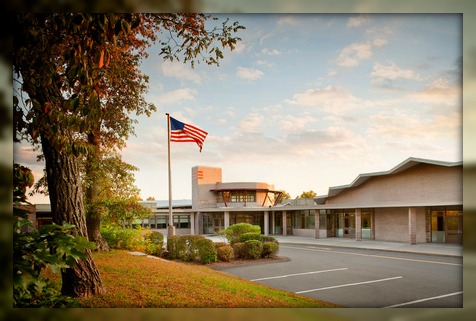 Coleytown Middle School in Westport is closed due to mold.Two news stories from other school districts came to my attention this week -- one involving the complete closure of a middle school in Westport, CT due to mold --and another about lead in the water in schools in Detroit, Michigan.
Why is this relevant to Scarsdale? Read below:
From the Westport News, "After a two-year saga fighting mold strung along while students remained in class, Coleytown Middle School will now be shuttered for the remainder of the year. The relocation of 450 Coleytown students grades six through eight first appeared to be a temporary fix but has now become a permanent solution, according to officials. "
Another story explains, "It's more than 50 years old. It was built hastily, to house the postwar baby boom generation that was flooding Westport schools. A major renovation in the 1990s made its hallways more navigable, its curves less quirky and its classrooms more pleasant.
But it's tough to fight mold.
Westport is in the first phases of deciding what to do with Coleytown Middle School. Experts are still trying to identify the causes of physical symptoms experienced by students and staff. Reports will be followed by debates. District administrators, the Board of Education, Board of Finance and the public — particularly parents — will weigh in. Can — and should — the school be renovated? Torn down? Meanwhile, what will happen to sixth through eighth graders, who currently share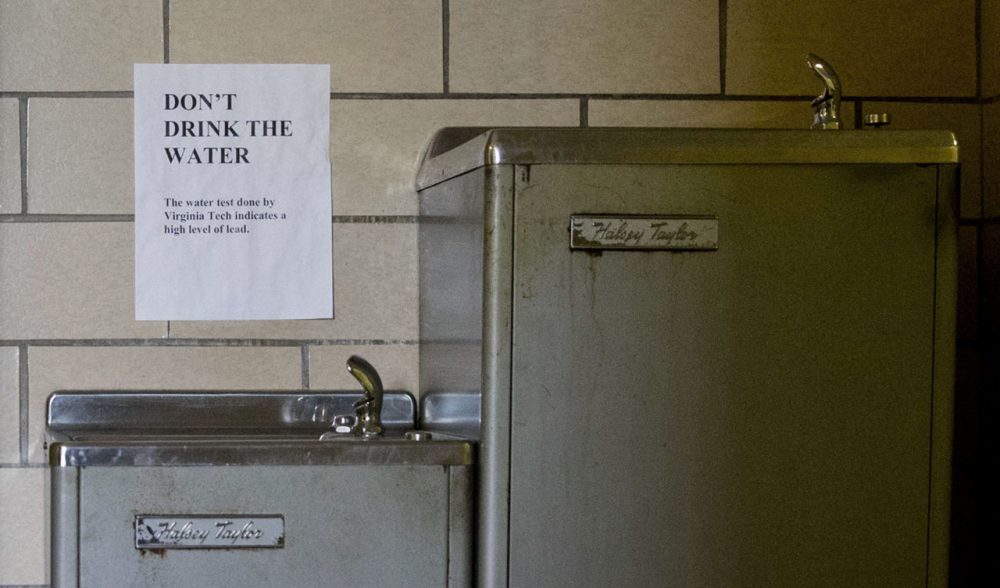 Water fountains at Detroit Public Schools are dry due to lead.Bedford Middle School and Staples High?"
Concerning school water quality, on November 15, in a story titled, "Not Far from Flint, Contamination Has Left Detroit School Taps Dry," the New York Times reports all the water fountains were turned off in Detroit Public Schools in August after testing revealed elevated levels of copper and lead in drinking water at some schools. The article goes on to say that the problem in Detroit may be due to aging pipes, and explains, "Joints and other plumbing components often contain metals that can leach into the water over time."
Why does this all sound familiar and why is it relevant to Scarsdale?
The Greenacres Elementary School, now more than 100 years old, will soon undergo a $28 million renovation. The school has aging plumbing and recurring outbreaks of mold. However the renovation does not include plans to replace the water pipes in the old building. Lead filters will continue to be required on fountains and faucets with elevated lead levels as it's too expensive to open up the walls and replace the pipes. *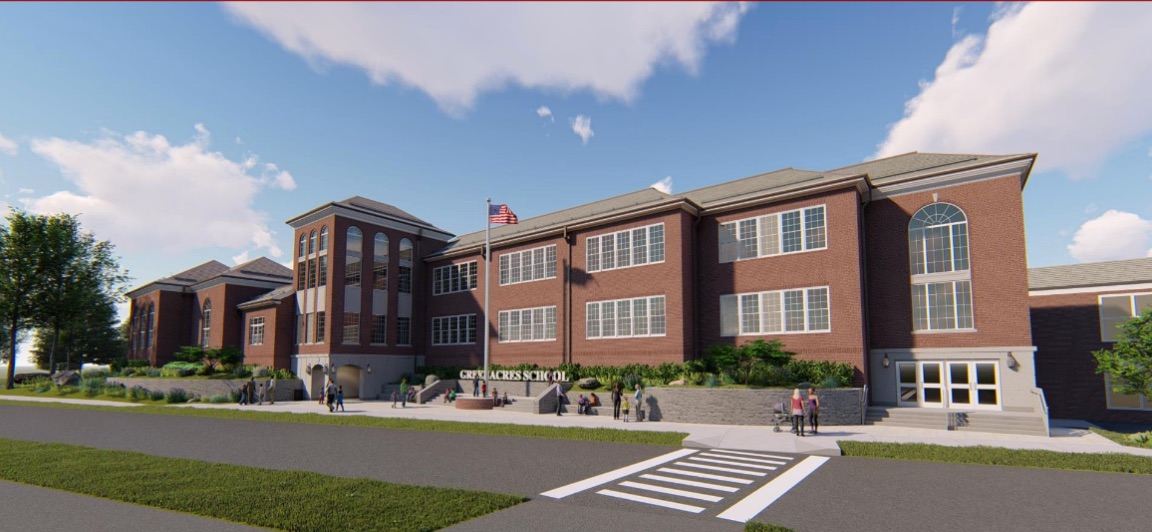 A $28 million renovation is planned for Greenacres. Have environmental issues been adequately addressed?
What about the mold? Efforts will be made to improve ventilation and dehumidify the basement, but the majority of the old building sits on a dirt foundation described as a crawl space, so it's unclear how new ventilation will reach this space and reduce mold growth underneath the school. Air conditioning was promised for the eight new classrooms, however it is not listed on the documents provided by the district.
We asked Assistant Superintendent Stuart Mattey what will be done to address these issues during the renovation and his answers are below. Unfortunately he did provide a direct answer to some of my questions and rephrased others and answered his own questions. The environmental reports he cites for air quality are from 2015 when mold was found in Greenacres. Mold has been found again since that time. The water quality report is from 2016. The problems still exist.
Here are the questions I asked:
What is being done to address the dirt crawl spaces underneath the building that have mold? What short-term and long-term solutions are incorporated in the construction to address any current or future mold from these high moisture areas?
Given the presence of lead in the water, what, if any, pipes will be replaced? For any pipe not being replaced, what's the short-term and long-term solution for water quality at the school?
(Please provide the) Most recent water quality reports for Greenacres
Ventilation: What will be done to improve the air quality in the old classrooms, the library and the gym? These rooms get too hot and damp in the warmer months.
Sustainability: what is specifically being done to make this century old building greener, cleaner and more energy efficient? How is the district sustainability committee involved in this process?
Parking and traffic plan. Prior to the bond vote Dr. Hagerman announced the district would work on a parking and traffic plan for the school. If this plan has not been completed, please provide a timeline for completion. The plan should include the current proposal to use the kitchen at Greenacres to transport food to other schools and parking for food service employees.
Here is his response:
Here is what I received:
"Dear Joanne: Thank you for your continued interest in the Greenacres project. You may find it reassuring that most of the issues you bring up were in fact studied, reported on, and thoroughly discussed by the Board and community members at the time the Bond Scope was determined. The items that were approved as part of the bond scope by District residents last February are indeed the items that will be included in the project specifications and eventually built as part of this project. All bond reports and environmental reports are available on the District website."
For example, the question of mold was addressed in detail in a comprehensive report on air quality, which may be accessed here:
(Editor's note: The link is to a 2015 report. Mold was found again in 2017. There is no mention of the mold emanating from the dirt crawl spaces that are the foundation of the old building.)
Concerning water testing, the District has been most diligent, as can be seen in this report:
As was announced earlier this year, updates on environmental testing will be reported at regular intervals throughout the year at Board meetings.
(Editor's Note: This link is to a report from 2016. There is no mention of the lead filters on the drinking fountains and sinks)
Ventilation was thoroughly addressed in the Bond Scope:
Here's an excerpt regarding this type of work at Greenacres:
Air Quality/Health Related
Install new unit ventilator system to improve ventilation in classrooms
Install commercial-grade dehumidification system for basement rooms; tie condensate to the sanitary system
Replace old boilers and burners that have exceeded their life expectancy
Abate and replace VAT flooring and Install roof (attic) insulation
Relocate drinking fountains
Improve drainage at window wells
Paint corridors, multi-purpose rooms, and the gymnasium
Sustainability issues were addressed under Frequently Asked Questions:
5. HOW ARE SUSTAINABILITY CONSIDERATIONS BEING ADDRESSED IN THE PROPOSED BOND SCOPE? The District's architecture and engineering consultants, BBS Architects and Engineers, intend to employ many eco-friendly principles when developing construction plans, both in materials selection and interconnected component design. For example, new materials would be low VOC (Volatile Organic Compounds) and sustainable products, including adhesives, sealants, paints, coatings, flooring and wood products (casework and furniture). All new lighting will be high efficiency LED with vacancy sensor controls. All new heating and ventilation equipment will be high efficiency and provide for energy recovery where feasible. For the Greenacres expansion, projects will be designed following LEED (Leadership in Energy and Environmental Design) and CHPS (Collaborative for High Performance Schools) best practices and principles.
Parking and traffic concerns were also addressed under Frequently Asked Questions:
14. WHAT IS THE ANTICIPATED TRAFFIC IMPACT AT GREENACRES DURING CONSTRUCTION AND AFTER ALL WORK IS COMPLETE? WILL ANY CURRENT TRAFFIC PATTERNS BE CHANGED? A State Environmental Quality Review (SEQR) performed by J.C. Broderick & Associates, Inc., an environmental construction and testing company, has determined that construction at Greenacres will not have a significant adverse impact on traffic. As is the practice with all the other elementary buildings, at Greenacres, the District is working closely with the Village of Scarsdale and the Scarsdale Police Department to continue to identify effective ways to help traffic move smoothly for parents during drop-off and pick-up times.
As a matter of fact, I believe the Village just received an award for their work in this regard.
(Editor's Note: There is no mention of the loss of parking spaces, parking issues due to the increased number of employee cars working in the cafeteria, nor a discussion of the food trucks on Sage Terrace that will bring food to Greenacres and ferry meals back and forth to Fox Meadow School.)
As a reminder, all these documents and many, many more can be found in the Facilities and Grounds section of the website:
Sincerely,
Stuart P.G. Mattey, Assistant Superintendent for Business
Clearly it's uncomfortable and unpopular in Scarsdale to speak of environmental hazards like mold and lead in our schools, but there is no denying that they pose a threat to children now and in the decades to come. When we look at what's going on around the country, it's evident that you can't wish these problems away.
In my view, parents, neighbors and environmentally conscious residents should ask more questions and request a full and transparent environmental assessment of the existing building to find out if these issues can be adequately addressed in the upcoming renovation. Before taxpayers spend $28 million on a shiny new cafeteria, we should find out what it will cost to make Greenacres a safe, clean school. We don't want to spend money renovating now, before we have assurances that mold and lead will not cause big problems down the road.
Let's learn a lesson from Westport and Detroit. According to Dr. Hagerman, architects plans to submit the project to the State Education Department for approval within weeks, so action should be taken now.
* An April 2015 feasability study from former district architects KG&D said this about the school:

Ground water intrusion & high water table – The northern corner of the building has a lower level that routinely has odors and other evidence of some water intrusion. Despite several attempts at repairing the condition there does not seem to be any easy answer to this problem. It is likely the result of a high water table which varies seasonally and has many sub‐surface points of entry into the aging structure. With moisture penetration likely coming from under slabs and through walls that are significantly below grade it is difficult to imagine a cost‐effective method of repair. The condition could be made more tolerable with improved ventilation and air conditioning but will still require monitoring and could continue to make this portion of the building uncomfortable or inappropriate for student use. This area is currently used for Art, Music, Instrumental Music, Art Storage and mechanical support spaces.

Aging systems – The school did experience the collapse and failure of the main sewer pipe that exits the building a few years ago. This type of failure can be very disruptive and costly to repair in an emergency situation. Given the age of the building and the expected useful life of building materials and systems these types of failures are likely to continue. As a result the long term recommendation is to completely replace all of the original piping and plumbing systems that have not already been updated.
Edgewood Elementary School to Celebrate Centennial
Details

Written by

Joanne Wallenstein

Hits: 1883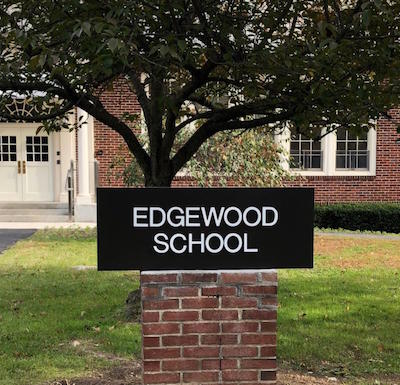 Students, faculty and PTA leadership at Edgewood Elementary School are gearing up for the school's 100th Anniversary Celebration. An assembly will be held on Monday January 7, 2019 the first day back from the two-week Christmas vacation.
According to Principal Scott Houseknecht, the school will "celebrate the rich experience we all share at Edgewood, tell a few stories of Edgewood's past, and share some photos and video footage of memorable events in our history."
Kids are most excited about the opening of a time capsule that was buried 25 years ago at the 75th anniversary of the school in 1994.
Former teachers and students with stories to share are invited to email School Principal Scott Houseknecht to arrange one on one interviews. Email him at shouseknecht@scarsdaleschools.org.
More events are planned throughout the school year.
In February and March kids will be treated to special courses to commemorate the centennial at Edgewood University of the Arts. Kids will enjoy courses like "The Legend of the Edgewood Ghost" and "100 Years of Inventions."
On March 28, the school will hold their Multi-Cultural Fair where parents will display information about their own heritage and focus on what life was like 100 years ago.
An Alumni Weekend is planned for April. On Friday, April 5th from 1:30 - 3:00 pm there will be an open house at the school with tours led by fifth graders who will share fun facts about Edgewood. Students will show 100-year projects to alumni. In addition, there will be an alumni tea at 3pm where alumni can view old photographs and memorabilia.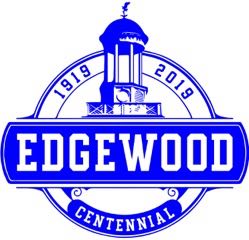 School and neighborhood tours will be offered on Saturday, April 6th followed by a STEAM activity at school for children. At 7pm parents, teachers and alumni will attend the Edgewood Centennial Gala at the Westchester Country Club in Rye.

In May the school will have a planting day for the Edgewood Friendship Centennial Garden, a new perennial garden that will enhance the landscaping surrounding the new library and front of the school. Dedicated to the Edgewood community, including veterans, gardening will be done during school hours on Friday with any carryover work to be done on Saturday morning with parent/child volunteers.
The them of the Edgewood Fair on May 11 will also incorporate the centennial.
Happy Birthday Edgewood!
Architects Present Plans for Greenacres School: What We Know and What We Don't Know
Details

Written by

Joanne Wallenstein

Hits: 3261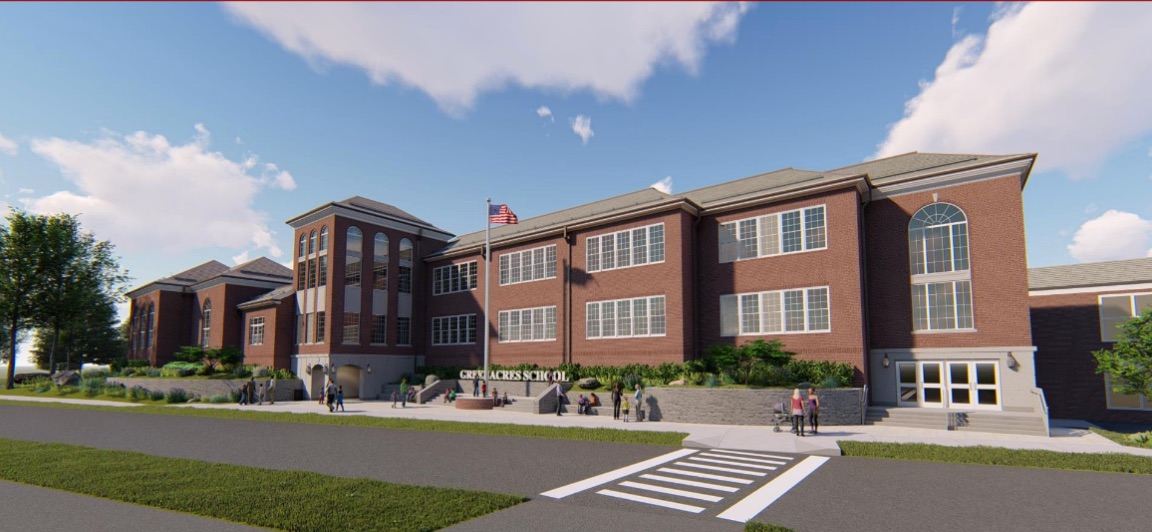 The community has heard little about the plans for Greenacres Elementary School since a very contentious bond vote in February 2018. Though the $35 million renovation is the largest single spend for the district in decades, there has been almost no opportunity for input from residents and neighbors. At the November 5 meeting of the Board of Education the administration invited representatives from district architects BBS and construction management firm Park East to provide an update on construction plans for the school, which School Superintendent Dr. Hagerman said will be submitted to the State Education Department in a few weeks.
The interior plans, most of which were very simple sketches lack detail. The rough schematics, provide an overview of the building layout, but reveal little about the building infrastructure, any features of the classrooms or common rooms, the casework, finishes and design. In explaining the plans, the architects did not address many of the key concerns that were expressed in 2017 before the passage of the bond.
In the half hour given to the project, here is what we did and didn't learn:
What we know:
Architects presented two renderings of the new façade of the school featuring two three-story stair towers, a two story classroom addition and a cafeteria/learning commons on the Huntington Avenue side of the school.

About the plaza between the school and the sidewalk on Huntington Avenue, the architect said, "We tried to step that back off the street," but just how far off the street is unknown as no dimensions are provided. Also unknown is the height of the large retaining wall that buttresses the plaza. The reconstruction of the parking lot shows five parking spaces and room for dumpsters.

Discussing the schematics, the architect explained that the large kitchen is included in the plans and indicated that there would be access for food service trucks on Sage Terrace. A handicapped ramp has been added to the rear of the school to allow access to the upper playground.

About the lower level of the school architects said that all students would be moved upstairs and the remaining space would be converted to storage. The second floor will include both the art rooms and rooms for special education.

The gymnasium, where the original windows will be covered by the new classroom wing, will get skylights.

The kindergarten, first grade and second grade classes in the original portion of the school will get new ceilings, new flooring and new lighting. Bookcases will be added under the windows and some of the teaching materials will be placed on portable carts to de-clutter the classrooms. Large teaching monitors- or screens – will be on wheels so that they can be moved around the classroom. The rooms will be outfitted with flexible furniture to allow for various seating configurations. Prior to the bond vote there were lengthy discussions about the small size of these classrooms which do not meet national standards. It appears that walls will not be moved but efforts will be made to maximize the existing space.

The interior space of the existing library will be reconfigured with new bookcases and furniture.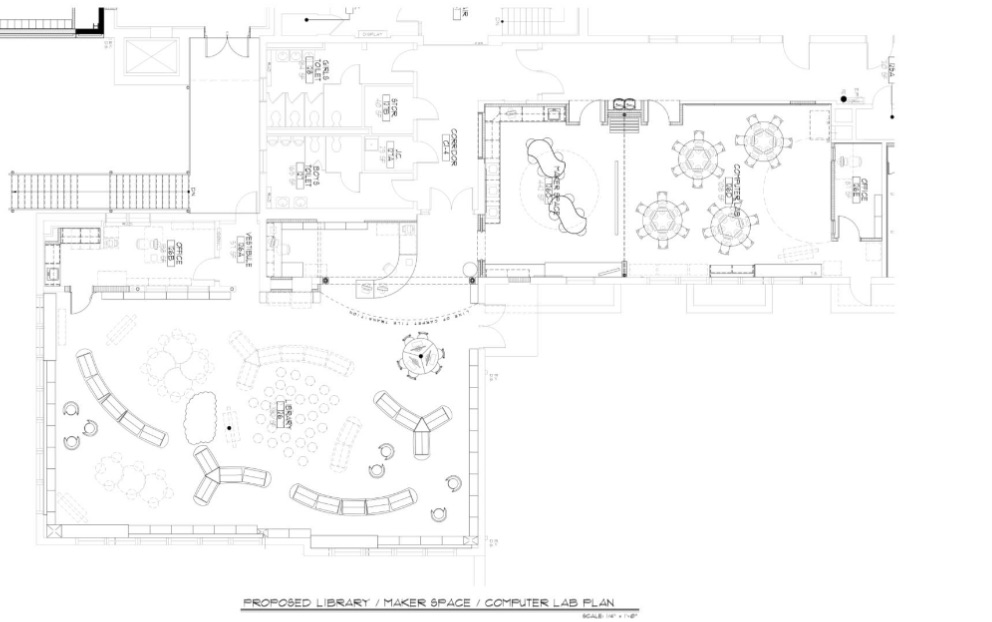 Schematic for library, maker space and computer lab.


There was also discussion of redesigning the courtyard though no plans were shown. Dr. Hagerman mentioned a labyrinth, an outdoor reading area and a small group spot and possibly a water feature. Planter beds may also be added to replace those displaced by the construction.

In the discussion that followed, Board Member Lee Maude asked if the scope of the job had changed since last year and was assured that it remained the same.

Assistant Superintendent Stuart Mattey mentioned that the large kitchen might be used as "relief for the commissary program for the district," as all meals are now cooked at the high school, putting considerable pressure on the high school's kitchen. This new kitchen may be used to cook meals for Greenacres and possibly Fox Meadow School – so presumably food would be transported from the Sage Terrace entrance to Fox Meadow. There are no elevations shown of the Sage Terrace entrance but the architect said there will be a driveway there to accommodate food delivery, pick up and distribution.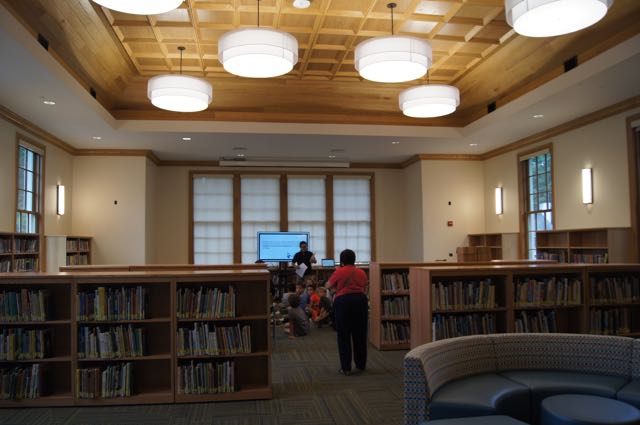 Check out the ceiling of the new Edgewood Library. What's planned for Greenacres?In terms of timing, plans now call for the renovations to the existing classrooms in the school to take place over the summer of '19 and to be completed by the beginning of school. Work on the large addition on Huntington will also begin in June 2019 and run through August of 2020.

The construction site will be surrounded with an eight-foot fence and a two gated entry system that will cut off access to the sidewalk during deliveries. A portion of the blacktop across the street will be used as a staging area. This will be used for parking for the construction workers, storage and office trailers and dumpsters. It was not clear how this would be screened from the playground.

Since the State Education Department is short staffed, BBS will expedite approval of the plans by having them reviewed by an architecture firm who has been approved to do third party reviews. This will take 8 – 12 weeks, rather than the 42 weeks estimated through SED. However if the project bypasses the State Education Department, will it receive as rigourous a review?
What we don't know:

Prior to the bond vote many questions were raised about the suitability of the building for a large expansion. Below are some of the outstanding issues that were not addressed on Monday night:
Air conditioning and ventilation: The gym has had very high humidity levels and under this plan the existing windows will be covered up, possibly decreasing air circulation in the room. There was no discussion of adding ventilation or air conditioning to the gym or to the library which is also very warm. Ventilation for the existing classrooms, some of which get very hot in June and September was not mentioned.

Lead Pipes: The school has now installed filters on sinks and water fountains due to lead. There was no discussion of replacing the original pipes in the old part of the school which leach lead and require filters.

Mold: The school has a history of mold problems. There was no discussion of how this would be addressed. The original portions of the school are sitting on a dirt foundation which generates moisture and humidity. There was no mention that anything would be done about the dirt crawl spaces that are the foundation of the original part of the school.

Renderings: There were no renderings provided of the interior spaces at the school. For a project of this scope, one would expect to see elevations and renderings of the cafeteria, learning commons, renovated library and a model classroom. No details on what will be included were provided. When former district architects KG&D presented plans for the high school learning commons and Edgewood library, detailed schematics were provided. (See below) Take a look at the sketch that BBS presented for the Greenacres Library. Will there be casework, reading nooks, group instruction areas? Will Greenacres receive a library on parity with Edgewood?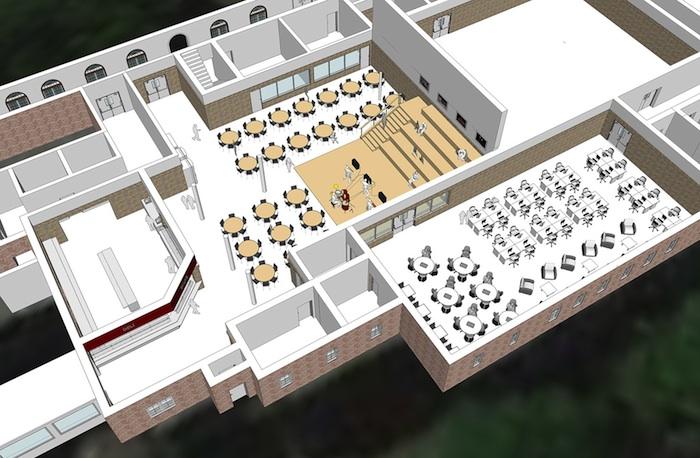 A rendering of the new learning commons provided by former district architects KG&D prior to the construction at Scarsdale High School
The main feature of the new building is a large learning commons and cafeteria. However no details have been provided. How will this room look from the inside? How will the space be used? Will the custodial staff still need to set up and take down lunch tables every day or will they be built in? Will there be a stage or any place for a performance in the new learning commons?

Parking: Another ongoing concern is parking. The school lacks a parking lot and a pick up area. In the new plan, several of the existing parking spaces have been eliminated. No plan was put forth to replace these, add parking or improve the drop off and pick up process. With the school extending to the sidewalk, it is not clear where the children will line up to be picked up. In addition, the entrance to the school will be two three story stair towers. One wonders how many young children can be safely inside a stair tower at once for recess and when school lets out at the end of the day.

Food delivery: Residents on Sage Terrace will now have trucks on their street delivering food and transporting cooked meals for children at other schools. It is not clear that they are aware of this development.
The project has a big impact on the Greenacres community. The building does not conform to neighborhood norms and lacks the required setbacks from the street. Has the district met with the Greenacres Neighborhood Association to review the project and get their input? What about the Village Planning Department who reviews traffic and parking requirements? If they have met, the public should be made aware of what was decided.

Despite all these questions, the administration is quickly moving forward with the plan, and says they have fully vetted them with the teachers. They plan to submit the package to the State Education Department in just a few weeks. If community members have concerns, they need to speak up quickly.