Girls Varsity A Soccer Team Continues its Surge as the Playoffs Approach
Details

Written by

Joanne Wallenstein

Hits: 691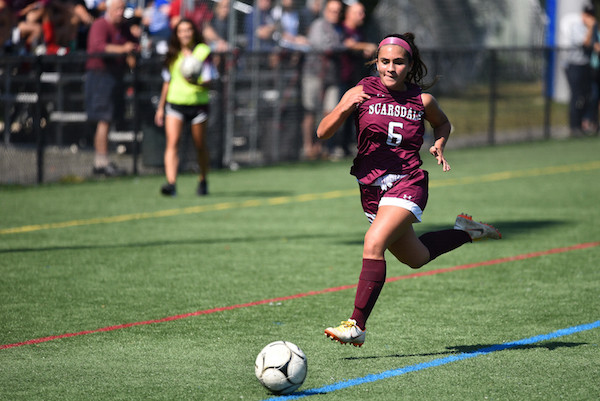 Elizabeth Elcik takes the ball up the sideline against New RochelleLate in September, having played a very difficult early season schedule and with nearly half the season behind them, the Scarsdale Girls Varsity A soccer team found themselves with an unexpected 1-6 record. Given pre-season expectations, the team knew it was underperforming and that with eight league games remaining in the regular season schedule, it was time to step up and let the considerable talent on the squad take over. Recognizing that all six of their losses occurred in close, highly competitive games against formidable opponents, the coaches and players never wavered in their belief that they could turn their season around.

Since that point, the team has played two games against Ursuline, one against New Rochelle and one against Mamaroneck. After a forfeit by Mount Vernon, the team's current record stands at 6-6, with the two most recent wins coming as shutouts, with the Raiders outscoring their opponents in the last four games by a combined score of 13-3.

Suddenly, goals which had been hard to come by early in the season are arriving in bunches and the occasional defensive breakdowns have been replaced by consistently solid play that has limited opponents' shots on goal. An illustration of the team's progress was the Friday, October 5 game vs. Ursuline, who the Raiders had defeated on a dramatic last minute goal at Ursuline a little over a week earlier. Heading into the second Ursuline game, which was played at SUNY Purchase, the expectation was for a tough battle, as Ursuline sought to avenge its heartbreaking loss.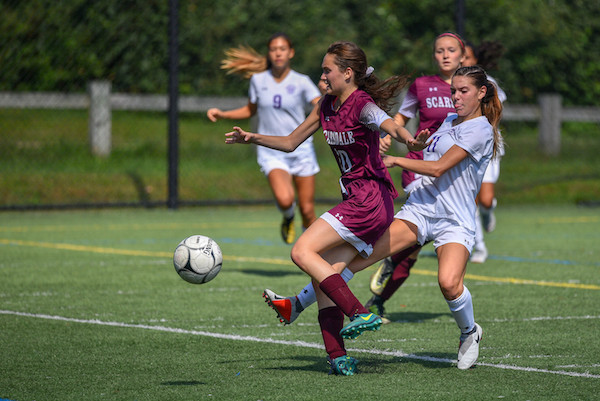 Ella Ansell wins the ball against a New Rochelle mid-fielder.

Instead, from the opening whistle the Raiders dominated play, cruising to a 4-0 win behind three goals by senior co-captain Riley Edlitz and one by senior winger Elizabeth Elcik. The mid-field, led by senior co-captain Allison Stafford, helped the Raiders dominate possession throughout, limiting opportunities for Ursuline to possess the ball in their offensive end. Forwards Olivia Bryant and co-captain Nayumi Parente-Ribeiro continued their strong play, with several runs down the sideline and effective crosses that created multiple scoring opportunities. Seniors Kelly Rutherford and Ella Ansell played with energy and effectiveness, cutting off balls repeatedly and helping start offensive rushes. Forwards Jaeda Dean and Amanda Ruzumna, each of whom had scored goals in earlier wins, continued to augment the offensive attack, with defenders Meghan Quirk and Tory Von Redden anchoring the back line.

With three games remaining on the schedule, and with talented sophomore mid-fielder Jojo Denion expected to return from an injury, the Raiders appear back on track as the playoffs approach. The objective now is to prolong the current winning streak to obtain the best possible playoff seeding. The playoffs are scheduled to begin late during the week of October 15 and Scarsdale10583.com will be there to cover it.
Photos by Jon Thaler - see more here.
Add a comment
Officer Jack Brito to Speak on Driving and Marijuana
Details

Written by

Joanne Wallenstein

Hits: 592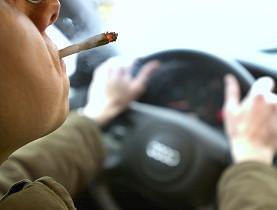 The Scarsdale Dug and Alcohol Task Force (DATF) is holding its opening community meeting on Friday, October 5 at 9:00 AM in rooms 170-172 at Scarsdale High School. All community members are invited and encouraged to attend.

The program will feature Officer Jack Brito of the Westchester County Department of Public Safety speaking about youth driving while under the influence of marijuana. He is the Department's Field Training Officer and lead Drug Recognition Expert officer in Westchester. While our young drivers are mindful not to drive under the influence of alcohol, reports are surfacing that youths believe driving while high on marijuana is not as risky. Officer Brito will speak about this growing trend, how law enforcement is handling it, and what parents can and should be doing to protect their children and other drivers from this potential harm. The DATF will be conducting an informational campaign this year to educate youth and parents about the dangers of driving high.
The Scarsdale DATF is a community coalition dedicated to preventing youth substance use. For more information about the DATF, visit Facebook at Scarsdale DrugAlcohol TaskForce, or find the DATF on Instagram at scarsdale_datf, or on the web at scarsdaledatf.com.
Press contact: Margaret Smith, reinedesaba@optonline.net
Add a comment
New Additions Open at Edgewood and Heathcote Elementary Schools
Details

Written by

Joanne Wallenstein

Hits: 1784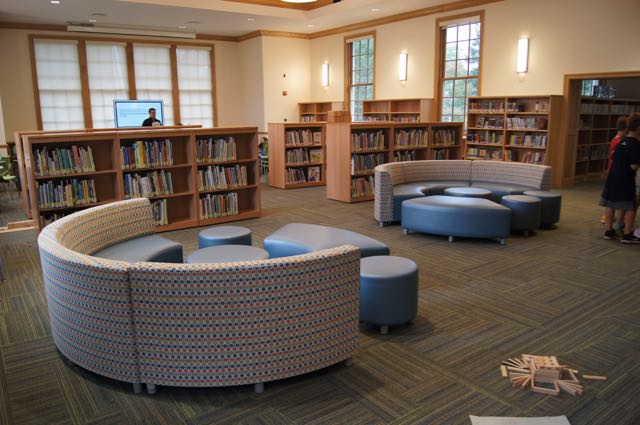 Edgewood and Heathcote Elementary School staffers and students returned to school last week to find some beautiful new spaces completed and ready to use.

At Edgewood, a new wing with a library and tech studio are now open and we found a few classes involved in hands on learning in the new space. The new wing includes three rooms where we found a fifth grade class learning about responsible use of the internet, with instruction from Technology Teacher Paul Tomizawa. Another class was exploring the books in the library and reading in the story circle with School Librarian Allison Turner. Earlier in the day students designed settings for scenes from their own stories and then built the sets using Keva blocks.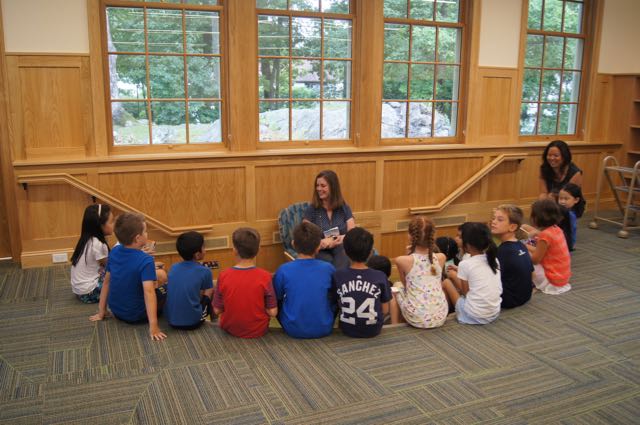 Julie Huang's 3rd graders enjoy a story with librarian Allison TurnerTurner explained that the vast new space is air conditioned, and during the heat wave last week it accommodated three classes at a time. The new building fits seamlessly into the school site and includes handicapped ramps and retaining walls that integrate nicely with the existing school.
Also completed as part of this project is a new office with a security window where the staff can monitor those entering and existing the school. This work, which included 3,731 square feet of renovated and added space, was funded with $3,560,000 from the 2014 School Bond and designed by former district architects KG&D.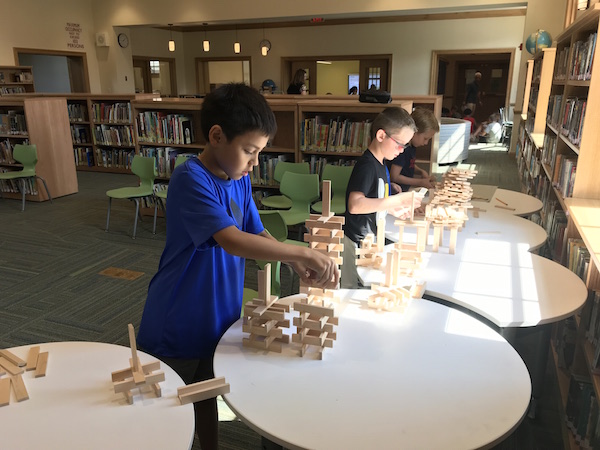 Edgewood fourth graders working collaboratively to construct a cityscape complete with skyscrapers and bridges that span and connect their workspaces. Photo credit: Paul Tomizawa.

Heathcote Principal Maria Stiles could not be more thrilled with the new multipurpose space, small group instruction rooms and entry area now open at the school. She showed us how this new room can accommodate six to seven classes at lunchtime, freeing up the gym for physical education. A new kitchen will be used when the lunch program begins on September 24th. The new interior entry with large glass windows is a great place for children to wait to be picked up, shielded from the elements. This new wing can be closed off from the rest of the school to allow community groups to use the rooms at night without accessing the school.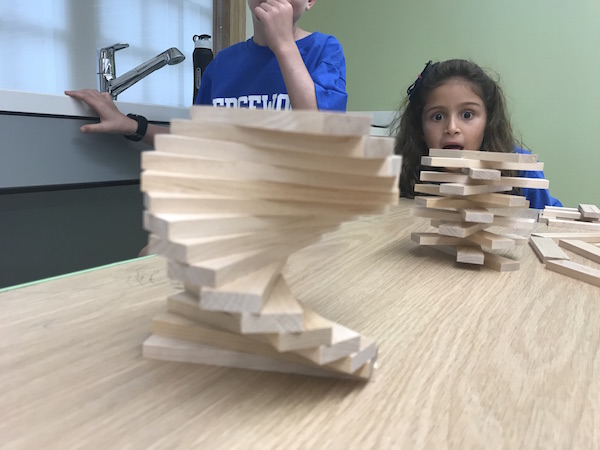 Keva planks are sturdy, lightweight, and flexible enough to conform to the artist's imagination, which can be a pretty cool sight to reflect on. Kids are sometimes astonished by their own imaginations. Photo Credit Paul Tomizawa.She added that the air conditioning was really appreciated during the first week of school. Stiles praised the architects for great planning and attention to detail and also credited the landscape architects for their plantings around the new wing. This work, which includes 3,977 square feet of renovated and added space was funded with $3,387,000 from the 2014 School Bond and designed by former district architects KG&D.
Ribbon cutting ceremonies for the two new facilities are planned for October, 2018.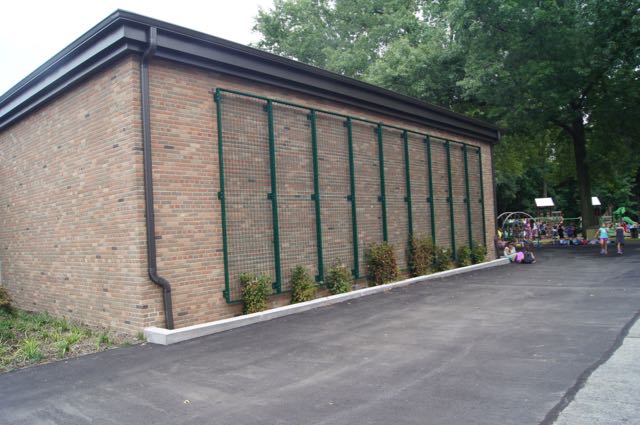 A greenwall for climbing hydrangeas at Heathcote School.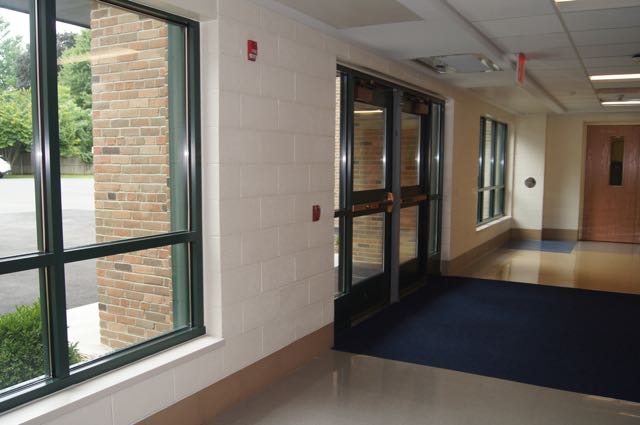 A new entry at the back of the school will protect kids from the elements during drop off and pick up.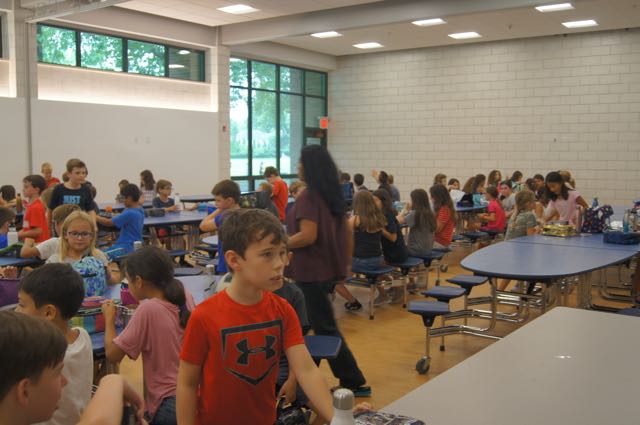 Lunch time in the new multi-purpose room at Heathcote Elementary School.
Add a comment
School Lunch Program Debuts to Mixed Reviews
Details

Written by

Joanne Wallenstein

Hits: 2808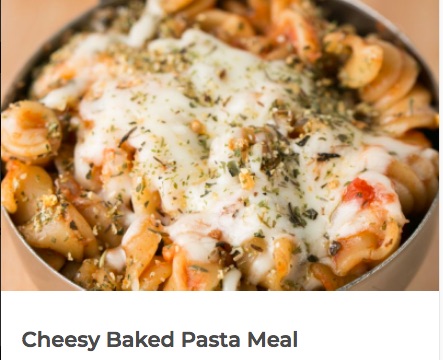 Despite months of planning, collaboration with parents and teachers and the best of intentions, the Scarsdale School administration found themselves on the defensive at a Board of Education meeting on 9/17 about a new district-wide lunch program that recently launched.
Last year, the district announced that they would take over "Lunch in Hand." the elementary school lunch program formerly run by the PTA's. The PTA selections were popular with the kids and some parents were skeptical about the change. However, the Superintendent indicated that state regulations required that food service be run by the district.
The new program is self-funded and run by Chartwells, an outside company who employs the cooks and staff who run the program. Chartwells was already on board in Scarsdale where they ran food service in several district schools that have their own kitchens. But this year they were tasked with expanding hot and cold food service to four elementary schools without kitchens.
Meals are cooked in the kitchen at the high school and transported to the elementary schools. There is a choice of hot lunch or on-the-go bistro lunches. The cost of the meals is $5.50 per day. Plates, wrapping and utensils are all recyclable – or compostable -- which complies with the district's sustainability goals -- but drives up costs.
Parents use a software application called Nutrislice to order for up to eight weeks of lunches. The software displays the nutritional content of the meals, including fat, carbs, fiber, calories and sodium. The program allows parents to indicate any allergies to prevent orders which contain those ingredients.
At the school board meeting on September 17, Dr. Hagerman announced that the new Executive Chef for the program resigned suddenly this weekend. The district's school lunch manager has also retired. He explained that both departures caused challenges for the fledgling program.
In response to complaints about the lunch prices, which are higher than last year, Hagerman said that it takes more staff to run this program and that the prices reflect district goals for "wellness and sustainability." He said they are using better ingredients like high quality deli meats. Assistant Superintendent Stuart Mattey explained that some neighboring districts have lunch subsidies for qualified students, while Scarsdale does not receive that funding.
Mattey announced that Monday 9-17 was the first day of the new program at Fox Meadow and Greenacres School, where 275 students were served lemon chicken and green beans and gave the meal a thumbs up. He explained that new equipment including food warmers and heaters were ordered and called the program "an enormous logistical undertaking."
He said Chef Mike's resignation was "disappointing" but said that Chartwells had sent in a chef from a school district in New Jersey to fill in. A new chef, sous chef and dietician will be hired by Chartwells.
To complaints about the food ordering snags, he said, "Nutrislice had some technical issues," that are being addressed.
A few parents attended the meeting to convey their concerns. Jane Martin of Clarence Road asked, "Why is it more expensive than towns like Rye… we are almost twice as much. What about more choices for kids with dietary restrictions, such as vegan or dairy free. Kids are left with a tossed salad because they don't eat meat. There must be things we can offer."
A Fox Meadow mom came on behalf of many who were at the school picnic. She said parents were concerned about the price as well as the nutritional content of the meals. She said the meals were high in calories and had more sodium than a MacDonald's "Happy Meal."
Parents who commented online were also unhappy with the price and asked why last year lunch was $4.25 per meal at Quaker Ridge and is now $5.50. They complained that with just one hot lunch choice, options were not available for kids who didn't like that meal. Other felt that the menus, which include entrees like General Two's Chicken and Chickn Paprikash, were too sophisticated for young children. One mom said, "My son loved pizza day. Now that's gone. I wish they had left well enough alone."

There also appeared to be limited flexibility on Nutrislice, which did not for example allow a parent to add the choice of yogurt to the hot meal selection. Still others complained that ordering one meal at a time on the app was time consuming and frustrating.

The program is only weeks old and the district promised to reply to parent emails, address concerns and post an FAQ online to answer some of the many questions that have been raised.
At the end of the meeting, Mattey provided some pricing from Rye Schools but said a direct comparison cannot be made bewteen the two districts as Rye's prices are not for entire meals and are not served on compostable materials. He said, "At Rye High School, lunch prices vary from $4.50 to $6.00 for sandwiches. Entrees start at $3.50 but they do not use compostable supplies or utensils. At Rye Middle School, a deli sandwich is $5.00 with $4.50 for hot lunch items."
Until the kinks are ironed out, some parents are resigned to going back to packing lunches.
Add a comment
A Steamy Opening for the Scarsdale Schools
Details

Written by

Joanne Wallenstein

Hits: 1806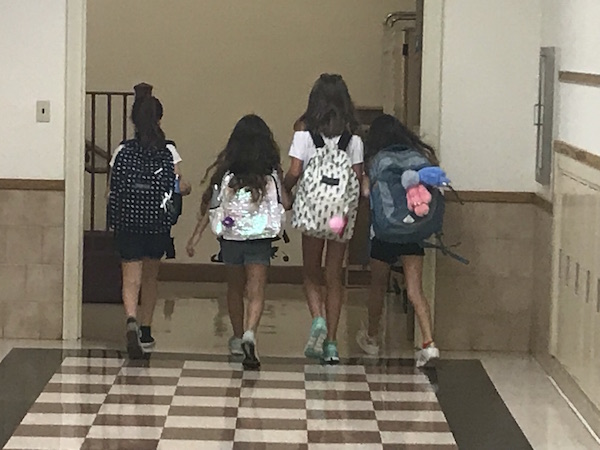 A steamy opening for the Scarsdale Schools as temperatures soared to 93 degrees on Tuesday September 5, with heat warnings continuing throughout the week.

Students at Edgewood returned to find the new library and Heathcote kids will enjoy a new multipurpose space/lunchroom. We will tour these new facilities soon and share photos. Also new this year will be food service at four elementary schools, with lunch coming to Greenacres and Fox Meadow starting September 17 and to Edgewood and Heathcote on September 24. Lunch options will include a hot entrée of the day as well as Bistro Boxes, salads and a selection of sandwiches. Parents are now signing up to order and pay via the Nutrislice app and lunch will be priced at $5.50 per meal.
At the high school, the Design Lab, Fitness Center and new courtyards are open and a celebration of these spaces is planned for September 27th. The community is invited to tour these new spaces and see how they operate.
Here are photos of some happy kids on the first day of school. Do you have photos of the first day of school to share? Please forward them to scarsdalecomments@gmail.com and we will add them to the gallery.
Add a comment