Memorial Service for Poet and Mental Health Client Advocate John Stanley Bajak on September 9 at SCC
Thursday, 30 August 2018 08:07
Last Updated: Thursday, 30 August 2018 08:13
Published: Thursday, 30 August 2018 08:07
Joanne Wallenstein
Hits: 2426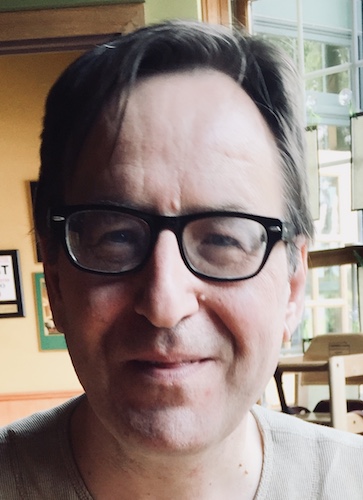 A memorial service for poet and mental health client advocate John Stanley Bajak is planned at 2 p.m. on Sunday, September 9 at the Scarsdale Congregational Church. John was raised in Scarsdale and lived most of his adult life in White Plains. He died May 5 in Pittsburgh at age 55 of complications from melanoma.
Here is his life story, written by his brother Frank Bajak of Medford, Mass.
John Stanley Bajak, a quirky, engaging poet and self-styled philosopher of computing who struggled with schizophrenia his entire adult life, died of cancer at age 55.

The youngest of four children born to the late Sigmund F. Bajak and Dorothy Mershon Bajak Armistead, John was raised in Scarsdale, N.Y. and lived most of his adult life in White Plains, N.Y. He died May 5, 2018 in Pittsburgh of complications from melanoma, which he battled for more than a year.

John was in many ways a psychiatric success story. He lived independently in his own apartment for 27 years, worked on behalf of the mental health community, never married and was inveterately creative when he wasn't perplexing family members with his theories of computing and time machines.
When he wasn't perplexing family members with his theories of computing and time machines he was entertaining them with humorous ditties he wrote and sang. His theoretical time-travel invention, the ³Flux Capacitator, drew unwanted online attention that prompted him to quit the Internet for a time.
John was also a ham radio enthusiast and electronics expert - though he didn't get his first smartphone until 2017. His fears of malicious Internet actors were precocious indeed.

John would tinker for hours on circuits, LEDs, vacuum tubes and transistors, and patiently taught his nieces and nephews the ins-and-outs of amps and volts. One of his great joys was scouring garage sales for the components of his whimsical inventions.

A wearer of thick horn-rimmed glasses and partial to forward-facing fanny packs, he was affectionately known in the neighborhood as "Big Bad John."

John worked from 2000-2012 at the Empowerment Center in New Rochelle, N.Y., as an administrative assistant, serving as receptionist, newsletter editor and computer support specialist. The peer-run mental health recovery storefront center is now defunct.

"He was a major presence in our administrative office. He was our friendly voice to the outside world," said Jim Rye, the center's former director.
John's poems were mostly self-published, as was his 2011 book "CyberWisdom." While as disorganized as John's mind, the book includes poignant autobiographical passages. It also evinces the author's familiarity with the history of computing and the development of artificial intelligence research including the pioneering work of Massachusetts Institute of Technology professor Joseph Weizenbaum. The computer scientist's natural language-processing program ELIZA, which engaged people in conversation, was a crude precursor of today's Siri iPhone app and Amazon's Alexa.
John's writings explored the similarities and differences between human beings and computers, attempting to grasp the emotional quotient. By his account, he wrote more than 3,000 poems.

He caught the computing bug at Scarsdale High School in the late 1970s, where he participated in the math, computer and audio-visual clubs. He also interned with IBM in White Plains, and it was about then that illness struck.

"While known to the rest of the school I was still all alone without friends at the end of high school and in pain for why my future was. Slowly, over two or three of those years, I became mentally ill, with the obsession I was the "antichrist" or "false prophet," he wrote in the first chapter of "CyberWisdom." "I felt computers were a form of God."

John's parents, at a loss for how to deal with him, entrusted him to schools for at risk teens run by the late Michael DeSisto in Stockbridge, Mass., and later Howey-in-the Hills, Fla. DeSisto was a charismatic therapist who John considered a genius and who was exposed for falsifying his educational credentials. Whether John's experience at the schools benefited him psychologically is unclear but it did affect him profoundly.
After graduation and while working in low-paying service jobs in Winter Park, Fla., John was admitted several times to psychiatric hospitals. But all was not grim. From 1988-90, John performed a 15-minute stand-up poetry routine at East India Coffee House every Monday night.

In 1990, he moved into an apartment in White Plains purchased for him by his parents and, with the help of anti-psychotic drugs and talk therapy, settled into a more stable life. No longer would John require hospitalization for mental health issues. He would be a regular visitor to his parents' home and frequently drop in on friends from childhood and attend services at the Scarsdale Congregational Church.

"A lot of people with serious mental illness are estranged from their families," said Jim McKenna, a Pittsburgh man who befriended John in his last months. "Not John." McKenna was among friends John made during the last five months of his life while a resident at the Schenley Gardens assisted-living home in Pittsburgh's Oakland section.

John is survived by his sister, Jennifer Halperin, of Murrysville, Pa., and his brothers Frank Bajak, of Medford, Mass. Lima, Peru, and Ben Bajak of Corona, Calif. He is alsosurvived by seven nieces and nephews and a grandnephew.

John's former supervisor at the Empowerment Center, Jim Rye of Monroe, Mich., considered John brilliant. He said John was also so gentle and innocent that he was easily deceived. He said he is reminded of John every time he hears the song "Vincent" by Don McLean, which is also known by it's opening line "Starry, Starry Night." It's about Vincent van Gogh, the tortured post-Impressionist
painter who took his own life at age 36.

And now I think I know what you tried to say to me
How you suffered for your sanity
How you tried to set them free.
They would not listen
They're not
List'ning still
Perhaps they never will."
By Frank Bajak. May 7, 2018