Health, Beauty and Wellness Fair in Scarsdale on Saturday May 4
Details

Written by

Joanne Wallenstein

Hits: 844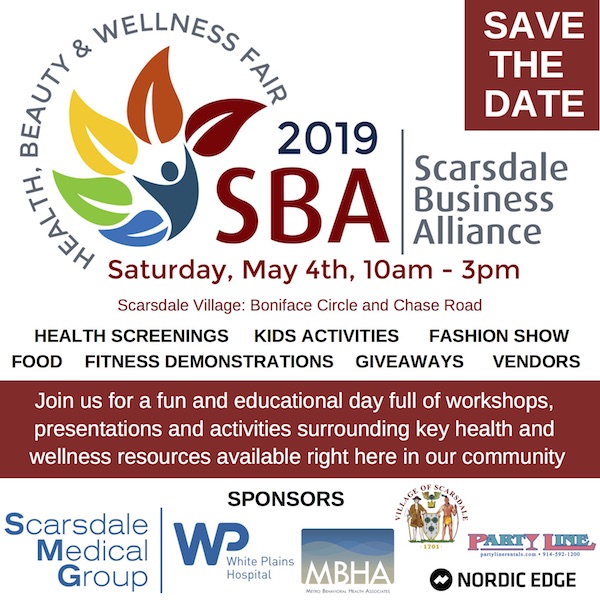 Come celebrate health and wellness on Saturday, May 4th, when the Scarsdale Business Alliance (SBA) hosts its first annual Health, Beauty and Wellness Fair in Scarsdale Village from 10am - 3pm. The event is free and open to the public and will take place on Chase Road and Boniface Circle, rain or shine. Key sponsors include Scarsdale Medical Group, Metro Behavioral Health Associates and Nordic Edge.
Don't miss out on this incredible opportunity for a fun and educational day with programming for the whole family, including workshops, presentations and activities surrounding key health and wellness resources available right here in our community.
Local businesses and health care providers will exhibit their services and products, offer health screenings, demonstrate fitness and massage techniques, and answer health and wellness-related questions.
MAIN STAGE SCHEDULE OF EVENTS:
10:00 - 10:20am
Club Pilates
Club Pilates Express Mat Class, Patricia Van Escche
10:30 - 10:50am
Orange Theory Fitness
Orange Theory Fat Blaster, Emily Fanelli, CPT, OTF Coach
11:00 - 11:20am
The Bar Method Scarsdale
Bar Method Express, Sara Giller
11:45am - 12:10pm
The Child & Family Institute
Specialized Cognitive Behavioral Therapy and Interdisciplinary Behavioral Health. Adam S. Weissman, Ph.D., Michele Barton, Ph.D., Alba Cabral, Ph.D., Debra Vitagliano, M.S., OTR/L, Katie Little, B.S.
12:25 - 12:50pm
Nordic Edge
Cryo TShock for Fat Freezing, Marie O'Connor, DNP, RN and Jamie Traviglia
1:05 - 1:30pm
Metro Behavioral Health Associates
"What the heck is intuitive eating? And how does it help picky eaters and overeaters?" Jennie Kramer, MSW, LCSW-R and Tamra Rosenfeld, RD
2:20 - 3:00pm
Scarsdale Integrative Medicine
Functional Medicine: Treat the whole person, not the disease, Dr. Joon Lee, Uses and Indications for Medical Cannabis in New York State, Dr. Bernie Lee
Bango Bowls will be sampling their delicious acai bowls, and two acclaimed food trucks will be serving lunch food. DoughNation, Chef David DiBari's award-winning food truck, will bring its popular wood-fired pizza to Scarsdale Village. And Westchester Burger Company will also be present with their Graziella's Italian Street Fair Truck, serving family favorites.
Kids activities include a bouncy castle, balloon artist, face painter and polish changes with nail appliques. There will also be a fire truck, police vehicle, and ambulance on hand, and Scarsdale Volunteer Ambulance Corps will be demonstrating CPR and first aid techniques throughout the day.
Models featuring spring fashions, accessories, and jewelry from local retail stores will walk around Scarsdale Village throughout the event. In addition, Julius Michael Scarsdale and BLVD will be showcasing their hair styles and makeup applications.
Attendees will receive giveaway bags with promotional items and incentives, and will be entered to win several great raffle prizes from participating vendors.
"I have been incredibly impressed by the energy and innovation of the SBA. They continue to create experiences for consumers to sample the diverse offerings available right here in Scarsdale and are completely on trend with their focus on health, beauty and wellness. This event has something for everyone, " said Jane Veron, Scarsdale Village Trustee and SBA Liaison.
"We are thrilled to support the Scarsdale Business Alliance and participate in this event to build a healthier community," said Kimberly Carriere, COO Scarsdale Medical Group.
The SBA is a non-profit organization dedicated to supporting the Village of Scarsdale and its local businesses. Come celebrate health and wellness with the SBA and the Village of Scarsdale, and learn how to create a healthier lifestyle by attending the Health, Beauty & Wellness Fair on Saturday, May 4th, 10am - 3pm in Scarsdale Village.
Participating Health, Beauty & Wellness Vendors (as of April 12th): Athleta Scarsdale, Bango Bowls, Bronx River Books, Club Pilates, Elder Care Homecare, Equinox, Eye Gallery of Scarsdale, Flora Nail & Spa, Greenwich Medical Spa, Here & Now Body & Yoga, Houlihan Lawrence, Metro Behavioral Health Associates, Nordic Edge, Orange Theory Fitness, Profile by Sanford - Scarsdale, Scarsdale Volunteer Ambulance Corps, Scarsdale Fire Department, Scarsdale Integrative Medicine, Scarsdale Medical Group, Scarsdale Pediatric Associates, Scarsdale Police Department, The Bar Method Scarsdale, The Child & Family Institute, and Westchester Parenting.
Participating Fashion Show Vendors (as of April 12th): BLVD, Eye Gallery of Scarsdale, Great Stuff, I Am More Scarsdale, Julius Michael Scarsdale, LF Stores, Mixology, Rothmans and Wyatt Lily.
For more information about the SBA or this event, please visit www.scarsdalebusinessalliance.com or email info@scarsdalebusinessalliance.com.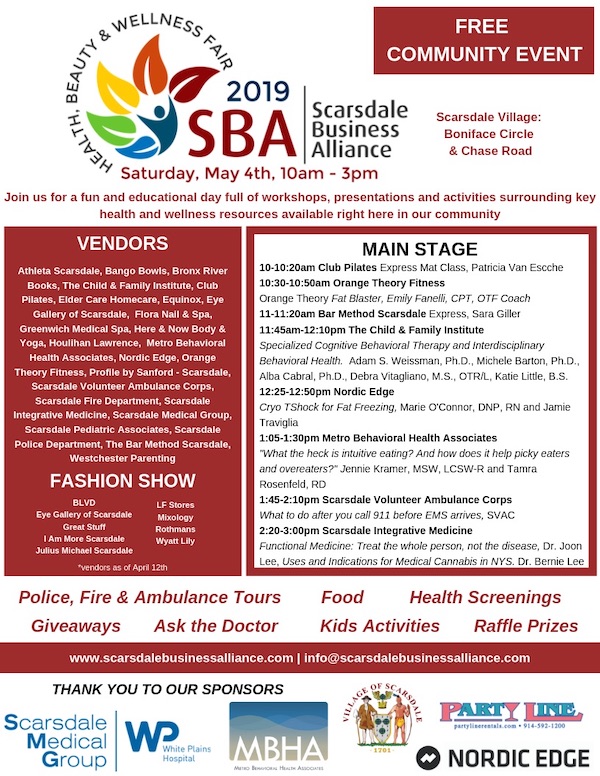 Little League Opening Day
Details

Written by

Anna Cho

Hits: 1167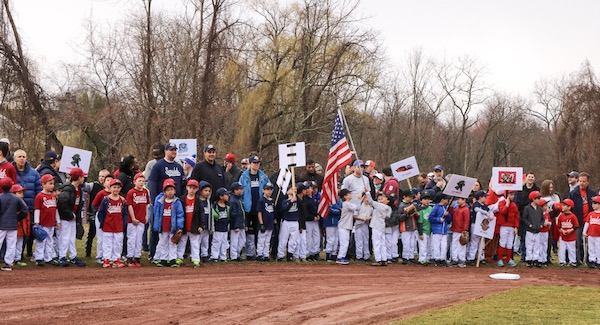 On Saturday April 6, friends and family gathered to celebrate Scarsdale Little League Opening Day. Parents and children enjoyed delicious Belgian waffles and slurped steamy hot chocolate. As bellies grew full and laughter filled the air, kindergarten through second grade teams were prepared for their parade. The young baseball players walked out with smiles across their face, eager to meet all of their supporters. Waiting for them in the crowd was the entire Varsity Baseball team, Boy Scout Troop 4, and Cub Pack 440. Gathering around the baseball field, the players waited to hear speeches from baseball legend, Edgardo Alfonzo, and Scarsdale Mayor Marc Samwick.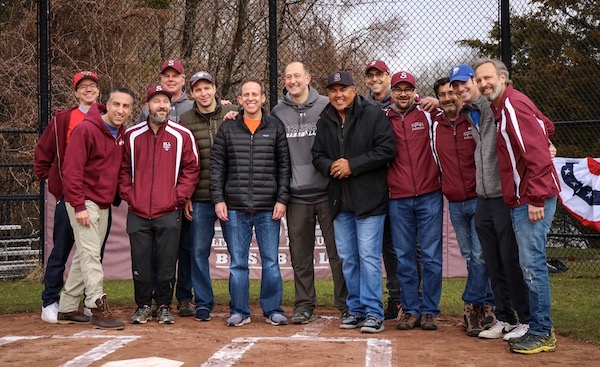 Volunteers of the Little League organization pose with Met great Edgardo Alfonzo.


After the words of encouragement from the Mayor varsity baseball player, Michael DiSanto, was granted the Hometown Hero Award. This new award is granted to an alum of the Little League currently playing baseball, who has put a significant amount of time and effort into helping the community. In addition to Michael DiSanto, retired Mets player, Edgardo Alfonzo, shared his motivational words with the crowd. Edgardo Alfonzo, or Fonsi, has devoted numerous hours to volunteer and philanthropic work throughout Queens and Tri-state Area. Fonsi discussed the importance of his own fans who helped him improve during his career, and said that he wants to be that source of support for young athletes. Members of the Little League were able to hear the motivating and inspiring words of their supporters that will help them on and off the field.
Senior Michael DiSanto receives the Hometown Hero Award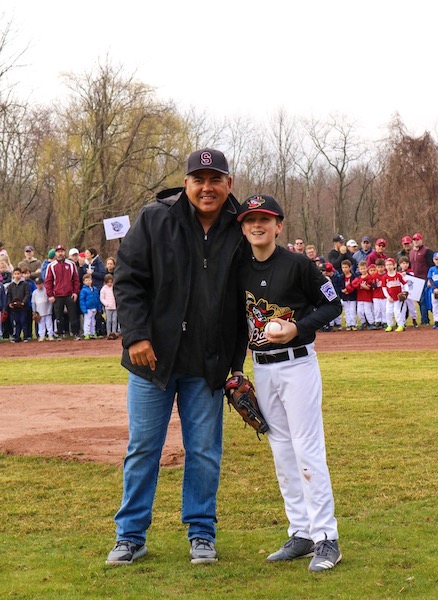 Ludwig Award winner, Eli Miller, poses for a photo with Edgardo Alfonzo after catching Alfonzo's starting pitch
The Scarsdale Varsity Baseball team stands for a photo
Praise for Retiring Mayor Dan Hochvert and Village Trustees Matt Callaghan and Carl Finger
Details

Written by

Joanne Wallenstein

Hits: 2080
Mayor Dan Hochvert and Village Manager Steve PappalardiMarch 26 marked the final meeting of the Scarsdale Board of Trustees before the new Mayor and newly elected trustees are sworn into office on Monday April 1. Mayor Dan Hochvert presided as trustees toasted him and Trustees Carl Finger and Matt Callaghan who have completed four years of service on the Board, as well as the Village staff with whom they have worked closely.
Matt Callaghan was given the mic first and chose to address his fellow trustees and the staff from the floor of Village Hall. He thanked "the ladies who run Village Hall" along with Dara Gruenberg and ML Perlman for "saving the non-partisan system." He seemed to regret his decision to vote against the funding for the new library saying, "I made a misstep a few years ago – I made the wrong move," and advised the incoming board to "listen to your hearts." Callaghan waxed poetic, quoting Thoreau and remembering his friend Howie Nadel who passed away in December and also recalled the 125th anniversary of Fire Company Number 1. He offered a prayer to the next Village Board, saying, "God grant them the grace to fulfill their responsibilities as a steward of the public good."
Turning to Callaghan, Trustee Jane Veron thanked him for his service, great stories, quick wit and decisive votes. She said, "There has never been a fire commissioner like you," and continued, "You comport yourself with grace and gentility, no matter what the circumstance."
Trustee Justin Arest called Callaghan "dapper," and said the County was lucky that Callaghan would now serve on their advisory board on seniors. Lena Crandall said Callaghan was, "An independent voice on the Board of Trustees," and Trustee Seth Ross said Callaghan was, "Vigorous with an independent approach to deliberation," saying, "Even when I don't agree, I have a more comprehensive understanding after you speak."
Turning to Carl Finger, Veron said, you have an "unassuming earnestness … and a fundamental desire to do what is right…. We will miss your good counsel on our board." Arest added, "Carl, being new can prove frustrating. I appreciate your efforts to make sure I was heard. You agreed to help me with the bills the first time. I always appreciated our conversations." Noting Finger's nomination to service on the School Board, Arest said, "The schools will be lucky to have you." Crandall told Finger, "You protected our trees and protected our streets from e-cigarettes and guns. From you, I learned about how to get things done." Ross added,
"You have a lot to contribute. You have lived here your whole life. I look forward to you continuing to be an active and involved member of the community."
Addressing Mayor Dan Hochvert, Veron said, "Two years have flown by and I am proud with what we have accomplished under your leadership. You roll up your sleeves and get things done ….. No fuss no muss – impact without fanfare… You have been a great partner to me – on communications, roads, food scraps, cable, the list goes on… You welcomed new ideas. I admire your countenance. You govern with an even keel. When asked ,you are always splendid. You will be sorely missed."
Justin Arest said, "Don't underestimate Dan Hochvert…. He is in better shape than I am.
Matt Callaghan receives a plaque from Village Manager Steve Pappalardi We became a very good team." Lena Crandall thanked the Mayor for helping her to "make the transition from volunteer to board member." She said, he has "shown me how to work as a member of a team." Ross said, "Mayor – you take an expansive view of the job… You know and speak to everyone…you remember to meet the needs of those you serve. It is a great comfort to know you will still be here."
Trustee Carl Finger saved the best for last. He said, "Most people don't understand the bond we share – having spent so much time together. I have great affection for all of you and the past board members with whom I served."
With that he read the following poem:
Citizens of Scarsdale, our Village in the Park
My last board meeting, so please do hark
I invite you to hear about your trustees
As well as the staff that always aims to please
Here is the tale of a government so fine
The last four years have been a fabulous time
This year we were joined by Arest and Crandall
Ready they were to take the mantle
From Pekarek and Samwick they sat in stead
Working hard, learning the ropes, and getting ahead
Justin quickly brought to the board his own view
Adding process to our decision making stew
He studied and learned of the village code
Justin keeps us all on a very straight road (without potholes)
Lena started off with verve and with ease
Always of course preserving our trees
She asks important questions and views
And keeps us up on the sustainability news
Continuing on were Callaghan, Veron and Ross
Carl Finger receives thanks from Village Manager Steve Pappalardi
Never a word from them would be cross
Matt has been the fire commissioner
Always the anti vote positioner
His independence was most respected
And was most certainly why he was re-elected
More can be said of our trustee Seth
His comments often a fresh air breath
Seth's quite reserved its fair to say
But when he speaks, better listen or be prepared to pay
His analysis and comments always quite wise
Logic prevails, he finds no need to dramatize
Jane is third in the line of succession
She works hard and speaks clearly without digression
Jane wanted a board that would communicate
She suggested a committee to set us straight
Websites, newsletters, instructional videos to exhort
Every meeting Jane offered a comprehensive report
Of her comings and goings we heard great detail
A report so lengthy it could not fit in the mail
That brings me now to the current Mayor you see
Who led us all with humor splendidly
He took the reins of the board as our newest steward
He stood firm and didn't allow us be skewered
He carefully quietly listened and always heard
Dan could change minds and hearts with one word
He let us all stretch out and explore
Our interests and goals he would never ignore
I can't say enough about his first rate function
Suffice to say I have no compunction
Mayor Dan has my greatest appreciation
For service well done and much approbation
That takes me now to those who make our work possible
Though they often labor without name, they are cognoscible
It's hard to know quite where to start
To remember them all I'd have to be really smart
Safety in Scarsdale is number one
Chiefs Matturo and Seymour cannot be outdone
No longer a long term renowned employee
I'd be remiss not mention Salanitro Benny
His knowledge of all matters snow, trash, and compostable
Made most first rate because he was always approachable
Paul Zaichek is a wiz with buildings and plans
In planning buildings not a thing is missed, not even the fans
Liz Marrinan our planner knows the village codes and lots
Her advice on point and correct and quite often sought
Frank Diodioti has taken over the building department with zeal
The information he provides is always even keel
Our Court Clerk April is always so kind
Ever present a smile that will help you unwind
Donna Conkling our Village Clerk is as organized as one could hope
She manages personnel, committees, councils as well as the pope
Mary Lou McLure manages our money with care and finesse and details aplenty
She always has the numbers at hand and if you ask nicely she'll lend you a twenty
Assistant to the Village Manager is Josh Ringel
His expertise on parking, traffic and safety, permit fees and the like explain why he's no longer single
Assistant Manager Ingrid Richards appeared on the scene
Just in time for meter, trees, and other legislation she presented with sheen
Robert Cole also arrived with a great flair
He's done amazing work despite not having hair
Rob's work I must say is always first rate
Newsletters, spreadsheets, analysis, and never ever late
Our Village Attorney Angela Martin a fine legal mind
Supported my efforts and wrote legislation really quite fine
That brings me to Steve, Pappalardo I mean,
Who runs a Village with much great esteem
From our friend Winston who closes up Village Hall each night
To the many employees who toil out of sight
It's hard to imagine a business run so well by so few
But I am here to tell you it is definitely true
Steve takes copious notes at every committee, council, or board meeting
He records all the words and ideas without eating
But that's not all that Steve does every day
He reviews those notes while hidden away
Then returns to us with a memo and plan to weigh
It's truly apparent to those close enough to hear
That Steve is force of excellence for the Village year after year
So as I bring my comments to a close
I realize that names I've omitted nobody knows
But at least for me I'd like staff to hear
They keep our village running and that much is clear
I will never forget the contributions you make
And will tout your accomplishments for Scarsdale's sake
Police, Fire, Public Works, Buildings, Courts, Planning, Treasurers, Assessors, and so many more
All I can say is thank you so much, as I head for the door.
For his final words, Mayor Dan Hochvert said, "It's been a great reward to work with this board, the Village staff and all the Village volunteers who work together to make this a fine place to live. Without all that work Scarsdale would not be as fine a place to live."
Many from the community also came out to thank the departing trustees and Mayor.
Andrew Sereysky delivered proclamation for distinguished service to Mayor Hochvert and Carl Finger and declared them honorary members of the Greenacres community.'
Former Mayor Jon Mark thanked Mayor Hochvert, Matt Callaghan and Carl Finger for their volunteer service. He said, "Your time and effort are an essential component to village affairs… Each of you has contributed greatly."
Lynne Clark addressed Dan Hochvert, saying, "I am here to thank a man who has given his heart and soul full time to make Scarsdale a better place. She said, Hochvert was "Present at every Scarsdale event," and said, "If something needed to be done and he could do it – he did it!"
Diane Greenwald tested our Latin when speaking on behalf of the Library Board of Trustees. She thanked all three for remarkable service to Scarsdale," and said they acted "with decorum and integrity." For their support for the library, she said, "We are forever grateful, "Semper gratiam habere," and advised them to "Carpe librium" (seize the book.)
Addressing the Mayor, Co-President of the League of Women Voters Janice Starr said, "Your passion comes through in so many ways. You reached out to many segments of the population. Your commitment to sustainability and historic preservation showcases your love of all things Scarsdale."
To Matt Callaghan she, said, "You are the man in uniform. You are the liaison with seniors. You represent those who are not always heard. You are funny and kind."
Starr called Carl Finger, "An intelligent skilled trustee" who "made our work easier."
And finally, Carl Finger's two daughters, who had sat patiently in the audience, came to the podium to thank their dad, "Trustee Finger."
Watch the meeting online here.
The new Mayor Marc Samwick along with trustees Jonathan Lewis, Seth Ross and Rochelle Waldman will be sworn in at 12 noon at Village Hall on Monday April 1, 2019.
Author Visit with Jill Schlesinger: "The Dumb Things Smart People Do With Their Money"
Details

Written by

Joanne Wallenstein

Hits: 2114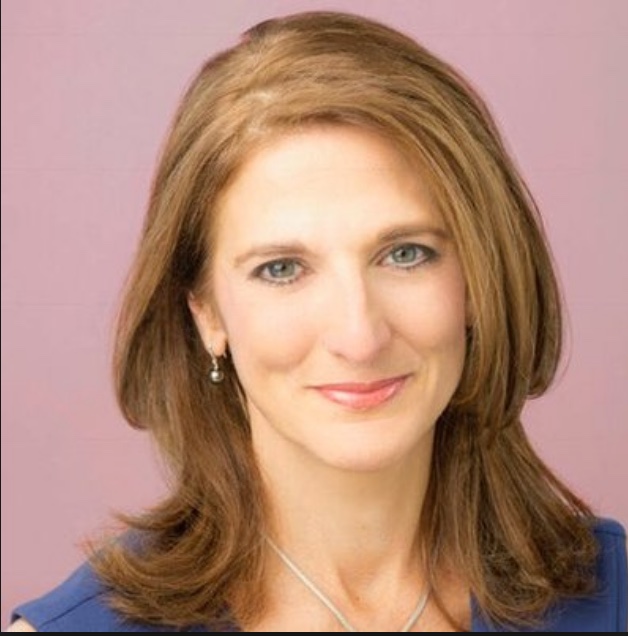 CBS News analyst, financial planner, author and SHS Alumni Jill Schlesinger will visit Scarsdale on Tuesday April 9, to share insights from her new book, "The Dumb Things Smart People Do With Their Money: Thirteen Ways to Right Your Financial Wrongs" in an evening hosted by the Scarsdale Adult School.
After decades working as a Wall Street trader, investment adviser, and money expert for CBS, Jill Schlesinger reveals thirteen costly mistakes you're probably making right now with your money without even knowing it. Drawing on heartfelt personal stories (yes, money experts screw up, too), Schlesinger argues that it's not lack of smarts that causes even the brightest, most accomplished people among us to behave like financial dumb-asses, but simple emotional blind spots. So if you've made well-intentioned mistakes like saving for college for your kids before you've saved for your own retirement, or taken on too much risk when you invest, you've come to the right place.
Schlesinger will explain how to pinpoint your monetary blind spots and take control of your finances responsibly. Among other common mistakes, blowing thousands of dollars on overpriced financial products or failing to draft a will are just a few of the costly errors Schlesinger will address. By breaking bad habits and following Schlesinger's pragmatic and accessible rules for managing your money, you can learn to save tens, even hundreds, of thousands of dollars, not to mention avoid countless sleepless nights.
Sign up on the Scarsdale Adult School website to see Schlesinger in person on Tuesday night April 9 at 7 pm at Scarsdale High School.
We asked Schlesinger a few questions about herself and her observations of investment decision-making and here is what she shared:
How did growing up in Scarsdale and receiving a Scarsdale education impact your views on money and your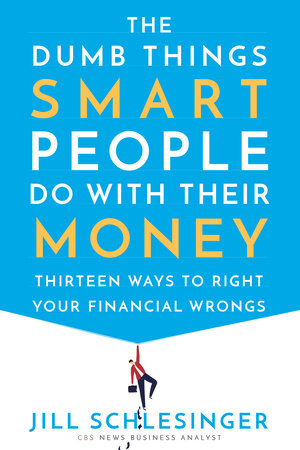 choice of a career?
My career choice had to do with my father, who was a trader on the floor of the American Stock Exchange...when I was growing up in Scarsdale, most parents were doctors, lawyers and investment bankers...very few worked as traders and far fewer were on trading floors. My Scarsdale education taught me how to think critically and more importantly, was a great preparation for my college years at Brown.

In your new book, "The Dumb Things Smart People Do With Their Money" you list some common mistakes people make - can you share one of these with our readers - and tell us why their choice is dumb and what they should do instead?
Dumb thing #3 is "You make money more important than it is" and it is one of my favorites because it gets to the essence of the book: we often do these dumb things because of our emotions. While I want people to pay attention to their money and to respect, I don't want it to control your decision-making. Some of the warning signs of this dumb thing include: keeping secrets from your spouse; losing sleep; comparing yourself to others; ruminating and moving financial goal posts.
Are women prone to making more missteps with their personal finances than men?
If so, what do they commonly do wrong and why? A number of surveys have shown that women tend to be better at managing money than men, so it is curious that some women take themselves out of the financial management process.

How has the current political climate impacted personal investing and financial planning?
The new tax law greatly impacted the current state of planning.
Sign up on the Scarsdale Adult School website to see Schlesinger live on Tuesday April 9, 2019
Maroon and White Celebrates Winter Athletes
Details

Written by

Emmeline Berridge

Hits: 2280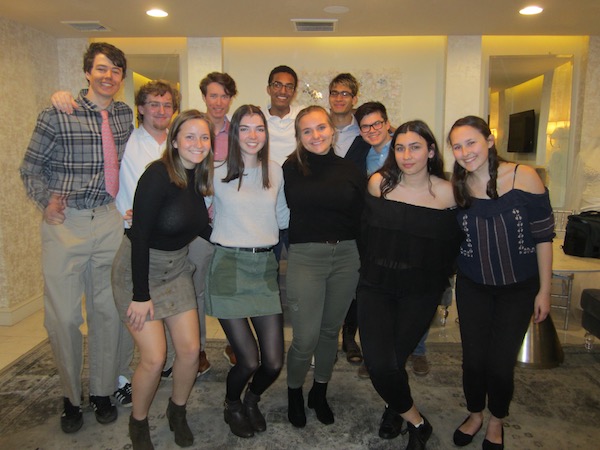 Skiers: (left to right): top, John Lloyd, Frederick Lowey, Jared Blinken, Derek Von Redden, Spencer Mann, Harry Liu bottom, Jaeda Dean, Connie Ferragu, Josephine Lacoudre, Sofia Vittori, Jackie NewmanThe annual Maroon and White sports awards winter dinner, which celebrates Scarsdale High School's winter sports athletes, was held last week at Lake Isle country club. The dinner is an incredible opportunity to honor Scarsdale's dedicated athletes and promote raider pride. 193 of the winter athletes were New York State Scholar Athletes, and there were a multitude of All-Section and All-League selections.
Ski: The ski team had a successful 2018-19 season, with 3 state qualifiers in seniors Jared Blinken, John Lloyd, and Connie Ferragu. All 3 also made it to the Eastern championships. Harry Liu was alternate. The team will surely miss this strong group of seniors, who represented the Scarsdale ski program well on the Section 1 and New York State slopes.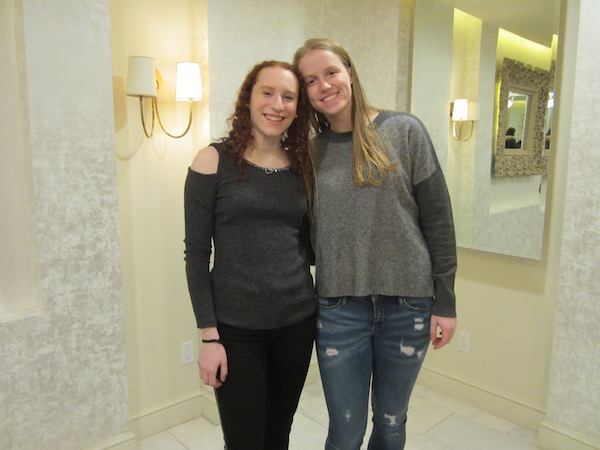 Girls Basketball (left to right) Nina Metviner, Emmeline BerridgeGirls Basketball: The girl's basketball team had a notable season, with a 10-10 record, including tough last second losses against league rivals Mt. Vernon and White Plains. Senior Nina Metviner noted that the highlight of the team's season was their scavenger hunt around Scarsdale during December break. Metviner also mentioned "what was so special about this team was the incredible deep friendships formed among our teammates, from trampoline parks to scavenger hunts around scarsdale to creepy trips to buckout road." Only graduating two seniors, and returning 7 underclassmen, raiders girls basketball will build off of the bonds formed this year to propel them to a successful 2019-2020 season.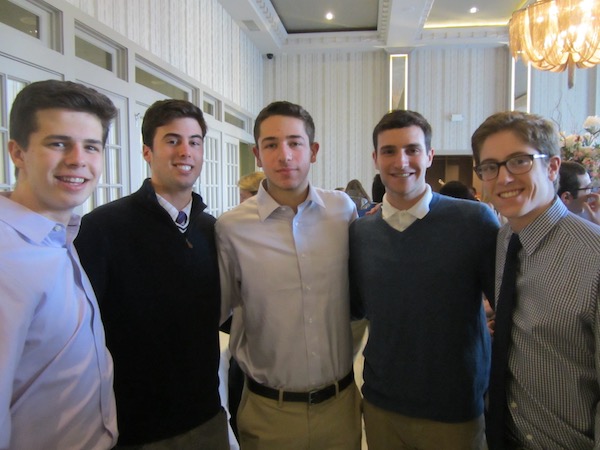 Boys Basketball (left to right) Connor McCarthy, Samuel Thompson, Cole Kattan, Eitan Altman, Joey Lane (not pictured: Evan Huo) Boys Basketball: Coming into the season with a new coach, the boys basketball team relied on their seniors to assume a crucial leadership role. The group didn't just accept this position-- they thrived in it. Going 8-0 to start the season, with an ultimate 14-8 record, the team showed that they were a force to be reckoned with in Section 1. Boys basketball galvanized support from a large fan base this season, an occurrence rare for the usually limited Scarsdale crowd. The team will miss the leadership and skill that came from their senior class, including All-Section and All-Conference player Cole Kattan.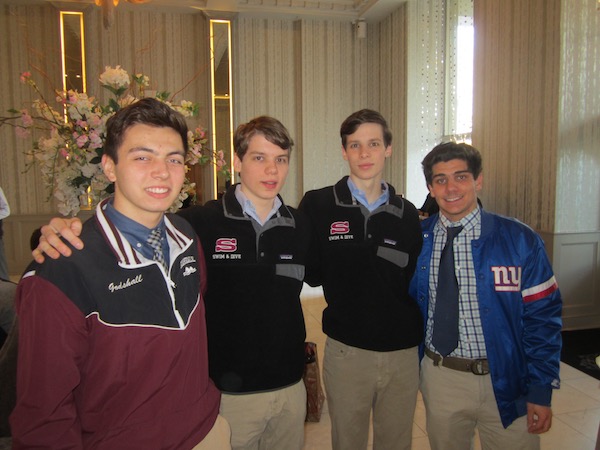 Boys Swimming (left to right), Peter Godshall, Riley Haffner, Jackson Haffner, Alex Eforo (not pictured: Alec Greenwald, Michael Disanto)
Boys Swimming: With a significant number of seniors to encourage team unity and morale, the boys swim team had a successful season. Senior Michael Disanto noted that "although our record may not show it we had a lot of strong swims, which can be credited to hard work and strong team morale." This morale can be seen in Disanto's highlight of the season, which was when an Eastchester swimmer was struggling with the 500 free--- an extremely arduous event-- and the entire Scarsdale team rallied behind him to cheer him on. This sense of spirit and camaraderie established by the seniors will carry on for years to come.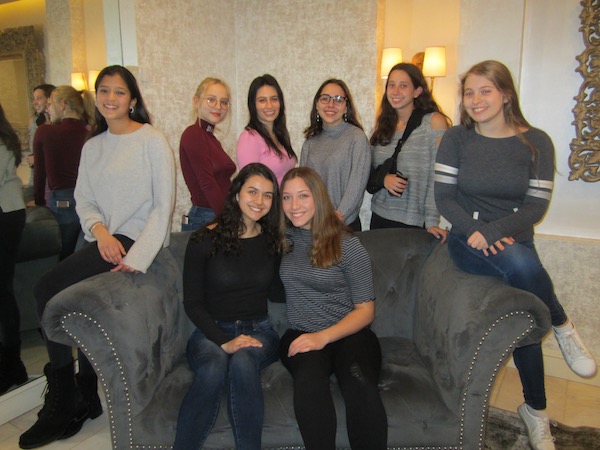 Girls Gymnastics (Clockwise from top) , Anaya Barmecha, Zarina Karimova, Aubrey Weinstein, Mariana Viera, Kylie Shelon, Lily Batt, Sylvia Bayrakdarian, Sara Frankenthaler
Girls Gymnastics: With the largest Senior class in the history of the gymnastics program, the gymnastics program capitalized on their growing team. The team sent multiple gymnasts to divisionals and sectionals. Senior Aubrey Weinstein said her favorite memories from the season were the karaoke sessions on bus rides to and from the gym, displaying the close knit nature of the team. She also noted that although gymnastics is a conventionally individual sport, she was impressed by the camaraderie shown in the sportsmanship between her teammates.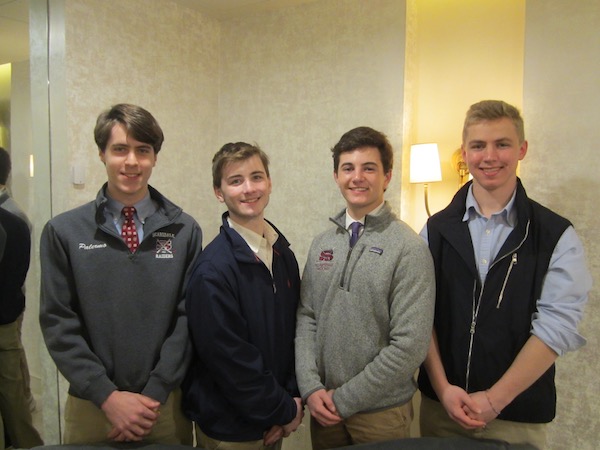 Boys Hockey (left to right), Michael Palermo, Ryan Collins, Ben Schwartz, Jack Brosgol Boys Ice Hockey: Although the boys ice hockey team was made up of a large number of sophomores, the Senior class shined in their leadership on and off the ice. Captains Jack Brosgol and Ben Schwartz, both impact players on the team, lead the raiders to a #3 seed into the section going into the playoffs. While the team had to overcome adversity with many injuries throughout the season, including multiple injuries for Senior standout Ryan Collins, they were able to come together and compete with the best teams in the section.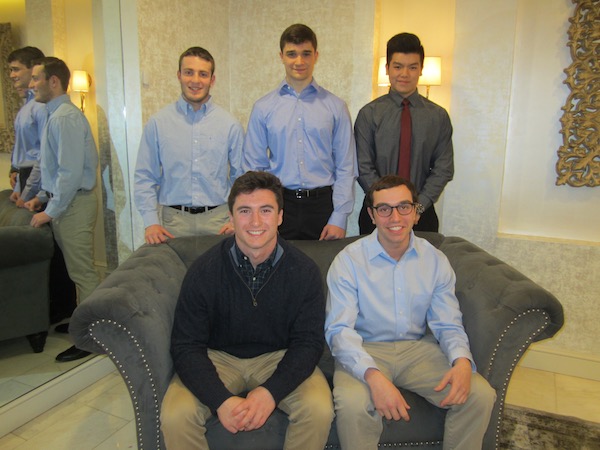 Wrestling (clockwise from top), George Koevary, John Ceske, Alex Kwok, Josh Porter, Michael Marom
Boys Wrestling: In Coach Jeremy Szerlip's first year as head coach for the wrestling team, the raiders had a successful season. Not only did they have two wrestlers win All-Section honors, but the team was able to develop an increased appreciation for the dedication and hardwork that comes with the sport. Senior Josh Porter noted that Coach Szerlip's "amazing approach to the sport and unparalleled wisdom and experience" allowed the team to reach their full potentials. The highlight of Porter's season was the team's trip to Garden City for the second tournament of the year, as the team "had to learn to lean on each other because [they] were facing some of the best teams in Long Island." The senior class' dedication to the various aspects of the sport, including making certain weight classes, will surely translate into a strong wrestling program for years to come.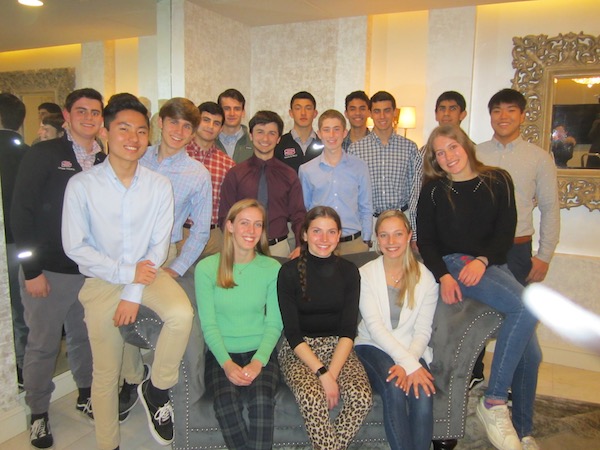 Track (clockwise from top), Alex Mayer, Bruno Tassari, Jonah Oxman, Eric Jacobson, Nico Cavaluzzi, Nick Bernard, Zach Hoexter, Omar Van Eer, Andrew Levy, Harris Jamil, Kodai Morikuni, Alex Wilson, Sierra Donovan, Aliza Mehlman, Brooke Bensche, Kazuki KatohTrack: The winter track team is filled with talented athletes. The senior class includes Amherst bound track star Sierra Donovan, Stanford Lacrosse bound Aliza Mehlman, MIT Track and Field bound Brooke Bensche, whose championship seasons were all cut short with various injuries. On the boys side, the team notched several milestones, including the 4X800 relay of Eric Jacobson, Ward Bandsma, Nick Bernard, and DJ Matusz, who broke a 41 year old Scarsdale record and placed 7th at Nationals, and a 12th place nationals finish in the 400 meter for Nick Bernard.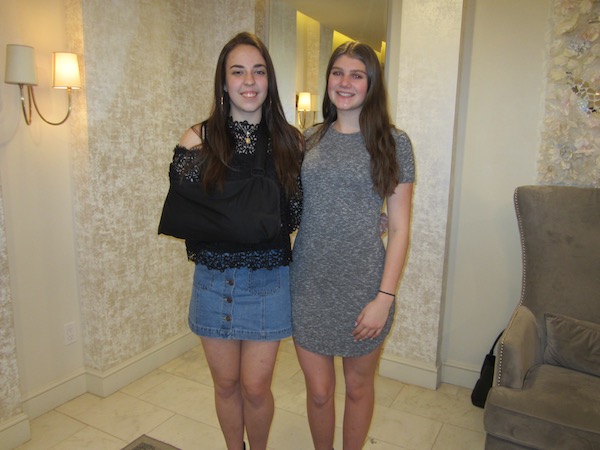 Cheerleaders, Casidy Donahue, Renata Pratt Cheerleading: The cheerleading team will lose two vocal leaders of the team in Casidy Donahue and Renata Pratt. The seniors noted that the highlight of their season was the team's trip to Disney for Nationals, where the team made it to semi finals for the second year in a row.