Health, Beauty and Wellness Fair in Scarsdale on Saturday May 4
Wednesday, 01 May 2019 09:36
Last Updated: Thursday, 02 May 2019 11:29
Published: Wednesday, 01 May 2019 09:36
Joanne Wallenstein
Hits: 2710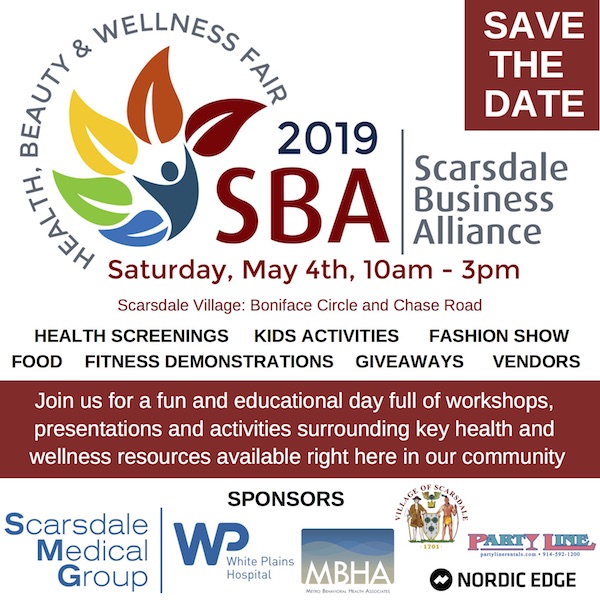 Come celebrate health and wellness on Saturday, May 4th, when the Scarsdale Business Alliance (SBA) hosts its first annual Health, Beauty and Wellness Fair in Scarsdale Village from 10am - 3pm. The event is free and open to the public and will take place on Chase Road and Boniface Circle, rain or shine. Key sponsors include Scarsdale Medical Group, Metro Behavioral Health Associates and Nordic Edge.
Don't miss out on this incredible opportunity for a fun and educational day with programming for the whole family, including workshops, presentations and activities surrounding key health and wellness resources available right here in our community.
Local businesses and health care providers will exhibit their services and products, offer health screenings, demonstrate fitness and massage techniques, and answer health and wellness-related questions.
MAIN STAGE SCHEDULE OF EVENTS:
10:00 - 10:20am
Club Pilates
Club Pilates Express Mat Class, Patricia Van Escche
10:30 - 10:50am
Orange Theory Fitness
Orange Theory Fat Blaster, Emily Fanelli, CPT, OTF Coach
11:00 - 11:20am
The Bar Method Scarsdale
Bar Method Express, Sara Giller
11:45am - 12:10pm
The Child & Family Institute
Specialized Cognitive Behavioral Therapy and Interdisciplinary Behavioral Health. Adam S. Weissman, Ph.D., Michele Barton, Ph.D., Alba Cabral, Ph.D., Debra Vitagliano, M.S., OTR/L, Katie Little, B.S.
12:25 - 12:50pm
Nordic Edge
Cryo TShock for Fat Freezing, Marie O'Connor, DNP, RN and Jamie Traviglia
1:05 - 1:30pm
Metro Behavioral Health Associates
"What the heck is intuitive eating? And how does it help picky eaters and overeaters?" Jennie Kramer, MSW, LCSW-R and Tamra Rosenfeld, RD
2:20 - 3:00pm
Scarsdale Integrative Medicine
Functional Medicine: Treat the whole person, not the disease, Dr. Joon Lee, Uses and Indications for Medical Cannabis in New York State, Dr. Bernie Lee
Bango Bowls will be sampling their delicious acai bowls, and two acclaimed food trucks will be serving lunch food. DoughNation, Chef David DiBari's award-winning food truck, will bring its popular wood-fired pizza to Scarsdale Village. And Westchester Burger Company will also be present with their Graziella's Italian Street Fair Truck, serving family favorites.
Kids activities include a bouncy castle, balloon artist, face painter and polish changes with nail appliques. There will also be a fire truck, police vehicle, and ambulance on hand, and Scarsdale Volunteer Ambulance Corps will be demonstrating CPR and first aid techniques throughout the day.
Models featuring spring fashions, accessories, and jewelry from local retail stores will walk around Scarsdale Village throughout the event. In addition, Julius Michael Scarsdale and BLVD will be showcasing their hair styles and makeup applications.
Attendees will receive giveaway bags with promotional items and incentives, and will be entered to win several great raffle prizes from participating vendors.
"I have been incredibly impressed by the energy and innovation of the SBA. They continue to create experiences for consumers to sample the diverse offerings available right here in Scarsdale and are completely on trend with their focus on health, beauty and wellness. This event has something for everyone, " said Jane Veron, Scarsdale Village Trustee and SBA Liaison.
"We are thrilled to support the Scarsdale Business Alliance and participate in this event to build a healthier community," said Kimberly Carriere, COO Scarsdale Medical Group.
The SBA is a non-profit organization dedicated to supporting the Village of Scarsdale and its local businesses. Come celebrate health and wellness with the SBA and the Village of Scarsdale, and learn how to create a healthier lifestyle by attending the Health, Beauty & Wellness Fair on Saturday, May 4th, 10am - 3pm in Scarsdale Village.
Participating Health, Beauty & Wellness Vendors (as of April 12th): Athleta Scarsdale, Bango Bowls, Bronx River Books, Club Pilates, Elder Care Homecare, Equinox, Eye Gallery of Scarsdale, Flora Nail & Spa, Greenwich Medical Spa, Here & Now Body & Yoga, Houlihan Lawrence, Metro Behavioral Health Associates, Nordic Edge, Orange Theory Fitness, Profile by Sanford - Scarsdale, Scarsdale Volunteer Ambulance Corps, Scarsdale Fire Department, Scarsdale Integrative Medicine, Scarsdale Medical Group, Scarsdale Pediatric Associates, Scarsdale Police Department, The Bar Method Scarsdale, The Child & Family Institute, and Westchester Parenting.
Participating Fashion Show Vendors (as of April 12th): BLVD, Eye Gallery of Scarsdale, Great Stuff, I Am More Scarsdale, Julius Michael Scarsdale, LF Stores, Mixology, Rothmans and Wyatt Lily.
For more information about the SBA or this event, please visit www.scarsdalebusinessalliance.com or email info@scarsdalebusinessalliance.com.