Scarsdale's WeRun Team Supports the Annual Westchester Run
Details

Written by

Joanne Wallenstein

Hits: 1419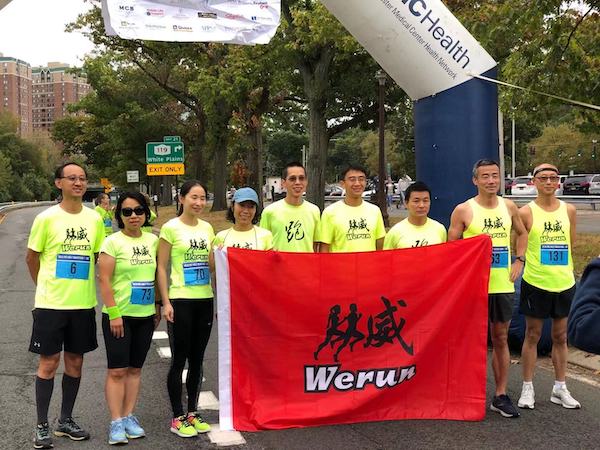 The Scarsdale WeRun team participated the Westchester Healing Half and 10K charity runs on Sunday October 6 on the Bronx River Parkway. There were a total of 28 runners, the biggest team in this race. They took the overall first place (Shuangyuan Luo), overall third place (Nick Chien) in Men's 10K; second place (Shenghua Hu) in Men's 50-59 Half Marathon and third place (Lei Zhang) in Men's 40-49 Half Marathon.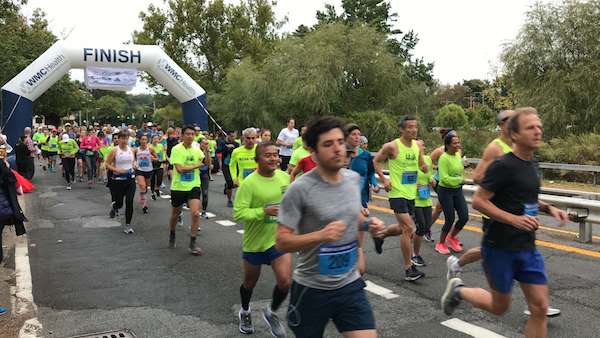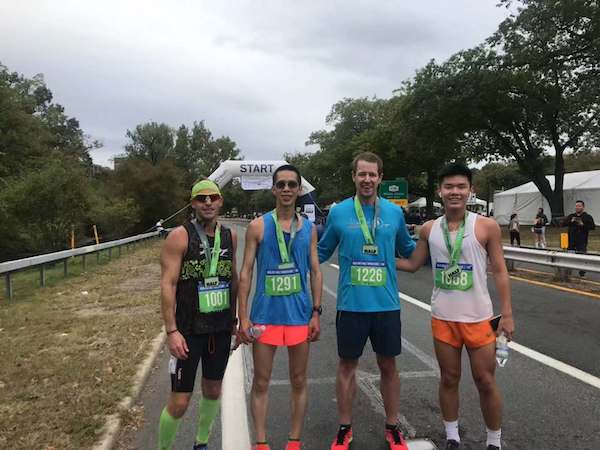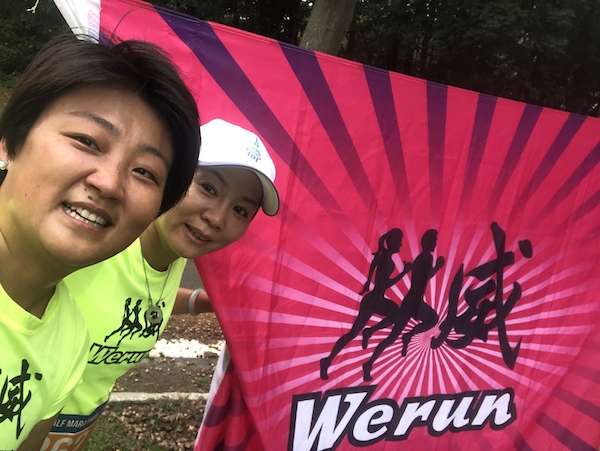 "What the Heck is Happening to My Body" ... Experts Answer Questions About Women's Health
Details

Written by

Joanne Wallenstein

Hits: 1100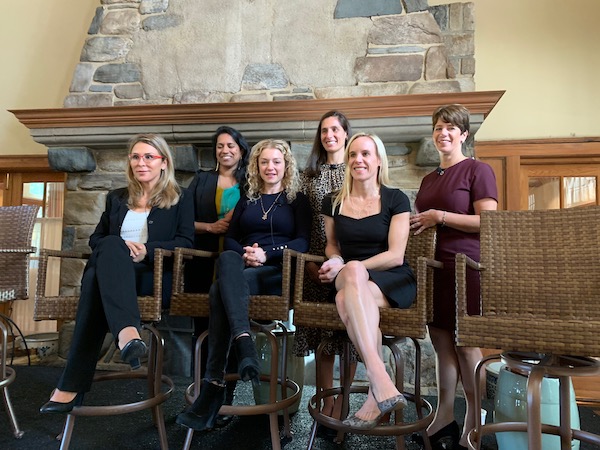 "What the heck is happening to my body?!" Women have probably asked themselves this question many times throughout the course of their lives (or some version of it!) As women age, the questions may become more frequent and the experience can feel unclear and ignored. Once yearly doctor visits often do not provide enough time or a relaxed environment to get answers to the plethora of issues that have arisen over the course of the year. As a response to this, White Plains Hospital invites women entering their late-30s, 40s, 50s and 60s to learn together with expert women health professionals in an open dialogue to address the topic "What the Heck is Happening to My Body?!
Featuring some of the top women's health experts in Westchester County, this candid conversation is a chance for women in the community to ask frank questions while maintaining privacy. Attendees can submit their questions in advance and anonymously online when they enroll. Topics will be driven by the concerns of those attending, but will likely include health risk factors, expected and unexpected physical changes, aging norms, perimenopausal and menopausal impacts, sexual health, thyroid health (metabolism and fatigue), and myth busting, to name a few.
The event idea came to event chair, Dara Gruenberg, this summer after talking to many of her friends. "Everywhere I went, I felt like I was having a different version of the same conversation and there were more questions than there were answers." Gruenberg, a member of the White Plains Hospital Foundation board, found that White Plains Hospital was ready and willing to assemble an expert panel with the goal to begin a community dialogue, and chip away at stigma and misinformation that accompany women's aging. White Plains Hospital seeks to support awareness and understanding for community women at this groundbreaking discussion.
Over 125 tickets have already been sold, suggesting the desire among women for information is real. When registering, women can donate to pay for uninsured women's mammograms in honor of October's Breast Cancer Awareness Month.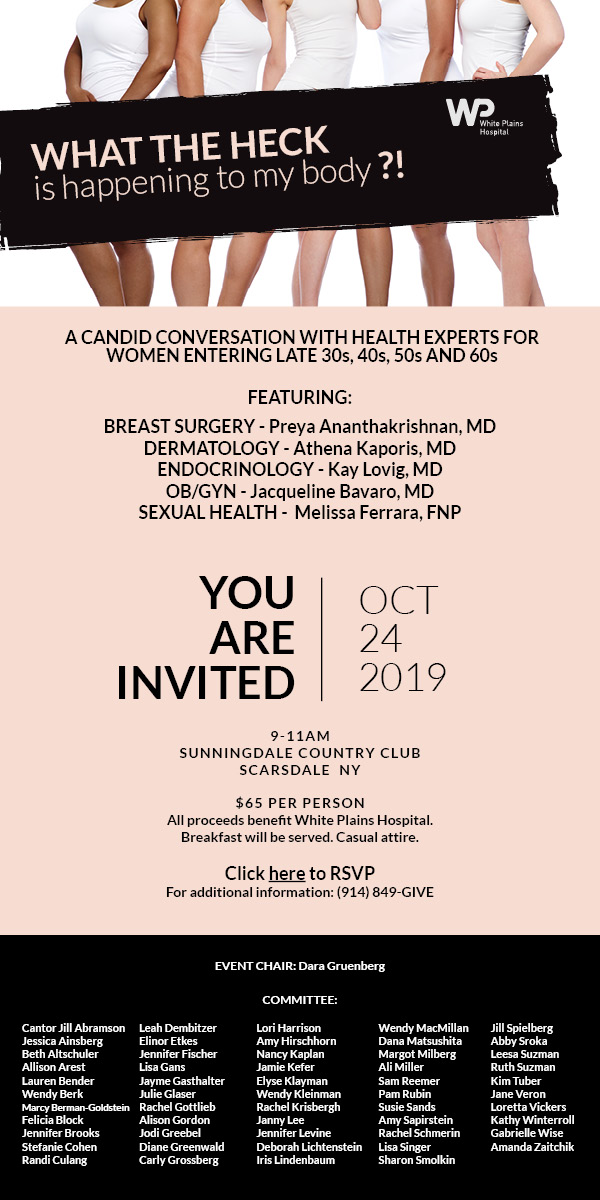 The event will be on Thursday, October 24 from 9 a.m. to 11 a.m. at the Sunningdale Country Club in Scarsdale, NY. Expert panelists include:
• Dr. Preya Ananthakrishan, MD, Director of Breast Surgery at White Plains Hospital;
• Dr. Athena Kaporis, MD, a board-certified Dermatologist at White Plains Hospital Physician Associates who specializes in both medical and cosmetic dermatology;
• Dr. Kay Lovig, MD, a board-certified Internal Medicine and Endocrinology specialist at White Plains Hospital Physician Associates;
• Dr. Jacqueline Bavaro, MD, OB/GYN with White Plains Hospital Physician Associates and a Diplomat of the American Board of Obstetrics and Gynecology;
• Melissa Ferrara, a nationally board-certified Family Nurse Practitioner, specializing as a female sexual dysfunction clinician.
The panel will be moderated by Dara Gruenberg.
Tickets to this event are $65 per person, and all proceeds will benefit White Plains Hospital. Breakfast will be served. For more information and to register, click here.
National Merit Corporation Announces 2020 Semifinalists
Details

Written by

Joanne Wallenstein

Hits: 1733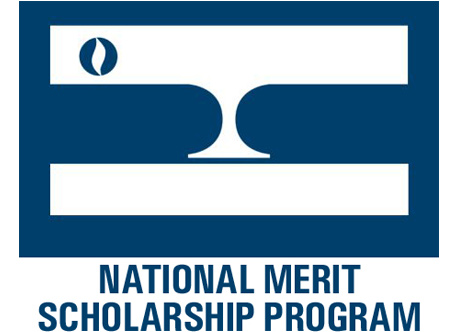 The National Merit Scholarship Corporation (NMSC) announced the names of approximately 16,000 Semifinalists in the 65th annual National Merit Scholarship Program. These high school seniors will have an opportunity to continue in the competition for some 7,600 National Merit Scholarships worth more than $31 million that will be offered next spring.
The Semifinalists were selected from over 1.5 million juniors in about 21,000 high schools who took the 2018 PSAT. The pool of Semifinalists, representing less than one percent of U.S. high school seniors, includes the highest-scoring entrants in each state. The number of Semifinalists in a state is proportional to the state's percentage of the national total of graduating seniors.
Here are the names of the Semifinalists selected from Edgemont and Scarsdale High Schools:
Edgemont High School
Hu, Alan J.
Kang, Joongoo
Lew-Kiedrowska, Olga
Lin, Iris C.
Markowitz, Ross J.
Sandhu, Amar
Shah, Rohan C.
Tucker, Laura C.
Yaghoobzadeh, Kion D.
Zagorsky, Ariella R.
Scarsdale High School
Asriev, Vladimir A.
Bandsma, Ward X.
Brenner, Lucy
Carroll, Craig G.
Chan, Alison K.
Chen, Patrick
Dhuri, Anika S.
Higgins, Caroline J.
Jansky, Dylan H.
Kelson, Charlotte S.
Lee, Calvin S.
Mainster, Eve L.
Martin, Spencer
Masic, Luka F.
Morin, Andrew
Peng, David
Roberts, Caroline C.
Silvers, Jack K.
Wei, Eric L.
Yang, Max
Zou, Lauren
Congratulations to all the Semifinalists.
"The Sinner" Films at Hartsdale Train Station
Details

Written by

Joanne Wallenstein

Hits: 3206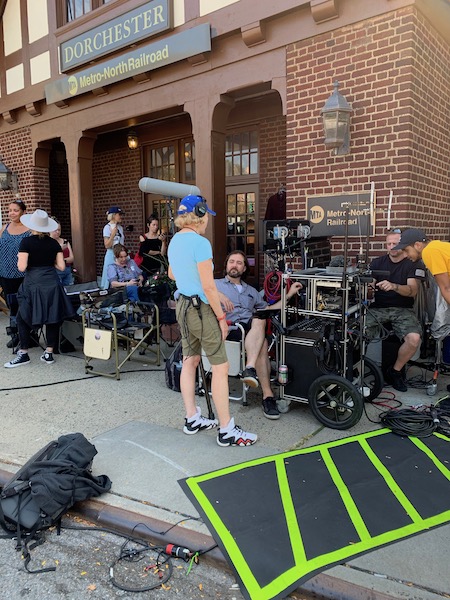 What was the hubbub at Hartsdale station on Monday September 23? We spotted trucks, cameras and microphones and learned that the Netflix series "The Sinner," was filming a scene there. About 60 cast members and 120 crew members were on site, filming a scene where Detective Ambrose (Bill Pullman) greets his family getting off the train. It appeared that they had to time the scene based on the Metro North train schedule – so there was lots of waiting in between arrivals. Notice the sign in the picture at left -- where Hartsdale became Dorchester!
For anyone trying to conduct business in Hartsdale it was a difficult day. The parking meters on the lower level of the garage were off limits to parkers and one of the exits to the garage was closed off as well. However, whatever stress resulted will undoubtedly be forgotten when Hartsdale shows up on Netflix.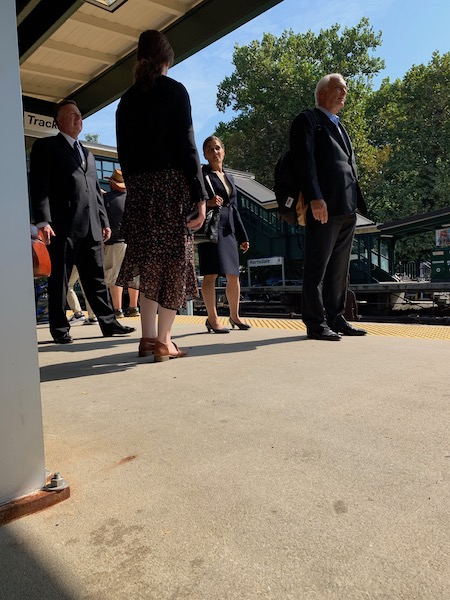 Extras pose as commuters on the platform.
Scarsdale Residents and Students To Raise Money for Alzheimer's Research
Details

Written by

Joanne Wallenstein

Hits: 1412
Rhonda Hunt of Barrys Bootcamp warming up the crowd at last year's walkOver 1,500 people are expected to participate in The Westchester Walk to End Alzheimer's on Sunday, September 29th at SUNY Purchase. The Walk is a very moving event where people come together, honor their loved ones and raise funds with the hope of finding a cure for this disease. The crowd will include babies, Alzheimer's patients, caregivers and a lot of dogs! The funds raised at the Walk support the research as well as the chapter's care efforts in the local communities. To donate, register or join a local team, please visit www.westchesterwalk.org.
Over 20 years ago the first Westchester Walk to End Alzheimer's was held at White Plains High School. Scarsdale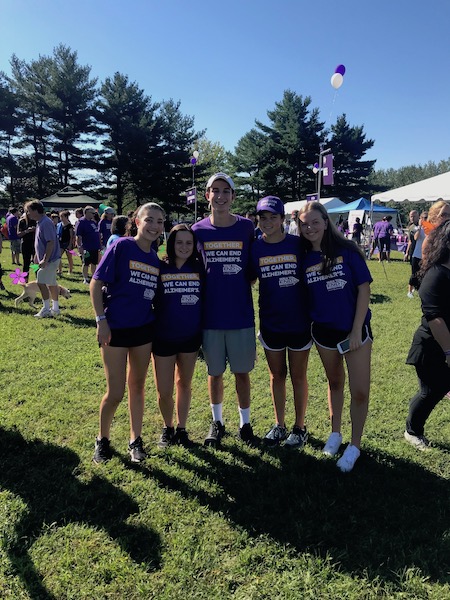 The Scarsdale High School team at the 2018 walkresidents Abby Salzman, Barry Meiselman, Eileen and Claire Hogdgon were among the earliest walkers. To this day, they continue their fight to find a cure for this disease. They remain active as volunteers and walk in memory of someone they have lost to Alzheimer's. Alzheimer's is relentless, has no cure and unfortunately almost every person has a relative or friend that has been impacted by this disease.
In 2017, Abby Fehrenbaker, a Senior at SHS founded the Scarsdale Club for Alzheimer's Awareness Research and Services, SCAARS. Its mission is "to spread awareness about Alzheimer's Disease, provide a resource to students going through a dementia related situation and to promote personal outreach and involvement with patients and caregivers." Team SCAARS plans on walking with several students this year in an effort to raise funds for a cure for this disease.
Several other residents walk and/or volunteer as individuals, with their families, with local residences, churches and temples, including Westchester Reform Temple Jewish Learning Lab. "The Westchester Reform Temple (WRT) community is proud to be a part of the Walk to End Alzheimer's again this year," said Felicia Block, Assistant Director of Jewish Learning Lab. "It is a wonderful way for our children and families to start the Jewish New Year, thinking about helping others and supporting the research and services to those living with and fighting to find a cure for Alzheimer's. We can't think of a better way to spend our day."
Julie and Dana Salzman