Engineers Review Findings of Sanitary Sewer Line Study
Wednesday, 27 June 2018 20:21
Last Updated: Thursday, 28 June 2018 10:39
Published: Wednesday, 27 June 2018 20:21
Joanne Wallenstein
Hits: 1864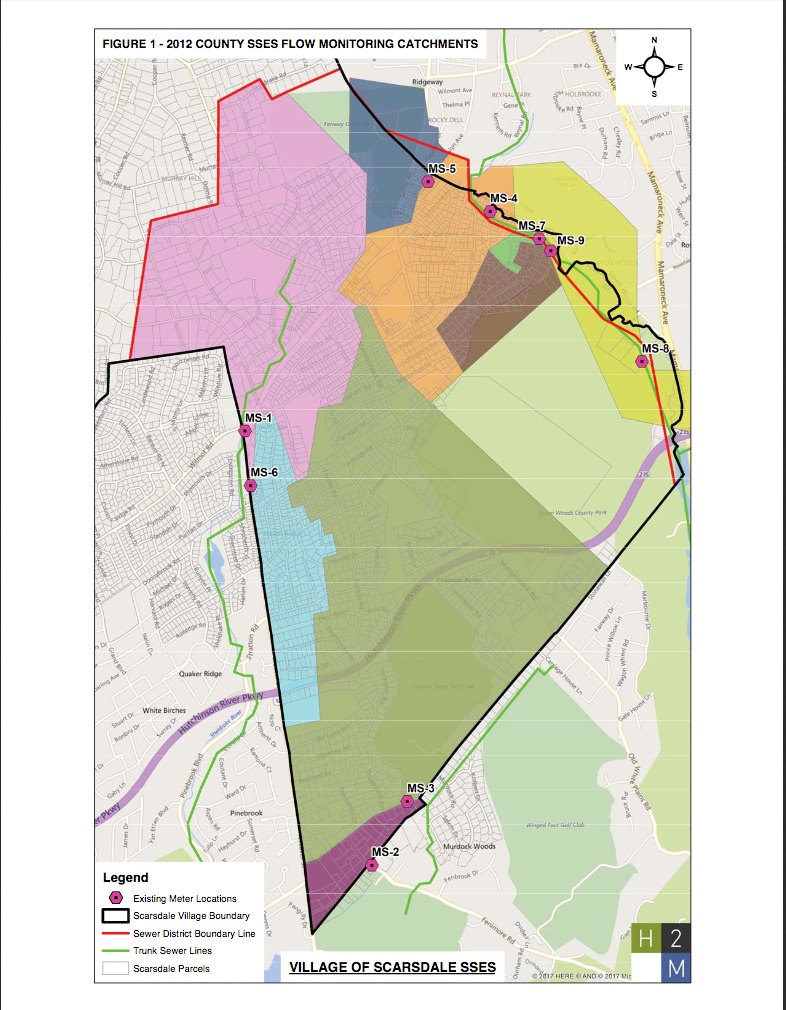 Trustees reviewed an analysis of the Mamaroneck Valley District, shown in green on this map.According to Westchester County and the environmental group Save the Sound, Scarsdale is dumping more than our fair share of untreated sewage into Long Island Sound and compromising public health.
Just how much excess water is flowing out of Scarsdale was the subject of a study presented by H2M Engineers to the Village Trustees on Tuesday June 26. Trustees engaged the consultants to study one portion of Scarsdale's sewer system, the Mamaroneck Valley District, to identify where excess water was infiltrating and inflowing into the sewer system. Scarsdale has three sanitary sewer districts and only the Mamaroneck Valley system discharges into the county-owned waste treatment plant and was therefore the subject of this first study.
The study was commissioned in response to the County Consent Decree and the lawsuit from Save the Sound, which is ongoing.
Based on census data which shows that Scarsdale has 3.21 people per household, the district's total estimated average daily waste water should be 1,011,000 gallons per day. However, the study showed that for this portion of Scarsdale, the flow was 1,470,000 gallons per day, or almost 50% more that allowed. The County claims that out of 11 municipalities, Scarsdale had the second highest number of daily flow exceedances, with a 59% exceedance rate.
In order to find out where water was flowing into the system the engineers monitored infiltration during rain storms, cleaned and monitored 156,000 feet of sewer using closed circuit TV, visually inspected 635 manholes to find defects and used smoke testing to see where inflows were occurring. The period of the study was June 7 to July 25, 2017.
The study identified areas where there were gushers, runners and drippers which account for major infiltration of groundwater into the sanitary sewer pipes. Gushers were located in four locations on Innes Road, Saxon Woods Road, Broadmoor Road and Heathcote Road where obstacles had been installed into the pipes. These four gushers alone account for 30,000 gallons of excess water per day. Most of the Village's sewer lines of constructed of vitrified clay, and the study found that most are in good condition though cracks and fractures do occur. Some of these lines are over 100 years old.
An examination of the 635 manholes was done from August to November 2017 and found that 233 exhibited signs of prior leakage. In order to reduce inflows, the village may need to install watertight covers on leaking manholes or do grouting and lining.
Smoke testing was used to identify discharges through open connections such as storm sewer catch basins, yard drains, driveway drains, roof leaders/gutters, broken or open sanitary sewer clean out caps and defective sewer laterals. Smoke testing involves the blowing of a harmless non-toxic smoke into the system, and then observing where the smoke exits. The presence of smoke indicates a break or fault in the sewer line. 35,000 feet of sewer lines were tested and a long list of homes with excess flows into the sanitary sewer system were identified.
To correct these situations the homeowner would need to disconnect sump pumps and drains from their sewage pipes and redirect storm drainage to a drywell, watercourse or open area rather than into the sanitary sewer system. During rainstorms, the total inflow from a single 1-inch rainfall is estimated to be 183,000 gallons.
In order to address leakages at individual property, the Village may need to enact legislation to add requirements on the inspection, repair, replacement and maintenance of sewer laterals by property owners. Trustees discussed the possibility of making a sewer inspection a requirement at closing for those purchasing a home, though this would do nothing to correct problems in homes that are not for sale.
Since all newly constructed homes are already required to have new sewer line connections, the problems only occur with older homes.
By repairing the gushers, fixing pipes, securing manholes and asking residents to remediate illegal connections to the sanitary sewer system, the Village will reduce the excess flows.
The Village already collects a sewer rent fee on all water bills, and these funds are being used to pay for the studies and to make necessary repairs.
This study accounted for only about 1/3 of Scarsdale's sewer lines. Village Manager Steve Pappalardo indicated that the work would be on-going and studies of the other districts would follow.
Learn more about the state of Scarsdale's sewer system here: