The 2019 Guide to Holiday Tipping and Gifting
Details

Written by

Stacie M. Waldman

Hits: 4958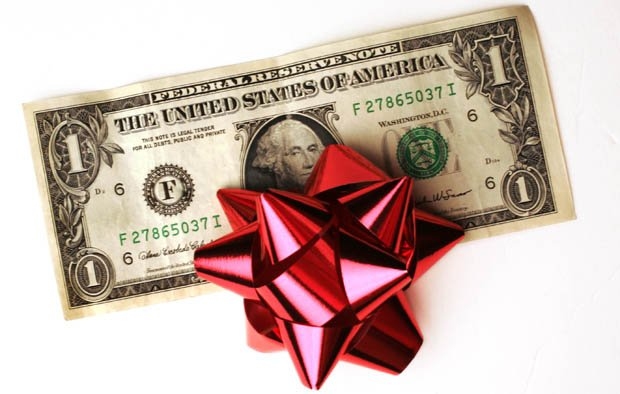 Christmas tunes are playing on the radio, you took advantage of the Black Friday super-sales and you gave generously on Giving Tuesday …. so what's next on your holiday list? Tips … and all the questions surrounding them. What are you tipping the trash guys? Are you allowed to give a cash gift to the mail carrier? If you get your hair highlighted right before Christmas, should you give more than the usual tip?"
Why do we tip? Some people tip and gift simply because it brings them joy. Others say they want to show appreciation for those who make their life easier or better while some tip out of obligation or fear that they won't get good service if they don't tip at holiday time.
Most just want to know what everyone else is doing so that they can tip the right people the appropriate amount.
The Emily Post Guide to Etiquette suggests thinking about tipping at holiday time in the following way and giving based on the following:
• The quality and frequency of the service you receive
• Relationship with service provider
• Years person has provided service
• Budget: only give what you can afford
• It's always okay to give baked goods and a note showing your gratitude
The guide also states that all gifts or tips should be accompanied by a personal note.
It takes a village to answer the tipping question and thankfully, our village loves to respond to surveys. Here's a breakdown of your response to our survey:
The Nanny: As a regular in the household, it is no surprise that nannies get the biggest gifts from the families for whom they work. The overwhelming majority of people give their nanny a full week pay as a bonus or tip. Some people say that they give a smaller amount of money ($100-$200) and a gift like a nice handbag or perfume. Etiquette sites warn that nannies do not want gifts related to kids, particularly your kids (like a framed picture), but they do recommended that your children write a note or draw a special picture for their nanny accompany the gift. A note of gratitude from the parent(s) goes a long way.
The cleaner/housekeeper: These are other people in many people's lives that are not regularly tipped. Two-thirds of respondents show their appreciation with a gift of one-week's pay. Another 15% give $200 which may be more or less than they pay their crew weekly. About 10% of people give a $100 bonus to their cleaning help during the holidays. Again, if this is someone you have a personal relationship with, a note of thanks is always appreciated.
The Beloved Babysitter: If you love and appreciate your babysitter, it's nice to give this person a card expressing your gratitude and a little extra spending money over the holidays. Most people give $50, $100, or an average week's pay. If your kids add on to this with an art project or card, that's even better.
The Trash Pick-Up Team: Although it's not a glamorous job, being a sanitation worker has its perks. Whereas Scarsdale's Department of Sanitation has a policy stating that sanitation workers cannot accept or solicit monetary gifts, it seems like a good number of you either ignore this or don't know about it since only 8% of people don't give cash. Of those who do tip, 45% leave $25 per person, 33% leave $50 per person and 14% leave $100 per person. One person responded that they leave a week's pay, but I'm not sure how we know what that is.
A very common question is HOW do you tip them, as in where do you leave the money and cards? Some people tape gifts onto their garbage or recycling bins but if you worry about someone else taking it, you can leave a note asking them to ring your doorbell and then hand them their gifts on garbage collection day. Of the 8% who do not acknowledge sanitation workers with cash, the most common reason they give is because they are salaried employees with benefits and are not dependent on tips.
The Mail Carrier: Postal workers are usually acknowledged during holiday time, although the United States Postal Service (USPS) does not allow mail carriers to accept cash gifts, checks, or any other form of currency. They may accept snacks and beverages, gifts valued under $20 including gift cards to a specific retailer, or gift baskets that can be shared with other staff. That being said, of the 80% of people that give a cash gift to the mail carrier, half give $25. Other denominations include $50 (26%), $100 (14%). A few people give a token $10 thanks. Again, mail carriers are not tip-dependent workers, so if your budget is tight and your mail delivery person doesn't show much love, consider skipping the tip.
The Delivery People: Newspaper delivery people depend on tips for income, so it's nice to give a bit extra ($10-$25) to these people during the holidays if they provide a good service. Private delivery services (like FedEx and UPS) may accept monetary and non-monetary gifts, but they are salaried employees and do not depend on tips for wages. One-third of people give cash gifts of $25-$50 to their package delivery people but two-thirds give nothing extra to them during the holidays.
The Teacher: Almost everyone appreciates their children's teachers and all but 5% acknowledge them at holiday time with a gift or a cash equivalent. Of the 78% of respondents who have kids in school, 25% give a gift valued under $25 and 6% give a gift valued over $25. Another 25% give $25, 10% give $50 and 8% of people give their child's teacher $100. Although it is likely that some respondents have children in private school with different policies, Scarsdale school policy states that class parents can ask for contributions of up to $10 per family for a group gift for the teacher and individual gifts must remain under $15. Hmmmm….
The Lawn Service: Less than 20% of people gift their landscaping/lawn service companies during the holidays but those who do give about what they pay their lawn company for one or two weeks of mowing. T'is not the season for lawn care so that may be the reason people forget the gardener.
The Bus Driver/Monitor: Less than half of respondents have a bus that takes their kids to school, but of those that do, most give $25 or $50 to the driver and monitor. If your kids are on a bus with other kids you know, it might be a good idea to pool money and give one larger gift to the driver and monitor. It's also nice to have your kids write a card or draw a picture if they like their experience on the bus.
The Groomer/Dog Walker: Only 25% of those surveyed use groomer and dog walking services. Those who do tip give about $50-$100 or what they'd pay for a week of walking or a pup grooming session. If you have a personal relationship with this person, it's thoughtful to include a note of thanks for treating your furry family member well.
The Trainer: Most people don't have a personal trainer. Of the 25% of people with a personal trainer, most give $100-$200 or the equivalent of one week of training. As this is someone you spend time with, a personal note of gratitude should accompany any gift.
The Coaches/The Tutor: A quarter of people responded that they do not give an extra tip to a coach or a tutor at holiday time, but about 20% people give a tangible gift, 20% give $50, and 15% of people give $25 or $100. This was quite a range which suggests that relationships with coaches or tutors vary.
The Hairdresser and The Manicurist: Most people (65-75%) have a hairdresser and/or a regular person for manicures and pedicures. Of those, 30% give nothing extra to their hairdresser and 50% give nothing extra to their manicurist. About 25% give $50 to their hairdresser and 17% give $100. For nail technicians, most give $25 and some $50. A few people bring small gifts. If you go to your regular hairdresser or nail salon to get your hair or nails done during the holidays, it is appropriate to give a bigger tip than usual (and up to the cost of the service).
However, some etiquette sites say that if you regularly tip someone, there is no need to tip a significant amount extra during the holidays. If you're getting your hair cut, colored and styled and think you are expected to give the cost of the hair treatment, this can add up to a lot of dough.
Here are the results of our survey of what your fellow Scarsdalians are giving this season:

Remember that there is no right or wrong amount to tip and that a personalized card is a most sincere gesture of gratitude. The above list is just a guide of who you may want to consider giving a gift to but is by no means exhaustive. Quite a few people wrote in the comments saying they also tip the dry cleaner, the handyman, the boss, the administrative staff or co-workers, the milkman, the vet, the gym instructor and the tennis pro.
If you don't feel comfortable giving a tip consider a special gift like a bottle of wine, a fruit basket or a gift card to a local restaurant to show your appreciation. A donation in someone's name is also a nice way to show that you are thinking of them, particularly if it's to a charity that's meaningful to them.
We hope this season brings you joy with your gift-giving and that this helps takes the stress out of the whom and the how much.
Police Offer Advice On Preventing Crime During the Holidays
Details

Written by

Joanne Wallenstein

Hits: 955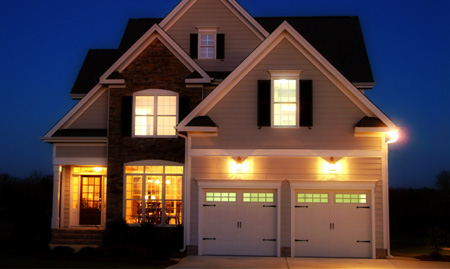 The Scarsdale Police Department, in partnership with the community, wants all residents to help make the Village a safe place to live, work and visit. Police suggest the following recommendations to assist in preventing home burglaries and other seasonal crimes:

-Make your house appear occupied. Leave lights or televisions on timers when you are out.
-Use motion-activated exterior lighting and keep the perimeter of your house well lit. Even the smallest light may be a deterrent to prowlers.
-Consider investing in a camera surveillance system and advertise that your house is protected by video surveillance by posting signs.
-Make your home more difficult to enter by increasing exterior security.
-Always turn on your alarm system when you are away. This includes second-story alarm sensors.
-Keep all exterior doors locked, using deadbolt locks. Keep your garage door closed and locked.
-Always lock your vehicle, whether it is parked on the street or in your driveway. Do not leave keys in unattended vehicles.
-Don't allow daily deliveries of mail, packages or other items to build up while you are away. Arrange the Post Office to hold your mail or ask a friend or neighbor to collect them regularly.
-Be an observant neighbor. Immediately notify police of any suspicious activity in your neighborhood. Always be vigilant and aware of your surroundings.
Recycle Your Pumpkins—It's Easy
Details

Written by

Conservation Advisory Council

Hits: 1302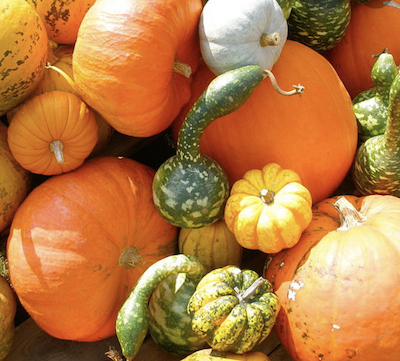 All those pumpkins and gourds that have been sitting on your front steps or that will decorate your Thanksgiving table can have another valuable use after the holidays--being turned into compost! There are several easy ways Scarsdale residents can recycle pumpkins and gourds:
-Place them in or next to your food scrap recycling bin (Need one? Email composting@scarsdale.com or register here.
-Bring them directly to the Food Scrap Drop-off Site at the Recycling Center, 110 Secor Road (Please put them on or in front of the wall behind the food scrap collection bins.)
-Place them with your yard waste or leaf pile

By sending your pumpkins and gourds to be composted, you are helping nature recycle her bounty and returning nutrients to our earth.
Street Food from the World Over at Little Drunken Chef in White Plains
Details

Written by

Judie Dweck

Hits: 2449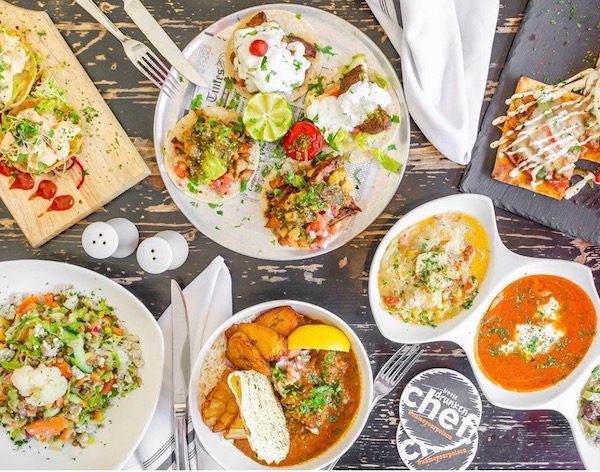 A bright boldly striped awning announces the opening of Little Drunken Chef on Mamaroneck Avenue in White Plains. Here I was , midweek, just a few minutes north of Scarsdale , and upon opening the door of Little Drunken Chef, I was transported to what could have been lower Manhattan, perhaps Greenwich Village, preparing to enjoy a meal at one of their funky restaurants. The décor in this new White Plains eatery is amazing and as interesting as its menu. A painting of a woman enjoying a cocktail greets you at the door. The exposed brick walls are covered with collages of newspaper articles, photos, quotes and bumper stickers. One wall is mounted with a collection of old wooden doors, covered in peeling paint and graffiti. Hanging from the industrial ceiling is lighting constructed from plastic piping. The main level has a large friendly bar on one side, and several high tables. The other side of the room has a long banquette and many tables. The long staircase in the back, with the black risers covered with graffiti, leads to the upstairs dining area, perfect for parties of about 45 guests. On Fridays and Saturdays a DJ and dancing add to the festivities. The design of Little Drunken Chef shows off the artistic talent of owner Bonnie Saran and her creative co-worker Anna Canna.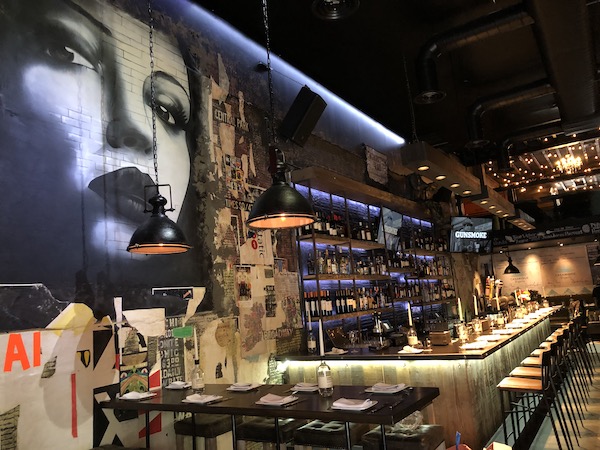 Bonnie Saran the multi-talented owner, is the creative force that brings her concept to White Plains. Some of Saran's other ventures include Little Mumbai Market in Pleasantville and Little Crepe Street and Little Kabab Station in Mt Kisco. Saran's family roots are from India, where her military family moved around a great deal. She is well travelled and added to her culinary knowledge through her visits around the world. She learned a great deal helping her mother in her catering business.

Little Drunken Chef is casual and fun and serves street food from many of the countries that Saran visited. People she met in her travels shared recipes with her. There are tastes of Mexico, Spain, The Bahamas, Greece and India, to name but a few. She also has an extensive catering business. "One of the best parts of my job is creating something out of nothing. I love and get great satisfaction from the planning aspect of my business. My work is very hands on and I can help with all facets at my restaurants. Everything at Little Drunken Chef is prepared in house, and is fresh daily. We do not freeze our dishes. If I were dining at Little Drunken Chef, I would have loved to have my father and grandmother share my table and enjoy dishes such as our goat curry."

The menu here has many categories with interesting selections within each. Choose from Chef's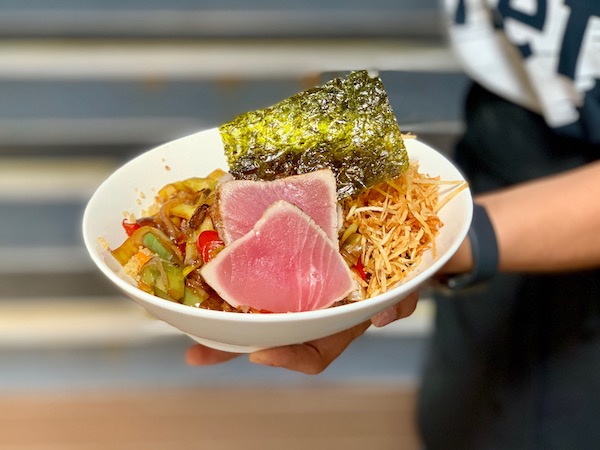 board, soup, tapas, tacos, burger barn, and fried wings, flat breads, big plates, bowls, bunny chow and a kids section, as well. If you are with a few friends, start with the chef's board with your cocktails. Several cheeses, assorted fruits and bread and charcuterie will arrive.
On a cool day, a bowl of soup makes a nice starter. There are several interesting salad combinations which can be topped with tofu, salmon, shrimp, falafel, or chicken and homemade dressings. The organic quinoa salad, beet'em salad and drunken chopped salad are some of the appealing choices.
Of the 20 plus tapas selections we loved the ones suggested to us. Chicken Montadito arrived on a slate tray. The shredded chicken was tossed with a nicely seasoned sauce and sat on a fried plantain. Jamon and Manchego croquettes were tennis sized balls of Serrano ham and Manchego cheese lightly crusted and fried Chipotle mayo gave them a tasty twist. From India a tapas of lasooni gobi was perfect. The florets of cauliflower were enhanced by a savory chili and garlic sauce. One of my favorites was the gambas al ajillo. Here the tiger prawn is served in a cocktail glass with spicy tomato sauce, a crisp crostini and a celery swizzle stick -- pleasing to the eye as well as the taste. Haloumi fries were a not to be missed tapas.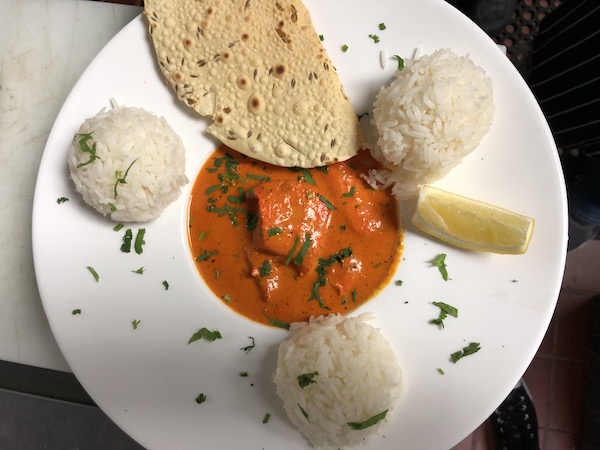 I look forward to sampling cocktail samosas, patatas bravas, roti kebab rolls, crispy calamari and giant wild mushroom ravioli. The presentation of these tapas are creative and original. An example is a dish of chicken empanadas, which arrive attached to a mini clothesline with clothespins .Lots of thought has gone into the creation of every aspect of Little Drunken Chef.

We moved on to the tacos which can be served on white corn tortillas or jicama. We opted for the halibut tacos. The fish was fried to a nice crispiness and was topped with pico di gallo, and tartar sauce as well as cole slaw. We look forward to sampling the lamb, roasted pork, chicken vindaloo and falafel tacos. Five varieties of flatbreads are awaiting your taste, The lamb was beautifully seasoned. Next to be sampled were the big plates. Would it be pan seared halibut, seafood paella, aji tuna or albondigas, (Spanish meatballs)? A platter of tender baby lamb chops was presented to our table. By this time I was feeling very much at home, and picked up each chop and enjoyed every bit of the nicely marinated lean meat. Carrots, cauliflower, squash, and spinach mixed with rice completed this hearty dish.

Future visits will include a selection of bowls, perhaps saag paneer, lamb madras or goat curry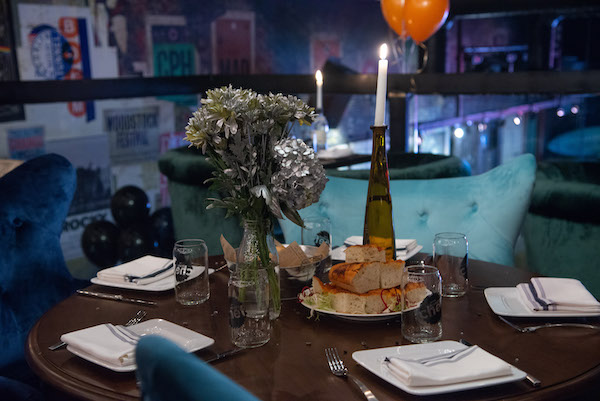 served with rice or quinoa, salad and pappadam. Several Indian specialties can also be ordered in a scooped out bread bowl. There are several vegan dishes and gluten free dishes offered. Just inquire.
Desserts include blueberry or mango panna cotta, churros, or, Knickerbocker Glory, a Sunday variation with whipped cream, ice cream and ginger snaps.

Yes, busy Mamaroneck Avenue in downtown White Plains has become busier with the addition of "the new kid on the block." Once you visit Little Drunken Chef, I'm sure you will return to experience the varied international influenced menu that it offers.

Little Drunken Chef
91 Mamaroneck Avenue
White Plains, New York
914 615-9300
Scarsdale's Recycling: It Really Does Get Recycled!
Details

Written by

Conservation Advisory Council

Hits: 1352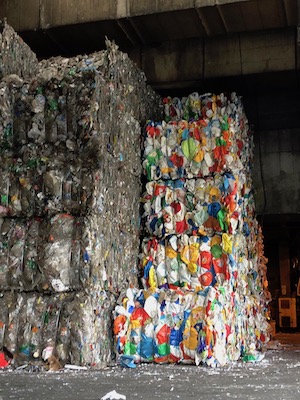 Plastic sorted and ready for recycling.If you ever wonder whether the items that the Village picks up from our residences on recycling days or that are brought by residents to the Scarsdale Recycling Center (110 Secor Road) really get recycled, the answer is a resounding yes, they do indeed get recycled. Described below are the recycling streams provided by the Village and what happens to the items placed in those streams:
Commingled Recycling: Commingled recyclables are plastics marked 1-7, aluminum, glass, tin and cartons (e.g., milk cartons and juice boxes). The Village's commingled recycling goes to Westchester County's Material Recovery Facility (MRF) in Yonkers where the plastic, glass, metal and cartons are sorted according to material type, bundled and then sold to be made into new products.
Paper and Cardboard Recycling: Included in this category are regular paper (e.g., white, lined, colored, shredded and printer paper), paper envelopes, phone books, magazines, newspaper and cardboard boxes. As with commingled recycling, our paper and cardboard are brought to the Material Recovery Facility in Yonkers where they are bundled and then sold. This material goes to paper manufacturing plants and is made into new paper products.
One great thing to note: Because Westchester has dual stream recycling--where commingled recycling is picked up separately from paper and cardboard--our County has a clean recycling stream which results in greater marketability of the items in that stream. Due to its dual stream recycling, Westchester County has been able to weather the recycling market downturn. Not only does the County receive millions of dollars (over $4 million in 2018) for its recycling but also it saves millions of dollars (over $5.4 million in 2018) on the fees it would have been charged had these items been disposed of as trash.
Food Scrap Recycling: ALL food is accepted in the Scarsdale food scrap recycling program. Included are meat, dairy, fish, bones, egg shells, spoiled and cooked foods, seafood and nut shells, bread, rice, pasta and oily foods– everything! In addition to food scraps, soft paper products (napkins, paper towels, tissues and wax paper) and products made from natural fibers (e.g., paper coffee filters, tea bags, wood popsicle sticks, wood/bamboo chopsticks and wood toothpicks) can also be included. Click here for a complete list of accepted items. Food scrap recycling is taken to a composting facility where it is turned into compost which is used by landscapers, homeowners and farmers. Compost made from Scarsdale's food scraps is available to residents during the Village's annual Giveback Day, usually held in April.
Furniture and Household Items: Most types of furniture in good condition and not over-sized are accepted at the furniture donation shed at the Recycling Center. Some household items such as small mirrors, lamps, mattresses, working appliances and TVs are also accepted. These furnishings are donated to a Westchester County non-profit organization that provides household furnishings free of charge to economically disadvantaged Westchester individuals and families. Please check the list of accepted items here.
Household Items, Toys and Sports Equipment: This category includes any small household item, toy, garden tool, bicycle and sports equipment in usable condition as well as any electronics in working condition. The Take It or Leave It shed at the Recycling Center provides a place where residents can drop off any item in usable condition and take any item that they can use. The shed has proven to be a great success--items left there quickly find new homes. Please drop off your items at the shed, and please take items, too! For more information, click here.
Electronics: Most electronics such as TVs, computers, printers, monitors, cables and wiring can be put in the E-waste bin at the Recycling Center. Not all items with a cord are accepted, so please consult the Village's list of accepted items here . All electronics are brought to a facility that takes them apart and separates the components, which are then recycled.
Scrap Metal Recycling: Any metal, of any size, makes up this category. Everything from nails and screws to file cabinets and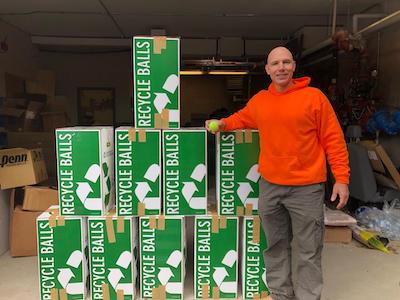 3000 tennis balls ready to be recycled.barbecues. Items that are mostly metal but have a few non-metal components can also be included. All metal is sold to a scrap metal recycling facility where it is recycled into new products. The metal recycling container is at the far right end of the Recycling Center.
Textiles: Included in this category are clothes, shoes (please tie them together if possible), belts, hats, towels, sheets, tote bags and handbags. Textiles are sold to a textile recycling company that sorts them by condition and resells, repurposes or recycles them. Click here for more information.
Tennis Ball Recycling: Tennis balls can be recycled at all of the Village tennis courts as well as at the Recycling Center in the provided tennis ball recycling receptacles. Balls can be in any condition. The Village ships the tennis balls free of charge to a recycling company where they are ground up and used as a subsurface for new tennis courts. This year, the Village already has sent 3,000 tennis balls to be recycled.
The Village has provided ways for our residents to truly recycle most items they use every day. So, please, reduce, reuse, recycle.
If you have any suggestions or questions regarding recycling, email Scarsdale's Conservation Advisory Council.