Weekly View
Sun. 16 Sep, 2018 - Sat. 22 Sep, 2018
Sun. 16 Sep, 2018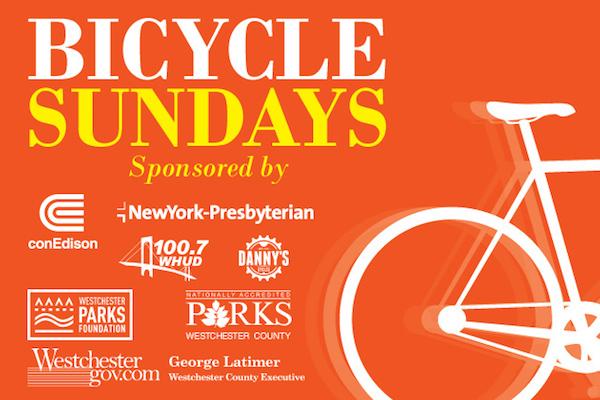 Bicycle Sundays, a Westchester County Parks program, is sponsored by Con Edison, New York Presbyterian Hospital, the Westchester Parks Foundation and Danny's Cycles, with support from WHUD.
During Bicycle Sundays, the parkway is open exclusively for bicyclists, in-line skaters, scooters, walkers and joggers from Exit 22 at the Westchester County Center to Exit 4 at Scarsdale Road in Yonkers, a round-trip distance of 13 miles. The road is closed to automobiles in that stretch of parkway. Admission to the event is free. Parking is available at the County Center lot in White Plains for $7.
For additional information please contact Westchester County Parks at (914) 864-PARK or click here.
Mon. 17 Sep, 2018
Tue. 18 Sep, 2018
Wed. 19 Sep, 2018
Thu. 20 Sep, 2018
Nancy's Book Group, led by Nancy Zachary, will discuss "The Intuitionist" by Colson Whitehead on Thursday, Sept. 20, at 1 p.m. With the Olmsted Road building undergoing a major renovation, the session will be held at the Mid-Westchester JCC, 999 Wilmot Road. Registration is required by calling 914-722-1302.

"The Intuitionist" is one of the 100 books on the PBS Great American Read list. Attendees will have the opportunity to share their experiences with any of the books during the discussion. The winner of the Great American Read will be announced on Oct. 23 and the winner will be discussed at the group's December meeting.

"The Intuitionist" tells the story of Lila Mae Watson, the first black female 'intuitionist' - elevator inspectors with a mysterious instinct for machines. When an elevator goes into freefall on Lila Mae's watch, she goes on a journey to discover the source of her knowledge.

On Oct.17, the group will discuss Americanah" by Chimamanda Ngozi Adichie, another book on the list.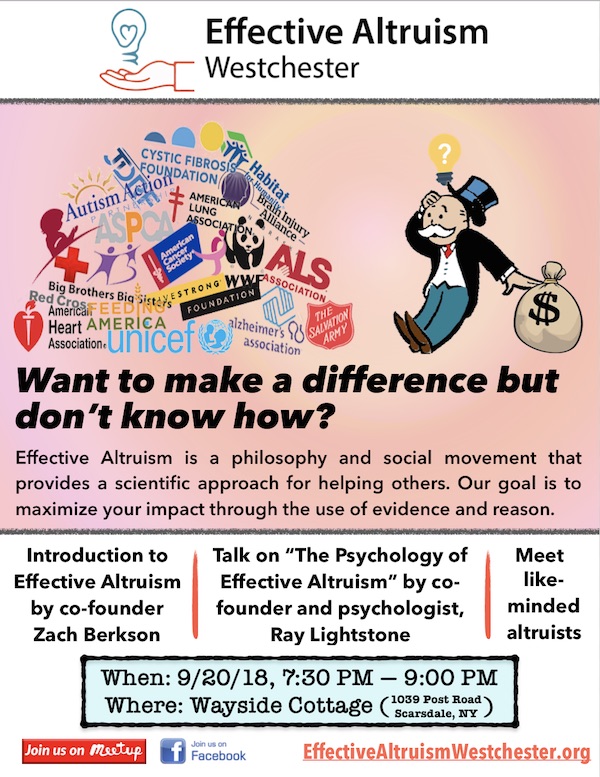 Zachary Berkson, SHS senior and co-founder of Effective Altruism Westchester, will be hosting an event with psychologist Ray Lightstone. Effective Altruism is a philosophy and social movement that provides a scientific approach for helping others. Dr. Lightstone will talk about the Psychology of EA and explain what leads to happiness, why giving can be so difficult, and teach techniques to overcome resistance to altruistic behavior. The event will be held Thursday, September 20th, 7:30PM at Wayside Cottage.
Fri. 21 Sep, 2018
Sat. 22 Sep, 2018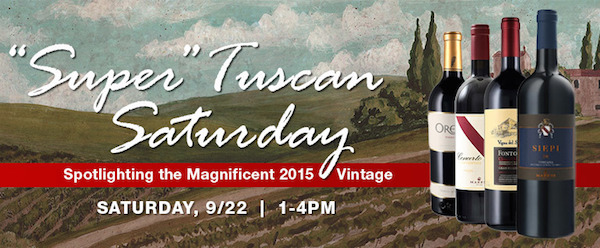 "Super" Tuscan Saturday
Saturday, September 22nd from 1:00pm - 4:00pm
Scarsdale - Zachys Wine and Liquor, 16 East Parkway, Scarsdale

Zachys Presents Our Fall Edition of "Super" Tuscan Saturday – Spotlighting The Magnificent 2015 Vintage!!
A little over two years ago, we jumped on our soapbox at Zachys to proclaim that the 2015 vintage was going to be an exceptionally great year from Tuscany. Even though we were tasting barrel samples at the time, the texture and flesh to these wines indicated that there was going to be uniformly high quality to this vintage. Now that the wines are in bottle, for many we give that quality assessment a resounding "GREAT" from the best producers.
Of course, the champions of the region produce collectible wines even in challenging years. As we all know, the flagship wines from the best producers of Tuscany carry price tags that force many to pull the corks only for special occasions. But… and this is a BIG but… in a vintage like 2015, there are many "best ever" wines produced from Tuscany at more reasonable price points.
This past winter, Italian wine critic Antonio Galloni pointed that out succinctly when he said, "…The 2015 vintage presents consumers with a tremendous opportunity to acquire fine, cellar worthy wines without spending a fortune. In 2015, the warm growing season yielded rich, sumptuous Chianti Classicos with great depth and intensity. Vintages like 2015 tend to raise the quality of entry-level wines. That is exactly what has happened with the 2015 Chianti Classicos. The finest examples can be had for $25-30 a bottle and will drink well for twenty years or more. Smart consumers will to snap up the best of these wines by the case…" (Vinous 1/18)
We have been pulling corks on these wines as they have arrived, and we are in LOVE LOVE LOVE with this vintage - so much so that we have decided to bring out 20+ selections with critics' reviews ranging from 92 to 99 points and all selling for under $100 (with more than half under $50)!!
Trust me when I say that the last time I had this type of excitement over a vintage from Tuscany was first with the 1997 vintage… then 2010… and NOW 2015.
Registration is complimentary for this event… BUT REQUIRED. We are asking clients to click HERE to be part of this special event on Saturday, September 22nd.
Categories
Powered by JCal Pro - the Joomla Calendar