Scarsdale Mom Builds Successful Baked Goods Brand
Tuesday, 20 March 2018 09:39
Last Updated: Saturday, 24 March 2018 15:27
Published: Tuesday, 20 March 2018 09:39
Joanne Wallenstein
Hits: 6083
Jules Waxman created Baked in ColorMeet Scarsdale's Jules Waxman who has taken chocolate chip cookies to a whole new level. In 2016, Waxman, a Fox Meadow mom of three, launched Baked In Color, and she's been sharing sweets and building her brand ever since. Here are her responses to our questions about this impressive entrepreneurial endeavor:
What is Baked in Color and why are the cookies unique?
Baked in Color offers the first rainbow and custom colored chocolate chip cookies. Happy, fun and delicious, these cookies can be customized by color for all of life's special occasions: holidays, mitzvahs, corporate events, college acceptance, school spirit, sport events, birthday parties, you name it!
What did you do professionally before you began the company?
As a student at Cornell, I founded and ran a cookie delivery business, Quickie Cookie. We baked, packaged and delivered fresh cookies, with a quart of milk (think Insomnia cookies). I sold the company and spent the next several years working in Corporate Retail at Saks Fifth Avenue and Macy's. While working for these companies, I developed my skills in business development, strategic and financial planning, merchandising, team building, negotiation and marketing. After twenty years in corporate retail, I was excited to launch my own business.
How did you get the idea to start Baked in Color?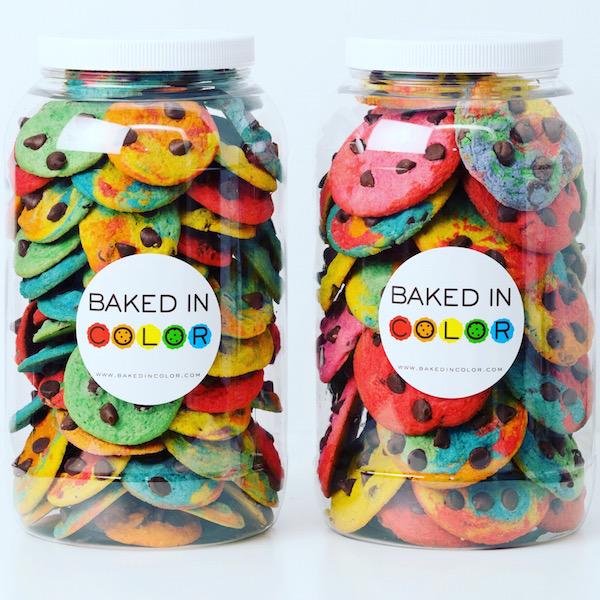 Chocolate chip cookies are America's #1 dessert and colorful rainbow desserts are the #1 social media dessert trend. I was inspired most by the rainbow bagel. Rainbow bagels look incredibly cool but don't taste great. I had a delicious recipe for chocolate chip cookies and knew that if I could figure out how to execute color, I would have something very trend right and extremely marketable. Thousands of test batches later, Baked in Color was born.
What were a few of your big breaks that helped to move the company forward?
Social media has been the big driver for Baked in Color. We started posting our cookies on Instagram and were quickly noticed by food influencers who posted the cookies on their Instagram and Facebook feeds. Six months after our launch, INSIDER took notice and shot a feature for their INSIDER FOOD and INSIDER DESSERT platforms.
The video went viral, receiving over 7 Million views on Facebook, in addition to millions of views on Instagram. Baked in Color was also featured by Today.Com, Huffington Post and Spoon University. The media exposure drove our sales tenfold, putting our brand on the map for big corporate players such as Goldman Sachs, Barney's NY, and Time Inc.
Where/how are most of the cookies sold?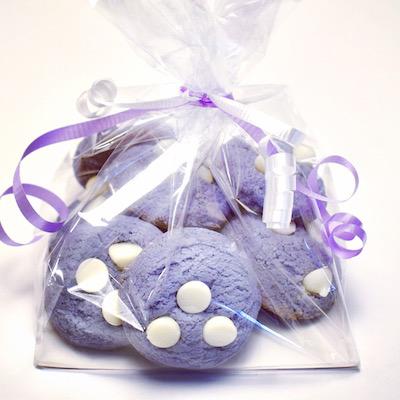 Baked in Color has a New York City location at TurnstyleNYC, the underground market at Columbus Circle, at 58th street and Broadway. We deliver throughout Westchester County and NYC and ship nationwide. We specialize in both personal and corporate events.

How can people buy the cookies – and what do you offer?
Orders can be placed online at www.bakedincolor.com. In addition to our online offering, we customize cookie colors and packaging to make the perfect dessert or party favor for your special occasion or event.
What advice would you give to others in the community who are thinking about starting their own business?
GO FOR IT! Be patient and stay positive. Work hard and move forward each day. Things will not always go well but don't get discouraged. Some days will bring opportunities and others will bring knocks. Hang in there. It's a long haul. Don't take rejection personally just move on to the next opportunity, of which there are countless. Be aware of the competition but don't get bogged down by it. Network, network, network. It's free to ask so ask others for help; people are generally happy to help. You can learn from most people and often each meeting leads to another opportunity. Follow your instincts but pivot when things aren't going well; cut your losses and move on.