Scarsdale Business Alliance Hosts First Meet and Greet
Wednesday, 07 November 2018 07:18
Last Updated: Wednesday, 07 November 2018 07:18
Published: Wednesday, 07 November 2018 07:18
Joanne Wallenstein
Hits: 3045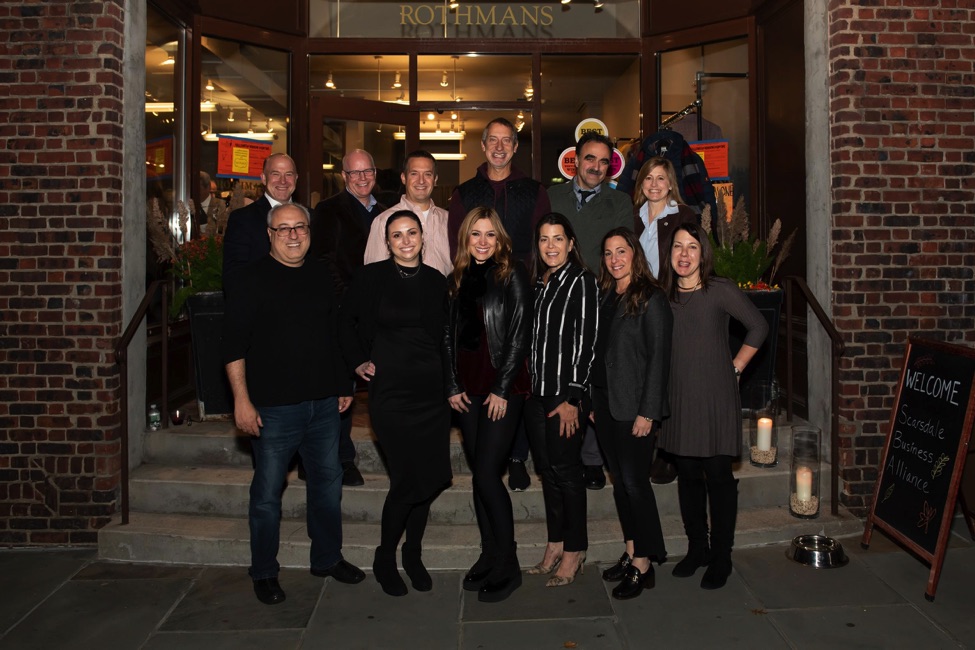 Mike Wilson, Andrew McMurray, Dean Morretta, Ken Giddon, Anthony Barreira, Jane Veron, Jeff Rosen, Essie Cohen, Marcy Berman-Goldstein, Darci DeMatteo, Dina Grossman, Nancy ChochrekThe Scarsdale Business Alliance (SBA) is a new, non-profit organization dedicated to supporting the Village of Scarsdale and its local businesses. On Thursday night, October 25th at Rothmans of Scarsdale, more than 50 people gathered to learn about the SBA and connect with the local business community. Trustee Jane Veron and Mayor Dan Hochvert were in attendance to introduce the Board of Directors and Executive Director, Darci DeMatteo.

The SBA was created to foster cooperation and innovation in local businesses. Scarsdale is fortunate to have many large independent successful retail businesses along with new emerging entrepreneurial ventures. There is also a robust contingent of realtors, banks and independent practitioners throughout the area that support the community. The SBA looks to combine all of these elements, and work closely with Village government to improve Scarsdale and create a vibrant downtown. It is easy to track the SBA on Instagram at @scarsdalebusiness.
"I am so excited to be a part of this. I have worked with businesses in other parts of Westchester and the SBA board is active and creative. I believe that we will help to accomplish great things for Scarsdale," said Darci DeMatteo, SBA Executive Director.
Jane Veron, Scarsdale Village Trustee and SBA Liaison said, "In a matter of a few months, the newly formed Scarsdale Business Alliance, with its professional Executive Director and top-notch board, has built a dynamic and high growth organization of dedicated merchants and service providers. The SBA is poised to make Scarsdale a preferred place for shopping, dining and gathering. With a laser-like focus on creating relevance for our local retail hubs, the SBA has big plans to bring events and value-added services to its consumers. The SBA has also forged strong ties with the Village government and is already collaborating on a range of policy issues."

Upcoming events include Light the 'Dale on Friday evening, November 30th, in Boniface Circle from 5:00 pm - 7:00 pm, co-sponsored by the Scarsdale Business Alliance, The Acceleration Project (TAP) and the Village of Scarsdale. Langes will again, generously donate hot chocolate, and the festivities will feature caroling, crafts, the holiday lighting, Santa and food stations provided by SBA's own Popojito.
A holiday shopping event will take place on Thursday, December 6th through Saturday, December 8th, featuring participating SBA Merchants in Scarsdale Village, Golden Horseshoe, Five Corners and Colonial. Stores will stay open late on Thursday until 8:00 pm. There will be incentives, discounts, and giveaways at many of the participating shops and large collaborative raffle prizes with gift cards to your favorite stores and restaurants.
To learn more about the SBA, become a member, or offer suggestions, please reach out to Executive Director, Darci DeMatteo (darci@scarsdalebusinessalliance.com).
Scarsdale Business Alliance Board of Directors
Executive Director: Darci DeMatteo
President: Essie Cohen, BLVD
Vice President: Marcy Berman-Goldstein, I Am More Scarsdale
Treasurer: Jeff Rosen, Popojito
Secretary: Dina Grossman, Great Stuff
Colonial Liaison: Jamie Steinthal and Michelle Adams, Meritage
Commercial Business Liaison: Nancy Chochrek, Houlihan Lawrence
Communications Chair: Ken Giddon, Rothmans
Five Corners Liaison: Dean Morretta, Vintology
Garth Road Liaison: Joseph Spadafino, Allstate Insurance
Golden Horseshoe Liaison: Karen Tolchin, Current Home
Government Liaison: Scarsdale Village Trustee Jane Veron
Membership Co-Chair: Andrew McMurray, Zachys
Membership Co-Chair: Mike Wilson, Wilson & Son Jewelers
Property Management Liaison: Anthony Barreira, Scarsdale Improvement
Small Business/Professional Liaison: Jennie Kramer, Metro Behavioral Health Associates
TAP Liaison: Dalya Khan
TAP Liaison: Amy Nadasdi