SHS Seniors Sign National Letters of Intent; Students Ask For Response to Survey on Pesticide Use
Thursday, 16 November 2017 11:02
Last Updated: Thursday, 16 November 2017 18:03
Published: Thursday, 16 November 2017 11:02
Jordy Love
Hits: 4435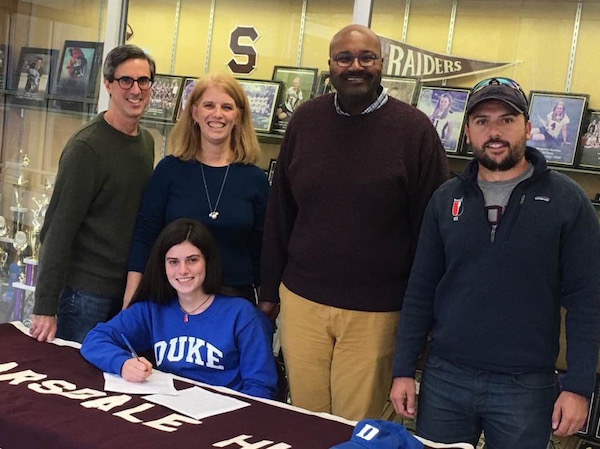 Scarsdale seniors Seth Thornton and Melanie Holmes joined student-athletes nationwide who committed to continue playing in college by signing National Letters of Intent during the early signing period. A National Letter of Intent is an agreement signed by a student-athlete who will be receiving an athletic scholarship from a university. It is a promise by a student to attend an institution for one year in exchange for the school's agreement to provide the student with athletic financial aid for the entire academic year. Student-athletes sign NLIs to end the recruiting process and commit to attend a specific institution.
On November 8, 2017 at Scarsdale High School, Thornton and Holmes made their commitments official. Next fall, Seth will be attending Syracuse University to play lacrosse and Melanie will be attending Duke University to row crew. Syracuse University has a Division I lacrosse program that has won 10 national championship titles. Duke University has a Division I Women's rowing program ranked as one of the top in the country.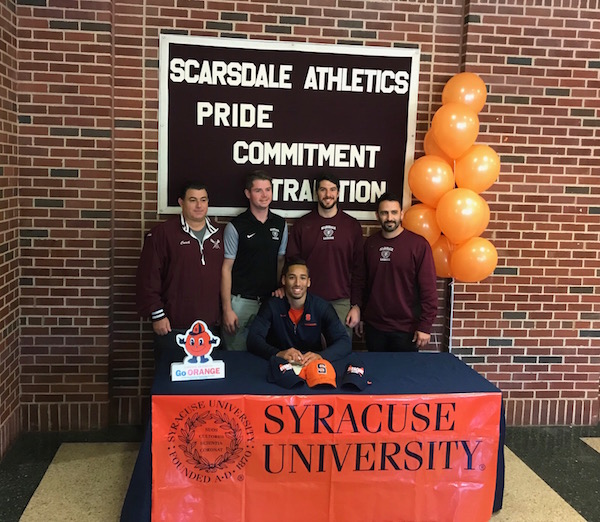 Seth Thornton plays for the Long Island Express in addition to the Scarsdale Raiders. He will play Midfield and FOGO at Syracuse. When asked about his decision to play at Syracuse Seth said, "I'm excited to train and play with some of the best players in the country."
According to Melanie, "Rowing has changed my life since I started and made me a lot more focused. I'm very excited to continue my rowing career at Duke." She is in her third year rowing and rows for RowAmerica Rye.
Chemical Pesticide Survey by Students in SHS's City 2.0 Class
Four Scarsdale High School students have created a survey to assess the use of chemical pesticides and fertilizers in Scarsdale. Through the use of this survey, they are hoping to find out how many people in Scarsdale are currently using chemicals on their lawns and plants and why they are using them. They hope to end the use of chemical pesticides and fertilizers in Scarsdale and ask Scarsdale10583 readers to would fill out this survey.
The five students, Charlie Abrams, Jack Lazarus, Lara Neishtadt, Daniella Archer, and Miyu Tachibana are doing this work as a project for their City 2.0 Class.