One Thousand Acts of Kindness from Middle School Students
Details

Written by

Joanne Wallenstein

Hits: 738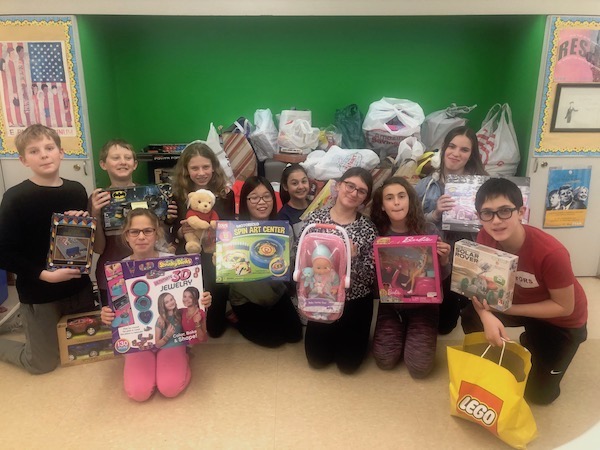 From left to right AJ Hart, Andrew Mandel, Rachel Rakower, Kate Hubell, Joyce Liu, Skylar Katz, Amanda Gorrin, Ellie Greenspan, Eli LeblangSixth graders from Butler House and Fountain House at Scarsdale Middle School have organized 1000 acts of kindness over the school year. The effort is led by social studies teachers, Ms. Jeanne-Marie Castiello (Butler House) and Adam Nichols (Fountain House).
According to Ms. Castiello, here is what they did:
Butler 6 worked with Fountain 6, their sister house, to collect over 255 toys for the Children's Hospital at Montefiore (CHAM). For the last three years, students have donated toys to Montefiore's Annual Holiday toy drive. Next week the toys will be distributed to patients at the Children's Hospital Holiday Party.
Butler 6 collected educational baby and infant toys for the NICU at CHAM.
For the holiday season each of Ms. Castiello's students wrote letters and cards for Thanksgiving and the holidays to senior residents at the Schaffer Extended Care Center at Montefiore. Students will continue to correspond with the senior residents for the entire school year.
Ms. Castielle said, "The generosity of spirit is truly heartwarming and amazing. To see sixth graders dedicated to helping others is awe inspiring and gives true meaning to the holiday season."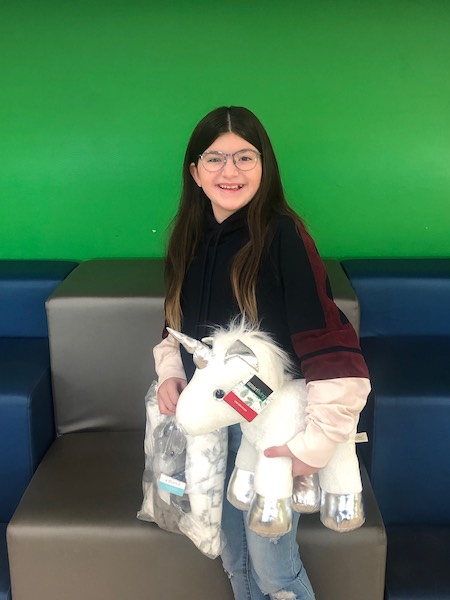 Alexandra Israel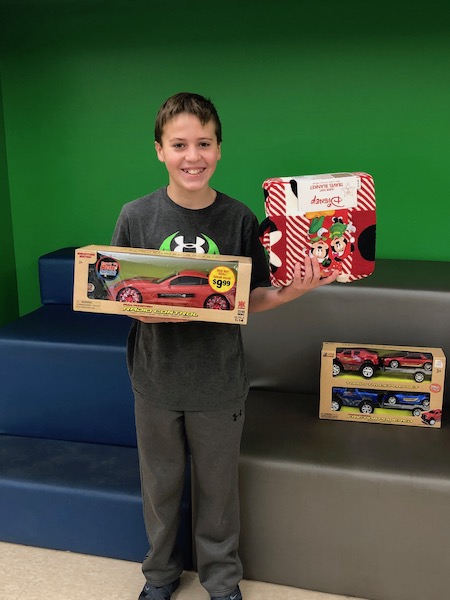 Joey Pappalardo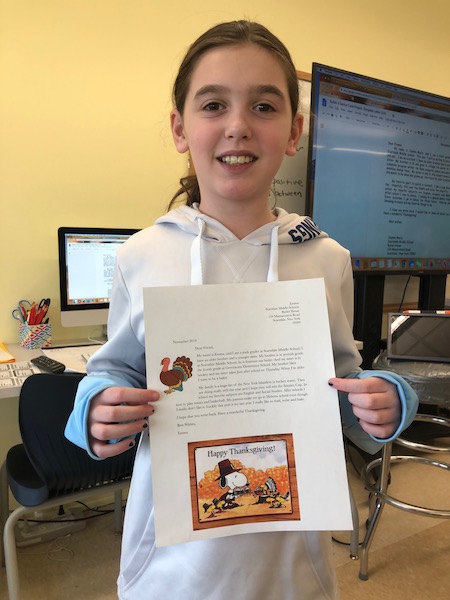 Emma Lerner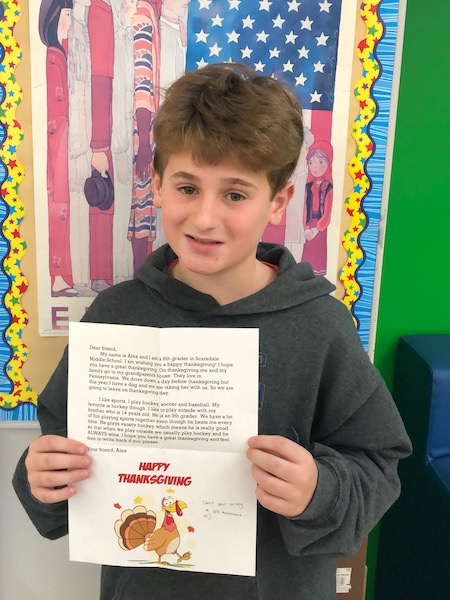 Alex Horner
Two from SHS Honored for their Work with Local Immigrants
Details

Written by

Joanne Wallenstein

Hits: 2901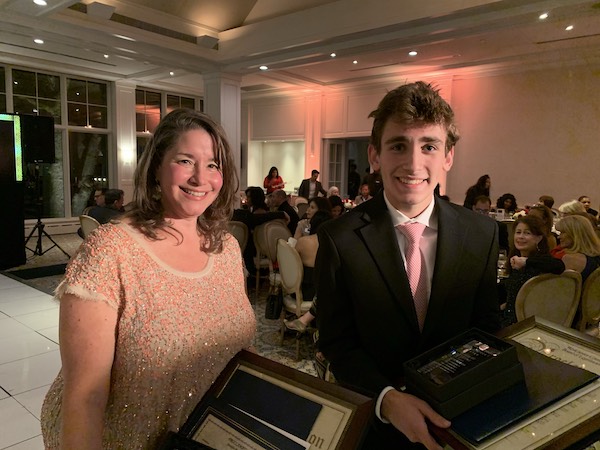 Two with roots in Scarsdale were honored for their work helping immigrants get established in Westchester at the Community Resource Center Gala at Beach Point in Mamaroneck on Thursday night November 21. Jacob Faierman, an exceptional Scarsdale High School senior, and Jennifer Rosenzweig, a compassionate SHS teacher, were thanked by the CRC whose mission is "to promote the cultural, economic, educational and professional integration of immigrants to the already established larger community and to advocate for those in need…. (they) aim to provide the tools to prepare new immigrant families to become self-sufficient and active members of the community."
Jacob Faierman met SHS English teacher Stephen Mounkhall in ninth grade and has since pursued independent study projects under Mounkhall's direction, exploring all genres of writing, including poetry, short stories, creative writing and satire. During his sophomore year, Faierman wrote a play and the following summer he worked for "Make the Road New York," an organization that assists immigrants with legal issues. His job was to interview the immigrants, hear their stories and help them complete naturalization papers. He asked questions and learned the moving stories of their lives.
When he returned to school for junior year he wanted to find undocumented immigrants in Westchester and interview them to get out their stories. Faierman said that his grandparents immigrated to this county from Argentina and Uruguay and taught him the value of listening to the stories of others.
He started to visit the Community Resource Center in Mamaroneck and to converse with the people in an evening English class taught by SHS teacher Jennifer Rosenzweig. He was able to use his Spanish to communicate and conducted short interviews with dozens of immigrants. From those he selected six people who were the most committed and willing to share their stories. He eventually culled down and translated many hours of interviews into six stories which he published in a book titled "Voices in the Shadows, Stories of Undocumented Immigrants in America" that is available on Amazon. Due to the immigrants' difficult legal status, no real names are used.
For her part, Jennifer Rosenzweig explained why she became involved at the CRC. She said, "After the last election I wanted to do something to help immigrants. I started teaching weekly ESL classes there late in the fall of 2016, and I even though teach evening classes after a full day of work, I always leave with more energy than I arrived with. My students are an inspiration to me--they are full of good humor and a deep desire to learn and improve their English skills. My class is considered "intermediate" and the goal is for students to "graduate" from my class to take the accredited class offered by BOCES at the Center. I am always filled with a mixture of pride and sadness when a student I have been working with over the months is able to pass the test to move to the next level. I am so grateful for the opportunity to work closely with this community...I very much believe the oft-repeated sentiment that those who have the lowest opinion of immigrants are those people who do not know immigrants. I cannot imagine anyone spending time in my classes or at the Community Resource Center who is not moved by these people and their stories."
English teacher Stephen Mounkhall, who supervised Faierman's independent study projects, said he had previously worked with talented student writers, but "this was the first time I had someone with a mission. He (Jacob) tried not to make it political." Jacob's mission was to "put out there what they (the immigrants) have to say."
Mounkhall was moved by the reception Faierman received from his classmates. 50 students showed up to a recent reading at the Scarsdale High School Library. Mounkhall noted that despite his achievements, Faierman remains very humble. Looking at the book, another student said to Faierman, "I can't believe you wrote a book," to which Faierman replied, "You could too!"
Faierman was also honored by the Rotary Club of Larchmont and received commendations from Congressman Eliot Engel, County Executive George Latimer and State Senator Shelley Mayer. Faierman shared the following final essay from his book with us. Read below …and if you would like to purchase your own copy of the book, click here.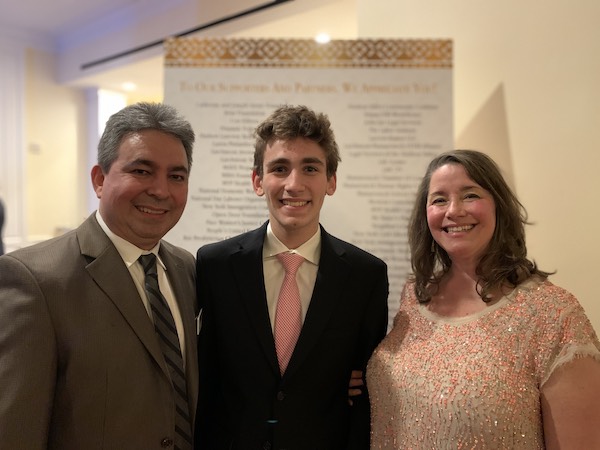 Marco Bohorquez, who runs the volunteer program at CRC with Faierman and Rosenzweig
From Voices in the Shadows: Stories of Undocumented Immigrants in America:
Hope can drive people halfway across the world to a land where they are not welcomed by all. Most people in the United States notice immigrants' presence in society, either through news broadcasts or by seeing them on the street. Not many, however, listen to their struggles and experiences. These stories exemplify the burdensome nature of a journey to the United States. Some faced the pinnacle of their struggles in their home country. Others realized the most challenging realities on the journey to America. Some confronted the greatest difficulties while in the United States, the very country they aspired to reside in. Perhaps the immigrants' featured in this book have yet to encounter their most overwhelming experiences. The beautiful facet of these stories is that they all share in a common theme: none of them are done being written.
The United States is at a turning point. Immigrants are at the forefront of national politics and local debate, but for all the chaotic screams on our television screens, in our newspapers, and on our social media, not many listen to the very people fueling the discussion. Instead, people who claim to be experts on the issue simultaneously spew judgment and propose policy solutions. Their opinions may well be valid, but in order to be truly be informed, one must listen to the actual fears, hopes, and day-to-day struggles these people face. There are millions of undocumented immigrants in the United States, yet in the mainstream, their voices are in the shadows, silenced by government intimidation.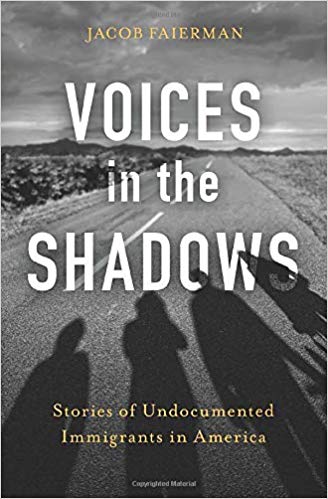 These stories have not only changed my perspective on how we should approach the immigration debate, but they have also shifted my views on the struggles of these people. Undocumented immigrants choose to travel to America for a variety of reasons, but they all come in search of a better life. Those interviewed in this book were economic immigrants, asylum seekers, political dissidents, and dreamers. The common thread in this diverse group of people from different home countries, genders, ages, and financial backgrounds was a willingness to persevere and a deep love of family. The same reasons that brought my grandparents from Argentina fifty years ago are the reasons immigrants continue to journey to the United States today. People rarely realize these brilliant facets of undocumented immigrants in America, and debates surrounding immigration should always keep their humanity and their voices in mind.
Before embarking on this literary endeavor, I had never had the opportunity to converse with an undocumented immigrant. Despite their pivotal role in our culture, most citizens have never spoken to these wonderful people. I was surprised to find so many volunteers with such vibrant stories living within my small community. Many conveyed their appreciation for what I was doing, and I am truly grateful for the stories they shared with me. Their journeys will always stay with me, and I hope I am not the last native-born citizen they share their experiences with. Their voices are an integral step toward a more understanding society.
Scarsdale Students Continue to Fare Well on a Large Range of Assessments
Details

Written by

Joanne Wallenstein

Hits: 2951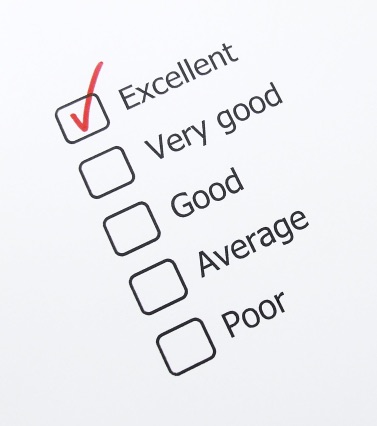 If you go by the numbers, students in Scarsdale are testing well – as compared to both local and national averages, reported Assistant Superintendent Edgar McIntosh at the November 18 meeting of the Board of Education.
He cautioned that the district should continue to look beyond the tests and use the assessments to improve instruction, curriculum and learning environments for students. He also said the district would use their own metrics to assess critical thinking skills which are not necessarily included in state tests.
He said, the test results should "not be the sole evaluation of student achievement or an educational program because these tests are concerned only with certain basic skills and abilities and are not intended to measure total achievement for each subject and grade."
However, by all measures it looks like Scarsdale students are thriving.
McIntosh discussed the following data as measures of the district's achievements.
His report says, First, we look at the end results both in terms of college acceptances and on graduates' reports on their successes after they leave Scarsdale. College acceptance results have always been excellent and have grown even stronger over the last two decades.
In 2019:
-98% of graduates are attending college
-96% to 4-year colleges
-64% of graduates were accepted at colleges and universities ranked "most competitive" in the U.S.
These statistics compare with 61% in 2010, and 57% in 2005. He said, "We do not know of another comprehensive, non-selective, public school district whose students achieve stronger results."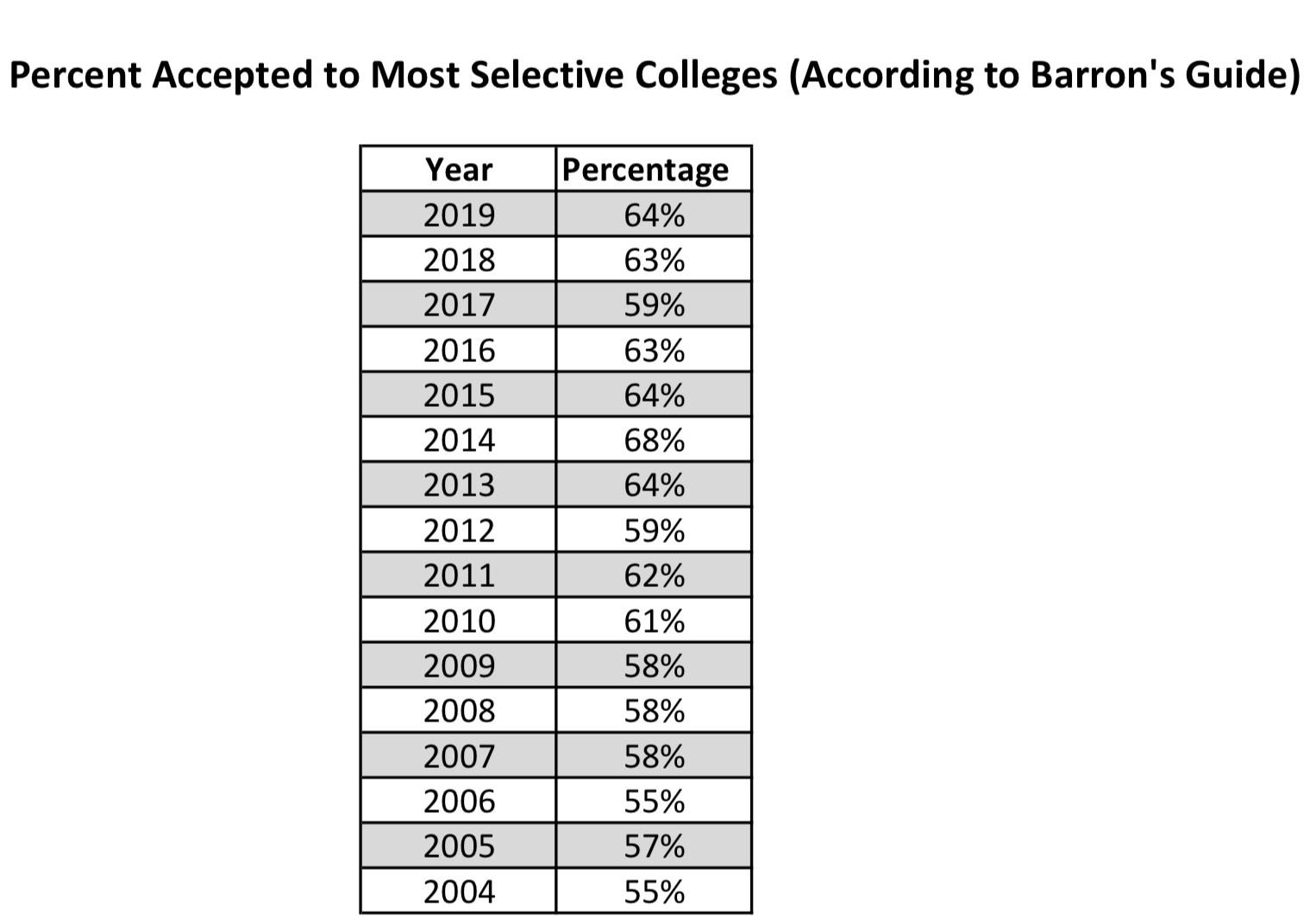 He shared an analysis of student performance on the SAT's and ACT's and AT tests in 2018-19
- Scarsdale's Mean Combined SAT Score Results continue to be the highest among comparable districts in our region.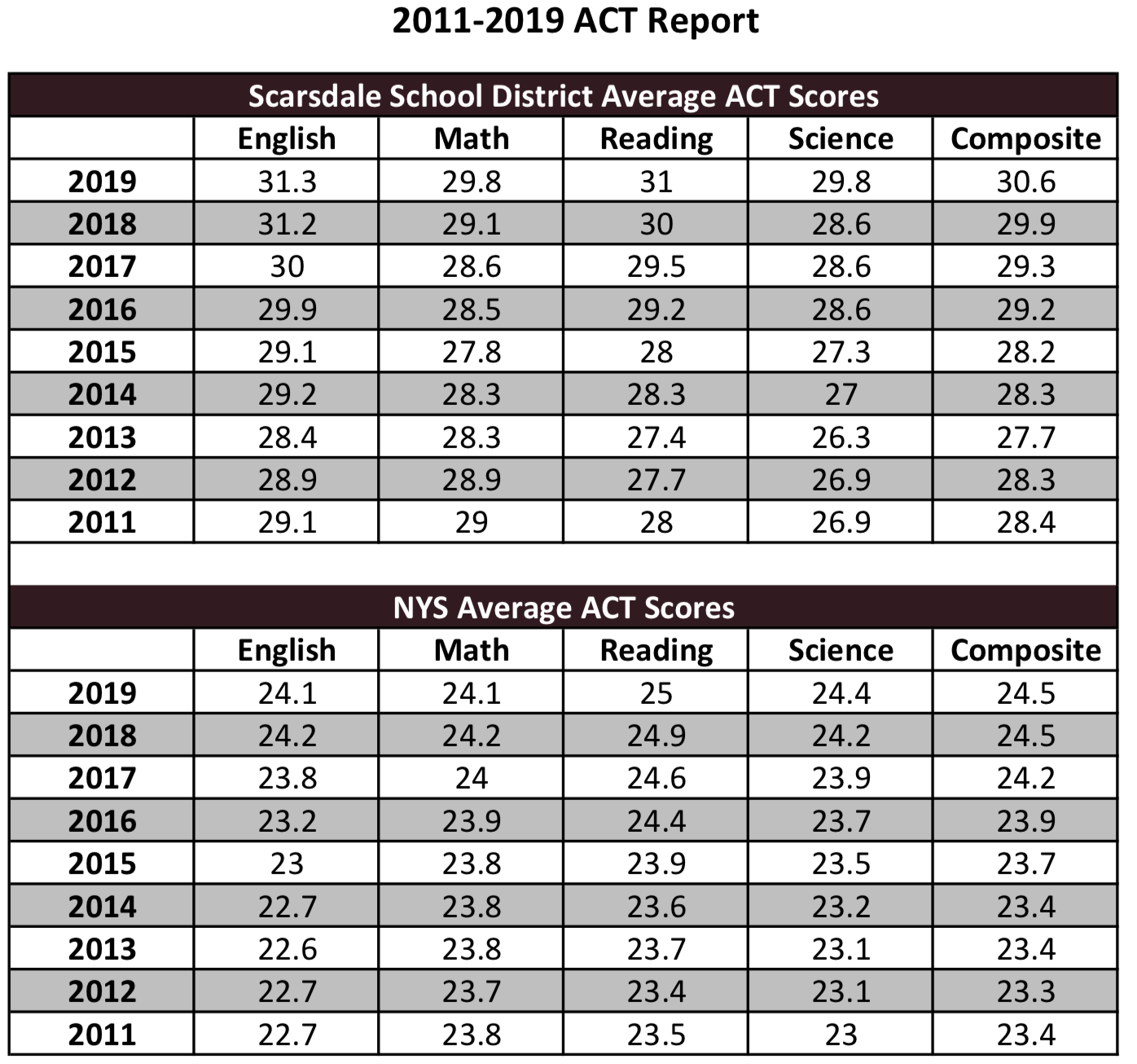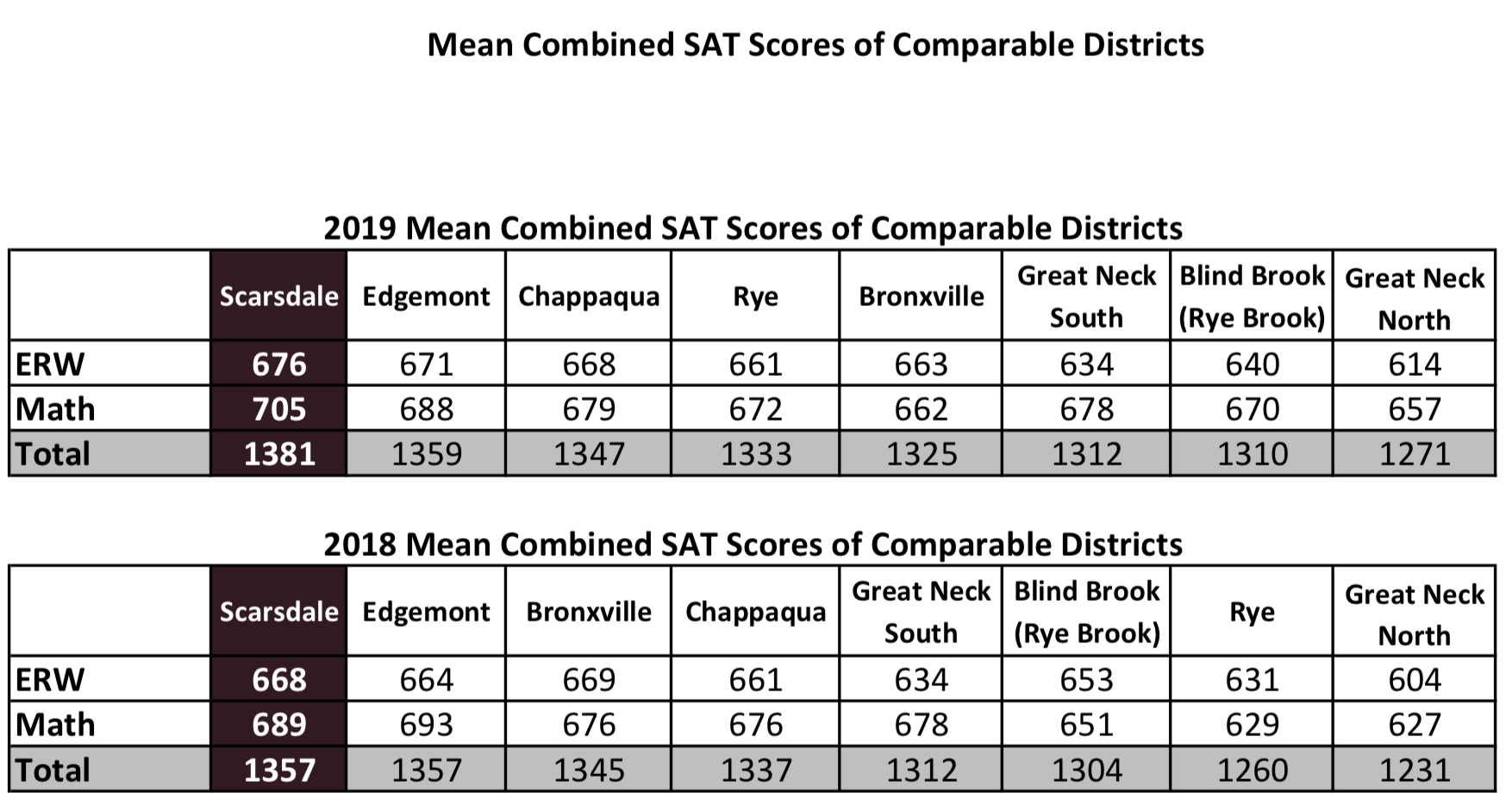 The percent of students receiving scores of 3,4,5 on AP Exams is 95%, which has been consistent.
He also believes that student involvement in extra-curricular activities and athletics is also a measure of the success of the district. He quoted a well-regarded researcher who said, "One of the most important measures of a school is the number of clubs that are available and how flexible those clubs were because it indicated a culture that supports the whole child and his interests."
McIntosh presented the following data about student involvement for the Class of 2018-19:
The percentage of total student enrollment involved in extracurricular activities other than athletics: approximately 75%
Percentage of high school students participating in athletics:
-Fall (579/1552 [37.3%]);
-Winter (448/1552 [28.9%])
-Spring (504/1552 [32.5%])
All three seasons without duplication (950/1552 [61.2%]).
Reviewing the results of the ELA and math tests given to elementary school students, McIntosh found:
Overall, test scores were among the strongest in New York State and in the same range as those in a selected group of comparable districts.
While year to year there is variation in the test results between elementary schools, the overall school-to-school differences in elementary students' scores were not significant.
As in past years, Middle School scores inconsistently predicted student High School performance on Regents examinations, which continued to be strong.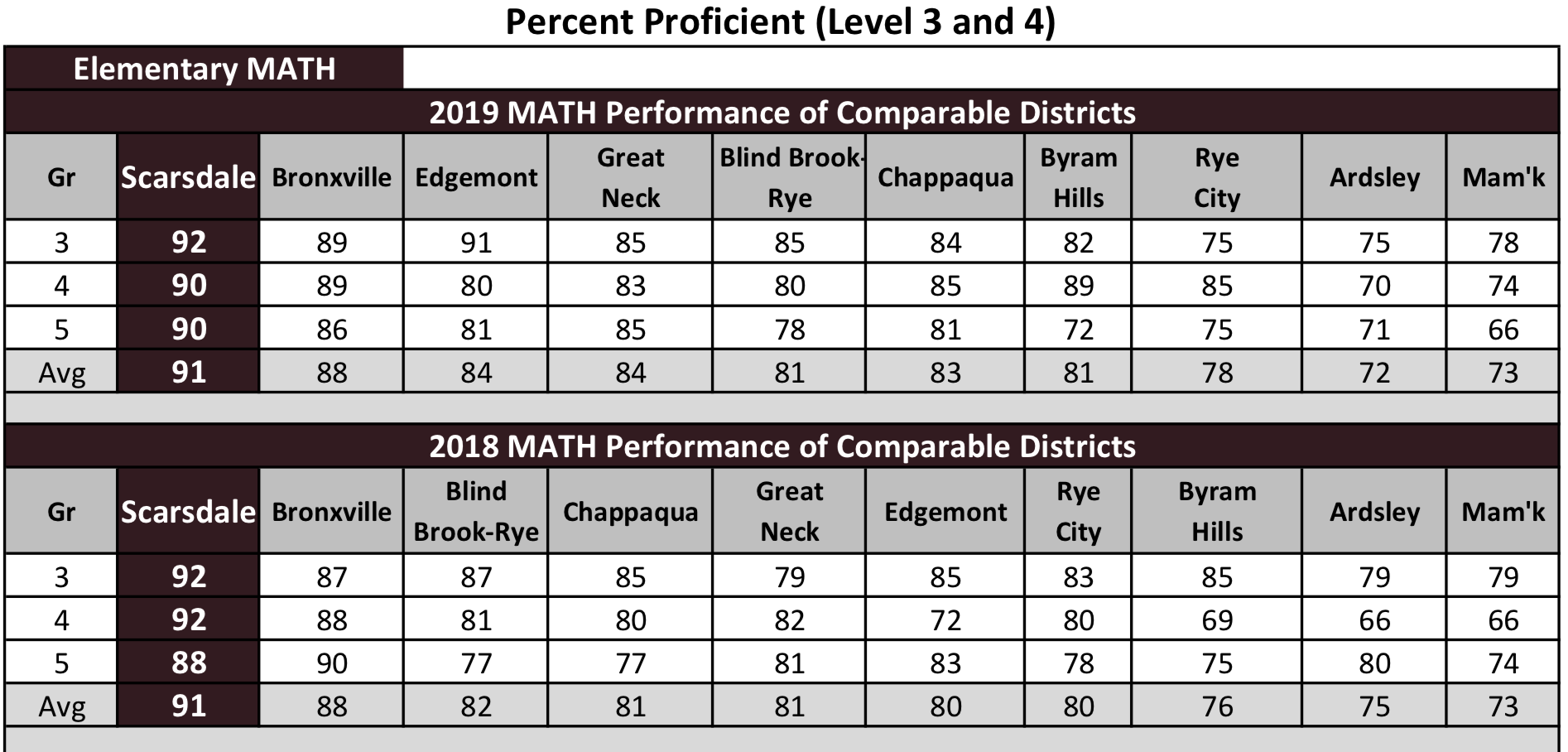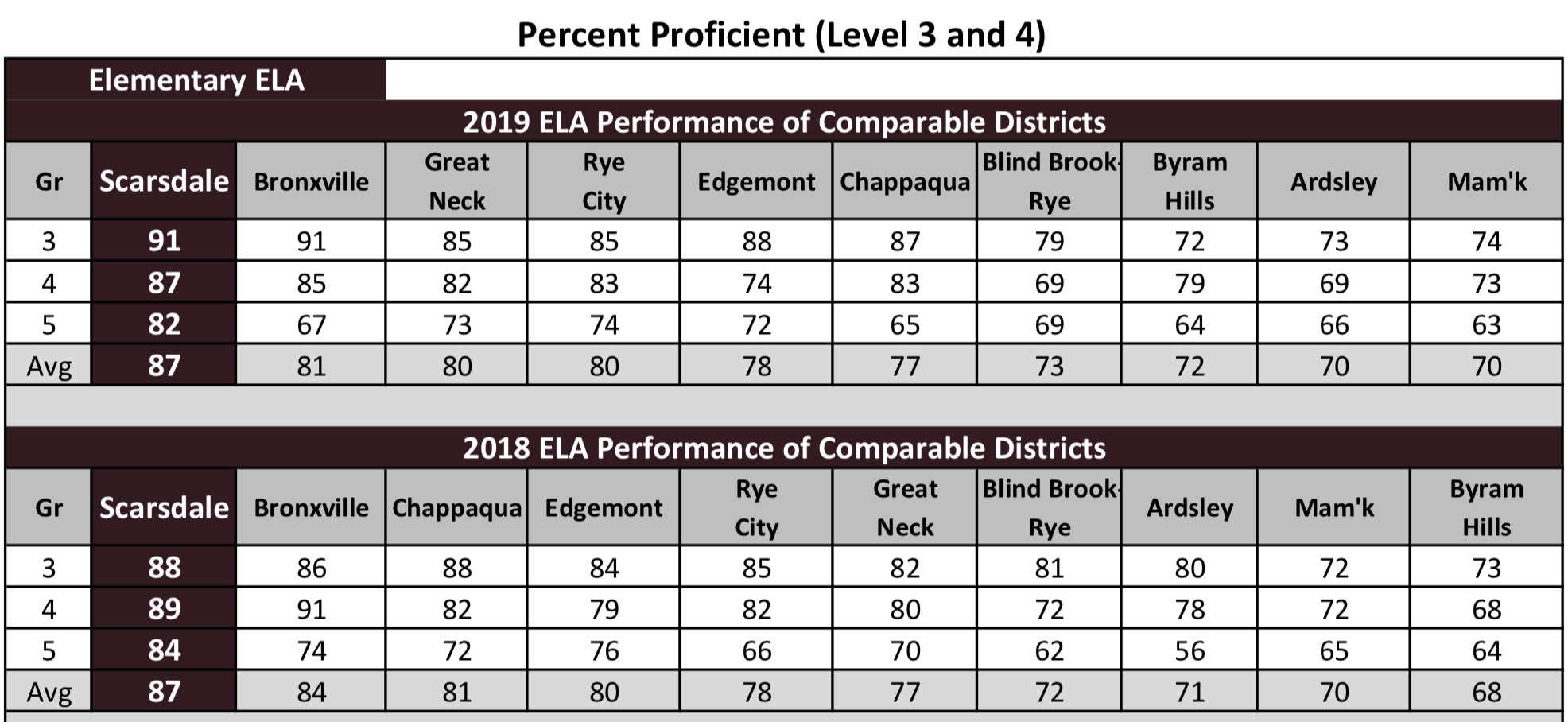 In addition to the college admissions tests and the state tests, Scarsdale has also developed their own assessments for English, math, science and social studies in the elementary school, and assessments for middle school and high school students across various disciplines, including the performing arts and physical education.
McIntosh reviewed improvements to New York State educational standards that emphasize the learning process, inter-disciplinary thinking and the reduction of redundancies. These new standards focus on moving through the content, rather than rote memorization of facts. Once learned, these concepts can be applied across many disciplines. He called the process, "collaboration and vertical articulation." To illustrate this point, McIntosh said the teachers of biology, chemistry and earth science at the high school are exploring how they can teach cross-cutting concepts across science classes.


There's even more data to parse online. Watch the presentation here:
Preseason Snapshot: Scarsdale Winter Sport Features Much Potential
Details

Written by

Ray Cooper

Hits: 811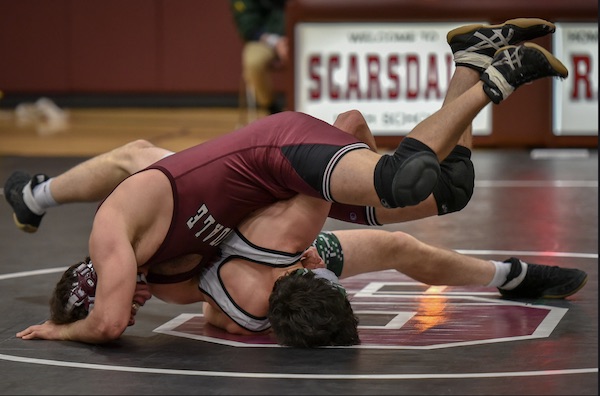 Wrestling: After almost 15 years as assistant coach, Jeremy Szerlip begins his second year in the top spot with an eye towards a strong rebound in the '19-'20 season. The team is coming off of a rebuilding season which saw several changes to the program's culture and approach.
Coach Szerlip noted that his main objective since taking the helm last year has been to change the "general attitude of the team" and "come with a winning mindframe to compete in a hard division". The team features an upperclass heavy squad with senior co-captains Dean Mancini, Connor Raff, and Thomas Reynolds leading the charge. The team also has high hopes for Sophomore Thomas Kuo.
Szerlip's main concern going into the season is the team's ability to retain its full membership throughout the long, grinding, tough campaign. To date – the team has all but two weight classes filled – which should make a large difference in dual meets. When asked about his initial outlook for the season – Szerlip said "I expect us to be very competitive during the dual meets and improve our performance considerably over last year".
The Raiders open their season at the Section One dual meet on December 4th.
Boys Basketball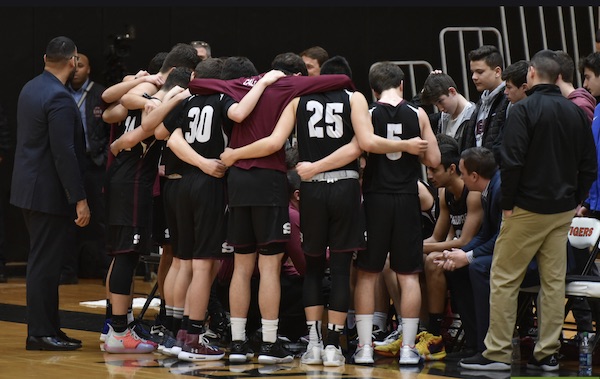 Second year head coach Joe Amelio has high aspirations for his squad this season. The Raiders started last year on an 8-0 roll, until injuries and a rough conference schedule took its tool and the team ended the season with a 14-6 regular season record. Scarsdale entered the playoffs as the 5 seed and lost a heartbreaker in an overtime loss to White Plains in the quarterfinals – just missing the semifinals at the country center.
The team lost 3 of its top 4 scorers – including SUNY Geneseo basketball player Cole Kattan – to graduation. However, several returning players should make a big impact including All State senior guard Jayshen Saigal, who Amelio believes "is a top three player in the conference". Furthermore, point guard Matthew Lipsay will return after missing his junior year due to a broken wrist. He is looking for those two and several of the returning players to provide leadership to a team that is playing together for the first time.
Amelio stressed that "our defense was strong last year – particularly during the first half of the season. I expect us to continue that into this year and it will make us hard to beat". Further, he said that "our defensive performance will be an early indicator of how successful we will be this year. Coach Amelio believes that his team "has the ability to make it to the country center this season"
The teams first regular season game will begin at home at Scarsdale on 12/4 as it hosts its annual tournament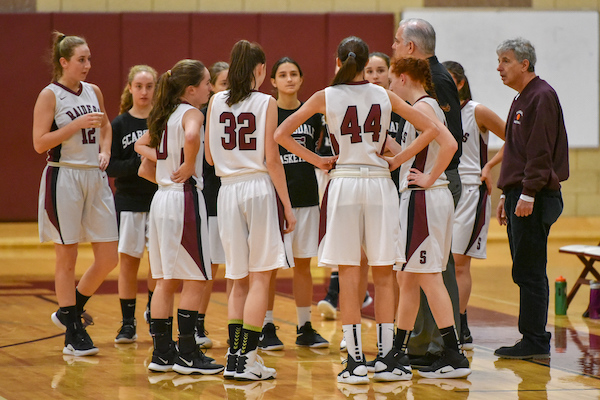 Girls Basketball
Coach Mike Blanco returns for a 9th season leading a Scarsdale team that sported an 10-11 season against a very competitive schedule – and a tough first round playoff loss against a highly ranked Lady of Lourdes team.
The team sports a "barbell" of seniority – with over half the team underclassman. Blanco has high expectations of his senior co-captains Kayla Maroney (all section last year) Meghan Quirk, and Jessica Solodar – as well as junior Center Abigail Talish. He also believes that he has sufficient depth this year as his five sophomores all were on the squad last year as freshmen – and should help keep the team fresh as the season wears on.
The lady Raiders season begins on December 5th at its home tournament.
Photos by Jon Thaler. See more here:
Are Our Kids Getting Enough Sleep? Board Discusses School Start Time and More
Details

Written by

Joanne Wallenstein

Hits: 5273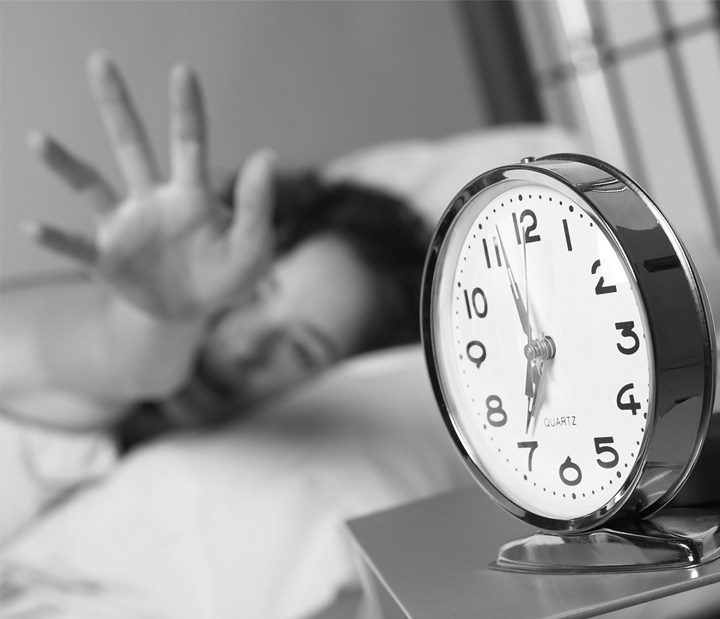 In the wake of a new law in California that will shift the opening of state high schools to no earlier than 8:30 am, the Scarsdale School Board re-opened a discussion of school hours at their meeting on Monday November 4.
Why would the district consider a proposed schedule change?
Here are the facts:
-A 2017 study from the CDC found that only a quarter of high school students reported getting the recommended eight hours of sleep.
-The American Academy of Sleep Medicine has recommended that children aged 6–12 years should regularly sleep 9–12 hours per 24 hours and teenagers aged 13–18 years should sleep 8–10 hours per 24 hours.
-Children and adolescents who do not get enough sleep have a higher risk of obesity, diabetes, injuries, poor mental health, and problems with attention and behavior.
-The American Academy of Pediatrics, which backed the California cited studies that found links between more sleep from later start times to better school performance and better health among teens.
California is not the first district to address the sleep issue. Seattle took a similar step in 2016 when they announced a reorganization of school start times: Elementary schools started earlier, while most middle and all of the district's 18 high schools shifted their opening bell almost an hour later — from 7:50 a.m. to 8:45 a.m. The schedule change took more than a year to implement as it affected transportation needs and the schedules for after school programs.
Does Scarsdale have it wrong? At the high school, the first bell rings at 7:55 am, and classes at Scarsdale Middle School begin at 8:10 am. The elementary schools begin at either 8:2 or 8:35 am. That means that high school in Scarsdale class begins 30 to 45 minutes earlier than mandated under the new schedules in California and Seattle.
Board member Chris Morin raised the issue at the October 21 meeting of the Scarsdale Board of Education, and on November 4 it was put on the agenda. Specifically, the Board and administration discussed whether or not school start times warranted research and further consideration and should be formally studied this year.
Dr. Hagerman noted that similar legislation to delay start times had failed in some states and passed in others. He said the "research is clear on the benefits of sleep," but that was only a starting point for the conversation. He suggested the district look at other districts that are the same size as Scarsdale for an apple to apple comparison and to find out if other Westchester school districts want to get involved in the research. He said the PT Council was interested in studying this issue.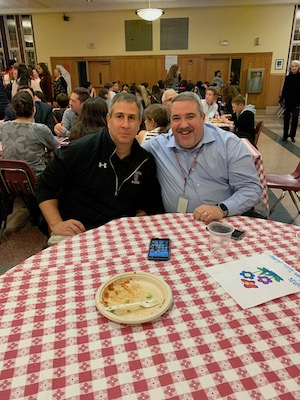 Joe DeCrescenzo and Scott Silberfein
Board member Alison Singer suggested the district confer with Assemblywoman Amy Paulin to find out if other districts in the state are investigating this and School Board President Scott Silberfein said that the Nanuet and Tappan Zee Schools Districts have already implemented a later start time. Dr. Hagerman raised the concern that later start times could affect working parents, student transportation and the after-school sports program.
About the decision to study this issue, Board Vice President Pam Fuehrer said she was concerned about the existing workload for the administration and the board who are engaged in collective bargaining and the implementation of the strategic plan. She said she saw this as a wellness issue. However, Board member Karen Ceske said this issue has been "percolating in the district for years" and she thought "we should bring it to the table and start the work." Carl Finger said he had a sense that "this would not overburden the staff, "and that "this was "the first step in a marathon." Dr. Hagerman said he felt comfortable "putting out some feelers," and he thought the district should spend more time on this once they had more information.
It appeared that the administration would make researching this issue a formal priority and put it back on the agenda after they have more information.
Middle School Comfort Station
During the public comments portion of the meeting Bob Harrison spoke at length in favor of the construction of a comfort station at the middle school and encouraged Scarsdale students to apply to Penn State. Later at the meeting, the board approved a resolution to move forward with the planning. Specifically, the resolution authorized the SEQRA review and authorized the administration to draft a Memorandum of Understanding with the Village of Scarsdale outlining terms and conditions including but not limited to: (1) SEQRA compliance; and (2) a license agreement related to construction, funding and operation, use and maintenance of the Comfort Station."
Purchasing
The Board discussed whether or not they could change their purchasing policy to allow purchase of textbooks via Amazon or other providers not currently on the list of vendors approved by New York State.
Lights at Butler Field
The Board approved two gifts from Maroon and White for a total of $48,025 for architectural and engineering fees for the new lights at Butler Field. This represents 75% of those fees. The Board thanked Maroon and White and asked them to begin the work.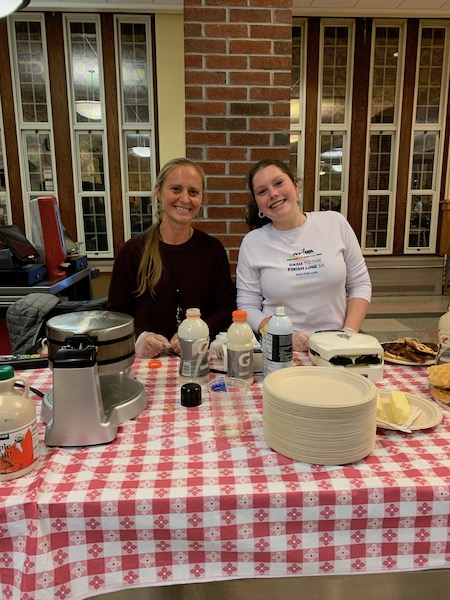 Lauren Barton and student government representative Lisa Thurman.Community Dinner
Prior to the meeting, the Scarsdale High School student government hosted a community dinner with food from local restaurants. Proceeds from the ticket sales will be donated to the Juvenile Diabetes Research Fund. See photos from the dinner above.
Questions from the LWVS
Also during public comments, Leah Dembitzer, President of the LWVS posed the following questions on behalf of the league:
Safety and Security
1. Does the Board plan to consider how recent enhancements and changes in surveillance, including new security cameras at the elementary schools, affect student privacy and student rights?
2. Will the Director of Security position be evaluated by the Board of Education? Will the Director of Security position continue to be a consultant position in the next school year?
3. How have increased security measures affected the culture of community at the schools? Aside from building and district safety committee meetings, is there a process for the Board and Administration to solicit ongoing feedback from teachers, parents, students and the community at large?
4. According to the document entitled "In-Process, District-Wide Security-Related Improvements," there is a list of some social/ emotional initiatives that have been implemented related to a culture of kindness and to identify bullying. However, is there a new, additional social/ emotional plan or initiative in place to address how increased security itself may affect student well-being and stress? Specifically to address how lockdown drills or false alarm drills may affect student stress, wellness and the overall school experience.
Strategic Plan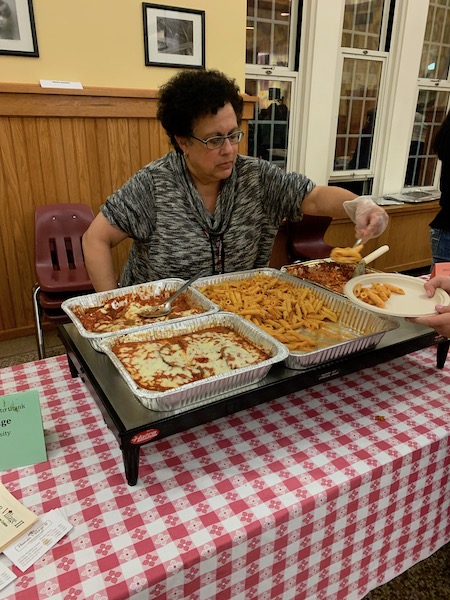 Jeanne Cooper serving Italian food.
5. I know that Dr. Hagerman mentioned that Strategic Plan will be discussed tomorrow with teachers at Superintendent Conference Day. However, are there any other plans to convene focus groups of parents, teachers and students related to the further honing and implementation of the Strategic Plan?
Board Community Engagement/ Communications
6. When is the Board's Community Engagement sub-committee meeting and what are its goals for this year? **I know that Pam mentioned that there is a meeting in November, however, I wasn't able to hear the exact date of the meeting. Thank you.
7. Is increased Advocacy on issues that directly impact the Scarsdale School community, one of the Board's goals for the year?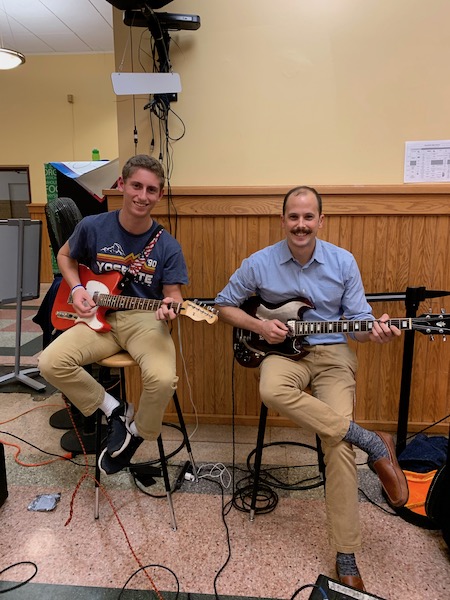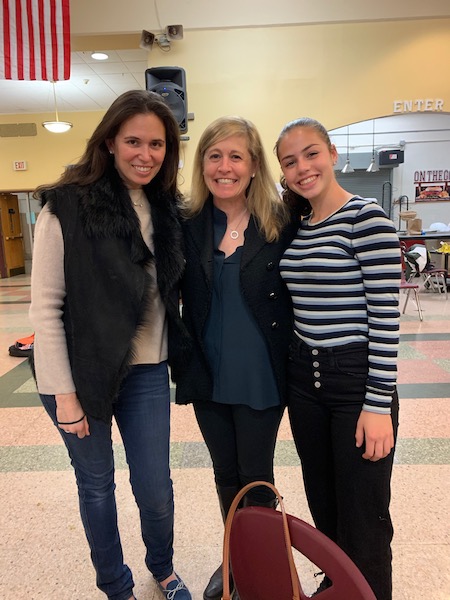 Trustee Jane Veron (center) with Jessica Weiss Ainsberg and Veron's daughter Anna.