Kindergarten Enrollment Remains Low as Scarsdale Opens the 2018-19 School Year
Tuesday, 28 August 2018 08:17
Last Updated: Thursday, 30 August 2018 08:09
Published: Tuesday, 28 August 2018 08:17
Joanne Wallenstein
Hits: 3677

The Scarsdale Schools will officially open next week with the lowest student population in a decade. Currently district-wide enrollment stands at 4,689 students, down 80 students from the 2017-18 count of 4,769. In 2014-15, district enrollment was at 4,821, 132 students higher than this year.
The majority of the decrease in the number of students is in kindergarten, where only 255 students have registered, which is 69 students shy of the demographers projections of 324 students and down 70 students from the 2017-18 kindergarten class of 325 students. As of the July 10, 2018 meeting 236 had registered for kindergarten, and Assistant Superintendent Drew Patrick hoped that more would move in during the summer –- but to date that number only climbed to 255 – another 19 students.
The population at Scarsdale Middle School was projected at 1,130 and now stands at 1,118, down 12 students. At the high school, projected enrollment was 1,519 and is three students over at 1,522.
The total number of elementary school sections remains at 103. The loss of new students is spread around the district, with Edgewood, Greenacres and Heathcote to have two kindergarten classes rather than three this past year and Fox Meadow to have three sections as compared to four last year. At Quaker Ridge, the number of kindergarten classes will remain at four.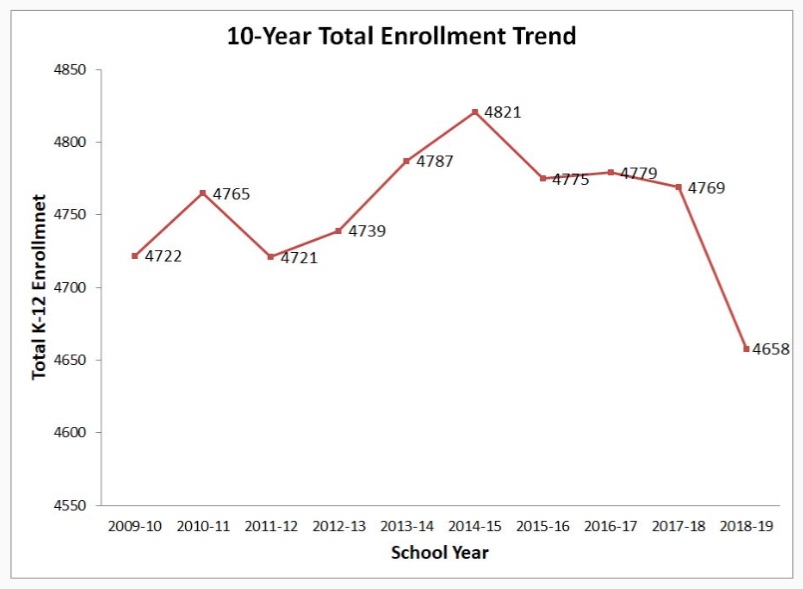 Enrollment Projection as of July, 2018. Enrollment now stands at 4,689 students for 2018-19


We asked Assistant Superintendent Drew Patrick for his thoughts on the numbers and here is what he shared:
What do you think are the factors behind this decrease in enrollment?
Hard to be certain, but it seems as if the change in the tax law may have stalled or delayed some people deciding to make a move to Scarsdale. Some real estate folks (through the grapevine) have indicated this may be a reason.
Will the sections be smaller? Why are there still 103 sections?
Our K-3 sections cap out at 22, and 4-5 at 24, so that drives the number of sections. The 103 represents where we were in June and in July, so this is consistent. We are down 3 from projected (106). Class sizes vary- where we have, say 52 kids, that demands three sections of 17, 17 and 18 (students), where if we have 43, that will be 22 and 21. I will give a full update on the September 17, 2018 Board of Education meeting.
Were any teachers laid off?
No. This was accomplished through attrition, though we did have to let go of 2 1-year leave replacement teachers. They were never promised more than a year, though.
Will the elementary schools be able to repurpose the space – and if so how will it be used?
That would have to be directed toward the schools- I can't speak for them. However, keep in mind this represents only 3 fewer classrooms total across 5 schools.
In other district news, Assistant Superintendent Stuart Mattey responded to our questions about the results of some ground testing at Greenacres that was done this summer in advance of the construction.
According the engineers, testing found the following:
-No groundwater encountered to a depth of 10'-0" below grade; and
-No changes to plans are required; and that
-Soil conditions are adequate for a typical foundation design.