322 Kids Explore Writing and Creativity at the Young Writers' Workshop
Wednesday, 21 November 2018 09:18
Last Updated: Wednesday, 21 November 2018 09:26
Published: Wednesday, 21 November 2018 09:18
Joanne Wallenstein
Hits: 1413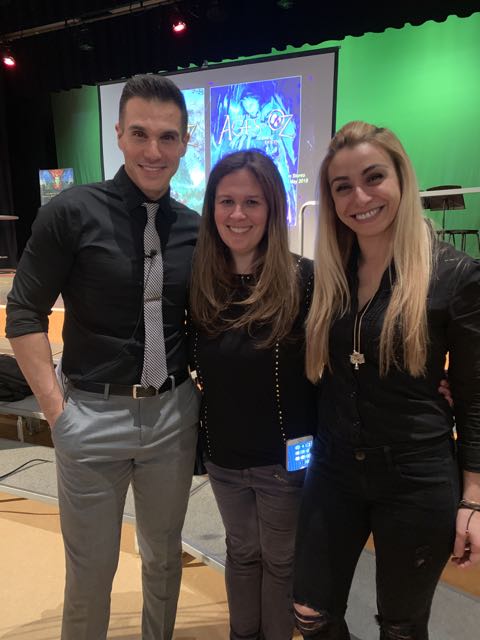 Gabriel Gale, Leah Dembitzer and Rene Makrinos at the Young Writers' Workshop332 excited third, fourth and fifth grade students came to the Scarsdale Middle School on Saturday November 17 to explore storytelling, writing, reporting and creativity at the 24th annual Young Writers' Workshop. This year's workshop was the biggest yet and ran seamlessly under the direction of Leah Dembitzer and Kerry Hayes from the PT Council along with many willing volunteers.
The day began with the ever popular Gabriele Gale, creator of the Ages of Oz series, inspired by the Wizard of Oz. Gale is both writer and illustrator of the series and he led the kids through the process of creating their own mythic beast; a scaly, smelly, venomous fire-breathing goat! He happily reported that his series is now being considered for adaptation to the screen by Warner Brother and Netflix.
Following Gale's presentation, kids attended a series of workshops where they wrote adventure stories, songs, dialogue, acted, made collages, explored entrepreneurship and more.
I taught two workshops on newswriting and I think I may have learned more from the kids than they learned from me.
First, we examined the "who, what, why, where and how" of writing a news stories. For children ages nine through eleven, they sure caught on quick. They understood what was newsworthy and how to write a strong introductory sentence. They came up with some great stories that hadn't reached Scarsdale10583.
I didn't know that a school bus from Fox Meadow ran into a car driven by a high school studen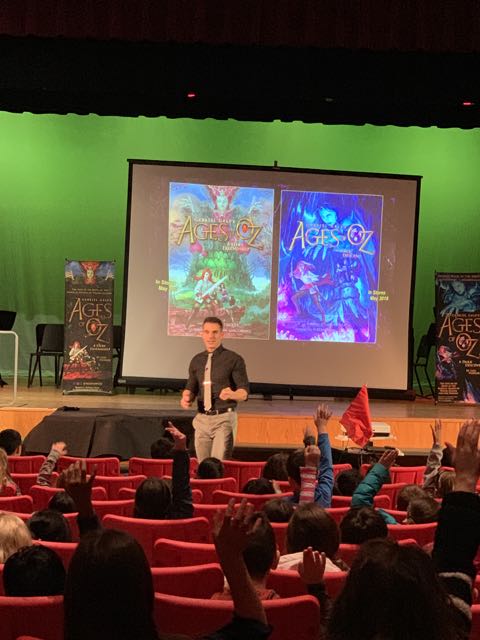 Gabriel Galet or that a faulty fire alarm at Fox Meadow left the entire school shivering outside without coats for a half hour in the rain. What else? One student reported that he had been in a car accident during the storm and another said that his Dad had abandoned their cars on the road.
Kids are also excited about the 100th anniversary of Edgewood Elementary School and the contents of the buried time capsule that will be revealed in 2019.
In both of my workshops I was impressed with the bright, engaged students I met.
Thanks to Leah, Kerry, the workshop leaders and all the volunteers for an exciting day in Scarsdale.