Thin Crust Pizza on Depot Place
Details

Hits: 3677
Delectable thin crust pizza is now available at All'Antica on Depot Place next to the train station in Scarsdale Village

Pizza by the slice, or in full and half-sizes are on the menu at All'Antica, Scarsdale newest pizzeria and restaurant. You'll find and impressive array of toppings; sausage, spinach, eggplant and portabello mushrooms are just a few. We've heard great reports about the Finocchia (with anise and sausage), Melanzana (eggplant and gorgonzola) and Pesto Pizzas. Want more?  There's chicken and eggplant parmigiana and a range of entrees including pastas and salads.  Eat in or take out, but definitely give it a try.
All'Antica
8 Depot Place
Scarsdale
914-472-4848
914-472-4899
allanticapizza.com
Monday-Friday 11am-10pm
Saturday 12pm - 10pm
Cupcakes Come to Westchester
Details

Hits: 4586
Yum –the Flour & Sun Bakery, Westchester's first and only cupcake bakery, has opened in Pleasantville.  The cupcakes are made from scratch daily, using only the finest ingredients.  The goods are delectable and the store is lovely – well worth a trip up the Bronx River Parkway.

Classic cupcakes are offered everyday – vanilla with vanilla icing, vanilla/chocolate, chocolate cake with vanilla icing and chocolate/chocolate.  Mouth-watering daily specials are too numerous to list.  There's chocolate cream cheese, lime, red velvet, peanut butter and jelly and more. Take a seat at the counter and enjoy your cupcakes with one of six varieties of tea while you watch the action in town from the window.

In addition to the cupcakes at the retail shop, special orders are available for corporate events, baby showers, holiday parties, birthdays, and weddings.


Store hours are:

Sunday: 10-5 pm
Monday: CLOSED
Tues-Thurs: 11-7 pm
Friday: 11-8 pm
Saturday: 10-8 pm

And you'll find the bakery just a short walk from the Jacob Burns Film Center at:



19 Washington Avenue
Pleasantville, New York
914-495-3232
Pepe's Pizzeria Is Here
Details

Hits: 2615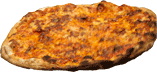 For years I heard tales of a legendary pizza place in New Haven that justified a stopover when traveling the Northeast corridor. Apparently Frank Pepe Pizzeria Napoletana has been famous in Connecticut for their coal fire "tomato pies" since 1925. And the big news is that 85 years later they have finally opened up a Pepe's on Central Park Avenue in Yonkers. Expecting a crowd, I called to order our pie well inadvance and was pleased to find them to be very accommodating. We arrived at a huge new restaurant, sparcely furnished, featuring a long white counter, two huge brick ovens and scores of pizza chefs and sous-chefs scurrying about, ready to prepare pizza for hundreds.  The pizza's were placed in and out of the ovens with long pizza sticks and the entire operation was efficient and impressive.

The menu included the original tomato pie, with or without mozzarella as well as a wide range of toppings including sausage, spinach, mushrooms, shrimp, chicken and more.  Apparently they are famous for their fresh clam pizzas and the chefs were proud to show me their daily catch of fresh clams that we'll try on our next visit.

This time we sampled the tomato pie with mozzarella and with one bite realized why this pizza is famous.  The crust is crisp, but chewy, somewhat like a good French baguette rolled out thin, and toasted in a fiery hot oven. Other than pizza there's not much more…a Pepe's salad, soda, beer bottled and on tap and wine by the bottle or the glass. And what does it cost? Not much! A small pizza starts at $6.30, with large pizza's at $12 plus additional charges for the toppings from .60 for onions up to $13.00 for fresh clams on a large pie.

The space is so large that it appears they are expecting legions of diners …and I do hope they appear.  With pizza this good at reasonable prices I predict Pepe's will become a Yonker's institution.

The Original Frank Pepe Pizzeria Napolentana
1955 Central Park Avenue, Yonkers, New York
Open Daily at 11:30 a.m.
Dine in or take out (914) 961-8284
www.pepepizzeria.com
Lunch Today, Rubble Tomorrow
Details

Hits: 2366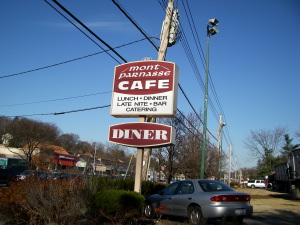 A sad sight on Central Avenue... all that's left of the Mont Parnasse Diner is a pile of rubble.  I've got memories of omelettes, french toast, grilled cheese sandwiches and jello with whipped cream. It was an old-time, expansive eatery, with leather banquettes, tall cakes buried in icing and juke boxes on each table. I am sure you have fond recollections as well. George McGuire of the State Contracting Co., was on hand to do the demolition and hauled away over 200 tons of rubble. What will be built in it's place? I bet you already guessed! Another bank? No, it's Walgreens. A new 11,000 square foot  drugstore will be built to open in 2010.