Police Report: Accidents Abound: Camp Bus Hit Head-on; Motorcyclist Knocked from Bike; Car Strikes Fox Meadow Road Garage
Monday, 09 July 2018 15:28
Last Updated: Friday, 13 July 2018 11:42
Published: Monday, 09 July 2018 15:28
Traci Dutton Ludwig
Hits: 5080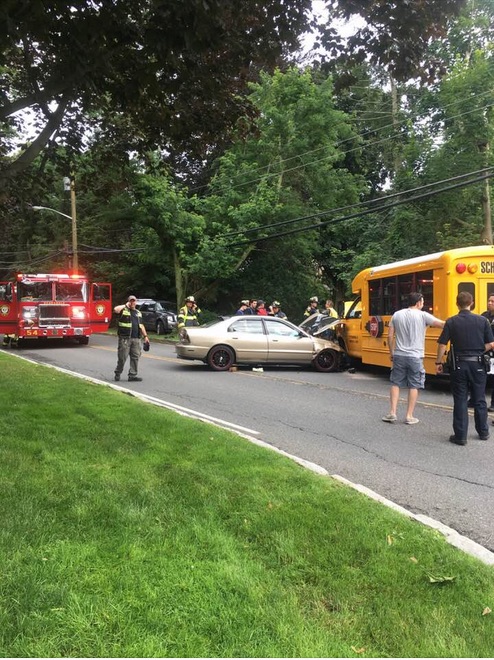 Collision of a car and a bus on Fenimore Road on Friday
On July 6, a bus carrying children from Camp Mohawk was involved in a traffic accident on Fenimore Road. The accident occurred when the 42-year-old Jamaica-Queens driver attempted to avoid two cars that came to an abrupt stop directly in front of him. This caused the driver to cross over the double yellow line and into the path of oncoming traffic on Fenimore Road. This caused his car to strike the oncoming bus, driven by a 35-year-old Yonkers man. The bus then veered to the side of the road and struck and damaged the curb. A total of seven people – including the driver and several adult passengers from the car driven by the Jamaica-Queens man were taken to Westchester Medical Center and White Plains Hospital Center for injuries, including lacerations on the head. Police and firefighters closed Fenimore Road while investigating the accident and attending to patients. Parents of the children involved in the accident were notified and arrived on scene to pick up their children.
On July 7, a 90-year-old Garth Road driver was backing out of Shaarei Tikvah's parking lot on Fox Meadow Road and accidentally drove through shrubbery, travelled across the street and struck garage of a resident's house, causing damage to load-bearing structures. The driver was taken to White Plains Hospital Center for treatment. Engineers for from the building department were called out to evaluate the structure.
On July 4, a 66-year-old Scarsdale driver struck a motorcyclist while making an illegal three-point turn on Boulevard. The Scarsdale motorcyclist was knocked to the ground and sustained minor injuries according to the accident report. He was taken to White Plains Hospital Center for treatment.
Stolen
On July 2, an Ardmore Road man reported a locked drawer in his office had been broken into and money was stolen. The drawer was last observed closed and locked approximately two weeks prior to the man discovering the theft. There were no signs of forced entry to the house or tampering of the filing cabinet.
Identity theft
On July 5, a Brewster Road man reported someone attempted to pose as him and withdraw money from his bank account at a Chase bank branch in Texas. The individual had a fake driver's license and a fake debit card, and he knew the last four digits of the man's Social Security number. When the bank teller in Texas wanted to speak with the manager about the requested withdrawal, the individual left the bank.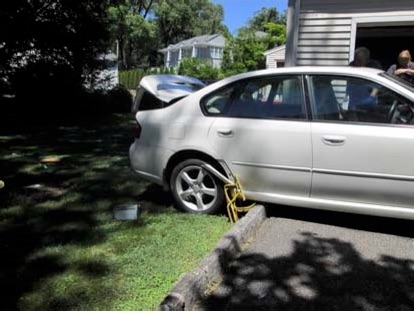 A 90 year-old driver backed into a house on Fox Meadow Road
On July 7, a Boulevard woman reported fraudulent activity on a lost Lord and Taylor credit card. On June 19, the woman received an email from Lord and Taylor stating the card was used to make two diamond jewelry purchases at a store. The woman notified the fraud department that she did not make those purchases, and she was instructed to file a police report. The fraud department of Lord and Taylor is following up.
Domestic matter
A couple requested help in speaking with their allegedly "disrespectful" 30-year-old son who arrived at their house and would not leave. It was shortly before 3 p.m., and the couple asked police to help their son understand that he should return at 6 p.m. Patrol relayed the message, and the son left the house.
Open container
Police issued a summons to a man drinking from an open can of beer on a public sidewalk on Depot Place around 8 p.m., July 5. The man said he just bought the beer from CVS and was walking to the train station to go home. Police confiscated the can of beer as evidence.
Lock jammed
A father and son asked police to help them cut the malfunctioning cable lock on the son's bicycle chained to a rack at Heathcote Road and Palmer Avenue July 2. With the assistance of firefighters, the cable lock was cut and the father and son took possession of the bicycle.
Neighbors
On July 2, Brite Avenue woman complained that her neighbor of seven years came onto her property, cut some of her plants and took some of her plants. She also said he neighbor has stared at her numerous times. According to the police log, the woman has not directly observed any of the alleged behavior, nor has she had any verbal interaction with him. Police spoke with the neighbor. He said he has had "minimal interaction" with the woman and "never stepped foot on her property." Patrol advised the parties there was no evidence of criminal activity and the matter was a civil matter.
A Johnson Road man ran into a former neighbor in the Golden Horseshoe Shopping Plaza, and the neighbor allegedly yelled at him July 5. The neighbor then sent the man a text message stating that he regretted ever meeting or interacting with the man. No threats were made. Police informed the man the matter was a civil matter.
On July 5, a Lincoln Road woman reported her neighbor's landscaper was cutting down bushes on her property. Patrol advised her to check with Village Hall regarding the property line and the rights and responsibilities related to clearing vegetation that crosses the property line.
Ride home
Police helped call a taxi for a man walking on Post Road after dark July 2. He told police he was walking home from a restaurant and was in good condition.
Bicycle
Police found an abandoned LimeBike on a Rock Creek Lane yard and called Lime Bike's customer service number to report it July 3. A representative said the bike would be retrieved within two hours.
Cars and roadways
Police called a tow service to help a driver who locked his keys in his car on East Parkway July 3.
Police helped an Ogden Road resident remove a low-hanging wire from his driveway July 3.
Highway workers cleaned up glass and debris from Walworth Avenue July 5.
Patrol notified Con Edison about a possibly compromised utility pole on Brookby Road July 5.
Police and highway workers removed an uprooted tree and addressed cracked concrete and holes on Post Road July 6. Patrol stood by to control traffic while the damages were repaired.
Patrol rolled up a loose wire on Cooper Road and placed it at the curb for sanitation pickup July 6.
Police spoke with the owner of a dog locked in a car on Palmer Avenue July 6. The owner said the window was cracked open to alleviate heat. The dog did not seem to be in distress.
Ten car accidents were reported in the village this week.
Dogs
Police found a loose dog on Birchall Drive July 4. The dog was picked up by New Rochelle Humane Society.
A Park Road woman reported two friendly, loose dogs got inside her house July 5. Police caught one dog and determined it belonged to a White Plains resident. Patrol called the White Plains police animal control officer for help in catching the second dog and returning the dogs to their owner.
Lost and found
While cleaning up after a car accident on Fox Meadow Road July 7, firefighters found a "hide-a-key" box containing keys on a homeowner's property. Firefighters asked the homeowner if the keys belonged to him, but the homeowner said "no." Firefighters took the keys to police headquarters where they were vouchered for safekeeping.
Village code
The Saxon Grill manager shut off a speaker after a neighbor complained about loud music at 1:30 a.m., July 3.
Police issued summonses to landscapers using gas-powered equipment in violation of village code on Fox Meadow Road July 2 and Aspen Road July 7.
Firefighters
Firefighters responded to 32 incidents this week, including numerous false alarms and assistance at car accidents in the village. Details of one incident are listed below.

On July 4, firefighters climbed through a second-floor window to reach a two-year-old child accidentally locked inside a Dobbs Terrace bathroom. The child was released unharmed and reunited with her grandparent.

This report covering police and fire department activity from July 2-8 has been compiled from official information.

This police report is sponsored by Scarsdale Security who does more than just security. Contact them about remote video for your home or business. Call 914-722-2200 or visit their website.