Merchants Share Perspectives On Revitalizing Scarsdale Village Center
Thursday, 28 February 2019 08:06
Last Updated: Thursday, 28 February 2019 11:24
Published: Thursday, 28 February 2019 08:06
Joanne Wallenstein
Hits: 1849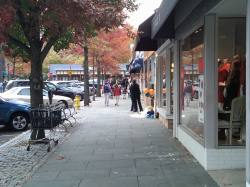 The Scarsdale Forum Downtown Revitalization Committee has released a report summarizing its recent survey of Scarsdale Village merchants, who shared their views on the current and future state of Scarsdale Village Center, and provided essential information on business needs and opportunities.
The questionnaire also asked existing downtown Scarsdale business owners about what might help them improve sales and better meet customer needs, and requested recommendations on complementary providers of products and services that might add to the vitality of Downtown Scarsdale.
A majority of respondents indicated that they perceive the village center as a generally desirable and attractive location for their business, and most intend to stay in the area for the foreseeable future. On the economic front, a majority of the merchants surveyed reported that the health of their businesses is accelerating rather than declining. Some businesses even are considering expanding their square footage.
On the other hand, business owners cited the lack of adequate and desirable parking as the overwhelming obstacle to doing business downtown. There appears to be competition among village merchants and their employees, and shoppers for limited metered parking spaces.
When asked about customer service, merchants believe that they are generally open when customers seek their services, and would be willing to add staff and increase hours of operation If there were prospects for additional sales. They also wish to expand the number of "complementary" businesses that may drive business, including restaurants and a greater variety of retail stores.
In addition, respondents cited a number of key factors that they believe would increase traffic downtown, increase sales and services, and lead to expanded hours of operation, including:
Increase the stock of available parking places for consumers, and provide incentives to encourage employees to park in garages instead of metered parking spaces;

Improve meter management to increase the stock of available consumer parking places, particularly during lunchtime and on Saturdays; and
Add a valet parking service option to leverage existing parking supply and improve consumer convenience.
The Downtown Revitalization Committee has made a number of strategic recommendations based on the survey results:
Form a subcommittee of the Downtown Revitalization Committee to review comprehensive solutions to parking issues in Scarsdale Village Center, including the group's consumer survey, 2018 traffic study, 2018 parking meter study and the Freightway redevelopment project;

Improve the number and variety of restaurants and retail establishments, by combining and comparing merchant and consumer survey results;

Improve communication related to Downtown Scarsdale projects, customer feedback and available advertising channels;

Improve infrastructure and landscaping throughout the village center, in areas such as Chase Park, Boniface Circle, and various green spaces and sidewalks, in anticipation of increased pedestrian traffic, extended evening hours and weekend use of downtown services; and

Make recommendations on how relevant portions of the October 1994 Scarsdale Comprehensive Plan should be implemented in 2019.
The committee intends to work with stakeholders and other interested parties to continue studying revitalization issues and assist in implementing its recommendations.
In commenting on the survey and report, Downtown Revitalization Committee Chair Susan Douglass said, " A thriving downtown is evidenced, in part, by the continuity and health of existing businesses. Village merchants have an established relationship with shoppers, know the market, and are committed to the community. When provided with adequate support and resources, these merchants can evolve, offering new goods and services and/or upgrading their facilities to meet the changing demands of the local community." She continued, "The survey was designed to engage the business community in the market analysis process and help us develop market-based, strategic recommendations to support business retention and expansion initiatives."