Playing Hockey Builds Self Confidence, Emotional Maturity and Sportsmanship
Category: On Our Radar
Published: Wednesday, 08 November 2023 09:18
Joanne Wallenstein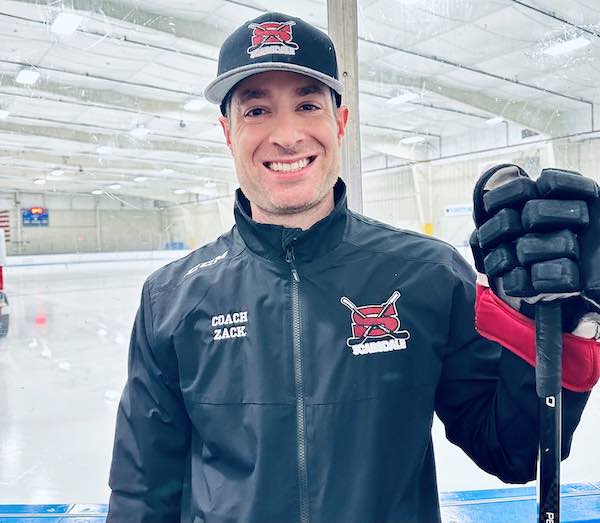 Meet Zachary Kaplan, the new President of Scarsdale Hockey and learn why he thinks playing hockey is great for kids.
Please tell us about yourself and your experiences with hockey.

I am originally from near Washington D.C., went to NYC after college, and eventually moved to Greenacres in 2017 with my wife (Nancy) and our two children. I have been a lifelong ice hockey fan and player. I played youth hockey through high school, played college hockey at UPenn, and continue to play in an adult league in the Westchester area. I also currently coach my son's youth hockey team with Scarsdale Hockey.

Why did you decide to take on this new role?

I am grateful to the outgoing Scarsdale Hockey Board President, Mahen Kathirithamby, for giving me the opportunity to take on this leadership position. For me, this is an opportunity to grow interest and participation in the sport of hockey, which I love, while also giving back to the community of Scarsdale (which I also love!).

Give us your outlook on youth sports.

I believe the primary goals of youth sports are not captured in wins and losses. I want our players in Scarsdale Hockey to have fun and play safely. I want our players to be challenged by great and fair competition, to learn to battle through adversity and to work hard to become the best possible versions of themselves. I want our players to build self-confidence, emotional maturity, and good sportsmanship.

Tell us how playing hockey builds community.

I have been involved with several different youth sports throughout my life. Only with hockey have I felt a true sense of family and community. I think partially it is the culture of the sport, passed down through generations. I also believe the fast-paced nature of hockey emphasizes and rewards teamwork, communication, and collaboration. Whatever the reason, when I arrive at the rink and see players and parents spending time together long before a game starts, it just feels different than other sports.

What are your goals for the organization?

Our primary goal as an organization has always been, and will continue to be, to provide opportunities for children in the Scarsdale and Greater Westchester County area to learn, develop and play ice hockey in a safe, fun, and competitive environment.

What are your plans for the coming months?

The coming months will primarily be about listening to our Scarsdale hockey families and the broader community. I believe that a big part of leadership is having self-awareness combined with a willingness to consistently listen and improve. I start this new role with humbleness that I have a lot to learn before we chart out the specific actions to better and grow our organization.
What are the ages of the children on the team? How can readers get their kids started?

We offer travel team programs for children aged 6 – 17. In addition, we offer a "learn to play" program for our younger players who are brand new to the sport. Although the 2023-2024 season is well underway, we still have open spots across teams at all age levels. If readers are interested in learning more – whether for this season or future seasons – they can email me directly at zach.kaplan@scarsdalehockey.com.

Where do they skate and what are the hours?

We primarily skate at Westchester Skating Academy in Elmsford, although we also have practices and games at other local rinks in the area. Our hockey season runs from September through March, and our players are on the ice approximately 50 - 60 times for practices and games. Practices are typically Tuesday and Thursday afternoon/evenings, with games on the weekend.
What would you say to parents who fear that the sport is too dangerous?

Ice hockey is a contact sport and injuries do happen. That said, Scarsdale Hockey takes player safety extremely seriously and we have enacted a series of policies over the years to prioritize the health and safety of our players, including head injury protocols and mandatory neck protection. It is also important to know that body checking is only allowed at the 14U level and above; there is no body checking at the 8U through 12U levels.

Do they need to purchase equipment before giving the sport a try?

We have a limited supply of loaner equipment we can make available for players for their first few times on the ice. For those anxious about the cost of equipment, there is a robust market for used gear through local and online hockey stores that can significantly reduce the cost of entry to the sport. Please feel free to email me on this topic as well.

Who should they contact to start playing hockey?

Me! zach.kaplan@scarsdalehockey.com and learn more about us at https://www.scarsdalehockey.com/