Committee for Historic Preservation Weighs Next Steps Following An Illegal Demolition
Details

Written by

Sophia Albert

Category: Real Estate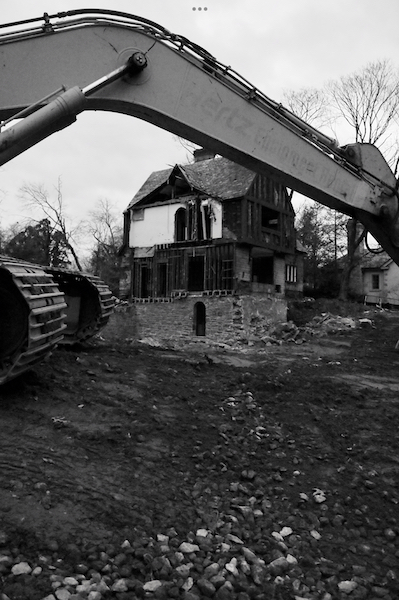 Work continues at 41 Hampton Road after a developer razed half of an historic home.After developer Eilon Amidor all but destroyed a historic home at 41 Hampton Road in Fox Meadow, what is to become of the remaining ruins of the property? Should the battered portion of the home be preserved and incorporated into a new home or should the developer's application to raze the remaining portion be approved?
That was the subject of a hearing of the Scarsdale Committee for Historic Preservation (CHP) at their November 30, 2021 meeting via Zoom.
To open the discussion Committee Chair Adam Lindenbaum gave a recap of how the historic 1920's Tudor designed by noted architect W. Stanwood Phillips had been bulldozed without the permission of the committee, while an application to raze it was pending on the committee's agenda.
According to Lindenbaum, in June 2021, Developer Eilon Amidor filed an application to take down the entire house. At the time the home was owned by Stewart Hung, and Amidor was the contract vendee. Amidor's application to the CHP did not disclose the name of the architect, W. Stanwood Phillips, though it is the responsibility of the applicant to investigate the history of the home.
The Committee did some research and determined that the home was the work of a master architect, which is a criteria for preservation, and therefore adjourned their decision on the application to give Architectural Historian Professor Andrew Dolkart time to make a determination on whether the home warranted preservation. In July, the committee reconvened with only five members present.
Dolkart's memo was reviewed and he found that the home warranted preservation on the following criteria:
1. The home is the work of a master as it was designed by architect by W. Stanwood Phillips, a noted architect who was "closely involved with creating the character of the Village.
2. The home is the "quintessential Scarsdale home," and part of the "broad pattern of Scarsdale history.
3. The home embodies the "distinctive characteristics of an English Tudor Revival style house and uses the style "in an extremely creative manner to create a fine example of the middle-class suburban architecture that distinguishes Scarsdale.
At the time, it looked like the committee would vote to preserve the home on the basis of Dolkart's opinion. However, the committee adjourned the decision to their next meeting so that the applicant would have the benefit of a decision by the full committee. Lindenbaum said, "But before we could vote, Amidor announced he would go to the Board of Architectural Review and apply to build a home in front of the existing structure. Amidor said he wanted to be upfront and did not want to use the "salami" method. He said if the CHP denied him, he would go to the trustees."
In August, the owner of the home, Stewart Hung, filed an application with the Board of Architectural Review to demolish a portion of the home (Amidor claims it was 41%) and build a 9,000 square foot home that incorporated a portion of the original home. In his demolition plan he states he will remove the "exterior stucco, beaming and brick." The BAR approved his application, though the application to demolish the house was still pending before another board, the Committee for Historic Preservation.
A provision of the Scarsdale code prevents the demolition of a home while an application is pending before the Committee for Historic Preservation, and also dictates that a ruling from the CHP supersedes any other building permit.
It reads, "Notwithstanding any inconsistent provisions of the Code or of any rule or regulation concerning the issuance of building or other permits, no person shall carry out any demolition of a structure which the Building Inspector has referred to the Committee as a potential historic building without first obtaining a certificate from the Committee or Board of Trustees as provided in §§ 182-7 and 182-11 or a written statement from the Committee that the structure does not meet the criteria set forth in § 182-5 and is not an historic building. The certificate required by this section shall be in addition to and not in lieu of any building or other permit that may be required by the Code or any state law or regulation.
Amidor claims to have had no knowledge of this provision. He defended his actions by claiming that after the second meeting of the CHP he went back to the drawing board to design a home that integrated the remaining portion. However he now claims that the building is structurally unsound, the foundation is rotten and it poses a safety hazard.
Lindenbaum asked the developer, "Why didn't you come to us before you demolished it? Why did you go forward with it without coming to the committee?" To which Amidor replied, "I did everything that the code allowed me to do. I did not think that I would have to demolish it. I did want to preserve this."
Turning to the committee Lindenbaum said, "This is a new application at this point. Do we look at what sits or do we look at what was two months ago?"
Jonathan Lerner suggested that the Village needed to re-examine their preservation laws and perhaps require a higher percentage of a historic home to be preserved. He noted the lack of communication between the Committee for Historic Preservation and the Board of Architectural Review.
About the process, Kevin Reed said, "This was a deliberate circumvention of the committee. I think he knew he would not have the votes to demolish the home -- if he got a denial he would have to present this to the BAR." About the site he said, "They have knocked down all the trim and any attractive elements of the house. This was designed to create a fait accompli. I don't believe the code should allow that kind of circumvention. The spirit of the code is not served."
Responding to Lerner's point that the code needed amending, Reed said, "It is not necessary to amend the code. It was designed to prevent this. You give people license to do what was done here."
Thomas Schroeter said to Amidor, "You wanted to tear it down because you said it sat too high on the property. The new plan is exactly the same?" Architect Sostre responded, "We took it four feet forward." To which Schroeter said, " You said, we are going to do what we want."
Mark Behr said, "There is no preservation – you are building something in front of it. We didn't take a vote and they did exactly what they said they were going to."
Lerner asked if work was ongoing at the property to which the developer replied, "we are laying the footings for the new portions."
Several speakers from the community spoke. Lisa Beck of Chesterfield Road who lives in another Tudor designed by W. Stanwood Phillips questioned Amidor's application, the ownerships of the home at the time of the multiple applications and the process which subverted the CHP.
Joanne Wallenstein said, "The main point is that there is a law in writing that prevents this, and the developer violated the law and the spirit of our preservation laws. This is not the first time this developer has deceived the Village and the residents of Scarsdale. He did an end run around the process.
Take a look at the proposed design The house that is approved by the BAR bears no resemblance to the existing structure – it is not a renovation or update on a historic home – it is another McMansion. Almost 10,000 square feet replacing a home less than half that size. Why did he also destroy the gates, the entry and the circular drive? The dramatic entry was integral to what made it historic.
Why should he be permitted to make a handsome profit on his misdeeds.
The only remedy is for him to reconstruct the house as it was. Otherwise you are sending a signal to Amidor and others of his ilk that they can do what they like to maximize their profits.
Chair Adam Lindenbaum suggested that the committee gather more information and adjourn the decision until their next meeting on December 14, 2021.
In the interim he asked Amidor to update his application to include the name of the architect of the original property.
About the developers claims that the remaining structure was unsound and unsafe, he asked Frank Diodati from the Building Department who should do an assessment. Diodati said that the applicant was required to retain a licensed engineer to do the inspection and that the Building Department would verify their findings.
Last, Lindenbaum suggested that the Committee request another opinion from Professor Dolkart on next steps, given the destruction of the original house. Should it be saved or should the committee set conditions for the construction? Should the committee apply the criteria for historic preservation to the remaining portion of the house?
Commenting on the bizarre circumstances, Lindenbaum said, "This is about as far from the normal course as anything in my time here."
The committee voted six to one to adjourn the decision until their next meeting.
Visibly angered, Amidor said, "I am preserving my right to claim hardship – and I will have a claim against the Village too. I have two clients who want to buy it provided I can demolish the whole house."

Sales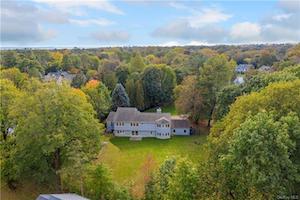 197 Mamaroneck Road
Convenience, privacy and a spectacular backyard await you at this sun-drenched Heathcote home on a level, fenced acre with plenty of room for a pool, sports court and for kids and pets to run and play. The long double-wide driveway leads to an impeccably maintained contemporary split with 5 bedrooms, 4.5 baths and a flexible layout perfect for everyday living. Highlights include: floor-to-ceiling windows on the 1st floor bringing in tons of sunlight and nature; large eat-in kitchen with stainless steel appliances, vaulted ceiling and sliders to the backyard; large master suite with 4 closets (2 walk-in) and ensuite bathroom; private 3rd level bedroom perfect for an office or playroom; large lower level that includes a spacious family room w/sliders to the back, a bedroom with full bath and 2 more bedroom options (in addition to the other 5) currently used as an office and gym. Furnaces and air conditioning condensers replaced in 2018. Close to Elementary and Middle School, shops and worship.
Sale Price: $2,000,000
Assessed Value: $1,750,000
Real Estate Taxes: $44,411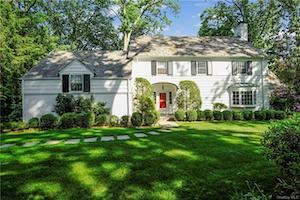 137 Griffen Avenue
137 Griffen Avenue is set on a beautiful tree-lined street set between two world-renowned golf courses. This lovely Colonial sits privately behind a stone wall on .50 acres with colorful flowering trees that bloom from early Spring through the Summer. Over 3000 interior square feet means space for everyone! The home has an eat-in kitchen, living room/fireplace, dining room, sunroom and guest powder room, plus large family room and a master bedroom with a large walk-in closet and large bathroom with double sinks, separate shower and Jacuzzi. Two additional bedrooms upstairs. Lower level is walk out with playroom/fireplace and a separate laundry room. Two car garage, central air, many upgrades. This home was originally a five-bedroom and can be converted back.
Sale Price: $1,295,000
Assessed Value: $1,284,000
Real Estate Taxes: $32,019
43 Ferncliff Road
Charm abounds in this sun filled Scarsdale Tudor on an oversized level lot within steps to elementary school. A welcoming center hall leads to classic layout that offers ideal living space including a gracious living room with gas fireplace, new powder room, sunroom/office with oversized windows and French doors to private rear patio. The dining room has beautiful custom built-ins that lead into kitchen and mudroom area that leads to attached garage. The 2nd floor boasts a large primary bedroom with an en-suite bath and walk in closet, plus 2 additional bedrooms and a hall bath. On the 3rd floor, there is a bedroom and large bathroom. Hardwood floors and updated windows throughout. The private backyard and side yard with mature plantings will be the site of endless bbq's and outdoor fun. Enjoy suburban living at its finest with a remarkably convenient location close to schools, train, shops, restaurants and more.
Sale Price: $1,255,000
Assessed Value: $971,000
Real Estate Taxes: $24,499
Featured Listings


99 Catherine Road
Scarsdale, NY 10583
Attention to detail is evident throughout this Alisberg Parker designed and renovated six-bedroom home, situated on a tranquil cul-de-sac in the Heathcote section of Scarsdale, on a level .55 acres. The living room has a wood burning fireplace, the dining room can comfortably accommodate large and intimate gatherings; powder room, butler's and separate food pantries, chef's kitchen is a central hub with an abundance of counter space, center island, desk and breakfast area opening to both a raised stone patio and also family room with built-ins. Up a few steps from the foyer is an office with built-in desk and closet (possibly a seventh bedroom), bedroom, hall bathroom, and master bedroom with lots of closets and renovated bath. On the second level are two bedrooms each with their own bathroom, bedroom with vaulted ceiling, bedroom and hall bathroom. The lower level playroom has a door to driveway, down to fabulous gym with windows, two temperature controlled wine cellars (3000 bottles each), laundry room, bathroom, and storage. 1495 square feet included in lower level.
Learn more here.
Listing Price: $2,245,000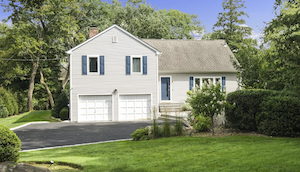 111 Evandale Road
Scarsdale PO/Edgemont, NY
Recently renovated, this chic Split Level home at the end of a very tranquil street features over half an acre of level, extensively landscaped property. Stunning open layout and large windows bring the outdoors in. The first level boasts a fantastic, expansive and sun-filled open-plan kitchen, dining, living room with a premium kitchen, ample space to enjoy everyday family living and gracious entertaining. The family room features a wall of modern, built-in storage, a large seating area and sliding doors leading to the patio and private yard. The second level includes three spacious family bedrooms with one en-suite full bath and one hall full bath, both renovated, and a laundry room, linen closet and utility closet. Up a short flight to a private primary bedroom with a luxurious en-suite bath with oversized shower and double vanity plus two walk-in closets. The lower level contains a bright playroom with sliders to an additional patio, powder room, mudroom and access to the two car garage. There is a clean sub-basement with a large storage room and utilities. The yard was recently planted with a significant number of new trees, large shrubs and perennial gardens and affords great privacy at the end of this street. This home also benefits from membership at the Scarsdale Farm Road private pool next door for an annual fee. Move-in ready and within easy walking distance to the Greenville elementary school and the bus line to the Scarsdale Metro North train station. Do not miss this wonderful opportunity in the Edgemont school district.
Learn more here.
Listing Price: $1,425,000
Open Houses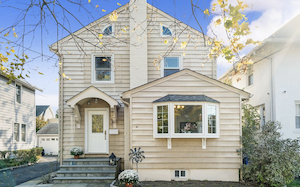 46 Webster Road
Scarsdale PO/Eastchester, NY
Open house Sun Dec 5, 12:00PM - 2:00PM
This charming two-family colonial is conveniently located in the heart of Eastchester, just steps away from shopping, entertainment, supermarkets, fine dining, Greenvale elementary and public transportation. Both units boast hardwood floors throughout. A spacious living room with wood burning fireplace, large sunroom/sitting room, sun-filled bedroom, open flow kitchen & dining area, and door to the private backyard & patio complete the first level. Second floor offers a spacious bedroom and living room, full bath and kitchen. Laundry located in the full basement. Perfect for the extended family or an income-producing property. Enjoy Cooper Field playground just one block away and resident discount at Lake Isle Town Club with golf, tennis and multiple pools! This home has so much to offer!
Learn more here.
Listing Price: $725,000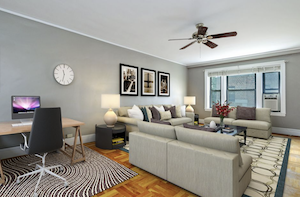 127 Garth Road Unit#5F
Scarsdale PO/Eastchester, NY
Open house Sun Dec 5, 2:30PM-4:00PM
Elegant Pre-War Tudor building offers a spacious one-bedroom apartment within walking distance to Scarsdale Metro North, great shops and restaurants, and the Bronx River Trail for running and biking - easy living at its best! This bright and airy unit boasts a large entrance hallway with walk-in closet, high ceilings and hardwood floors throughout. Generous living room will accommodate an area for dining or a great home office for remote workers. Enjoy the open flow to the eat-in kitchen featuring stainless steel appliances. Large bedroom with plenty of closets and brand-new bathroom walk-in shower. Take a break on the large outdoor private patio. Storage unit and bicycle room located in basement. Waitlist for garage. Free street parking with permit from the town of Eastchester. Eligible for Lake Isle Golf/Tennis/Pool Club membership. Gracious Eton Hall on a beautiful tree-lined street.
Learn more here.
Listing Price: $189,000
Two Homes Sell for Over $3 Million Prior to Thanksgiving
Details

Written by

Sophia Albert

Category: Real Estate
More big sales this week as two Fox Meadow homes sell for over $3 million.
Also keep in mind, the Committee for Historic Preservation will meet on Tuesday night November 30 at 7 pm to consider the demolition of the remaining portion of 41 Hampton Road, a historic home built in 1930. Find the Zoom link to the meeting here:
Sales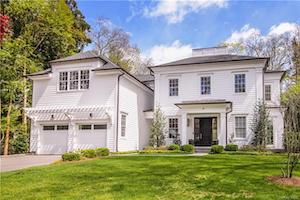 56 Brite Avenue
This contemporary home in the heart of Fox Meadow's interior features 10' ceilings on the first and second floor with 8' doors throughout the house. The 21' double foyer entry invites you inside to a fabulous open flow for first floor entertaining. The floors are 5' white oak rift cut in white wash. Incredible gourmet kitchen features: two sinks, Wolf range with hood, SubZero refrigerator. A wall of floor to ceiling windows fills this home with sunshine. French door access to patio, sliding doors off breakfast/dining area to patio, open family room with linear gas fireplace. Study on the first floor with French doors to side property. First floor has a beautiful, private guest suite, large mudroom off garage with built-ins and walk-in closet. Upstairs you'll find 10' ceilings, primary suite with two walk-in closets, and a spa bathroom. Three beautifully sized bedrooms all en-suite all with walk in closets. Balcony off second floor landing with lounge pool and gas fireplace overlooking private yard. Fabulous finished lower level with bedroom, bath, access to yard. This home has been approved for a 16 x 36 pool.
Sale Price: $3,625,000
Assessed Value: $3,050,000
Real Estate Taxes: $76,238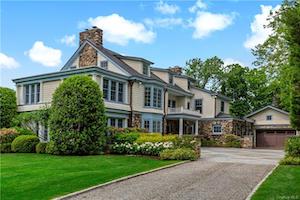 3 Wayside Lane
Grand stone and shingle totally updated Colonial of incomparable beauty, quality and size with classic proportions, generously scaled rooms and exquisite architectural details is sited on .64 acre professionally landscaped totally private property with a stunning heated pool with hot tub, large bluestone patio, outdoor kitchen with custom cabinets, ice maker, refrigerator and 36" Viking grill. Special features: updated cook's kitchen with professional appliances including two ovens and dishwashers, butler's pantry, back staircase, everyone's dream primary master suite with fireplace, primary bath with radiant heat, soak tub and shower, towel warmer, workout/exercise room, two outfitted walk-in-closets, larger one with desk and center dresser, four fireplaces, huge attached 2+ car garage, exquisite slate and stone courtyard and fabulous mud room. Perfectly located, just a five minute walk to Metro North Scarsdale train, parks, restaurants, and shopping.
Sale Price: $3,275,000
Assessed Value: $3,000,000
Real Estate Taxes: $74,454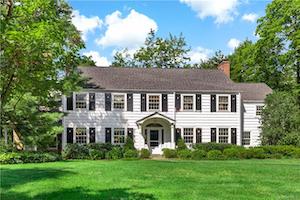 195 Old Army Road
Exceptional Colonial on .93 acres with heated pool. Walk to train, (32 minutes to New York City), Scarsdale Village, Edgemont schools. Large entry hall, original wide plank oak floors throughout first floor. Gracious living room is home to one of the four fireplaces. Grand dining room with fireplace can host small events and memorable meals of any size. Recently renovated eat-in kitchen with architectural detailing, beams, wainscoting, large center island, quality, custom cabinets and top appliances. Laundry/mudroom, office/half bath. Back stairs. Bright bedrooms on the second floor include the delightful master bedroom with fireplace and built-ins/renovated marble bath, four family bedrooms, two renovated baths and an office. Private grounds with patios, back porch, gorgeous landscaping, perennial and wild flowers, specimen trees and lawn space for all you want. Two car garage with second floor and great potential.
Sale Price: $2,000,000
Assessed Value: $1,256,000
Real Estate Taxes: $49,850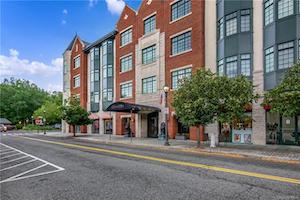 1 Christie Place Unit#301W
Enjoy sophisticated and carefree living in the heart of Scarsdale Village. Handsomely appointed, highly sought after 1,945 square foot, Ashforth model has nine foot ceilings throughout with two-bedrooms, two-and-a-half baths and a spacious office and lives like a three-bedroom home. Welcoming foyer with powder room leads to generous, open plan living/dining area and kitchen with bi-level island. Custom cabinets are set off by high-end stainless-steel appliances and granite counters. Spacious primary suite with large bath has twin sinks and separate tub and shower. Amazing walk-in closet. Generous second bedroom features en-suite bath and large closet next to sunny office with closet. Gallery houses coats, full sized washer and dryer, linens, more storage and mechanicals. Enjoy private, community garden on second floor with water feature, specimen plantings and commanding view of Scarsdale Village. Elevator to assigned covered parking on lower level. Easy walk to restaurants, shops, markets, parks and train.
Sale Price: $1,650,000
Assessed Value: $862,000
Real Estate Taxes: $20,328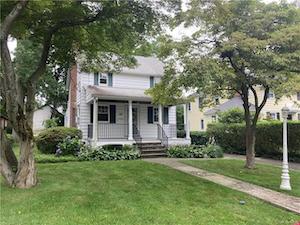 169 Lyons Road
Charming colonial featuring lovely front porch on a tree lined street in Scarsdale. Living room with fireplace, dining room, family room and patio. Close to shops and train.
Sale Price: $742,500
Assessed Value: $700,000
Real Estate Taxes: $17,500
136 Johnson Road
Solidly constructed 3 bedroom Scarsdale Colonial. Located on a quiet street with a short walk to many specialty food stores and restaurants. Constructed in 1954, well maintained but not updated, this house could use some remodeling. Attractions are an oversized private lot, excellent flow, nicely sized rooms, two car garage, walk out basement, oak hardwood floors, steel beam construction, room enough to add a master bathroom, enclosed backyard patio, water cooled central air conditioning and nice neighbors.
Sale Price: $725,000
Assessed Value: $775,000
Real Estate Taxes: $18,388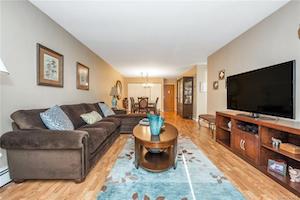 1 Fountain Lane Unit#1L
Enjoy all that the Fountainhead has to offer in this updated one bedroom/one bath apartment with oversized terrace. This 1st floor unit features a bright and welcoming entrance, oversized dining area and living room, kitchen with stainless steel appliances, ample closets and updated bath. Immaculately maintained building with many amenities including concierge, pool, gym, game room, party room, garage parking, laundry on each floor and storage. Conveniently located close to shops, restaurants and transportation.
Sale Price: $252,000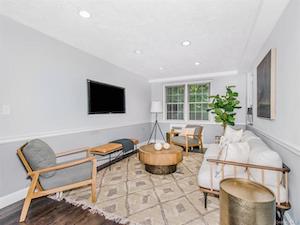 11 Sentry Place Unit#ML
Welcome to this beautiful corner ground level garden unit in a vibrant Scarsdale location. This 1 bed 1 bath pet friendly delightful unit has so much to offer. As you enter this gorgeous fully renovated unit there is a generously sized living area with lots of sunlight and new floors throughout as seen with plenty of closets. The modern eat in kitchen is renovated with quartz countertops and top of line stainless steel appliances. The spacious bedroom is tranquil and relaxing. Storage unit comes with unit. Plenty of parking for your guests and for yourself. All this plus the convenience of easy walking distance to shops, restaurants, and major transportation.
Sale Price: $172,000
Featured Listings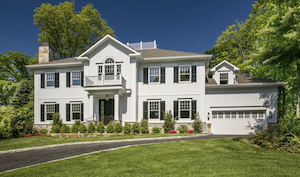 117 Fox Meadow Road
Scarsdale, NY 10583
Spectacular, turnkey, Fox Meadow Colonial on .49 acres available for immediate occupancy. Private, level property with room for pool. 7,564 square feet of contemporary flow with six bedrooms and six-and-a-half bathrooms. Welcoming double story (25' height) large entrance foyer. Ten foot ceilings throughout first and second floors. First floor: large living room with fireplace; formal dining room with butler's pantry; expansive, bright family room with fireplace and floor-to-ceiling windows overlooking stone perimeter back property; gourmet eat-in kitchen with island seating, walk-in pantry, back staircase; mudroom. Second floor: primary bedroom with fireplace, his/her walk-in closets, spa bathroom with extra large shower; secondary bedrooms all with en-suite full bathrooms. Back staircase. Walk to train, town and shops.
Learn more here.
Listing Price: $4,250,000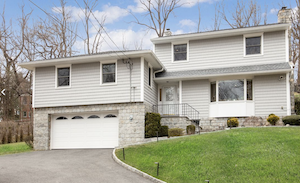 100 Old Jackson Avenue
Scarsdale PO/Edgemont, NY
This exceptional Edgemont home sits on .48 beautifully landscaped acres with a gorgeous outdoor oasis. Enjoy two expansive outdoor bluestone patio areas, salt water Gunite pool, media area, barbeque kitchen and a full outdoor bar area. Relax at your own resort style retreat. Bright and spacious open floor plan with fireplace and a gorgeous chef's kitchen boasting high-end custom cabinets, appliances, wine cooler, ice maker and breakfast bar - perfect for today's lifestyle. Upper level includes a master bedroom suite with bath, Rainmaker shower, Jacuzzi, extra large walk-in closet, office, and lounge area. There are two additional bedrooms and one additional en-suite with a private bathroom. Lower level includes a spacious family room with half bath, perfect for a home office. Two car garage and two laundry rooms are also a bonus. New exterior siding, roof, windows and stone in 2020. House includes propane tank and oil tank. Oil tank is presently being converted to above ground for heating.
Learn more here.
Listing Price: $1,250,000
Check the Stats: Home Sales Up 52% As of September 30, 2021
Details

Written by

Sophia Albert

Category: Real Estate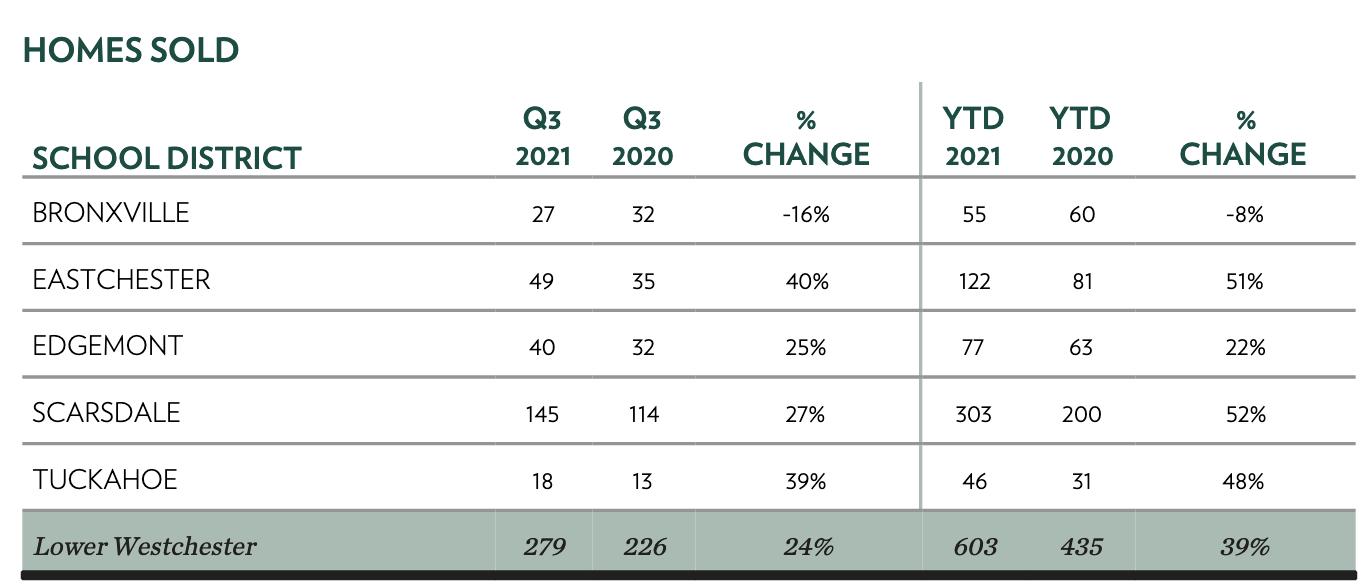 As of September 30, 2021, a report from Houlihan Lawrence shows that year to date, homes sales in the Scarsdale School district were up 52% over the prior year. Wow! If this keeps up, 2021 will be a year to remember.
Here's what sold this week:
Sales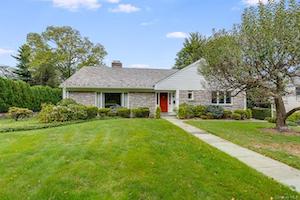 37 Olmsted Road
Nestled in the very heart of Scarsdale's sought-after Fox Meadow neighborhood, this modern completely renovated home is close to Scarsdale High School, Fox Meadow Elementary, the newly renovated Public Library, shops, restaurants and the train station. Beautifully positioned on a fully fenced in over ½ acre flat lot with great expansion potential, you will fall in love with the idyllic park-like setting with a pool and ample space for outdoor living and entertaining. Inside, the sun-filled modern interior offers an open kitchen-family room with an all-white eat-in chef's kitchen, formal living room with 10 foot ceiling and marble fireplace, dining room, and a heavenly owner's suite with vaulted ceiling and luxurious all-marble bath with steam shower. Work from home in the beautiful wood-paneled library with oversized windows overlooking the property and enjoy the best of suburban living within 30 minutes of NYC.
Sale Price: $2,650,000
Assessed Value: $2,021,000
Real Estate Taxes: $50,157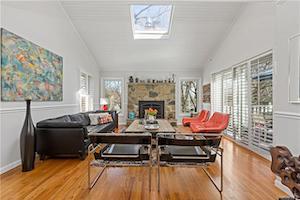 160 Old Army Road
This stunning sundrenched seamless, open and airy colonial home is the ultimate oasis coupled with style and special architectural details throughout! Boasting the ideal location walking distance to Metro North, shops and restaurants, Seely Place Elementary School, and Edgemont Jr./Sr. High School. The first floor overflows with its warm expansive living. Hardwood floors throughout, French doors, wall to wall windows with beautiful interior shutters, vaulted ceilings and skylights. Impeccable finishes throughout and top-of-the-line appliances, 2 refrigerators, Viking range, State-of-the-art Sonos/Bose entertainment system. Massive playroom/exercise room leads you to the second floor loft office adjoining the master bedroom and marble spa bath. Lower level 915 additional square feet -total 4375 square feet.
Sale Price: $1,458,500
Assessed Value: $1,324,100
Real Estate Taxes: $46,710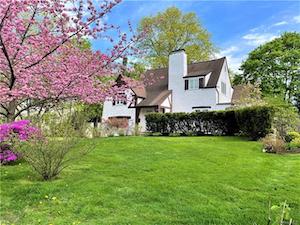 40 Graham Road
Charming, bright and classic Tudor on quiet street in sought-after neighborhood and Scarsdale school district. Living room with stone fireplace, beamed ceilings and random width pegged hardwood floors leading to formal dining room with custom millwork. Updated eat-in kitchen with Norwegian granite countertops, new Samsung family hub smart touch screen refrigerator, new Miele dishwasher, professional range with grill. Huge sunny family room with high ceilings, French doors to deck. Large master bedroom with 2 walk-in closets. Marble master bath with jacuzzi tub and separate walk-in shower. Marble hall bath w/walk-in shower and marble seat. Marble powder room, home office. Basement has 2nd family room with stone fireplace. Hardwood floors throughout. Underneath carpet of family room and bedroom are hardwood floors. Heated Garage. 2 Cedar closets. Tree lined flat backyard. Walk to Heathcote elementary school, shops, commuter bus to train, pool complex. Many updates include Andersen windows, Timberline roof, driveway, marble baths, central air conditioning, kitchen and appliances.
Sale Price: $1,290,000
Assessed Value: $975,000
Real Estate Taxes: $24,508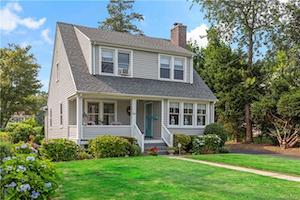 141 Bradley Road
141 Bradley Road in Scarsdale, New York, is set on a beautiful tree-lined street. This tranquil location is walking distance to shopping, commuter bus to Metro North train. This home has many new updates: roof, siding, gas boiler, hot water heater, kitchen appliances, bathroom and half bathroom.Over 1550 square feet in this sunny home with a large covered front porch. Inside has an open floor plan for easy living. Great first floor spaces such as a sunroom, living room with wood burning fireplace, formal dining room, eat-in kitchen and guest powder room. Second floor has master bedroom with two additional bedrooms and updated hall bathroom. Lower level is a large space with laundry room. One car detached garage plus an amazing level backyard with lovely plantings throughout and large patio. Free bus to both Scarsdale High School and Scarsdale Middle School.
Sale Price: $870,000
Assessed Value: $687,000
Real Estate Taxes: $17,172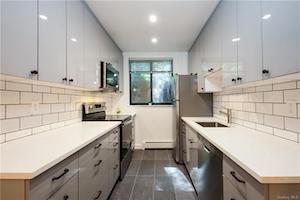 500 Central Park Avenue Unit#414
This tastefully renovated two-bedroom Condo in Edgemont offers easy living. Enjoy many of the outdoor amenities of a single family house. The stylish new eat-in kitchen has quartz countertops, stainless steel appliances, and a breakfast area which flows into the living room and dining area. The spacious master bedroom suite has a beautiful new bathroom and walk-in closet. Adjacent to the bedroom is a full-sized washer and dryer. This unit has double exposure with two private patios, custom blinds and hardwood floors throughout. Amenities include, full-size laundry in unit, an outdoor pool, playground, barbeque area and one assigned parking space plus abundant guest parking. Heat and hot water included in common charges. Walk to Edgemont Middle/High School, running track, fields, tennis courts, and Greenburgh Nature Center.
Sale Price: $505,000
Assessed Value: $222,700
Real Estate Taxes: $7,658
Featured Listings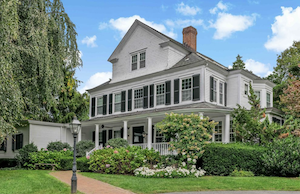 1 Cushman Road
Scarsdale, NY 10583
Perfectly situated on an incredible manicured private lot located in the Heathcote estate section, this stunning storybook Center Hall Colonial meets today's modern living with classic, chic and sophisticated style. As you enter this magnificent home you will find five-bedrooms and four-and-a-half baths that allows for over 4,300 square feet of gracious living. Natural oak floors run throughout, a modern gourmet chef's kitchen with a six-burner commercial Wolf range, SubZero, Marvel wine refrigerator and granite counters make this a dream to entertain in. The first-floor features two wood burning fireplaces, a home office/family room, dining room, living room, spacious center hall, and parlor that is a fabulous entertainment space. The grand staircase leads you to the second floor living spaces where luxury abounds. The primary bedroom has a wood burning fireplace and stunning en-suite bath with a glass enclosed walk-in steam shower and soaking tub. Two additional bedrooms are perfectly appointed with a Jack and Jill bath. The third floor houses two additional bedrooms, a full bath, huge loft style living room perfect for out-of-town guests or a secluded home office. The finished basement complete with laundry room and full bath is currently a home gym but could be used as a rec room/playroom. For the wine enthusiast, there is a wine cellar that can house over 300 bottles! The front porch is the perfect place to unwind. Don't miss this amazing opportunity to own this very special home to call your own. Close to village, train, shops and schools.
Learn more here.
Listing Price: $2,495,000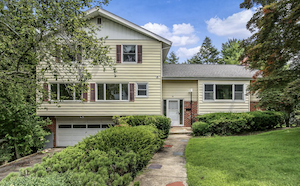 18 Magnolia Road
Scarsdale, NY 10583
Classic Split Level home located in charming Quaker Ridge sports an open layout and is constantly drenched in sunshine throughout. Recently updated kitchen, perfect for the budding chef. Master bedroom suite with updated bathroom. Graciously sized bedrooms - room for the whole family. Tons of space throughout this stellar home for a work-at-home set-up! Flexible lower level serves as a recreation area and so much more. Enjoy private evenings or kick back and relax in the huge backyard. Recently refreshed paint inside and out. Close to all: parks, golf courses, swimming pool, tennis court, horse stables and other Scarsdale amenities.
Learn more here.
Listing Price: $1,339,500
Work Continues at Site of Demolition of Historic Home on Hampton Road
Details

Written by

Sophia Albert

Category: Real Estate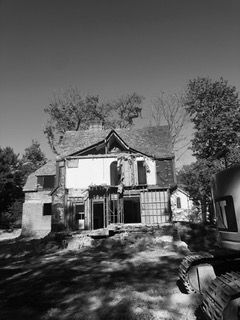 After half of a historic home on Hampton Road in Fox Meadow was torn down a few weeks ago, both the Mayor and the Village Manager vowed to undertake an investigation to find out how and why this happened, and to recommend steps to prevent future demolitions of historic properties.
However despite their avowals, it appears that work is still going on at 41 Hampton Road. We passed the site several times in the past few weeks and tractors and back hoes are being used to dig the foundation of the proposed 9,500 square foot house.
As far as we can tell, there has been no stop work order issued and the developer has applied to the Committee for Historic Preservation to demolish the remaining portion of the house which appears to have been severely damaged during the demolition process. The application is on the CHP agenda for their meeting on November 30, 2021.

So despite assurances from the Mayor and Village Manager, as far as we can tell, there have been no consequences for the developer for making a travesty of the Village's preservation laws.
Any thoughts? Please comment below.
Sales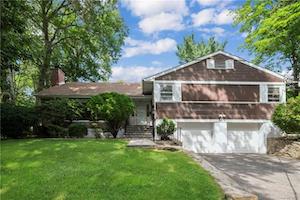 21 Olmsted Road
Prime Fox Meadow location and excellent space in this fantastic split level home. Walk to elementary school, high school, library, shops, restaurants, and the train. Enter into a spacious foyer with coat closet and views through the kitchen into the backyard. To the left is the large living room with wood-burning fireplace and beautiful picture window. The adjacent gracious dining room with sliding doors has views into the bright, windowed sunroom which is flexible space for an office or additional family room. The eat-in kitchen makes for wonderful everyday casual family meals and is adjacent to the family room/den. Up a few steps are three large bedrooms each with excellent closet space. One en-suite bedroom is large enough to be a primary bedroom with its own bathroom. Two more large bedrooms and a hall bath with double sinks and a tub/shower complete this level. Upstairs, enter your very own primary suite with a large en-suite bathroom with separate bathtub and shower, walk in closet and adjoining sitting room/office. On the lower level is yet more space with another playroom/den with a half bathroom. On just over a quarter of an acre, you will find the green space you have been waiting for with a slate patio for dining, plenty of grass for play and entertaining, as well as a basketball hoop.
Sale Price: $1,435,000
Assessed Value: $1,250,000
Real Estate Taxes: $29,960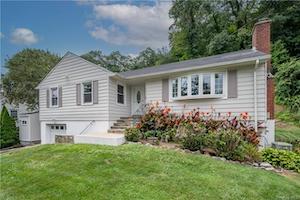 108 Westminster Road
Beautiful 3-bedroom, 2-bathroom ranch in the Edgemont school district. 4 cars can fit in the driveway. Great location right off the intersection of Central Park Ave and Ardsley Rd. Walking distance from the local ShopRite, and a quick drive from the many Central Park Ave shopping centers. Close to the Saw Mill River and Bronx River Parkways. Nearby Scarsdale Metro-North station makes commuting into Manhattan a breeze. Enjoy the outdoors at the nearby Greenburgh Nature Center, Hart's Brook Park, and Ridge Road Park, or hit the green at the Scarsdale Country Club. An additional 700 square foot finished basement is not included in the square footage.
Sale Price: $745,000
Assessed Value: $643,000
Real Estate Taxes: $22,111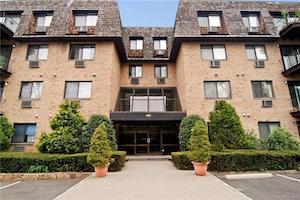 508 Central Park Avenue Unit#5108
Large and above ground corner unit at park-like complex Scarsdale Woods offers close proximity to Metro North, restaurants, schools, shops and transportation. Well maintained 1,316 square foot, two-bedroom, and two full bath apartment features sun-filled living room, lovely dining area, space for office, eat-in kitchen, laundry room in unit, master suite with en-suite bath and walk-in closet and balcony for barbeque. New microwave, oven/range and wall units. Easy access to the apartment with no need for an elevator. Enjoy the community pool in the summer. Walking distance to award-winning Edgemont schools with access to track, playground and tennis courts, Greenburgh Nature Center and express bus to New York City.
Sale Price: $530,000
Assessed Value: $292,000
Real Estate Taxes: $9,907
Featured Listings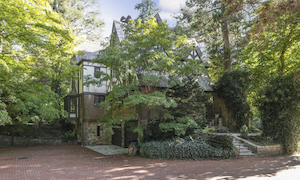 69 Morris Lane
Scarsdale, NY 10583
Morris Lane is on one of the finest streets in Scarsdale. This stately home is set back down a long driveway on 1.70 acres in the heart of the estate section of Murray Hill. This sunny bright open Tudor built in 1926 transcends time into 2021 with an amazing layout and details that every buyer is looking for: 3 floors of living, 4370 interior square feet which include 7 bedrooms, 5 full bathrooms and a powder room. Some of the highlights: first floor bedroom and bathroom, family room that looks out at nature from all sides, third floor with playroom/office, bathroom and bedroom. This home has land and privacy yet super convenient location -close to: Metro North -Scarsdale-Train Station, Heathcote Elementary School and walk to Scarsdale High School and Scarsdale Middle School, Library and parks, and shopping at both the Heathcote Five Corners and Scarsdale Village. This is the perfect house.
Learn more here.
Listing Price: $3,600,000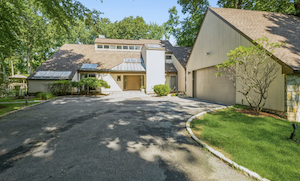 14 Ponds Lane
Purchase PO/Harrison, NY
Sunny and bright Contemporary home in gated community on one acre with private pool and golf course views. Soaring ceilings, hardwood floors, lots of light and modern angles frame the backdrop of this exquisite residence. Perfect open flow for entertaining family and friends as a primary residence, a weekend escape from NYC, or one level living with room upstairs for guests. Improvements: two new Bosch heat pumps for air conditioning and heat (2019), resurfaced pool and new cover, new 500 gallon propane tank and new pool heater, pool surround repointed, new Poggenpohl kitchen with chef's grade appliances, new driveway (2017), new asphalt roof (2016), rebuilt gazebo (2019), two new Thermopride furnaces, two new hot water heaters, new carpeting upstairs (2021), renovated loft with cable railing (2021), renovated powder room plus first floor bath, primary bath (2021), new deck (2018) and more! Centrally located just minutes from shopping, Metro-North, Westchester County Airport, 287/Hutchinson River Parkway, along with numerous private and public pools, golf courses and clubs.
Learn more here.
Listing Price: $1,575,000
Open Houses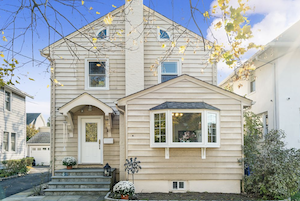 46 Webster Road
Scarsdale PO/Eastchester, NY
Open house Sunday Nov. 21, 2021 12:00PM - 2:00PM
This charming two-family colonial is conveniently located in the heart of Eastchester, just steps away from shopping, entertainment, supermarkets, fine dining, Greenvale elementary and public transportation. Both units boast hardwood floors throughout. A spacious living room with wood burning fireplace, large sunroom/sitting room, sun-filled bedroom, open flow kitchen & dining area, and door to the private backyard & patio complete the first level. Second floor offers a spacious bedroom and living room, full bath and kitchen. Laundry located in the full basement. Perfect for the extended family or an income-producing property. Enjoy Cooper Field playground just one block away and resident discount at Lake Isle Town Club with golf, tennis and multiple pools! This home has so much to offer!
Learn more here.
Listing Price: $725,000
November 2021 Home Sales
Details

Written by

Sophia Albert

Category: Real Estate
It looks like it will be a record breaking year for realtors. The fall market remains strong. Here is what sold this week.
Sales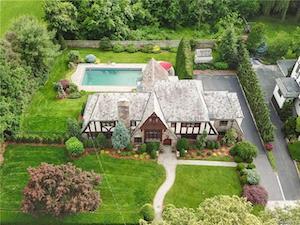 24 Chesterfield Road
Welcome to this quintessential Fox Meadow home which has been impeccably and lovingly updated and pampered. This light and bright Tudor has five-bedrooms, three-and-a-half baths and a 20 x 40 foot pool surrounded by a professionally landscaped garden. Incredible architectural details: coffered living room ceiling, original leaded and stained glass windows and doors, solid oak doors, beautiful wrought iron banisters, just to name a few. The spacious cook's kitchen boasts Rutt cabinetry, Thermador cooktop and double oven, Miele dishwasher, Bosch double oven, Rohl USA hardware with lifetime warranty, and an Italian limestone floor. All baths are custom, including Italian limestone, artistic frame around mirror over sink made of Tunisian mosaic tiles and crackled glass, shower glass enclosure is extra thick with special coating and rain shower head. Upgrades include extra-wide custom copper gutters, ice and water barrier and de-icing cables on slate roof, cables, radiator covers, new boiler, hot water tank, magnetic storm windows, whole house water filtration system, new tiling and coping in pool. The location offers privacy; there are no neighboring homes on three sides.
Sale Price: $2,215,000
Assessed Value: $1,750,000
Real Estate Taxes: $42,209
29 Hadden Road
Grand Cotswold Tudor, located in the award-winning Edgemont School District is sure to please. Sunny and bright, this special home is filled with original details including an oversized living room with impressive fireplace and French doors to a flagstone terrace, hardwood floors in excellent condition, stained glass, beautiful stonework and moldings, leaded glass windows, expansive rooms, gorgeous woodwork and built-ins throughout. Sited on a high point on Hadden Road, there are sweeping vistas from the front of the house and amazing sunsets to enjoy in any season. The tranquil street, beautiful gardens and lawns, and lovely neighborhood make this home the perfect place for outdoor entertaining as well.
Sale Price: $1,587,500
Assessed Value: $1,650,000
Real Estate Taxes: $54,445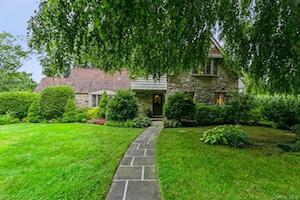 9 Wildwood Road
Fabulous Tudor sat on a conveniently located bucolic .60 acre of property. Vaulted ceiling with exposed wooden beams and a large stone fireplace greet you upon entry and set the scene in the great room, there are doors leading to an enclosed patio. A wonderful entertaining space accommodated by the eat in kitchen and formal dining room. This home has 5 bedrooms, 4 full bathrooms and 2 half bathrooms. In addition, there is a large den with a dramatic oversized wood-burning fireplace. Beautifully preserved, exquisite hardwood flooring can be seen throughout this home and there is central air conditioning, invisible fencing installed and the driveway is heated. Completely custom landscaped property with room for a pool and/or expansion, this home is ready for your personal touch. There is an additional 576 square feet in the basement which is counted in the overall square footage.
Sale Price: $1,450,000
Assessed Value: $1,222,000
Real Estate Taxes: $29,461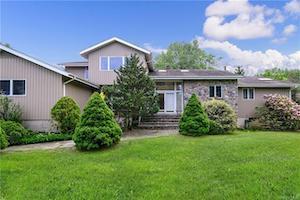 8 Gatehouse Road
Welcome to this wonderful Contemporary home in a magical neighborhood close to Quaker Ridge elementary school, worship, Scarsdale pool and shops (newly renovated Golden Horseshoe and Weaver Street Shopping). Dramatic two story foyer leads to the sun-filled dining room and the family and living rooms which both have skylights and sliders to the huge deck and share and a two-sided stone fireplace. The large eat-in kitchen also has sliders to the deck and leads to a first floor bedroom or office with bath, laundry room and two car garage. With the impressive master bedroom cleverly situated on its own, just a few steps away from the main floor, a feeling of closeness while being separate from the other bedrooms is achieved perfectly. A dressing room and generously sized bathroom complete the master suite. Up the staircase to the second floor, you will find three generously sized bedrooms and a hall bath with two sinks. The property is a little over a half acre and offers an expansive deck for fun entertaining with a level, lush backyard. Great family home and neighborhood.
Sale Price: $1,300,000
Assessed Value: $1,153,900
Real Estate Taxes: $28,816
Featured Listings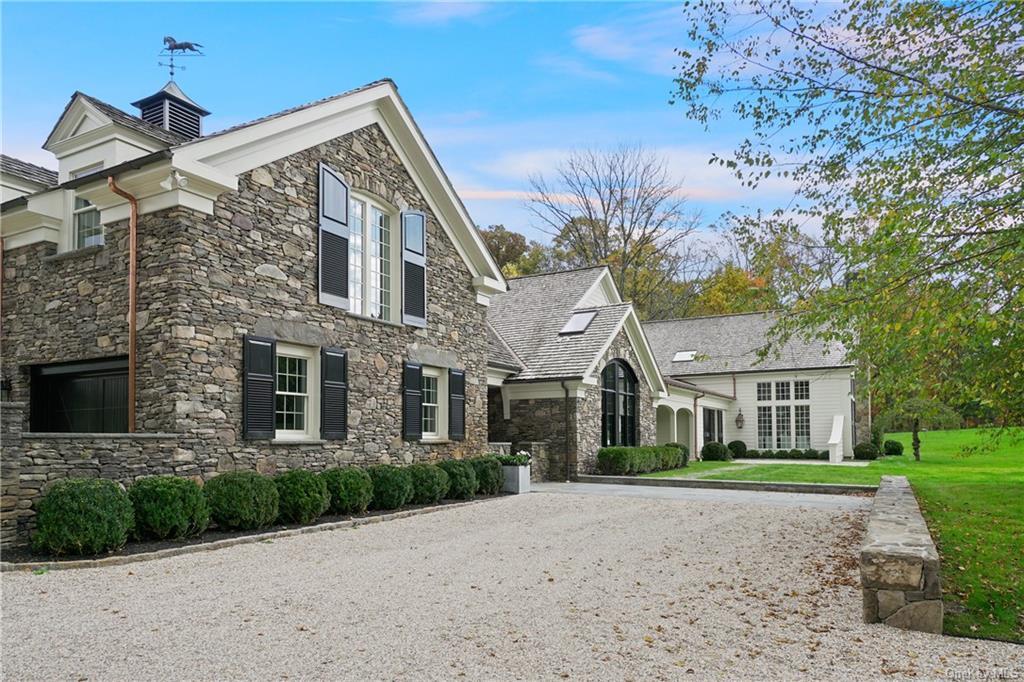 16 Guard Hill Road
Bedford Corners, NY
Open House: Saturday 11/6 from 12:00 - 2:00 pm
Pondfield Farm Luxury abounds in this unique, dramatic, stone and clapboard home with copper accents situated down a long tree lined drive behind a private gate with stone columns. This quiet estate is situated on 14 park-like acres on Bedford's premier road, Guard Hill. The large property offers direct access to the coveted Bedford Riding Lanes. Everything is new and fresh in this stunning home overlooking a breathtaking pond with specimen trees and stone walls. Light floods the house with its' large windows and vaulted ceilings.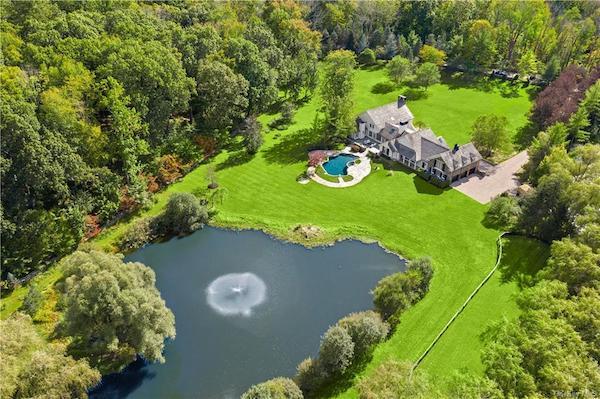 The home is filled with gracious rooms for entertaining and everyday living. Enjoy the great room with its post and beams and floor to ceiling stone fireplace and windows. You will appreciate the relaxed elegance of the family/media room with an incredible feature wall. The primary en-suite bedroom on the first floor has a fireplace and private stone patio with walk in closet. The gorgeous upstairs en-suite bedroom with spacious walk-in closet has incredible views of this special property. The large eat-in chefs kitchen features a fireplace and a wall of windows overlooking the pool, pond, paddock and gardens. Listen to music inside and out while you entertain friends and family on the stone patio with built-in BBQ. There are additional rooms that can function to fit your lifestyle needs. The large 3-car garage with epoxy floor has an extra Sub Zero and work room. For sale as well.
Rental: $40,000/month
Learn more here: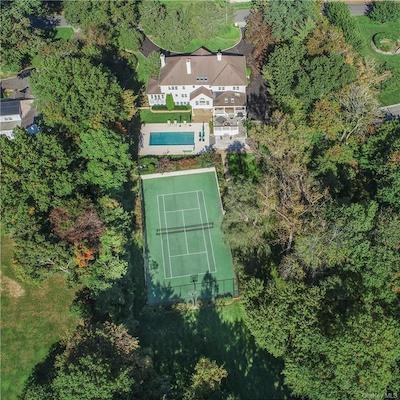 98 Rye Ridge Road
Harrison, NY
Exceptional Estate nestled on over 2 level acres in the heart of Harrison's sought-after Sterling Ridge neighborhood. Presenting supreme privacy, serenity, and incomparable amenities, this unique residence offers an ideal retreat. Dine al fresco in the veranda overlooking the magnificent property, entertain in style on multiple tiered decks, enjoy a dip in the stunning pool, play a tennis match, or work on your golf game on your putting green all without leaving your backyard. Inside, a beautiful two-story entrance hall opens to sun-filled formal and informal living spaces thoughtfully designed for everyday enjoyment and elegant living. Highlights include the great room featuring vaulted ceilings, a generously scaled formal dining room, a luxurious eat-in chef's kitchen, and 7 bedrooms including the primary suite on the first level. The above-ground lower level features a pool cabana with full bath, several recreation spaces, a bedroom with full bath, and access to the 3-car garage.
Learn more here.
Listing Price: $3,399,000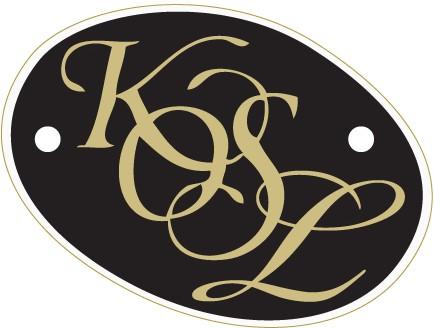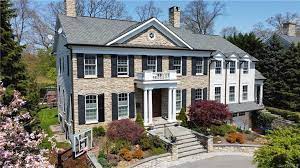 11 Seneca Road
Scarsdale, NY 10583
Spectacular and grand Scarsdale Colonial situated on private .47 acres with golf course views in the heart of Heathcote. Intricately designed by renowned Luxury builder, KOSL Building, this residence was built with superior quality, craftsmanship, millwork, 10′ Ceilings on 1st floor, stone, marble and thoughtful traditional flowing layout. The 1st floor boasts a chef's kitchen with an open family room, luminous breakfast room, large dining room, private living room and mahogany paneled office. A sweeping double story staircase to 2nd floor with 9′ ceilings transitioning to the Master Suite with large bathroom and bucolic views. Four additional bedrooms leading to laundry and back staircase. Enjoy seamless outdoor entertaining experience with a large wrap-around deck leading down to a flat backyard with potential for a 20×40 pool. Approximately 2,000 square foot finished basement with bedroom/bath, billiard room, movie area and recreation room. Ideally located close to all the best of Scarsdale including shopping, schools, train, parkways and country clubs!
Call us at 914-777-0007 or email kosl@koslbuilding.com.
Learn more here
Listing Price: $3,795,000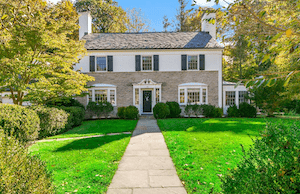 258 Fox Meadow Road
Scarsdale, NY 10583
Beautiful 1940 Center Hall Colonial in turn-key move-in condition. Location is a 10: walk two blocks to Hartsdale train, Village restaurants and more. Immaculate, naturally well-lit home has it all: professionally landscaped property .33 acres with two backyard patios and custom-built cedar playhouse - easy entertaining outside. The interior square footage of 3433 includes first floor: living room/family room with wood-burning fireplace, sunroom/home office, formal dining room, large incredible eat-in kitchen, powder room, porch/mudroom with two car garage. Second floor: master bedroom with two closets, bath, three bedrooms with two full bathrooms. Lower level: oak-paneled game room with wood burning fireplace, 1000 bottle humidity-controlled wine cellar, laundry room, second powder room, two storage closets and mechanical room with arts-and-crafts space. Gas fuel, central air, high-end appliances, large yard. Easy walk to Fox Meadow Elementary and Scarsdale High School, Bronx River Bike/Walking Path. Enjoy all that Scarsdale has to offer!
Learn more here.
Listing Price: $1,725,000

Open Houses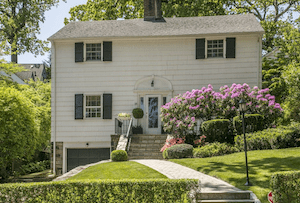 25 Glenwood Road
Scarsdale PO/Edgemont, NY
Public Open House Sunday Nov 7, 12:00PM – 2:00PM
Updated 1922 Colonial with four-bedrooms and three-and-a-half baths conveniently located close to all with a wonderful private backyard. The heart of this warm home is the enormous updated eat-in-kitchen (21' x 14') with stainless steel appliances, granite counters and beautiful cherry cabinets. The kitchen and adjacent family room addition both overlook the tranquil property. This private, fully fenced yard offers plenty of room for a swing set and wonderful space on the slate patio to grill and dine outside. Upstairs features four large bedrooms with custom closets and two updated baths. The lower level offers a recreation room and full bath in addition to the laundry, utilities and garage. Energy efficient home with three-zone heat. This amazing location is within walking distance of schools, shops, and the 35 minute train to New York City. Safe and outdoor (propane) grill included with sale.
Learn more here.
Listing Price: $1,075,000