Concerned Scarsdale Parents Ask BOE for More Structured Learning, Increased Transparency and Improved Communications

This letter was drafted by a varied group of concerned parents with students in each Scarsdale elementary school, SMS, and SHS who represent a consensus approach to authorship and signed on as early support for the requests in this letter. Together, this group welcomes the community to sign on as equal voices and in a collaborative spirit of support for our students.

Add your name here:

September 21, 2020

Open Letter to the Board of Education and Superintendent Thomas Hagerman:

While we acknowledge the difficulties inherent in educating Scarsdale's children during a pandemic, we respectfully express our urgent concerns about deficits we see in the opening weeks of school that we believe can and should be addressed as soon as possible.

There is insufficient structured learning time planned for Scarsdale students relative to other similarly high performing districts using hybrid plans.

1) Please work to provide more in-person, synchronized or virtual instruction to reduce deficits in covering curriculum. Especially while infection rates are relatively low, in-person schooling must be optimized.

2) All students should return to some form of synchronized instruction on at least a portion of Wednesday.

3) Like other peer districts, live streaming should be an available and broadly used tool in our toolbox. Commitment to care around student screen time should not preclude some live streaming of classrooms (simulcasting) for students at home to facilitate synchronized instruction with a goal to allow more curriculum coverage, especially for older students.

4) Please offer more structure or creative options for each student on the days/times that they are expected to work independently.
There is insufficient process transparency which contributes to mistrust between parents and the district leadership.

1) To ensure a public process for discussion of school schedules and related decisions, we ask that moving forward, the Restart Steering Committee formally report to the entire Board of Education and Superintendent.

2) The Restart Steering Committees and task forces should provide measurable goals with an updated timeline for their ongoing work to ensure broad accountability to all stakeholders.

3) Moving forward, Restart Steering Committees and task forces should publish agendas and meeting minutes, and produce working documentation of decision rationales, benchmarking against other districts in the region and our own district standards, and evaluation metrics.

There has been a lack of clear communication about rationales for restart goals with too few planned opportunities for community input and feedback.

1) As a readily available communications platform, we recommend more frequent special BOE meetings focused solely on these pandemic-related instructional issues to ensure the community can hear updates from the Superintendent. The community benefits from hearing board-level discussions and having the opportunity for public comment.

2) We recommend the District redouble efforts toward improving communications with clearer and more easy-to-navigate updates. We would welcome more frequent District and building-level parent Zoom sessions, including the opportunity for live questions and comments.

3) Peer school districts have pursued a number of different educational plans. We urge canvassing of our peers with respect to their year-opening experiences, in search of best practices.

4) Communicating the adjustments to core curricula impacted by hybrid plans must be a priority so that parents can better gauge what has been proposed and can give feedback.
5) All teachers, including in the upper levels, should communicate directly with parents about their unique approaches and plans for the school year. We understand that, especially in the upper levels, student independence is ideal but in these new circumstances, parents benefit from some inclusion in order to effectively partners from home.
Time is of the essence for our children. While challenges are unprecedented, we are counting on the Scarsdale School District to reduce the deficit as much as possible for Scarsdale students with respect to their education. They don't get this year back.
We ask for these issues to be addressed at the October 5 Board of Education meeting, if not before. We are counting on Superintendent Dr. Hagerman to execute on a vision that supports Scarsdale as a leading school district.
Inside Scarsdale High School -Signs, Distancing, Masks and Virtual Learners
Details

Category: Around Town
Published:

22 September 2020

Written by

Anna Cho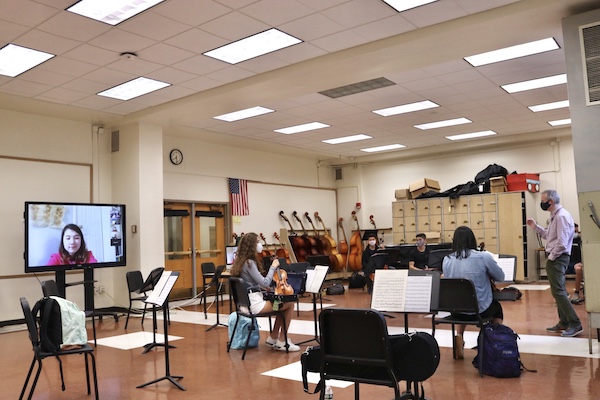 Mr. Williams conducting his Chamber Orchestra class.September 18, 2020 marked the first day of school for students in Cohort A at Scarsdale High School. As students shuffled into school with masks wrapped around their faces, they followed stickers that showed them which direction to walk and to remain six feet apart.
Many changes can be seen around the high school such as the new safety guidelines featured on signs all throughout the building. As one steps inside, one's eyes are immediately attracted to the Old Commons, an area once filled with noisy students one next to another in the morning, sitting in tables preparing for their classes, and feasting on a protein bar or two before class started. Now, the lounge area has become filled with empty rows of seats separated from each other.
As one enters into the classrooms, one can notice that the rooms all consist of the same layout, rows of chairs with several feet of distance between them. An empty chair is placed in the front of the classroom for the teacher to place his or her laptop for all virtual students to watch the lesson, while other teachers chose to display the virtual students on the smartboard.
The teachers no longer walk up to student's desks, but rather remain at the front of the classroom, teaching through their masks.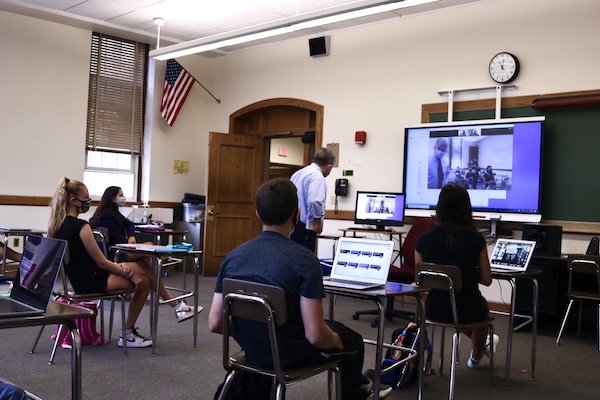 Mr. Harrison, Social Studies Department Chair, talking to his virtual students in the AT US Government class.
As senior Andrew Lofaso discusses his first day of school he describes how as he walked into the building, "At first it was a shock, just to see the school in that kind of state, but after a little time, adjusting wasn't so bad. The biggest adjustment was having to wear a mask all day and not being able to interact as intimately with your peers and teachers."
While there is a learning curve to virtual classes and it can take time adjusting to the hybrid schedule, students and teachers alike are working together every day to make the transitions as smooth as possible for everyone.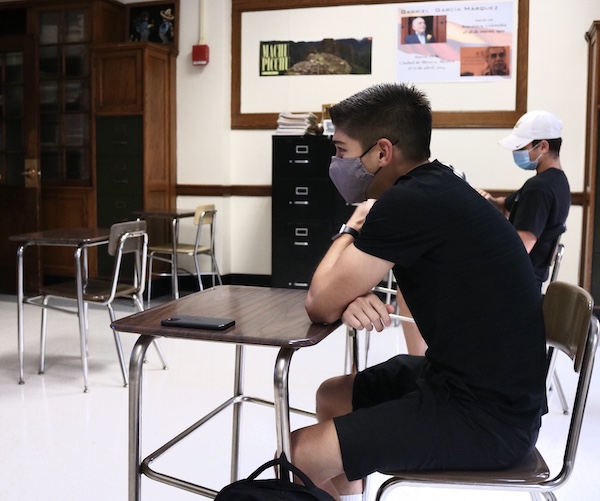 Seniors Andrew Lofaso and Trevor Koch wearing their masks while participating in their Spanish class.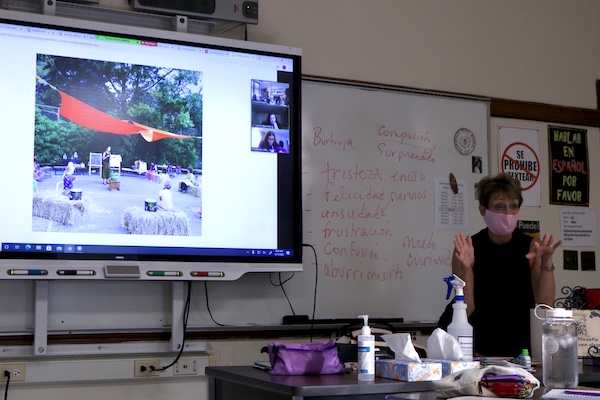 Spanish teacher, Ms. D"Angelo, teaching her students, including her virtual students, that remain on the smartboard.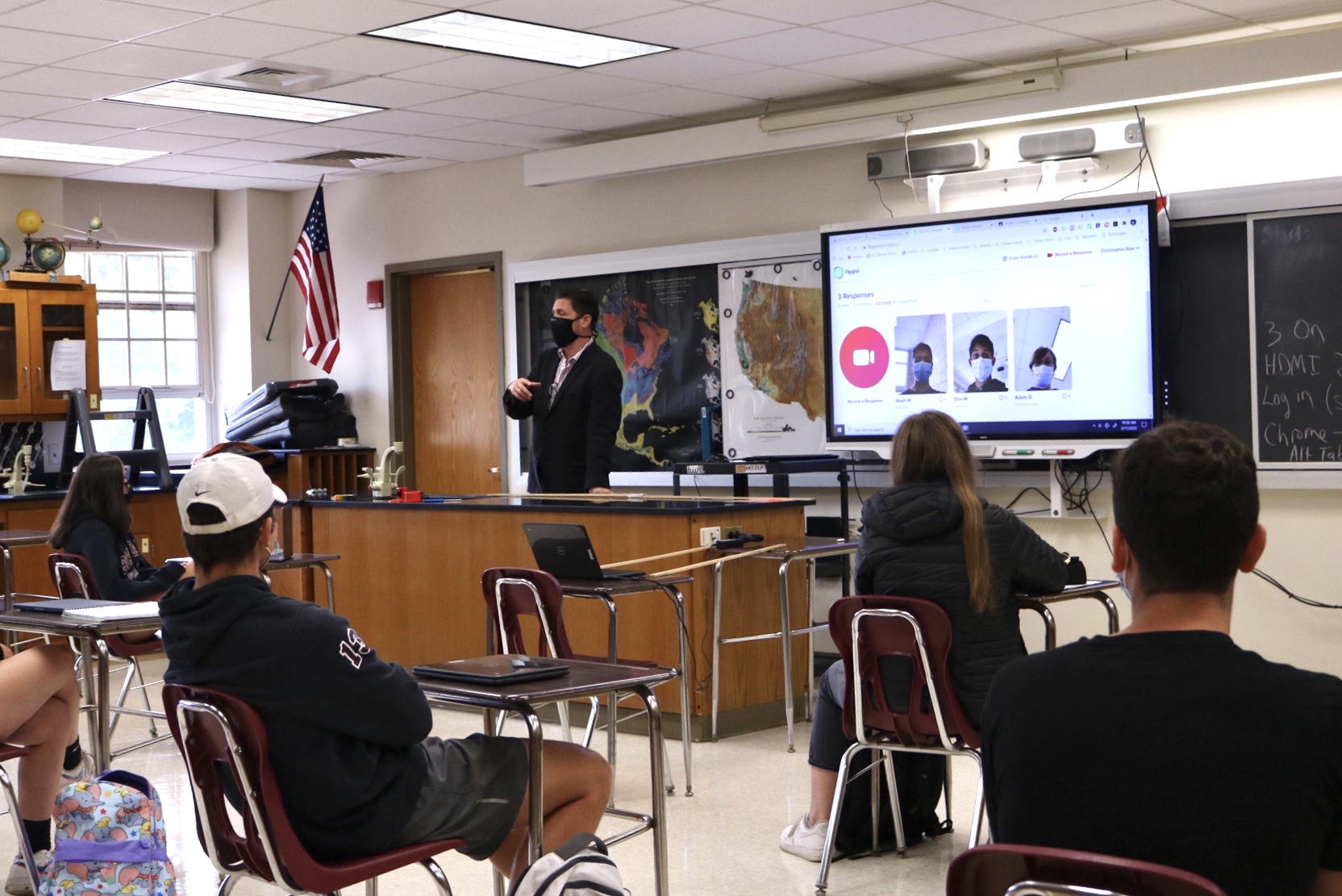 Mr. Sipe teaching Honors Geology class to his seniors.
Legionella Bacteria Found in Middle School and Quaker Ridge Water Systems
Details

Category: School News
Published:

21 September 2020

Written by

Joanne Wallenstein

As if COVID did not pose enough of a challenge to the reopening of the Scarsdale Schools, now the district has announced that legionella bacteria, the cause of Legionnaires' disease, has been found in the water at Scarsdale Middle School and the Quaker Ridge School. An email from the district says, "The bacteria can cause a form of pneumonia that can be severe. While found in drinking water, the disease may result by breathing in or aspirating small water droplets containing a pathogenic type of legionella bacteria."
Testing at the school was conducted on September 4, but results were not reported until September 14. You can see the test results here: As a result, the district covered all water fountains and drinking stations with the exception of water stations that include UV filtration, that kills the pathogens. They will supply water bottles for drinking at both schools, and plan to replace all water fountains with UV filtration stations. According to an email from School Superintendent Dr. Thomas Hagerman, "District Food Services in the two affected schools will suspend the use of kitchen sinks at for food preparation until mitigation is complete." It's not clear how they can prepare food without water.
In order to eradicate the bacteria, the district plans to disinfect the system, flush the lines and retest. This work will be done at all seven schools.
According to Scarsdale resident and physician Darlene Lefrancois, "It is unfortunately Legionella pneumophilia, a highly pathologic strain, and per reports it was at two out of four sources at Quaker Ridge and five out of six at the Middle School, representing an extensive degree of small to moderate colonization."
She continued, "I am glad to see they are planning on regular retesting going forward, also addressed in the Sept 17th briefing. I am dismayed they didn't deal with this issue before reopening the schools. Nobody needed this and it was foreseeable. As I had guessed I think the COVID closures of school in March and low flow of the water is a contributor. Given this testing was done as part of the reopening plan it's unfortunate this was not dealt with prior to actual reopening schools for instruction."
Providing some background on the bacteria, LeFrancois said, "We have unfortunately had a number of cluster outbreaks of this disease during my tenure working as a physician in the Bronx. While there are a couple of select classes of antibiotics that can treat the disease (these do not include the B-lactam class e.g. penicillin), they are certainly not 100% effective. Mortality numbers overall are as high or even higher than for COVID-19. Immediate source control is essential to eliminate the risk and until that is achieved anyone in attendance or working at the school may be at risk of acquiring this serious infection from various water sources. Thankfully, as the briefing points out, there is no person to person spread. As an important aside, the clinical presentation can be similar to that of a typical pneumonia but is very often atypical (hence why Legionella pneumonia is considered an "atypical pneumonia"). Specifically, gastrointestinal symptoms (e.g diarrhea, vomiting) are very common and may be the predominant symptom at presentation. The community should be made aware of what to look for."
An August 27, 2020 article in the NY Times alerted the public to the risk of legionella in schools that were shutdown since March. A district in Ohio found the bacteria in five of their schools and it was detected in four schools in a district in Pennsylvania.
In order to reopen and comply with safety procedures to mitigate the risk of COVID, the Scarsdale Schools had to take many measures to alter the configuration of classrooms, install hand sanitizers and signage, purchase PPE and draft rules, regulations and procedures for to govern school attendance. Facilities Director John Trenholm retired in July which may have further stressed the administration. Testing for legionella is not part of the district's usual protocol. In an email to parents dated September 16, 2020 Dr. Hagerman explained, "Testing for legionella is not a requirement for schools and mitigation measures are not regulated. However, we decided to add this testing as part of our broader building restart plan based on the CDC recommendations outlined in the Guidance for Reopening Buildings After Prolonged Shutdown or Reduced Operation. Going forward, we will engage in regular legionella testing as part of our comprehensive environmental testing plan."
The CDC report warns about the risk of both mold and legionella in buildings that have been shutdown. It opens as follows:
"The temporary shutdown or reduced operation of a building and reductions in normal water use can create hazards for returning occupants. Two potential microbial hazards that should be considered prior to reopening after a period of building inactivity are mold and Legionella (the cause of Legionnaires' disease). For mold, a "prolonged period" may be days, weeks, or months depending upon building-specific factors, season, and weather variables. For Legionella, a "prolonged period" may be weeks or months depending on plumbing-specific factors, disinfectant residuals, water heater temperature set points, water usage patterns, and preexisting Legionella colonization."
We're not sure if the district conducted air quality reports to test for the presence of mold before the opening of school. For now, we don't see these results posted on the district website, but do know that the district committed to annual testing of both air and water quality. Here is the link to the facilities page on the district website.
Regarding legionella, in a memo to parents dated September 15, Dr. Hagerman said, "We wish this communication wasn't regarding yet another challenge to overcome, but we would rather know and be able to complete a course of mitigation than the alternative. These are challenging times indeed, and we thank you for your support as we navigate this unusual school year."
Parents and Students Confront Challenges of Hybrid Learning
Details

Category: Neighborhood News
Published:

21 September 2020

Written by

Joanne Wallenstein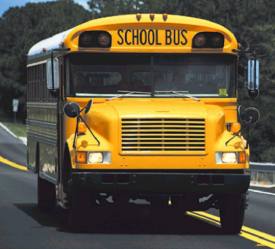 How's the reopening going at the Scarsdale Schools? According to some parents, it's been a frustrating experience. After prolonged negotiations between the district, the teachers and parents this summer, it appeared that a balance had been struck between the parent's wish for some in-person learning and teachers' desire to limit exposure to students and the virus. In order to mitigate risk, it was agreed that high school students would attend school two mornings per week, middle school students two days per week and elementary school students for two hour sessions, either mornings or afternoons, four days a week with alternating Wednesdays. For high school and middle school students, Wednesdays were set aside for professional development, tutorials and special help.
Though the agreement seemed reasonable to many, once implemented, the plan's shortcomings are irking many parents and students.
First we have heard from many that in-person teaching is limited. Even when the high school students are in school for their two mornings, their schedules are peppered with free periods and study halls. Parents are wondering why students can't have a full morning of academics for the limited time they are in class. Who needs to go to school to have a free period?
Another bone of contention is the decision to have no synchronous learning on Wednesdays, which leave students unaccountable on Tuesday nights and Wednesdays. Though there should be asynchronous learning going on, some parents have suggested that their kids can complete their assignments too quickly. They have dubbed Wednesdays, "Netflix Wednesdays" and are asking if Wednesday is the new Sunday. Other parents are asking why teachers are working fewer hours than they would work if students were in school, either in school or virtually.
Compounding the problem is that students are reporting frequent "no-shows" from their high school teachers. Without any prior announcement the teacher failed to appear.
Both parents and students are concerned that at this pace they will not learn the entire curriculum and be ill prepared for regents, SAT's, ACT's and advanced placement tests. Some teachers have set the bar low, telling the students that they plan to cover only 54% of the usual material this year. As one mom said, "When I asked for time in school for my son rather than a full virtual program, I was not told that it would mean a tradeoff of 50% of the curriculum. Had I known, we may have opted for a fully virtual program."
At a recent Board of Education meeting, multiple parents asked why the district could not livestream classes, so that students in one cohort could attend class virtually while the other cohort was in school. This would bar the need for teachers to repeat the same material twice and allow them to cover more ground. Dr. Hagerman responded to the request for livestreaming, saying that "conversations about live streaming are ongoing but that the district is mindful of the student's amount of screen time."
Parents of middle school students are finding it hard to have their children unsupervised three days a week. They say that's a long time for an eleven year-old to engage in asynchronous work and activities. Some are turning to structured programs at the Y or other private schools to keep kids occupied and learning during these long weekdays.
Another mother wondered if the real reason the district wasn't addressing these issues is that they expected a case or two of COVID to break out soon and force the entire district into a virtual program.
Meanwhile parents and students are betwixt and between, trying to find their stride in this new learning environment.