SBNC Announces Two School Board Candidates: Budget Vote Delayed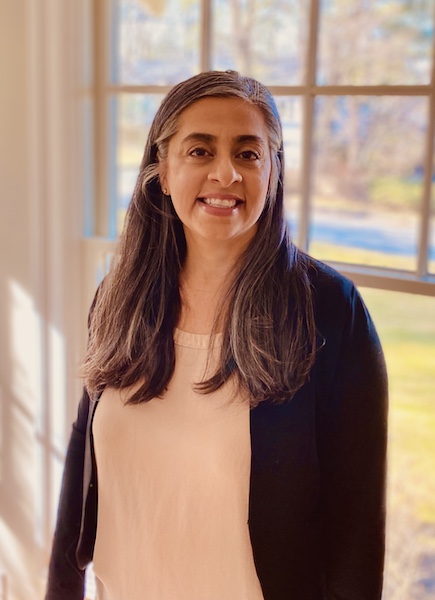 Amber Yusuf(This information was sent to us by the Scarsdale School Board Nominating Committee) As the 2020 School Board Nominating Committee (SBNC) has completed its nomination of Amber Yusuf and Robert Klein for election to the Scarsdale Board of Education, I thank the members of the SBNC for their dedication, thoughtfulness, and diligence in performing this important civic responsibility. I also thank all of the applicants. Scarsdale benefits when so many talented citizens are willing to present themselves to the SBNC each year, as well as from the efforts of an engaged SBNC.

Our community created the SBNC to nominate school board candidates who will work to maintain and enhance the quality of education provided by the Scarsdale schools. This year the SBNC was composed of 30 voting members (elected from each of the five elementary school areas) and one non-voting member. Pursuant to its governing resolution, the SBNC judges and selects candidates "solely on their qualifications to serve the community."

If elected to the school board Amber and Bob will assume their roles on the School Board for three-year terms effective July 1 (barring additional Executive order). The SBNC is grateful to the talented and engaged citizens who were willing to put themselves forward to serve on the Board of Education. All current voting members of SBNC will sign the nominating petitions once the election directives have to given to the district.

The Candidates
The SBNC strongly endorses Amber and Bob for election to the School Board. These two qualified candidates will bring different backgrounds and experiences to serve the community, and share a deep commitment to maintaining the excellence of the Scarsdale schools and serving different constituents.

Amber Yusuf
Amber has been a resident of Scarsdale for over 11 years, making many contributions to civic life here. She and her husband, Inder, have 2 children who attend Scarsdale Middle School. She's currently a board member on The League of Women Voters, a member of the Scarsdale Bowl Committee, a volunteer consultant at TAP (The Accelerated Project,) co-chair of PTA-sponsored STEAM Day, and a previous member of the Citizens Nominating Committee. Amber has served as PTCouncil President, PTA President at Heathcote School, chair of After School Club and many more roles.

In her most recent professional experience as Director of Operations for G2 FT, she advises small financial companies how to best utilize their tax strategy software. She possesses a great capability in seeing the big picture, and is able to sift through loads of information and extract the important and fine details. She makes the most complex issues digestible to everyone making her a unique and ideal candidate for our school board.
Through Amber's various civic roles, she is extremely knowledgeable about our community. She is well-respected by those who have worked with her. She has a keen awareness of both local and global issues, and is incredibly open-minded, intelligent and genuine in all she does. Amber Yusef is vested in Scarsdale – particularly in our school district and is willing to devote the time and energy to be a conscientious and effective member of the School Board.
Robert Klein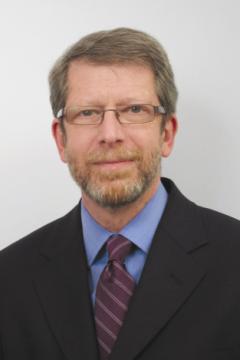 Bob KleinBob Klein
Bob has been a resident of Scarsdale for 34 years. He and his wife raised two children who graduated from Scarsdale High School and are now raising families of their own. Bob's career as an architect occupied his earlier life but he was an engaged parent, serving for 4 years as a local Boy Scout den leader. He also served two (non-consecutive) three-year terms as president of his religious congregation. Bob's career in architecture is particularly interesting as it relates to his candidacy on the Board of Education. A significant portion of his professional experience was in the "pre-planning" end of the business. Bob's job was to interview clients, listening carefully and critically to their needs and hopes, and to establish the parameters for successful efforts. Basically, Bob helped ensure that large scale and complex projects would meet the client's needs – perhaps even in ways that they didn't anticipate. In addition, Bob has shared these skills with architecture students and other professionals teaching at Harvard, Cornell, Columbia and other institutions. This sort of "first principles" / "blank-slate" approach, attention to detail and experience in creative and collaborative problem solving is the sort of mind-set and skill-set that will be valuable as part of the School Board Team.

Bob, now retired from firm practice, has devoted time to several interesting hobbies and philanthropic pursuits. He is a founding member of Neighbors for Refugees, an organization committed to welcoming, protecting and advocating for refugees in our community and abroad. And after taking pottery classes, Bob was asked to join the board of the Clay Arts Center in Rye, where he has now served with distinction. Bob Klein, an 'empty nester' and a lifelong learner, remains devoted to student success and education and will serve the community with his valuable skills and perspective.
The School Board Nomination Process
The SBNC nomination process involves several stages.
First, the SBNC initially heard current school board members' views on the role and structure of the school board, the school board's relationship to various stakeholders, the roles and responsibilities of board members, and the anticipated challenges and opportunities for the school board during the next three years.

Second, SBNC members then sought potential board candidates through public appeals and by recruiting committed community members. All qualified candidates are encouraged to apply. Each interested applicant submitted a biographical form and presented orally to the SBNC in the late winter.

Third, pursuant to rules of procedure, committee members conducted due diligence by confidentially contacting dozens of people outside of SBNC for their input about the candidates' qualifications to serve the community. In order to get a complete view of the applicant, SBNC members contacted references provided by the applicant. Committee members then reported relevant factual information to the other committee members, who were instructed to keep open minds and listen to one another carefully.

Finally, the committee discussed the qualifications of all proposed candidates fully and candidly before taking a vote, and voted by secret ballot to fill each vacancy in turn. This year's SBNC members were devoted to the process despite the challenges presented by the current pandemic restrictions.

As per a vote of the committee, meetings and deliberations were conducted by Zoom (digital conference platform) and voting was conducted using Google polling. Using this available technology, the process was serious and focused, with respect for differing opinions.

Discussions and deliberations regarding candidates are confidential in order to encourage people to apply, protect the privacy of candidates and references, allow for candid discussion among SBNC members, and select nominees based solely upon their qualifications.

For more information about the SBNC and its procedures, visit the "About Us" and "Join the School Board".

Please Participate
Scarsdale is fortunate to maintain a nonpartisan election process for the Board of Education that selects candidates based solely on their qualifications to serve, not on their campaigning abilities or positions on specific issues. Informed and engaged residents willing to serve on the SBNC and the School Board, along with voter participation, help to ensure the highest quality school board leadership. Please consider serving or suggesting other school district residents to fill future vacancies. You can do so at any time by emailing sbncchair@gmail.com
In addition, please consider a donation to the SBNC. The SBNC elections and process are financed by your contributions alone. Donations are solely used for running the SBNC elections and not towards any candidate. Any amount would be appreciated. Please visit here to donate:

Finally, please remember to vote on the school budget and in the school board election on a date yet to be determined by New York State due to the current Coronavirus crisis. When scheduled the election (per Executive order not before June 1, 2020) will likely be at the Scarsdale Middle School between 7am and 9pm.
Passover in the Time of a Modern Plague: Recipes for 2020
Details

Category: On Our Minds
Published:

04 April 2020

Written by

Judie Dweck
Due to the crisis, you probably won't have all the usuals around the table for Passover, which begins on April 8. Passover 2020 may be a virtual celebration with a smaller group but the theme of this holiday could not be more apt. We now have a new plague to add to the list of the ten in the Haggadah, that begins with blood and frogs and ends with darkness and the killing of the first born.
Many traditional dishes that are representative of past events will be served both at the Seders and for the week that follows. The common link that envelops the meals served during Passover are feelings of warmth among family and friends.

Following are some of my holiday favorites. With so many of us confined to our homes and with many markets offering delivery services, we are given the opportunity to spend lots of time in our kitchen preparing our holiday dishes.

We start with some suggestions for your Seder table.

Haroset Sephardic Style (1 quart)

3 pounds pitted dates
6 Tbsps. Passover sweet red wine (Concord Grape)
1 tsp. cinnamon
1 cup chopped walnuts
Place the washed dates in a heavy saucepan and add enough water to cover them. Simmer, stirring until the dates are soft. Drain them and reserve the liquid. Cool. Place the dates in a food processor and process until smooth. Fold in the wine, cinnamon and nuts and mix. If you wish a thinner consistency add a bit of the reserved water. Cool and serve at your Seder. Any leftover is a perfect spread in lieu of jam.

Brisket with Apricots (Serves 6)

1 pound dried California apricots, soaked in 4 cups water for 1 hour
4 onions, chopped
3 pounds of brisket
2 Tbsps. vegetable oil
Salt and pepper, to taste
1 Tbsp. lemon juice
3 Tbsps. dark brown sugar
1 tsp. cinnamon

In a Dutch oven, brown the onions and the meat in the oil. Add the salt and pepper, lemon juice, sugar, cinnamon and apricots in the soaking water and cover and simmer for about 2 ½ hours until the meat is tender. Remove the meat and cool it. Slice it thinly and arrange it in an ovenproof casserole dish. Pour the sauce and the apricots over it. Reheat in a 350 degree oven and serve.

Tzimmes (Serves 6-8)

½ pound pitted prunes
½ pound dried apricots
3 cups boiling water
2 Tbsps. vegetable oil
3 pounds brisket cut into 10 pieces
3 onions, diced
Salt and pepper to taste
3 sweet potatoes peeled and quartered
4 carrots, 2 inch pieces
½ cup honey
1 tsp. cinnamon

Soak the apricots and prunes in boiling water for ½ hour. Heat oil in a Dutch oven and brown the meat and onions in it. Season with salt and pepper and simmer for 1 hour. Add the undrained fruit and vegetables and remaining ingredients. Cover and simmer for 2 hours until the meat is tender and the liquid is absorbed.

Grammy's Passover Stuffing (Serves 12)

1 pound matzos
1 pound ground chuck
2 onions, chopped and sautéed in canola oil
5 eggs, beaten
1 Tbsp. canola oil
Salt and pepper to taste
2 cups boiling chicken broth

Place 1 Tbsp. oil in a 9 by 13 inch oven proof baking pan. Set aside. Break up the sheets of matzos in a bowl. Pour the hot broth over it. Add the beef, onions, eggs and seasonings. Mix it very well. Spoon it evenly into the pan. Bake in a preheated 375 degree oven covered for 30 minutes. Uncover it and bake until crisp on the edges and on top or about 20 minutes more.
For the many Passover meals after your 2 Seders I suggest several dishes for brunches or dinners during the week of Passover.

Individual Matzo Kugel (12)

5 matzos
6 eggs
¼ cup sugar
¼ tsp. cinnamon
¼ cup raisins
¼ cup walnuts
4 Granny Smith apples, chopped
Grated rind of 1 orange
¼ tsp. cinnamon mixed with ½ tsp. sugar
4 Tbsps. butter, melted

Butter 12 muffin tins and set aside. In a large bowl, crumble the matzos. Add a cup of water and squeeze dry. To the dry crumbled matzos add the beaten eggs, sugar, cinnamon, raisins, nuts, apples and orange rind. Mix well. Divide among the muffin tins. Sprinkle each with the cinnamon sugar mixture. Drizzle with melted butter. Bake at 350 degrees about 25 minutes or until browned on top. Serve with sour cream or yogurt.
With asparagus in season try our springtime Asparagus Soup.
Asparagus Soup (Serves 6)
1 medium onion, chopped
2 Tbsps. olive oil
1 pound asparagus, rough ends discarded, in 1 inch pieces
1 potato peeled and diced
4 carrots, peeled and chopped
4 cups vegetable or chicken stock
1 cup dry white wine
2 Tbsps. chopped fresh dill
Salt and pepper, to taste

Saute onions in oil until golden. Add asparagus, potato, carrots and saute lightly. Add stock, wine, dill and salt and pepper. Simmer for about ½ hour or until vegetables are soft. Cool. Blend in a food processor or blender until smooth. Return to pot and heat and serve. You can garnish it with additional dill.
Every meal during the Passover holiday should end with something sweet. Here are 2 suggestions.

Pecan Meringues
3 egg whites
¾ cup granulated sugar
3 Tbsps. unsweetened cocoa powder
1 tsp. vanilla 1 cup coarsely chopped pecans

Beat whites until very stiff. Mix together sugar and cocoa and gently fold it into the whites. Fold in the vanilla and nuts carefully. Drop in small mounds onto an oiled cookie sheet and bake in a preheated 275 degree oven until dry or about 25 minutes. Remove with a spatula carefully while they are still warm. Handle with care since they are fragile.

Passover Brownies
2 sticks butter
¾ cup unsweetened cocoa powder
1 cup sugar
2 eggs, beaten
1/3 cup matzos cake meal
2/3 cup chopped walnuts
2 Tbsps. water
16 walnut halves

Preheat oven to 350 degrees. Butter an 8 inch square baking pan. Melt butter and let it cool. Mix together cocoa powder and sugar. Stir in beaten eggs and melted butter. Stir in matzos meal and chopped nuts until smooth. Stir in water to form a smooth mixture. Spread into prepared pan. Arrange nut halves on top. Bake for 25 minutes. Cool and cut into squares.

With best wishes to my readers for a holiday filled with family and friends beside you --either physically or virtually --all in good health.
Scarsdale Medical Group Offers Drive-Through COVID-19 Tests to Existing Patients
Details

Category: On Our Radar
Published:

28 March 2020

Written by

Joanne Wallenstein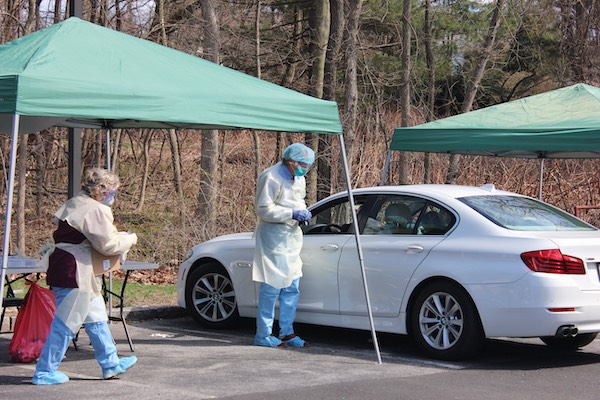 Scarsdale has fallen victim to the global COVID-19 pandemic and it is now affecting all of us, in our homes, on our streets and in our community. While we cling to our digital connections, close our doors, and distance ourselves from the invisible enemy, the medical staff at Scarsdale Medical Group has suited up and stepped outside to the frontlines. SMG is now providing the testing the community needs, as one of the first groups in Westchester to offer tests. Until recently surpassed by New York City, Westchester County had the greatest density of cases across all U.S. counties. The government is calling on everyone to flatten the curve of an already devastating pandemic. And to do that, we need to ramp up identification of infected patients.

Since Tuesday, March 17, SMG has been performing up to 100 COVID-19 tests a day to patients of the group. In order to be tested, patients must have their symptoms evaluated by an SMG provider who can order a test. At this time, testing is for SMG patients only. Given a national shortage of medical supplies and in particular, COVID test kits, our public health and safety hinges upon the integrity of this screening process. Today, the allocation of a simple yet scarce resource, a nasopharyngeal swab, is part of a grim global equation with dwindling supply insufficient to meet astronomical demand.

SMG is offering drive-through COVID testing, keeping patients in their cars with the windows closed until they reach the tent, where medical providers stand fully protected. To prevent contamination across surfaces and individuals, no patients with suspected COVID are permitted to enter any of the medical facilities. By isolating sick patient visits to the 259 Heathcote Road office, SMG leadership is working to ensure that the group maintains a safe environment for other patients seeking all forms of medical care at 600 and 550 Mamaroneck Avenue, the other locations of the medical group. SMG Infectious Disease doctor Kenneth Croen, MD, said, "We expect to be increasing automobile-based care over the coming months until the coronavirus activity is markedly reduced. Thus far, about 1 out of 4 tests performed at our drive thru testing site are positive for coronavirus. Therefore, most people coming in for screening who have a variety of acute viral symptoms do not have COVID-19."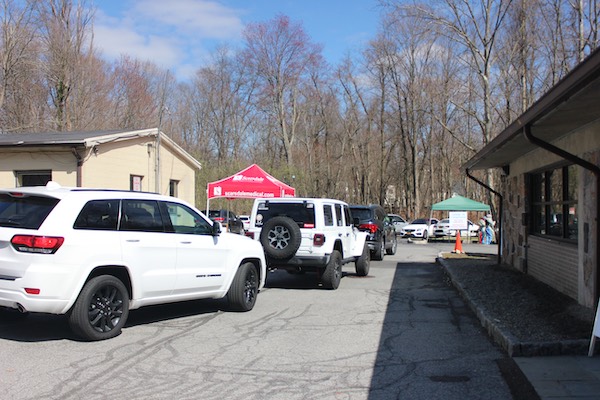 Even though we are living through the panic of a pandemic, SMG physicians have been working tirelessly to sustain continuity of care across specialties and are now offering telemedicine visits for existing patients only. If SMG did not remain open to those patients, non-COVID cases would overwhelm emergency rooms already at max capacity and risk even more exposure. Kim Carriere, COO of Scarsdale Medical Group, notes, "SMG is proud and honored to be able to offer testing to our patients. Westchester is our community and we are going to do everything we can to take care of them. It is truly an honor and privilege to be a part of such a wonderful organization."
In these extraordinary times, the medical community is asking residents for their help. They are keeping us safe at great personal risk and cost. In return, they ask for much less than we ask of them. To continue to offer care, SMG needs supplies. If any residents are in possession of high-demand medical supplies, listed below, the medical community urges you to do your civic duty, to your family, to our families, to the community, and to New York by contributing them: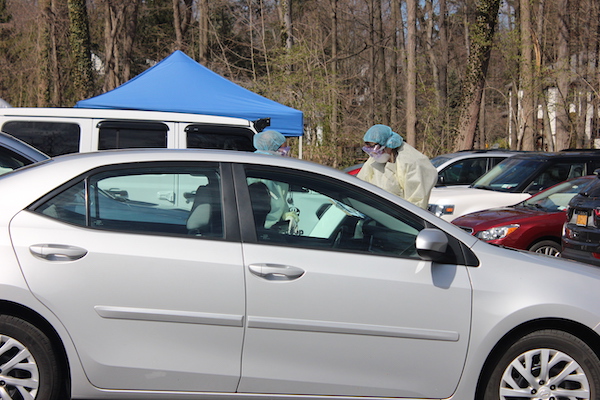 Supplies:
Purell, Lysol, Rubbing Alcohol, Alcohol wipes, Cleaners such as Bleach, Disinfecting wipes, Surgical masks/N95 masks, Hair nets, Surgical Gowns, Tissues, Paper towels
Drop off locations include:
Podiatry Suite: 600 Mamaroneck Avenue in Harrison (please use side entrance)
Scarsdale Office: 259 Heathcote Road (please see a staff member outside the building for
assistance)
Article by Carly Glickenhuas, Photos by Hannah Glickenhaus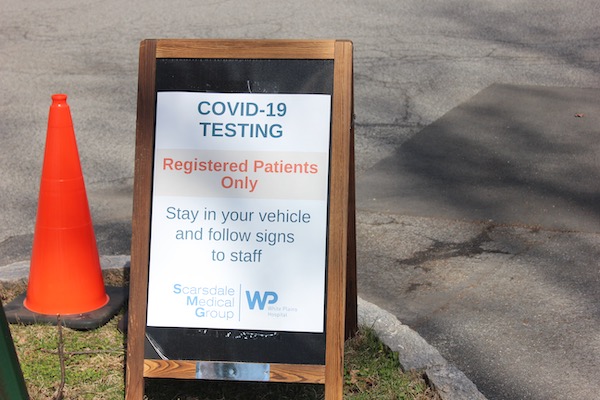 Carly Glickenhaus is an Economics and Security student-athlete at Georgetown University, completing her senior year remotely and virtually due to the COVID-19 Pandemic.
Hannah Glickenhaus is a sophomore Advertising and Business student at Boston University College of Communications.
Broadway Fan, College Counselor and Scarsdale Mom Writes and Performs "Covid-19-Quarantine" to the Music of "Alexander Hamilton"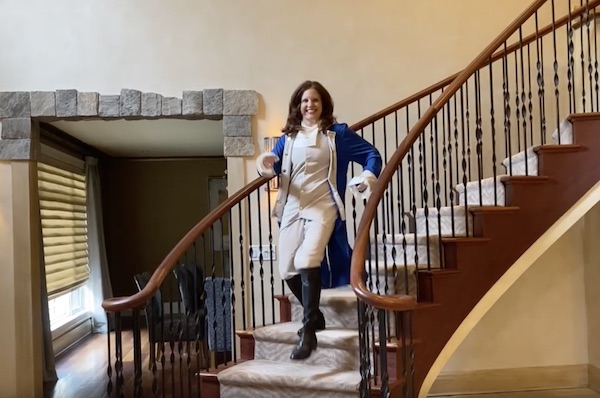 (Click on the image above to watch)Beth Gelles, a Broadway fanatic and natural entertainer, got a burst of inspiration during the long days of the COVID-19 quarantine and collaborated with her daughter on the production of a video about the crisis to the tune of Alexander Hamilton from the famed Broadway show. With her kids home from college and her students stressed, the Fox Meadow mom saw the need for comic relief turned out a great performance in just hours. Watch her tour de force here and read more about Gelles below.
How did you get the idea to do the video - what inspired you to write the lyrics?

I have always loved to rewrite lyrics of popular songs and Broadway shows, especially to create songs for my friends' birthdays. Over the past few weeks, with the Corona virus all over the news and on everyone's minds, I wanted to do something to acknowledge the stress in our world as well as to entertain and distract people. I love making people laugh and wanted to give something to my friends, family, and current students. I run a college counseling business in Scarsdale and our students were stressed long before Corona disrupted all our lives. My daughters and I are huge Hamilton fans and I kept thinking about what words would fit into the seven syllables A-Lex-An-Der Ha-mil-ton and Co-vid Nine-teen Quar-an-tine matched beautifully. I was on the treadmill when inspiration hit!
I sat down at my computer and worked up some ideas and verses. I came back to it every few hours to add and revise -- the song probably took me between 2-3 hours to compose.
When I finished it, I sang it for my daughter Lindsay (accompanied by the karaoke version of Alexander Hamilton). Lindsay is a freshman at WashU and, like all students, she's stuck at home. She is incredibly creative and musical and is majoring in Psychology with a double minor in dance (ballet) and drama. Instantly, she declared, "Mom! I will record you doing this and you should post it!"
Do you have a background in writing verse? Acting and singing?

Yes. As mentioned, I enjoy rewriting songs for friends and family members. I have been performing since early childhood. I love to sing, I play the piano, and I can still tap dance. I've performed in musicals in high school in NJ, at Harvard, and even at Kellogg Business School.
I am a ridiculously religious Broadway musical fanatic, and I have made my entire family endure listening to show tunes. Fortunately, they put up with me. My middle child Lindsay loves to see every show too. We've seen over a hundred musicals together in the past 18 years, and she collects every single Playbill. My son Zack is a freshman at Harvard. He doesn't love musicals but he can carry a tune, play a little piano and guitar, and he has a great ear for languages. My youngest daughter Carly is a freshman at SHS. She is an incredible dancer and she can also sing. She loves musicals too, particularly when there is extensive choreography involved. My husband Jeff can carry a tune. He will come to Broadway shows with me on my birthday or Valentine's Day but it's definitely not his first-choice activity!
Who filmed you and edited the video? How long did it take to do? Did you have to do many takes of each scene?

Lindsay! She is incredibly creative and artistic. She is also a devoted Hamilton fan. We actually have TWO Hamilton costumes because she entered the Hamilton lottery day after day for almost 2 years and then won two free tickets to Hamilton on Halloween 2018. I bought the costumes on Amazon. We have tons of costumes in a closet in our basement and dressing up and performing skits and fun musical reviews has been part of my kids' childhoods.
Believe it or not, the video didn't take long. Lindsay recorded me singing the song accompanied by the soundtrack on Garage Band. I messed up once and did it again. I told her it was good enough. Lindsay had most of the ideas for each scene. It took us an entire afternoon to film everything and none of the scenes required more than two takes. The most challenging part for me was to memorize a lot of lyrics at once. Lindsay filmed each of these clips around our house and then put the whole thing together on i-Movie. It took her about 2 hours in total.
You say it has gone viral - how many views to date? Have you gotten inquiries from people around the country?

With Facebook and YouTube combined, I have had over 17,000 views (as of March 29th).
Yes, it is around the country! I have friends in California and Florida who have contacted me. They have received the video from people that I don't even know.
The video was also sent (not by me) to Channel 12 News in Westchester and aired on a continuous loop on March 27th.
Also a friend of a friend in San Francisco sent it to someone at ABC News and it will air next week!
What-- if any-- is their attitude about Scarsdale?

Honestly, people have told me that they feel the SAME exact way no matter the suburb! They feel stuck at home and they want to remain positive for their kids who were sent home from college. They are struggling with distance learning, and they are figuring out how to manage and cope with the entire family in quarantine. Wine certainly helps!
Has anyone given you grief for making light of the pandemic?

Not one single person. It has been wonderful how so many people have been appreciative. Many people have "friended" me on Facebook just to thank me for giving them a smile and a good laugh.
Tell us about yourself and your life in Scarsdale. What do you do?

I co-founded a college counseling business in 2012: Acceptance Ahead.

My partner Nancy Stuzin (who lives in Edgemont) and I work with students primarily in the NY area but we also have students around the country and a handful of international students (Greece, the UK, Saudi Arabia). Nancy and I work with 30-35 students per grade, and we also do pro bono college counseling every year for YPIE (Yonkers Partners in Education). Both of us are on the Advisory Board there.

I recently chaired Westchester Reform Temple's cantorial search committee for a new assistant cantor and that was rewarding.
My family moved here in July 2011 from the San Francisco Bay Area because my husband Jeff was transferred. He works in finance. We have been extremely happy living in Scarsdale. The community was instantly welcoming!
How has this crisis affected your college counseling business? Are you still working during this break?

We are still working during this break to support our students but we have shifted to online in order to give them continual guidance during this unprecedented time. Some of our seniors are still figuring out where to enroll but they cannot attend "Accepted Student" days. We are having conversations with them via Zoom, discussing our own experiences when we visited various campuses, and putting them in touch with some of our current students at those schools so they can obtain candid information. It's extremely challenging and anxiety-provoking to choose a school under normal circumstances, but sight unseen really adds to the stress. We are encouraging kids to do virtual tours where available, read comments and reviews from students, and attend virtual info sessions. For our juniors, we are also communicating via Zoom, email, phone, and text. Some of our advice is being altered about how to build a college list since many of them will not have the opportunity to visit schools this spring. Nancy and I have visited over 110 colleges across the country and we try to provide unbiased observations and suggest good matches for our students. We are staying up to date and constantly providing information to our juniors about standardized test changes and colleges that are going test optional for this coming application season. We are also offering ongoing suggestions for ways to keep busy from home and how to pursue individual interests in creative and meaningful ways. Since this is a stressful time for all of us, we emphasize how everyone is in the same boat and that admissions officers are going to be extremely forgiving of the spring of 2020 due to Coronavirus. Nancy and I belong to several higher education organizations and we have received many emails from highly selective university admissions officers about this.
We heard anecdotally that more American kids are being admitted to colleges/universities this year because students from abroad are having difficulties getting visas and traveling here - is that true?

We have not heard recent statistics about international students compared to American students for this season. However, we have seen a huge increase in students (Americans and international?) offered a place on waitlists. We think this is because colleges are uncertain about what their ultimate yield will look like and they want to maintain a viable waitlist should they have availability.
Local Positive Cases Going Up: What You Should Know
Details

Category: Neighborhood News
Published:

02 April 2020

Written by

Joanne Wallenstein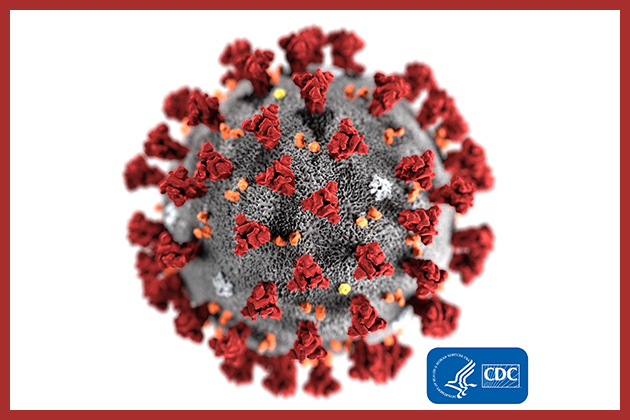 The Coronavirus is hanging in for longer than many had anticipated. The count of those infected continues to rise and the Village and the County are working to help as many as possible.
According to an April 1 note from Scarsdale Mayor Marc Samwick the County Department of Health now reports 93 confirmed COVID cases in Scarsdale. That's a big jump from our last report of 59 cases as of March 30.
Samwick also conveyed the following update from Governor Cuomo:
The isolation protocol has been updated such that people infected with COVID-19 may end isolation if they meet ALL three of the following criteria:

-It has been 7 days since first experiencing symptoms;

-The patient has had no fever for at least 72 hours without taking fever-reducing medication, such as Tylenol; AND

-Any shortness of breath, coughing and difficulty breathing has improved.
Samwick notes that "Non-essential construction has been halted." We walked by the Greenacres Elementary School which is on a tight construction timeline for completion by the opening of school in September and no work is going on. What will that do to the schedule?
Read more from the Mayor here:
Westchester County Center Under Construction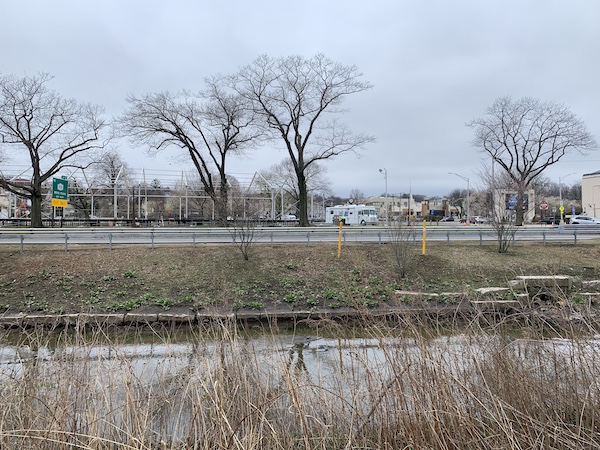 As previously noted, the Westchester County Center is under construction to be used as a hospital for non-COVID-19 patients. The interior and the west parking lot will be set up to accommodate approximately 100 patients.
See the photo above of the work going on at the County Center to convert it to a hospital.

Also note the following:
Pick-up After Yourself and Your Dogs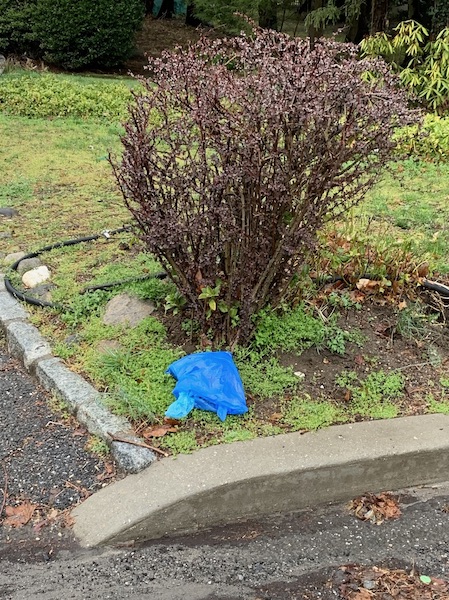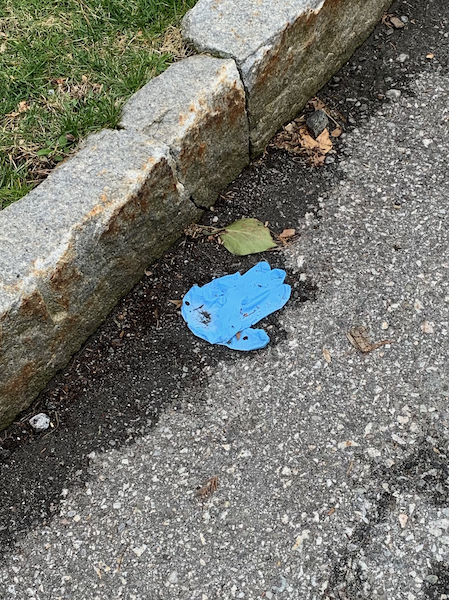 With spring in the air, daffodils, crocuses, cherry trees and magnolias are almost in bloom. Many of us are out walking – because what else can we do! Enjoy the flora and greet your neighbors – from six feet away. If you have a dog, be sure to pick up the poop –- we've seen too many bags littering our streets. In addition there are lots of plastic gloves left on the ground. Our Public Works Department is straining to maintain services and it's up to you to help. Please don't litter!

Pay Your Housekeeper and Nanny
Another reader asked us to remind residents to pay their nannies and housekeepers, even if they cannot let them into the house during the virus. He referenced several articles from the New York Times that note that since many of these workers are undocumented they cannot collect unemployment or benefit from a government bailout. They do not have paid sick leave and rely on you to keep them afloat.
Express Gratitude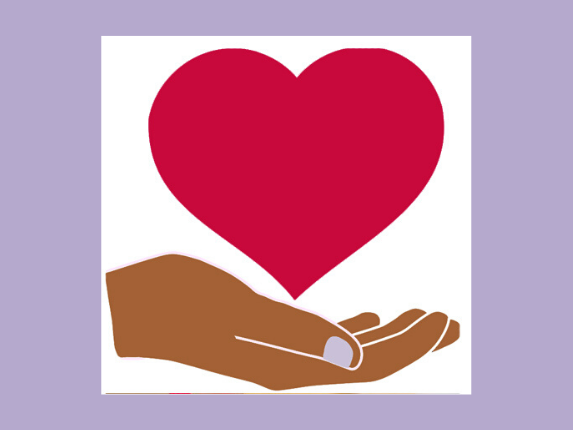 (From Cynthia Samwick)
During this crisis, we are reminded of what truly matters in our lives - our health and safety and each other! We are blessed to live in such a special place as Scarsdale with our endless commitment to taking care of one another.
It is important to take the opportunity to thank those working tirelessly to ensure our safety and the wellbeing of our community. Anything from an email, handwritten note, or baked goods delivery shows our appreciation for their dedication and may even put a smile on their face during this period of immense stress.
Scarsdale Volunteer Ambulance Corp
President - David Raizen
info@scarsdalevac.com
5 Weaver Street
Police Chief Andrew Matturro
police@scarsdale.com
50 Tompkins Road
Fire Chief James Seymour
fire@scarsdale.com
50 Tompkins Road
Superintendent of Public Works
Jeff Coleman
publicworks@scarsdale.com
110 Secor Road
Shine a Light on Monday April 6 at 8 PM
Details

Category: Village Voices
Published:

03 April 2020

Written by

Joanne Wallenstein