Community Awaits Scarsdale Restart Plans: Who Will Attend School in the Fall?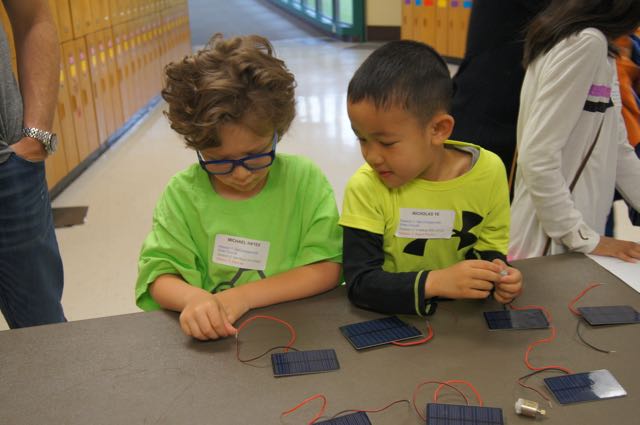 With the reopening of school just weeks away, students and parents are anxiously awaiting the details. Will the kids attend school full time, part-time or not at all? A series of emails from the district offers some information about what children across all grade levels can expect, but it's not entirely clear which grades will be on what schedule and where they will go to school.
We do know that the six foot social distancing standard will make it necessary to have as few as ten to fifteen students in each classroom. Since on average, classes are 22-26 students, this means the district needs almost double the space to accommodate the current student population.
The latest email, dated July 25, outlines the priorities the Restart Committee defined for elementary school, middle school and high school students. Though the email does not offer a specific schedule for each of these three groups, it does identify needs for each group that will be the basis of scheduling decisions.
For instance, it prioritizes in-person learning for elementary school students leading one to conclude that the elementary school population will be in class.
For middle school students, it says they share developmental needs with both elementary and high school students and require small group instruction. So again, one can assume middle schoolers will attend school for at least a part of the day or week.
However, the priorities for the high school population are "choice" and "differentiation" in course scheduling, which would make it difficult to have students in attendance on a fixed alternating schedule as the courses they require might not be offered at the correct times.
Though it cannot be confirmed, we're hearing from students and parents that the current hybrid plan that will be submitted to NYS by July 31 will not include student attendance at Scarsdale High School. In fact, a petition posted on Change.Org that already has 605 signatures says, "Provided that some amount of in-person learning is possible, we, the students of SHS, feel that ALL of the district's students are a priority, and ALL students should have the opportunity to be back in our classrooms in September. It is unfair to deny us, your high schoolers, the academic and mental health benefits of in-person learning in order to serve an agenda of preferentially returning elementary students to their classrooms. A district choice to sacrifice the education and wellbeing of one group over another seems profoundly unfair and verging on discriminatory."
Though we don't know what plan will be submitted to NYS, we do know the timing of the rollout to the public.
According to the July 25 email from Dr. Hagerman, here is how plans will be communicated:
-On July 31 the district will finalize its reopening plan and present it to NYS.
-On Monday August 3, they will provide a plan and executive summary to the community.
-On August 5 a recorded webinar will be released.
-On August 6, a public forum will be held on Zoom from 1-2:30 pm.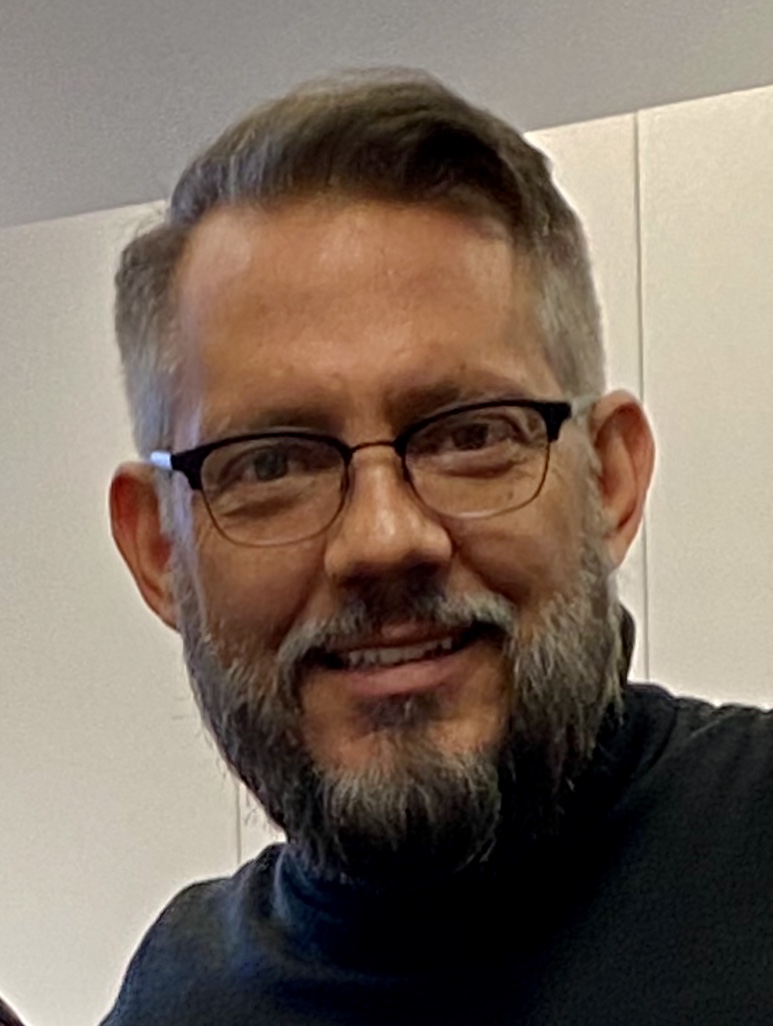 Scarsdale School Superintendent Thomas HagermanIn order to further interpret the district's emails, we reached out to Scarsdale School Superintendent Thomas Hagerman and posed some questions about the schedule, possibilities to increase space, use of multi-purpose spaces and more. Here is what we learned:
Question:
From the July 25 email it appears that if everyone cannot return to school at one time, the priority for in person learning will be given to the younger students and those with special needs while older students will be doing more virtual learning. Is that correct?
Response:
Social-distancing and mask-wearing are required as part of state guidance. This will make it extremely difficult to have all students back without making monumental changes to course offerings and the like. The plans are in the process of being developed, so they are still under construction at this time.
Question:
Has the district considered erecting tents on the school property to allow for an expanded footprint while the weather allows - at least in September and October? If this can't be done, please explain why it's not feasible.
Response:
At this point, we are not considering tents as a viable option. While this suggestion has come up from several sources, there are major issues with using tents, including safety and security, electricity, weather, electronics, and cleaning and disinfecting, to name a few. Of course, we will continue to think about ways of using the outdoors for shorter periods of time and for activities that lend themselves to an outdoor experience.
Question:
The district now has many new large spaces including libraries, learning commons and cafeterias. Is it possible to divide these spaces with temporary walls in order to create additional distanced learning spaces? Have architects assessed how we can utilize these spaces to allow more children to attend school?
Response:
Absolutely. We are carefully considering the use of all spaces in our buildings. Cleaning and disinfecting requirements, however, limit the continuous use of these spaces, and the number of students and staff who can access them in a given time period.
Question:
Under the state guidelines, how many children would be permitted to attend class in our district's smallest classrooms - and in the largest ones? Do all classrooms have the required ventilation?
Response:
Currently, the guidance speaks to 6ft social-distancing in all directions. Our average class ranges from 500-600 square feet, which means we can have approximately 10-15 people in a single class, depending on the individual classroom configuration, and staffing needs for that classroom.
Question:
Do any of the scenarios involve in-person learning for high school students?
Response:
The plans have not been finalized, so I can't answer that question right now; however, state guidance does ask that vulnerable populations (Special Education, ELL, etc.) be prioritized for in-person instruction, so this is a part of our decision-making process.
Question:
How have these decisions been impacted by union contracts? Are teachers and staff willing to be flexible to permit more students to have an in-person learning experience?
Response:
Our contracts with all bargaining groups have to be observed regardless of the pandemic, so these agreements are included in our thinking and decision-making as part of this work. Complicating factors are, of course, that these agreements reflect a more traditional, in-person schooling experience. Because of individual health concerns of both students and staff, we are making appropriate accommodations for individuals, as needed.
Question:
Have you considered giving parents a choice of whether to send their children to school or keep them at home? If so, since a certain percentage would favor learning from home, would this not create additional capacity for those who prefer to send their children to school?
Response:
Unfortunately, we do not have the staff or resources to provide an individualized choice for every family in Scarsdale. State guidance is clear that we have to make appropriate accommodations, when necessary, and we will certainly do that. Having said that, parent voice has been an important part of our planning. We have received and solicited parent feedback since early March, and most recently, through an extensive parent survey. Parents have shared a lot of qualitative and quantitative feedback, and we have been using that information to help guide our scenario planning. While the structure of our school days at each level will need to be clear and consistent in our final plans, these plans will change over time. Parents will continue to have an important voice in our restart efforts throughout the summer and fall. There is no doubt that we shared the common goal to have all students back in school when it is safe and feasible to do so.
Question:
I see that neighboring districts have announced the specifics of their hybrid learning plans in advance of their submission to the state on 7-31. This gives parents the opportunity to offer feedback and be a part of the process before it is a done deal. Is there a reason Scarsdale is keeping these details close to the vest before the submission of the plan to NYS?
Response:
Our plans are still under development, and they will be shared as soon as they are ready. We are not waiting until the deadline on purpose, we just believe we will need the full amount of time to finalize them.
Neighboring Districts:
We also learned what some of our neighboring districts are planning and found that they have already unveiled the plans they will submit to the state. Unlike Scarsdale in both Mamaroneck and Eastchester, all grades will attend school on an alternating schedule, in a system of shared sacrifice.
In Mamaroneck, the district has determined that they can accommodate 50% of the student population at a time in the elementary and middle schools, meaning that the students would alternate between in-school and e-learning. At the high school, 1/3 of the population can be accommodated at a time, so the population will rotate and be in school 1/3 of the time.
In Eastchester, preliminary plans call for and alternating day hybrid model where students are assigned into groups alphabetically. Classes would be about half their regular size to achieve social distancing.
Community Feedback:
Some parents of students in high school are expressing dismay about what they assume to be the plan for no regular school attendance for ninth through twelfth graders. Diane Gurden of Colvin Road summarized their concerns in the following statement:
"Scarsdale is a pioneer in education. As key stakeholders, parents require TRANSPARENCY from the Restart Committee, which includes holding community forums before the plan is presented to the Governor on 7/31, not after. Other local districts, including Edgemont and Armonk, are able to support this timeline, and Scarsdale needs to, also.
It is critical that the Restart Committee adhere to the NYSED Guidance that "equity and access must be a priority for all students". All levels, K-12, should have some component of in-person school, with K-5 needing the most time.
The Restart Plan will require unprecedented creativity in the use of space, curriculum, and schedule. Space options can explore outdoor, repurposed indoor, and Municipal/Community possibilities, such as the library, recently closed vacant religious schools, or underutilized COVID-19 special-built facilities. The curriculum should prioritize core areas like math and science and give lower priority to the "nice to haves". Partnerships with established online education institutions should be evaluated, to leverage their experience in the arena. The schedule should be completely rethought, if NYS schools are excused from the 180-day requirement.
The level of stress, particularly for SMS and SHS students, must be managed. Support for students who struggle while working remotely and the priority of overall mental wellness is an imperative component. We need to address social isolation, through strategies such as creating small pods of children to work together remotely. We also need a way to identify children who are at risk for mental illness, substance abuse, and suicide."
Visit the school's Restart Plan website for further information.
The district will hold a Zoom listening session on Tuesday night July 28 from 6-7 pm. Access it here: https://zoom.us/j/91268893200.
Scarsdale Planning Board Considers 135 Space, Three Level Parking Garage on Popham Road
Details

Category: Around Town
Published:

03 August 2020

Written by

Joanne Wallenstein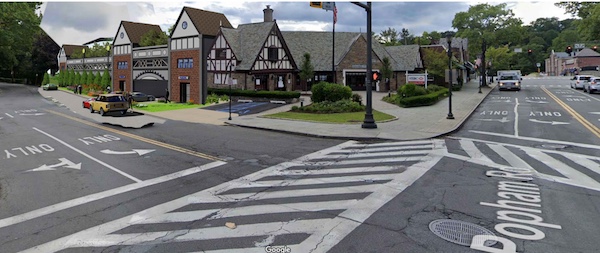 At a well-attended virtual meeting of the Planning Board on Monday evening July 29, Scarsdale Improvement Corp. and their attorney from Zarin and Steinmetz presented their case to combine four building lots into a one-acre site to construct a 135 space parking lot on three levels at 30 Popham Road with the entrance and egress onto Overloook Road. The proposed lot would be on the site of the current parking lot behind Moscato and the Metro Diner.
According to the applicants the lot would be built to serve Scarsdale Improvement's tenants, employees and customers and would help them to lease many vacant storefronts and offices in the Village. They claimed that this proposal was not a precursor to another plan to erect 15 residential units on Popham Road, which was presented in a larger scale plan in October 2019.
However, the Overhill Neighborhood Association, who opposes the project, questioned their intentions. They said that the current tenants require only 94 spots and that there is always room in the current lot of customers. They feared that the additional spots were actually being built to accommodate tenants of an upcoming development.
In response, DJ Petta from Scarsdale Improvement explained that due to the configuration of the current parking lot, they have to staff it with two employees to move the cars around to fit in everyone who wants a spot. Cars are often stacked two or three deep, and customers have to leave their keys in the car to allow them to be moved. He said, "The current lot is not practical and is inefficient. We often have a larger demand than the number of spots. We stack the cars using valets. People get blocked in. We have to have two valets working that lot. We want to have enough spaces without two guys running it. If we have excess parking spaces we would like to have some of our tenants use those. Prospective tenants need parking spaces for themselves and their employees. I can tell prospective tenants that there will be parking for their customers."
Brad Schwartz the attorney for SIC explained that the plan also includes a 6,000 square foot health club on the basement level and that 18 of the extra parking spots would be used for the club.
Diego Villareale, a civil engineer retained by the applicant explained, "The property is 1.0 acres large. Access to the parking lot is from Overhill Road. There are currently 69 spaces. The new structure will be built over the existing parking lot There will be an elevator. There will be 135 parking spaces over three levels. There are a lot of green areas incorporated into this plan. We have a decrease in impervious area but we have built the green roof to compensate." About next steps he said, "A traffic analysis is in process. We are at the beginning – we want to get your feedback and address those concerns."
Architect Len Brandes explained his design, saying, "We will use antique brick, wood beams and stucco finishes to go with the Village." He added, "We will have bicycle storage and charging stations for electric bikes and electric cars. There will be solar collectors and a green roof to soften the look from the ground." About access to Scarsdale Avenue he said, "We are going to create a covered entry in front of the barber shop and a walkway next to Metro."
The members of the Planning Board questioned the applicants. Chair John Clapp said, "You mentioned your meeting last October about residential development. Can you confirm this is a standalone project with no expectation that more development will occur on this site?"
The applicants responded that "Yes this is a standalone garage application."
Clapp followed up, "The lot merger is so that the garage can be an ancillary addition to the site. If you did build residences – would these spaces be used for that?"
The replied, "The only way is if we can show there is sufficient space in the garage to support it."
Board member Harold Porosoff said, "Perhaps a smaller garage would suffice?"
Porosoff said, "I am concerned – do we need a three story garage – would a two story unit satisfy the needs? If that storage unit was not needed. If you decided to do the residential, 18 spaces you have secured for the gym could be used."
The applicants responded, "No we want a gym. Right now Zachys has a lot of employees – we would like to take those people off the street. Scarsdale Improvement needs more spaces to make their properties viable. "
Planning Board member Deb Pekarek said, "I am concerned about the visual from people who live on Overhill Road – especially 9 Overhill Road. My overall bigger concern is the traffic on Overhill. There is only one egress there – and the Village has received many complaints about that area. The site lines are not great and there are many pedestrians."
Harold Porosoff asked the applicants to "Say a few words about impact on neighbors during construction." Brandes responded, "Tenants can use the Freightway lot temporarily. 90% of the work will be on the lot – and not on the street. There will be noise but we'll try to control the timing of noise and dust."
Tim Foley asked questions about the calculation of the number of parking spaces and also asked if they could get an accurate read on traffic now, given that many are not commuting to the city due to the pandemic. The engineer replied, "Every traffic study we're working on has the same problem. Were looking at prior traffic study and we do counts but we prefer them to record data."
Overhill Neighborhood Association co-President Paul Diamond spoke on behalf of the 73 families in the association. He said, "I don't believe that the full scope of the project is here" and he quoted from an article in the Scarsdale Inquirer which said that residential is under consideration.
He demonstrated why the proposed parking garage was not in conformity with the Village's Comprehensive Plan. He said, "If you take a look at the plans you won't be able to eat outside at Metro Diner or Moscato – it is an alleyway , not a pedestrian friendly arcade as required by the Comprehensive Plan." He said the "135parking spots far exceeds current tenant needs. Current tenants only need 69 spots… Our contention is that the zoning code does not permit construction of a parking lot in order to create parking for another lot…. The principal use for this zone is retail and personal services. The plan also says a building cannot exceed the height of the principal buildings on the lot and they are all one story."
Furthermore Diamond said, the plans prescribes, "avoidance of more than one level of parking located at or above the ground floor level along the building frontage. This is the case at Christie Place and at the CVS lot. Why does the application need to create more than the required spaces needed?"
"Our contention is that this is prohibited under the definition for an accessory building. It is incongruent with the Comprehensive Plan and requires more density than the code for this district provides."
He continued, "Does the community want to urbanize this area with a high density private garage and condos? ….We have more questions than answers….We think this might be a $3-$4 million project. Who is going to pay for that? Current zoning does not support a three tier garage – it looks like it is part of a redevelopment plan…. They already can fit 75 cars there now. …. We feel this structure is not part of the Comprehensive Plan. It is not an auxiliary building."
During public comments Roberg Berg of Tisdale Road said, "These are well reasoned concerns. Rush Wilson's proposal cannot be taken at face value…I have never had an issue finding a spot in the existing lot….The stores and restaurants don't need 135 spaces. I believe he wants to build residential as there is demand for it. I don't see demand for stores or offices downtown. I think you should be skeptical of the proposal."
Gary Friedman, co-president of the neighborhood association and a 25-year resident said, "It is out of place and does not belong there."
Susan Douglas said she is the Chair of the Downtown Revitalization Committee of the Scarsdale Forum and they are studying the issues and will take opinions from all the stakeholders.
Max Grudin said, "We have looked at aerial views and the lot is never full." He said, "I spoke to the attendant and people want to park there because it's free." He expressed concern about the traffic for people who are visiting the medical offices at 5 Overhill Road, saying, "they are sick and disabled."
Anita Mann, who lives at 28 Overhill Road called the proposed parking structure "obnoxious and oversized." She said, "We are concerned for the children of our neighborhood and seniors who enjoy walking. Overhill Road is narrow with a few blind spots. This will only make it more dangerous."
Dorothy Levin of 11 Overhill Road said, "We came here 40 years ago. We found the most convenient neighborhood where we could walk to the train, the bank, two small supermarkets, shoes and clothing stores. Things change every year – including the traffic. This garage is contrary to the public good."
The conversation was adjourned until the next meeting of the Planning Board on September 23, 2020.
Robyn Miller Creates Designs for These Times
Robyn display her designs for Tiny PrintsI never cease to be amazed by the talent of my neighbors in Scarsdale. No matter what the field of expertise, Scarsdalians are tops. I was recently introduced to artist and graphic designer Robyn Miller and realized that I recognized her work because I have purchased it many times over.
Among many other projects, Miller is a designer for greeting cards for Tiny Prints and Shutterfly and has designed some of their most popular and successful cards. At Scarsdale10583 we have used her designs for our holiday card for many years, not realizing that the artist lived right here!
During the COVID epidemic Miller turned her talents to designing notes and calendars appropriate to this unique time and also volunteered her work for the American Civil Liberties Union.
Meet Robyn and see her beautiful work below:
When did you first develop an interest in graphic design?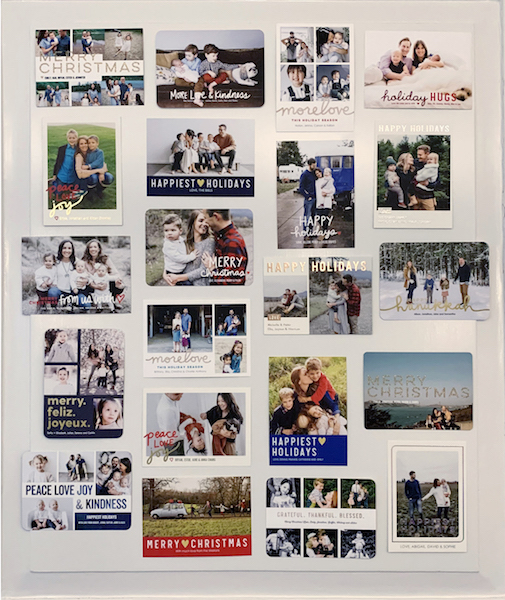 Greeting cards designed by Robyn MillerI was obsessed with colors and drawing at a very young age. I grew up with a stack of coloring books under my bed where I would spend hours upon hours drawing. It was my favorite thing to do. In high school, I had a job where I used paint pens to personalize gifts for birthdays, camp and college. I was also fortunate that my high school offered a graphic design class and found that it really merged all of my interests. I was quickly hooked!
Did you major in art and design in school - tell us about your training.
Yes. I majored in graphic design at the University of Michigan School of Art. During college, I had an internship at the National Gallery of Art in Washington DC where I worked in the education department helping create catalogues for exhibitions and designing direct mail pieces.
Tell us about your career - where did you work and what was your role?
After college, I moved from Michigan to New York and began my career designing Ranger Rick children's science books for schools. In fact, I saw some of them in my son's first grade class in Heathcote! I was always a huge fan of magazines, so after working in publishing for a few years, I made the switch to the magazine world where I worked as a designer in the Condé Nast Group and then in the promotions department of New York Magazine and as an art director at SELF where I did everything form invitations and signage for events, magazine advertorials, photo shoots and corporate presentations.
How did you get involved with Tiny Prints? What have been your most successful designs - and what elements of your work make the card a hit?
While working at SELF Magazine, I began designing birth announcements as gifts for my friends and family. I launched a line of birth announcements and party invitations and exhibited my first Stationery Show at the Javits Center in 2004. It was at the Stationery Show where I met Laura Ching, the CEO of Tiny Prints. I was one of the first designers to work with Tiny Prints and it's now been an amazing fifteen-year partnership that has grown to include Shutterfly, Inc. When I approach holiday designs, I like to think about what I would want in a card. Beyond the basic Happy Holidays and Merry Christmas, I like to think of relevant sentiments that would appeal to families. I think my most successful designs are the ones that are most relatable on topics such as love, hope and family. I like to use a combination of typography and hand-drawn type that accentuates the family photo.
Do you anticipate that the COVID crisis will impact the greeting card business? In what ways?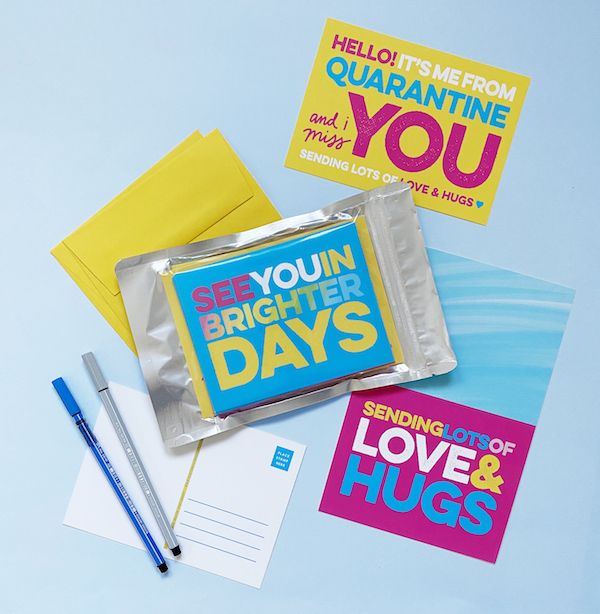 Covid related notecards

I think people want to stay connected, especially in times like these. Back in April when we were all quarantined at home, I designed some Covid-related notecards and postcards. Colorful and hopeful, the notes were designed to brighten the recipient's day. As far as holiday cards, I think people will want to share and connect now more than ever. The sentiments this year are going to be incredibly poignant given what's going on in the world right now.
What other kinds of projects do you do? Tell us about the recent work you did during the quarantine and your effort for the ACLU?
I have felt powerless with this current administration as I see one horrible thing happen after another. I feel very strongly about voting and getting the word out to register to vote. I created a VOTE t-shirt that I am selling with 100% of the profits going to the ACLU. The ACLU aides communities to defend and preserve individual rights including voter suppression, women's rights, same sex marriage and LGBTQ rights to name a few.
Vote shirts with proceeds going to the ACLUTell us about your family and why you like living in Scarsdale.

My husband Todd and I have three boys. A senior and freshman at SHS and a 4th grader at Heathcote. We really love living in Scarsdale. We've met so many nice families and it's a very welcoming community. I'm so grateful for the support, love and encouragement that I've received from this community in general and for my stationery business.
Check Robyn's work out on Instagram @robynmillerdesign or click here to visit her website.
Call of the Wild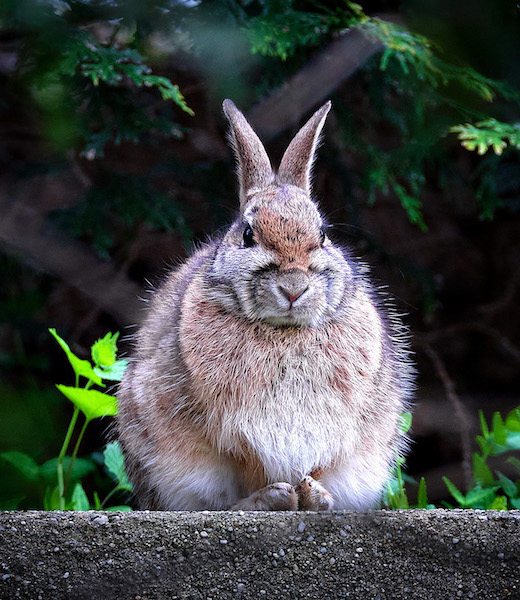 Fierce Bunny by Michael ChayesWe asked for photos of the wildlife that abounds in Scarsdale and you answered. It's amazing what residents are finding in their own backyards, on the streets and in the parks of the Village.
Hawks abound, and though many are calling them red tailed hawks, Zachary Jacobs said they are actually Rough Legged Hawks that live in Fox Meadow and are not usually here in the summer. See his photo below along with a hawk that Nancy Adler found on her balcony on Park Road and another spotted by Andrew Sereysky in Greenacres.
Photographer Michael Chayes captured a chipmunk, a goldfinch and this fierce bunny, one scary guy.
And Marjorie Engel forwarded a photo of an egret she spotted in the brook behind the high school.
On the scarier side, see below for a fox on Stratton Road, captured by Sharath Srinivas.
Keep sending your photos to scarsdalecomments@gmail.com. All shots of flora and fauna are welcome.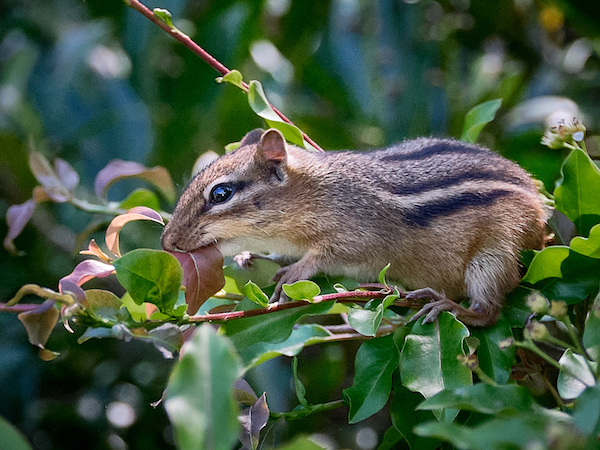 Chipmunk by Michael Chayes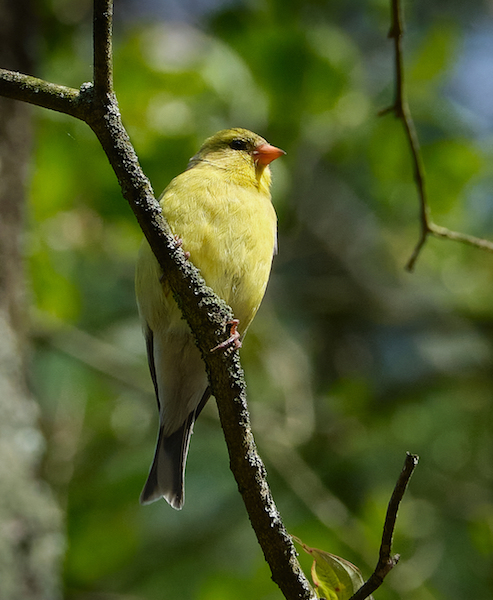 Goldfinch by Michael Chayes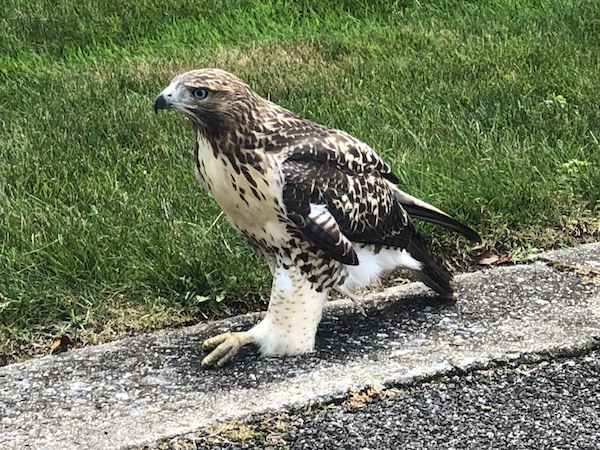 Rough Leg Hawk by Zachary Jacobs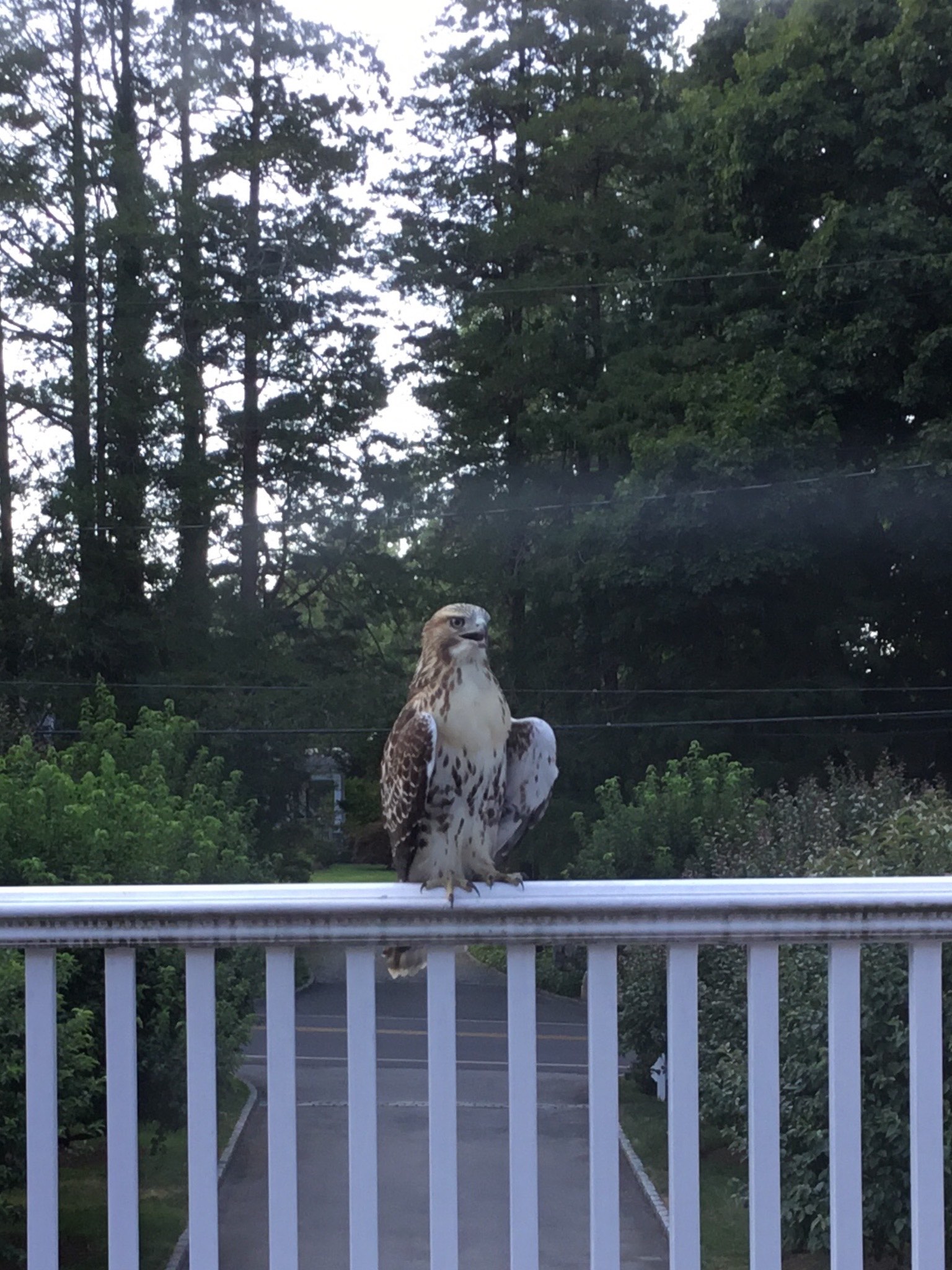 A hawk on Park Road from Nancy Adler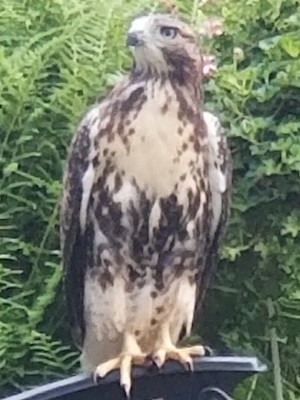 Another Hawk submitted by Andre de Greenacres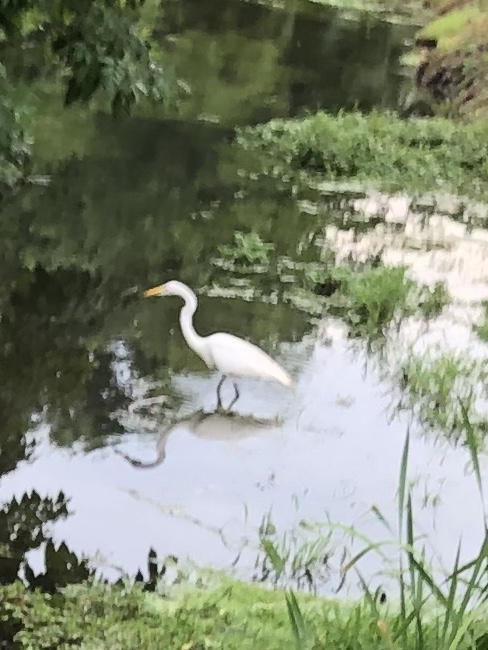 An egret at the high school submitted by Marjorie Engel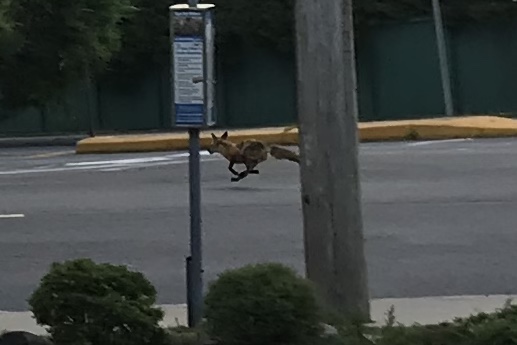 A Fox on Stratton Road by Sharath Srinivas
Over 1,000 Participate in Zoom Listening Session on Restart Plans for Scarsdale Schools
Details

Category: School News
Published:

29 July 2020

Written by

Joanne Wallenstein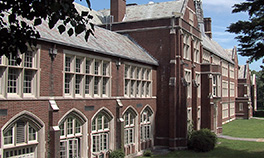 In an unprecedented outpouring of concern, 1,394 people signed on to a hastily arranged virtual "Listening Session" that was arranged by Scarsdale School Board leaders and the Restart Committee who is planning for the reopening of Scarsdale Schools in September on Tuesday night July 28.
The Zoom session was called after parents expressed concerns about a rumored plan that would assign all high school students to virtual learning with little or no in school attendance. There was so much to say that the session extended for almost five hours allowing 69 people to speak.
With the district's plan due to the state on July 31, and no firm information about what that plan would be, parents expressed outrage about secrecy, lack of transparency and community input into a plan that deeply affects parents and children in Scarsdale. Parents with high school age children expressed dismay about a scenario that would leave kids to learn at home, depriving them of social interaction, the opportunity to forge relationships with peers and teachers and to experience all that Scarsdale High School has to offer. They feared that teens who were isolated and deprived of social opportunities would be at risk for depression, substance abuse and even suicide.
Parents of younger children said that their kids needed a consistent program to learn and expressed frustration with the e-learning experience in the spring, including disparities in instruction time, inadequate interaction with teachers, unpredictability of scheduling and more.

Still others said they had decided not to send their children to school in the fall and wanted to know what the district could offer their children at home.
School Board President Pam Fuehrer said the goal of the session was to gather community input in regard to scenarios for the restart in the fall. She said, "We all share the goal to get kids in school when it is safe." In response to criticism from the community that they should have been advised of the plan prior to its submission to the state on 7/31, she said the 7/31 date is "arbitrary for local planning purposes." The district was required to submit procedures for all three scenarios to demonstrate it has done appropriate scenario planning. According to Fuehrer it is not a deadline for committing to an opening structure. The scenario may change this summer and throughout the year. For now, the committee has dismissed a scenario where all are in school full time due to the social distancing requirements. Therefore, there are considering hybrid plans which have a lot of complexity. She said that some of the details of the plan have been "leaked to the community."
Board Vice President Alison Singer said, "For those of you who may not know me well, I am the mom of a daughter with very severe autism. I have had to be her voice and her advocate every day of her life and I know, first-hand, how scary it feels when it seems like someone is in a position to make a decision or enact a policy that I think could negatively affect her. And so I understand why there is so much emotion in the community right now. When I read your email comments and see the inflammatory posts on social media, I try to remind myself that as parents, we are all coming at this from a place of love; love for our children, and fear that they could somehow be harmed. Sometimes that love and fear becomes muddled and manifest as anger, when really we all just want what's best for our children. Please know that that is also what WE want, as a board. Rational people may disagree on what's best, and tradeoffs must be made as we battle covid-19, our real enemy in all this. But please try to speak to each other, and to us tonight, with the recognition that everyone is trying to focus on how best to serve our wonderful community. We will listen that way as well.
Over the course of four hours with 69 speakers, there were many recurring themes. Speakers wanted to know why the district had not share their plan, why the community had not been engaged in the process and why there was little information shared from the committee.
Furthermore, many questioned the interpretation of the results of a survey that was sent to parents which they believe led to the wrong conclusions. For instance, the superintendent concluded that for high school students, choice in course selection and differentiation in schedule were more important than in-school attendance, which parents said was erroneous.
Many others discussed health and safety. A doctor urged the committee to engage an epidemiologist and an immunologist to advise them, and to include COVID testing in their protocols. He said, "be guided by the science." Others asked if the ventilation systems in the classrooms had been upgraded to prevent the spread of the virus which is largely airborne. And many asked why the district had ruled out the use of tents on school property since outdoor interaction is said to be safer than indoor.
Comparing Scarsdale to other peer districts, parents said they found none that were not offering some in school attendance to high school students. Parents reported that most schools are using the Hybrid AB schedule, which splits the in-school time and gives all students access. Once caller said, "Scarsdale seems to feel like the high school is too complicated and given up." Instead, several parents spoke about developing student cohort groups that remain in class together and limit exposure to one another and the teachers.
Another parent spoke about the importance of the seniors in the Class of 2021 who will apply to college soon and need a testing schedule to allow them to take standardized tests and help with the application process.
Here are excerpts from just a few of the many people who spoke.
Kim Greene-Liebowitz said "Many of us had not been given the opportunity to participate… this leads to frustration, disenfranchisement and dissatisfaction… Not enough out of the box thinking has been done." She continued, "I'd like to focus on mental health.…. The need of younger children for in person learning does not negate the needs of older children for in-person learning as well. My children are capable of logging onto a computer does not replicate the experience of school…. My children are isolated and depressed. It is difficult to form friendships with peers and relationships with teachers online. According to the Pew Research Foundation, 13% of teens experienced at least one major depressive episode in the past year. That's 3.2 million teenagers. …in prior pandemics up to 30% of children have experienced PTSD which affects the developing brain adversely. For comparison, as of July 22. 2020nthere have been 226 deaths from COVID in people 0 -14 years of age in the United States. Consider this – in 2017 there were 514 suicides in people ages 10-14 and 6,252 suicides in those ages 15-24. Keep these statistics in mind when you make your plans as depression and anxiety increase and social isolation becomes the norm we are putting our youth at incredible risk, risk that far exceeds COVID. Prevent a disaster by sending our kids back to school in the fall. It is critical to their mental health."
Philip Sanchez called "E learning a disaster for teachers and certainly for students. He said, "my kid hated it." He said, "Look at the problems we are all having with Zoom and imagine the kids dealing with it. Discussion equity, he said, "all kids matter. Reflecting on his own experience he said, "I grew up in Scarsdale and was fortunate to receive the stellar education that Scarsdale is known for. I moved back because I wanted my children to have the same education specifically at the high school level. The vast majority of people come to Scarsdale for the High School. These kids are what make Scarsdale known throughout the country. Now we have basically gone from first to worst with on line learning.' He urged the board not to "trade students against each other, that's not who we are. There has to be a better way than tossing our high school students learning out the window." He complained that there has been "zero transparency and suggested that the district adopt "A true hybrid model that would put cameras in classes and those who want e learning can do it." He ended by saying, "I'll leave you all with this. When was the last time you heard someone say I'm leaving Scarsdale because the schools are sub par but I'm hearing it now and I heard it tonight. The Board of Education and administration need to take heed...this will devastate this community."
Michelle Sterling said she "wished that the Board had sought community feedback earlier," before "the 11th hour," but said, "better late than never. I hope that you continue to seek parent feedback." She voiced support for in-school learning for SHS students and said, "If the choice, as expressed in the Board's previous email, was between (a) in-school learning in cohorts with little to no choice of classes and (b) all online learning with full choice of classes, I am 100% for option a, and so is my daughter who is a rising 9th grader."
She was "concerned that the way that we found out about the plan for all online learning for SHS students was through social media and "leaks". She said, "The Board needs to be transparent with the community. It will lead to a better outcome in the end. Conversely, not sharing the plan, and letting parents find out about it through leaks and social media, with no explanation as to the rationale for the plan or what led to it, has led to pitting parents of elementary school students versus the parents of SHS students. This is completely and unnecessarily divisive. Transparency is critical and will fend this off. There is a way to get the students and staff back safely. Step number one though is to show the reopening plan that is being filed with the state to the entire community. We are here to help and collaborate and make sure that every student is served to best degree. I urged the Board several times to please release the plan. Absolutely no information has been released about the plan for middle schoolers. SMS parents are completely in the dark about this. We are close to a month away from the start of school. When will this information be shared with us? Again, we need transparency. Also how could we give feedback as SMS parents when we have nothing to give feedback on?"
"The session's opening statement, and several district communications, have stated that the district can change things after the plan is submitted on 7/31. They've stated that the plan is not final. They are essentially asking us to trust them and the process, telling us that they can and will change things if needed. How are we supposed to have all of this trust if the district is not sharing information with us? We need transparency and we need to know what the plans are. Then the Board needs to seek parent feedback. The best results will come from having the community involved."
David Schwartz emphasized that regardless of whether instruction is in-person, remote or hybrid, it is critical that students learn the full curriculum in core subjects this year. This includes not only covering the complete set of topics, but also covering those topics at the same level and depth, and requiring that students learn the material as if they were being tested in person, especially for cumulative subjects like math and Spanish. He noted that having instruction for only 20-25 minutes twice a week for middle school core subjects was insufficient last spring. To the extent that a hybrid learning model is adopted, teaching cannot just occur twice a week, but must occur every day, whether in a live, remote or recorded-video format. He noted that some rainy-day reserve funds and budget re-allocation may be necessary, whether for air filtering, testing, additional space, physical separators, better technology or teacher training to improve e-learning. Teachers need to be fully prepared for e-learning, which may be required at some point during the year if conditions worsen. He is concerned that his daughters might not be adequately prepared for middle school and high school if the quality of learning is not improved. He recognized that teachers, our essential workers, may have to work harder this year to deliver a full education, and he is confident that those who put in extra effort to do an excellent job in these challenging circumstances will be greatly appreciated.
Melanie Bernitz said, "As a physician and public health professional working in higher education, I appreciate the incredible complexities of reopening an institution or a school district. I have two children in the High School - one entering 9th grade and one entering junior year. I concur with all of the comments shared by the many physicians and public health experts who have spoken so far. The Scarsdale plan needs to be based on evidence and science. We also have to understand, as has been shared, that we cannot prevent all COVID-19 transmission. But we can minimize it. We are in a different place now than we were in March, where we shut down on the basis of one case. We know more. We know about this virus, about how it is transmitted, and how to reduce transmission. We know how to identify cases rapidly, we can contact trace, and we can isolate and quarantine as needed. Our decisions need to be data-driven and conform with the best available public health guidance. It needs to be flexible and adaptable as the situation is changing on a daily basis.
So I will focus on one element of the plan – cohorting. I echo the concerns stated that the decision on high school resumption is complicated based on the breadth of course selection that is the hallmark of the Scarsdale High School experience. I want to point out that New York State's guidance around cohorting, which was mentioned in yesterday's communication from Mr. Hagerman, should not be a reason why high school attendance in person is not prioritized. Mr. Hagerman states "Unfortunately, the need to "cohort" would likely deny students the opportunity to choose the courses best suited to their interests and skill levels."
The state is clear that Responsible Parties should "cohort" students, to the extent practicable, to limit potential exposure to the COVID-19 virus. To the extent practicable. Not required. And clearly not practicable for high school with different course selections and levels. The state knows this, and we are not required to do this. Cohorts are important for younger students. We are not required to cohort high school students. We can bring them back to the classroom in smaller sizes, mandate physical distancing, enforce face coverings, and be able to effectively contact trace should there be an exposure. In fact, this is easiest amongst high schoolers – they understand these parameters and can follow the requirements in order to have face to face contact. Concerns around cohorting should not be the reason why high schoolers are denied the opportunity for some in person learning for the fall. As we have figured out how to bring students back to institutes of higher education across the country, we can use the same model for high schoolers. Our high schoolers do not face the same risks we are concerned about in colleges and universities, which pertain to the residential experience. In the classroom we can observe our high schoolers and monitor their behavior to ensure they are complying with the non-pharmaceutical interventions that prevent transmission of COVID-19.
As many others have mentioned, there are incredible negative psychological impacts to eliminating any opportunity for face to face contact for our high schoolers in this very significant developmental stage of their lives. Risks pertaining to anxiety, depression, anxiety, suicidality, alcoholism and drug abuse. These will have lifelong negative impacts. I urge you to consider all sorts of creative options to ensure all our children have equal access to some element of in person education for the fall."
Jordan Copeland said, "I have kids entering 12th grade, 9th grade out of district, and 6th grade. This hasn't been easy. All of my kids struggled with remote learning, either academically, socially, emotionally, or all of the above. But what I'd like to address are the relative health risks to the entire community.
A friend asked me, as a former teacher, how would you feel about going back into the classroom now? I said teaching elementary I'd be nervous, but you can somewhat control the situation. The kids come in by bus or car, then you have 10-12 kids in one classroom, with the same teacher all day. Kids are isolated into smaller groups.
As far as high school though, my response was "no way." First, as a teacher I'd be seeing 4 or 5 different groups of kids each day. There's much greater exposure there alone, and that's not taking into account kids switching classes in the halls, or taking different classes from each other and intermixing.
But even if you could minimize the intermixing in school and really lock things down, I worry about bringing high schoolers to school because you can't control them when they leave, and some of them don't have the best judgment. After they are dismissed, some of them will congregate unsafely, and some of them will leave together to socialize. Just being around town, I have not always been comforted with the precautions taken by some of Scarsdale's teenagers when they are socializing. As an example, I was startled to see, in the July 2 special section of the Inquirer, a photo showing 5 unmasked graduates in their caps and gowns closely posing for a selfie together.
So I'm not saying that teenagers need school as an excuse to get together. But if you have a lot of social teenagers, and you routinely gather them in one place, and then dismiss them, I worry that it increases the COVID risk to the teachers and to entire community, which will either delay the time when we can fully open up the schools for all of our students, or could lead to an outbreak that causes everyone to have to revert to 100% remote learning. So if high schoolers do come back to in person learning, they need to know that their own responsibility is key to community health progressing in the right direction."
Roger Neustadt said, "I don't envy the position of the board and the restart committee. Whatever you come up with will not be perfect. We should all be ready to compromise. Would we be having this forum if we didn't see all this vitriol on Facebook? Where would be without a leak? What does it say if we're relying on a leak to get our information? I have a question about the make up of the Restart Committee. We seem to be in the same position we were when we formed the safety committee and are not taking advantage of the experts in our community. Choosing PTA members to serve on these boards does not reflect the best our community has to offer. We don't have to hire experts – we have them in our community. We are all operating on rumor. That is a significant weakness when that was not necessary. Is the forum that is scheduled going to be a two-way conversation? We want answers to our questions and we want follow-up questions. Please allow us to ask questions that are not pre-screened."
Harry Wilson said, "The sequencing and rollout of the potential plan amounted to a massive unforced error by the administration. It is critically important for the community at large to hear draft plans before they are submitted to the state so that those plans can reflect comments from parents, taxpayers and teachers. Any hybrid plan must include in-person instruction for all grade levels. Yes, there are challenges, but it is essential to all grade levels, and our hard work to get to our currently very low incidence rate affords us the opportunity and responsibility to provide at least some in-person instruction to all grade levels. I specifically noted that I would feel differently if incidence rates were much higher, and I was totally supportive of the shutdown in March for that reason. But we have made progress, and we should build on that progress, thoughtfully, with a plan that provides in-person instruction for all students. I noted I favored the Hybrid A/B model as the "least bad" option.
Wilson continued, "We recognize there are extraordinary challenges and these are difficult times. However, our overall District game plan must be a solutions-based approach to overcoming these challenges, not simply concluding it is too difficult, providing less access to certain students or grades and creating strife within the community by inadvertently pitting one group against another.
In keeping with the "solutions-based approach" theme, some ideas:
Temporary classrooms, including outdoor tents. While we recognize state regulations would not allow for this today, state regulations would also now allow for the use of the Javits Center as a makeshift hospital! We had a medical emergency, so we made exceptions that were the right answer for patients. Similarly, we must ask the state for a waiver for tent- or trailer-based classrooms for at least September/October/November while we consider solutions for colder weather.
We need metrics by which to assess changes. For example, in considering an all-virtual high school: if we are not prepared to return to in-person instruction for the high school today, with very low rates of incidence and substantial improvements in treatments and therapeutics, when would we be? What are the science-based, data-driven metrics we will use to assess a return? And how are we considering proper protocols (masks, distancing, hygiene, one-way hallways, etc.) in managing to those metrics?"
Alexandra McCarthy, a rising junior at the high school said, "I know for a fact that most of my peers have not been distancing. I would not feel comfortable going back into the school unless precautions are taken. It's not going to go back to normal. We have to prepare to adjust and create a new normal and think about how things will be. We have a big reputation and we have smart students. While we are not known for our athletics it's a big component. I look forward to having an athletic season. There is also mental health to address. Our main priority should be physical safety for everyone. There should be more creative ideas presented. Where are the people who say this is what we are going to do to fix it. We are all in this together. There is not one person who is immune. As a community we could form a stronger bond."
Steve Pass said, …"Dr. Hagerman has said that at this time, outdoor classrooms were not being considered due to various issues ranging from safety and security to electricity and weather. Basically what he has said is that they are not being considered because there are risks involved with outdoor classrooms. I agree -- however there are currently also risks, big risks, of being indoors with other people for extended periods. so the question really shouldn't be whether outdoor classrooms are totally safe, or totally great, but given the unique circumstance we are in -- whether for the time being they are better or as close to as good as indoor spaces. Outdoor classrooms may not facilitate an increase in the number of students that can attend school at a given time, but they could be used throughout the day to keep more kids outdoors where virus transmission is apparently less likely. So with that in mind, if we can agree that the risk indoors outweighs the risk of being in an outdoor classroom, and it is simply NYS education department regulations preventing us from creating them, we should lobby the state for temporary waivers.
Second, with social distancing requirements, a limiting factor in the number of students who are able to attend in person classes at any given time is the physical plant of the buildings. In a standard school week, the buildings are being used only 5 days a week between approximately 8-3pm. Evenings and weekends the buildings are completely empty. I encourage the administration to research, and discuss with families and teachers the feasibility of how we could use this time, including the weekends, to make as much use of our buildings or campuses as possible. Additionally, as another speaker mentioned, the possiblity of using the many houses of worship in town should be explored.
Third I am hearing a lot of discussion here about what other districts are planning. The claim is that "the other districts have figured out a way to do it." …. Their plans may end up being terrible. They may shut down in week one. So while we should definitely look at other districts' plans for ideas, claiming that neighboring districts have successfully figured out a way to do anything is not accurate.
Fourth, regarding providing an option to families who elect to keep their children home, my understanding is that that is not currently on the table because we do not have the staff or resources to provide remote learning to those that opt out of in person learning. This is not acceptable. Maybe Scarsdale alone doesn't have the resources to provide both in person and fully remote options, but online learning may be more scalable than in-person and perhaps partnering with 2-3 neighboring or even distant school districts and pooling resources could be a solution.
Last, I hope the administration is working very hard to massively improve the remote experience we all had last spring, since almost inevitably, all students in all grades will be back at it at some point next year."
Liz Hoexter of Sheldrake Road said that the district should not cherry pick which students can take advantage of an in class experience. She said, "We need this for all Scarsdale children." She continued, "We sent a petition around pleading for transparency. A petition and Facebook groups are not the proper way to communicate with a community. The lack of transparency is why there is this division. There was a tsunami of social media posts. If you look at NYS reopening guidelines, the two salient points are page 8 – all plans should be clearly communicated. We are here three days before the submission deadline – and we don't have a plan. Page 75-76 says that equity and access must be a priority. Equity for all students. Personally I can't emphasize enough how much SHS and its excellence is the bedrock for a positive college experience. It's not just the coursework, it's that in person interaction that students have with their teachers and deans that is critical. Our high school students carry the mantel of the SHS education. We have one shot to get this right and it is right now. We have the intellectual capacity to get this right so let's do this now."
Linda Cavalier of Nelson Road said we have two children who have chronic illness and are high risk. What will the district provide for children who are high risk and should not be in school. I hope there is an offering for kids who are ill and we are terrified to send back to school.
Cheryl Felton said she was "disappointed when I saw the email about the breadth of the curriculum rather than a discussion of the core curriculum. We could form cohorts for math science and language – the teachers could move and the same kids could stay together. Put everything else online if that's necessary. A full school day online seems deadly. A full day is brutal. I think we can form those groupings.
Sharon Higgins said, "I learned a lot for all of you. I favor a safe hybrid plan for some in person learning for all students. Education is to make students better citizens. We can teach mask wearing, hand washing – a vital lesson in good citizenship and translates to other experiences.
Suzanne Forester said she has a child who is entering kindergarten at Greenacres and is being treated for leukemia. She said, "I implore the board to follow the science
We need to keep the students safe and be in person as much as we can. Being safe should be the priority."
Sarah Bell Wechsler said, "My number one priority is the health and safety of the students and the faculty. I have two kids in elementary school. School for the youngest kids is constant coughing, sneezing, with masks on and off. We need to be able to have a choice. Let families keep at risk children at home. We need to improve e-Learning in a creative way. Teachers need to be on the screen with the children every day. My child had one hour a week – as a third grader. The most important thing is leadership – the teacher needs to appear. My daughter did not have one person to person session with her teacher."
Jennifer Teigman said, "This is going to affect us long term. My daughter's teacher dedicated all her time to e-learning – but it was a disaster. My husband and I had to teach her to read. If we don't teach them the basics the high school won't be excellent. For people who can't send their kids, there needs to be a remote option.
Lots of people are holding their kids back because they don't know what the plan is for next year.
Valerie Phillips worked for the city of New York during September 11 and saw parallels between then and now. She said, "When we get a presentation of the final plan it would be great if someone could give us a list of what was considered and why it was not feasible…. Explain your solution and how you got there – and why some of the suggestions made would not work. I doubt that everyone will be happy. Tell us why you reached the conclusion you did."
Commenting on the session Diane Greenwald said the following in a letter to the Superintendent, BOE and the SHS Principal:
"...I am an attentive participant in school and village happenings, and I learned so much tonight from so many voices. If this happened more often, it wouldn't be this long. Unlike the isolation of a survey and the free-wheeling skreeds in social media, this forum has been respectful, informative, has built empathy, and offered good ideas and resources. But I have now spoken to many of tonight's speakers and while all felt glad to have spoken, they each said the same thing…"we'll see." Trust needs to be earned.
Again, I encourage the Board to exercise greater oversight and to encourage the administration to move forward with deeper trust in the parent body. We are your partners, your constituents, your clients, your funders, and the guardians of the district and the children we all serve and love and place all our hopes for a better world." (Read her entire letter here.)
Following the meeting, the district got an extension from the state to file the plan by August 7. The district will release the plan to the community in a webinar on August 5 and hold a public forum on August 6 from 1:00 – 2:30 pm via Zoom.
SHS Student Launches International Teen News Site
Details

Category: On Our Radar
Published:

30 July 2020

Written by

Joanne Wallenstein

SHS rising senior Jonah Miller has had the opportunity to meet students from around the country and around the world giving him the chance to understand other people's perspectives and experiences. His travels were the inspiration for the creation of a platform where teenagers have a place to voice their views so other teens around the world can learn.
Six months ago, Jonah launched a global newspaper written by teenagers for teenagers called Street View News that is now read in over sixty-six countries and forty-seven states. The newspaper provides teenagers, exclusively, with a voice to share their unique, "on the ground" views with the hope of bridging the cultural divide that unfortunately exists today.
We interviewed Miller about Street View News and asked him to share a surprising post about accusations of racism close to home which you can read below: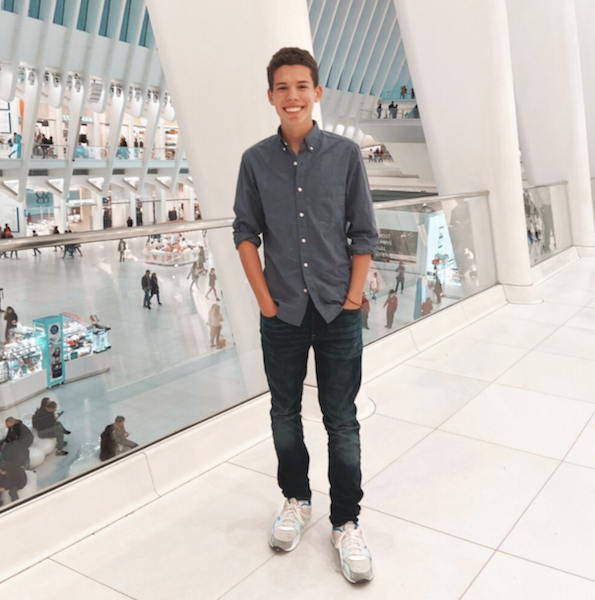 Jonah MillerPlease describe Street View News and tell us about how you launched it, why and when.
Over the last several years, I have spent a lot of time with people from all over the world through various summer programs. Meeting people from countries I previously knew very little about has definitely expanded my worldview, strengthening my unique perspective on the world. I now spend hours reading about other countries' politics and people in addition to talking with my international friends about their lives and geopolitical issues, broadening my perspective far outside of my bubble. Last summer, I asked some of these friends if they wanted to be the preliminary writers for a newspaper I wanted to create, later titled Street View News.
Overwhelmingly and enthusiastically, they agreed to start writing. As the founder and editor-in-chief, I have published over fifty articles online on topics ranging from the need for Gun Control in Alabama (written by a student in Birmingham, Alabama) and White Supremacy in Asia (written by a student in Singapore) to Honduras's Fight During a Pandemic (written by a student in Tegucigalpa, Honduras). Receiving over 12,500 website views in total from over sixty countries and 47 states, Street View News has become a paper read across the entire world. Building relationships with dozens of my peers, each with distinct perspectives, has changed me as a person, making me culturally aware and knowledgeable. The goal of the paper is different than that of other news outlets: Street View News strives to educate rather than summarize. By providing a platform for students around the world to voice their experiences in the political world, the paper is able to educate the public from a personal, authentic, and on-the-ground perspective. Moreover, teenage voices are often missing from the global discussion of politics, and I knew that teenagers would be more inclined to learning about geopolitical topics if it came from their international peers rather than an adult. The first articles were posted in December 2019, and since then, articles have been published every two weeks on the website.

How do you deal with language issues and make the articles accessible to all?

Whenever a writer from outside the United States is interested in writing an article, I always ask whether they would rather write it in English or their native language, whichever would make it more accessible to their community and desired audience. More often than not, the writer, wherever they might live, chooses to write their article in English. There is, however, a Spanish section of the website in which all of the articles are written in Spanish from writers in Ecuador and Honduras. Moving forward, I would like to expand the website to include other languages.

What have been some of the surprising outcomes of the project?

Honestly, the most surprising outcome of this project is how eager students, some of whom with which I have no connections, are to write for the paper. Through the "contact" page on the website, I receive requests to write from people around the globe every day, which makes me feel as though I accomplished something big. One of my original goals was to bridge the cultural divide between kids from around the world, and while there is still much everyone can do to be more inclusive and open to other cultures, customs, and perspectives, Street View News has reached parts of the world and introduced foreign concepts and ideals I could have only dreamed of when starting this project.

How has the site been impacted by the COVID crisis?

For Street View News, everything is done virtually. I curate the articles over email, send updates over group chats on Instagram, advertise new pieces on various social media accounts, and, of course, publish the articles online. If anything, the COVID crisis has provided material writers often choose to explore. Since every city, state, and country has dealt with COVID-19 differently, writers are able to speak to what their respective government has done to regulate and quash the virus where they live. From individual articles such as "The Silent Revolution: Philippines Social Media During COVID-19" and "Un Grito de Ayuda: Honduras Lucha Durante Una Pandemia" ("A Cry For Help: Honduras's Fight During a Pandemic"), which is written in Spanish, to the compilation of articles that is "PROJECT: COVID-19," tracking experiences with COVID-19 across the US, Europe, and Asia, Street View News has published many articles regarding COVID-19, garnering the topic its own sub-section on the website. More Coronavirus-related articles will be published within the next few weeks, as well.

Do you plan to continue it when school starts next year?

Yes! I absolutely plan to continue running Street View News next year and after I graduate. Being the editor-in-chief of a global publication has taught me so much about leadership, organizing, and writing; the paper has truly opened my eyes to the world around me, connected me with new people from around the world, and introduced me to topics I would otherwise not have known much about. Moreover, it's refreshing and comforting to hear teenage voices talk about their personal experiences.

How can people access it? Do you send out emails as well?

The website can be accessed via its URL, which is www.streeviewnews.com. While at the moment I do not send out emails, both the writers and I advertise heavily on Instagram. Street View News has its own account, @streetview.news (www.instagram.com/streetview.news).
Here is a sample post from Scarsdale's Dani Paz:
Dani PazSilenced and Dismissed: My Fight Against Racism
by Dani Paz

Living in an affluent New York City suburb with minimal ethnic and socioeconomic diversity, I didn't really know who I was growing up. As someone born in Brazil to Bolivian parents, it was certainly difficult attending school in a predominately white town, where racism presents itself early.
At a young age, I became ashamed of being Latina. I recall having a friend over who told me she felt uncomfortable when I spoke Spanish to my mother. Soon after, I started to conceal my ethnic features to fit in with my classmates, including even trying to make my lips smaller. Until my freshman year in high school, I did everything in my power to appear American. I even lied about liking Pumpkin Spice Lattes.
After Trump won the 2016 election, I began to embrace my ethnic culture. As one of the only Latinas in my school, I realized it was up to me to champion the Latinx community, otherwise, no one would. When I revealed myself as a proud Latina, however, many of my classmates manifested their true racist and xenophobic colors upon realizing I am not American.
Making sure I always felt unwelcomed and uncomfortable, the few Trump supporters in my seemingly Democratic town called me every slur in the book. The worst part, however, is how alone I constantly felt. Neither my school's administration nor my friends defended me. I was told by people, whom I thought were my friends, that I needed to learn how to take a joke. The blatant racists at my school received absolutely no consequences, neither socially nor academically. The more I spoke out, the more people turned against me. Someone even threatened to fight me for standing up for myself, and the school, of course, did nothing. Ironically, the school's role as a bystander is the opposite of what the district heavily promotes in its anti-bullying campaigns.
There are multitudes of options that the school could have taken to not only protect me but also to end the cyclical nature of racism. The easiest option, of course, is simply listening. Learning about racism must start when we are young. If children of color are never too young to experience racism, white kids are never too young to learn about it. The school needs to start hiring more teachers of color, incorporating books with characters of all races, ethnicities, and backgrounds into the curriculum, and educating us on history that has not been white-washed by years of prejudice, helping students subconsciously learn that everyone is beautiful, regardless of what they look like. Uncomfortable conversations are more than necessary if we want constructive change. Additionally, the school could easily have given consequences to the racists which I reported time and time again. By not receiving any form of punishment, they are implicitly told that they can say anything, no matter how hurtful and ignorant, without consequences. In cases with racists, consequences should not equate to a call home. Perhaps, mandatory seminars and permanent marks on their records could help the racists learn about the hate they radiate. In addition, schools must create an environment where such behavior is condemned academically and students are alienated socially. Schools often believe they succeed in supporting the "Circle of Friends," when so much more needs to be done to have it be embedded in the school fabric.
I understand that, as students, it can be difficult to stand up to our peers, especially to those who are considered more "popular". As we get older, however, I hope we all realize that poor behavior should rule someone out from being "popular," which is the kind of culture that we need to aspire to. It is critical for friends and classmates to realize that they need to speak up when others encounter racism and xenophobia. If you are silent, you are empowering the bigots and oppressors. Don't be afraid to defend others and make these individuals feel outcasted and accountable. It is the only way they will stop!
Racist teenagers become racist adults who raise racist kids. We have to stop protecting them and start defending people of color. How? Education, accountability, listening, and support is the only way we can move forward as a society. We have to do better, plain and simple. I really do hope there is change. We so desperately need it. Ultimately, it starts with self-reflection. Let's see if this particular community - and many others - can progress and truly institute what needs to be done.