Update on Serious Accident on Brewster Road: Occupants Thrown from Car
Details

Category: Today's News
Published:

12 January 2021

Written by

Joanne Wallenstein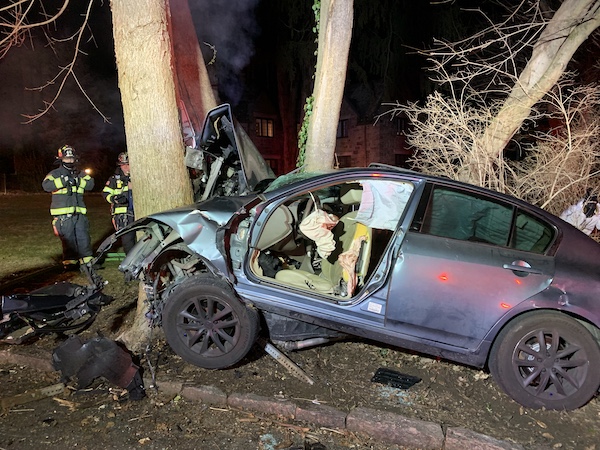 (Updated January 13, 2021)

This in from the Scarsdale Police:
On January 11, 2020 at approximately 6:53 PM, the Scarsdale Police Department responded to a report of a serious automobile accident on Brewster Road just north of Olmsted Road involving a single vehicle that struck a tree. Upon arrival of the police, it appeared that two occupants were ejected. The Scarsdale Fire Department removed the other three occupants from the vehicle--
The five occupants of the vehicle were treated for various injuries at the scene by paramedics from the Scarsdale Volunteer Ambulance Corps with assistance from Eastchester, Harrison, and Larchmont Volunteer Ambulance Corps and were immediately transported to the Westchester Medical Center for treatment. At this time, their conditions are unknown, however, according to police, there were no fatalities.
On January 13, Police reported that the five occupants from the car included the following:
-The driver is a 17 year-old male from Elmsford
-The occupants are an 18 year-old male and a 19 year old male from Elmsford, an 18 year old female from Scarsdale and a 17 year old female from White Plains.

As of January 13, 2021 there was no update on their conditions.
The car was not registered to a Scarsdale address.
The Scarsdale Police Department was assisted at the accident scene by the Westchester County Police Accident Investigation Unit. The accident is currently under investigation. No other details are available at this time. Updated information will be released as the investigation progresses.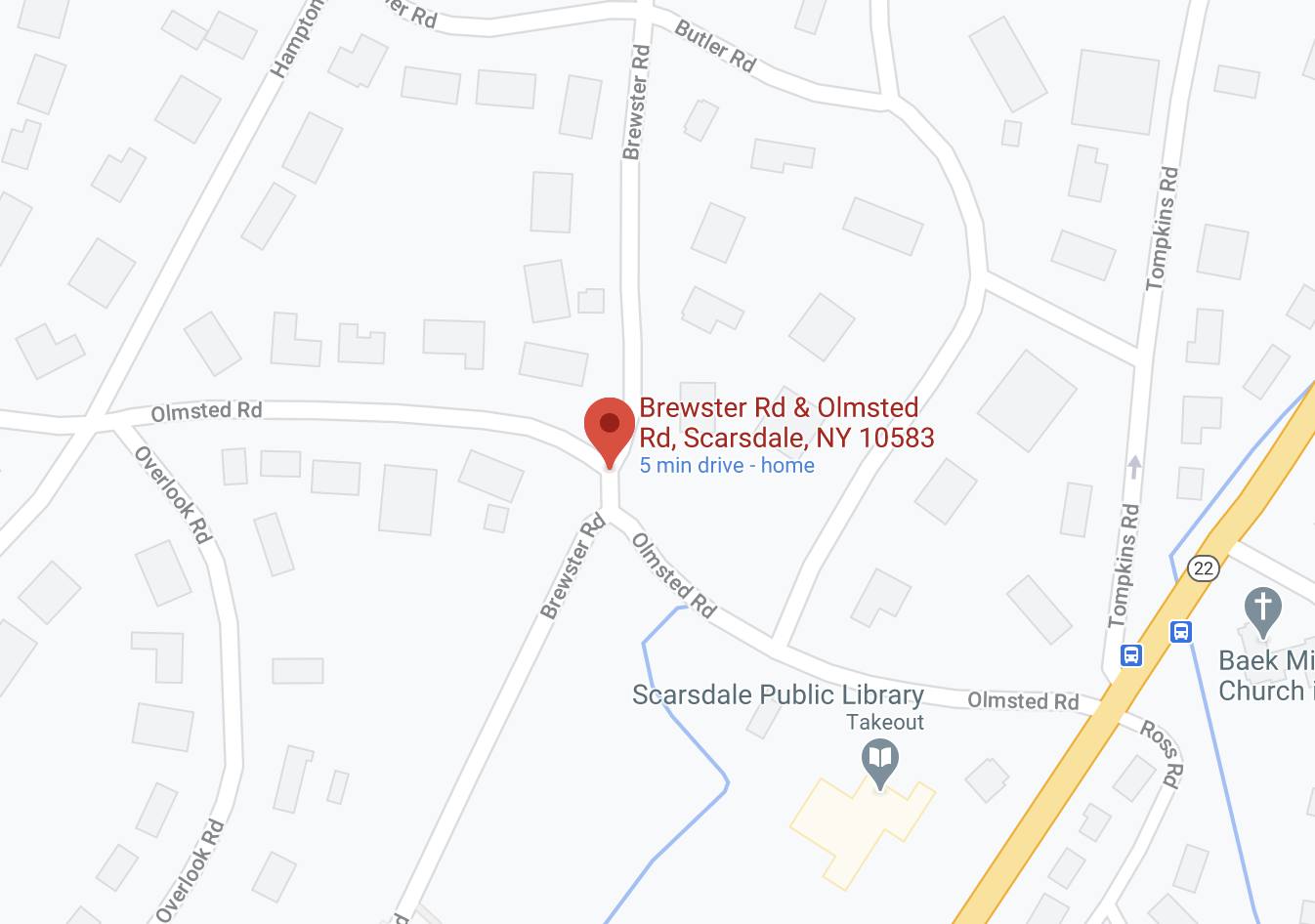 Reflections From Quarantined Students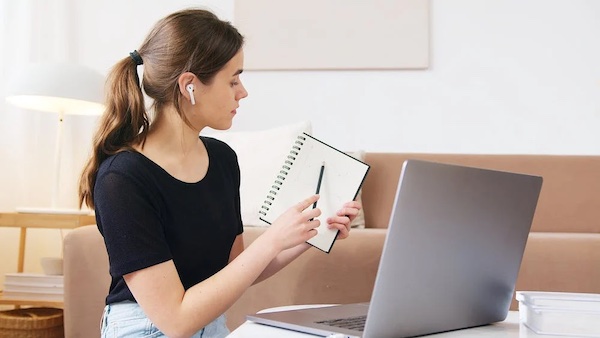 Before the COVID pandemic, those who had unexcused school absences were branded "truants." This year school officials found themselves ordering students to stay home. Following regulations from the NYS Department of Health, school administrators had to manage a complex series of quarantines, for hundreds of students, after they were in close proximity to classmates, teachers and school staff who tested positive for the virus.
What was the experience like for Scarsdale High School students who were stuck at home for fourteen days? Here is what we learned from speaking to students who found themselves marooned in their bedrooms.
Some students became reflective, saying that the quarantine caused them to slow down, think and explore new passions. But others found it a challenging test of their own strength. Despite some consistent trends, quarantine has been a unique experience for each resident.
One downside of quarantine is that it is hard to be active. Students who are accustomed to going to gym class, sports practices and navigating long hallways had to work to incorporate exercise into their lives. "My lifestyle includes much less exercise than before. I've had to force myself to walk around or do a home workout, and even then I realize that my fitness level has gone down by a lot," reflected Lydia Jin '22. As many do not feel comfortable going to gyms and it's too cold to exercise outside, they found it tough to stay in shape and had to be creative. "I've tried to pick up new hobbies like biking to exercise. Because I have an indoor bike, I can still find exercises to do at home," commented Ethan Hersh'22.
Kids also had to watch what they ate. "To compensate for less exercise, I've started eating more mindfully so it's somewhat balanced," added Jin '22. Others appreciate that quarantine has allowed them time to prepare healthy meals. "I also find myself making way more homemade food instead of going out to eat," added Madison Lee '22.
Quarantine prevented students from socializing with friends and extended family. "A pro of quarantine is that I can be with my family more, but I cannot see my grandparents, cousins, and friends as often," mentioned Hersh '22. At the same, however, this allowed more time for self-improvement and discovering new passions. "When coronavirus began spreading, I was halfway through my sophomore year, so there was not much going on in school. That meant I could spend more time on hobbies such as creating music. I also tried new things like baking and painting," reflected Jin '22.
The most difficult situations arose when a family member had to quarantine from others within the household to avoid exposing them. After a student tested positive for the virus during a PSAT exam, many Scarsdale students had to quarantine away from their families while remaining in the same house. "Since [my quarantine] was in the beginning of the year, I definitely took advantage of the fact that the weather was still nice and I sat outside wearing a mask with my family for meals. We [also] facetimed from separate rooms," added commented Ava Londa '22.
Accompanying all the downsides of quarantine, there has been some distinct benefits. For example, quarantine has allowed individuals to reflect on their lives and prioritize their well-being. "Before quarantine, I was putting a lot of pressure on myself. Then once quarantine started, it gave me time to reconsider how I was treating myself and I focused on self-care, exercising daily, eating healthier," mentioned Latzman '22. "By utilizing social media and my trusty phone... I have made more solid friendships [as] I only interact with people I actually want to, instead of with people I pass by at school who...I do not necessarily know," added Jin '22.
Within the jumble of benefits and drawbacks that quarantine posed, it certainly taught us all several lessons. "What I took away from all this is that you really have to appreciate everything in life. Now I do not think twice about going to school five days a week or walking with friends to the Village after school. Quarantine showed me that I will never again overlook the smaller things that brightened my day," concluded Latzman '22.
This article was written by SHS Junior Sydney Piccoli, who was recently named Editor-in-Chief of the SHS Magazine.
Michelle Lichtenberg to Receive the 2021 Scarsdale Bowl
Details

Category: On Our Radar
Published:

12 January 2021

Written by

Joanne Wallenstein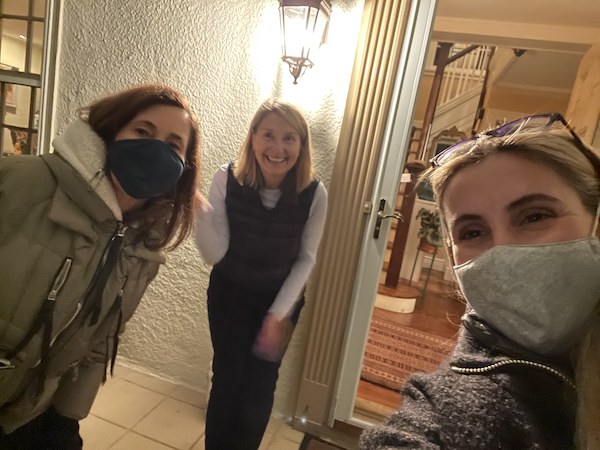 (This note was sent to Scarsdale10583 from the Scarsdale 2021 Bowl Committee)
Michelle Lichtenberg, an extraordinary Scarsdale resident with decades of dedication to Scarsdale volunteerism, will be the 2021 recipient of the community's highest award: the Scarsdale Bowl, which has been awarded annually since 1943 to "one who has given unselfishly of time, energy, and effort to the civic welfare of the community."
The Bowl Committee, a diverse group of 15 community volunteers, selects the recipient after reviewing many worthy candidates who are nominated annually by the community. This past Sunday evening, the 2021 Bowl Committee voted to honor Ms. Lichtenberg. Afterwards, Bowl Committee Chair Nancy Michaels and Secretary/Treasurer Abby Sroka surprised her in person with the news, to which a shocked Ms. Lichtenberg responded with characteristic modesty, "I am honored and overwhelmed." Then she added, demonstrating her reliable sense of humor: "and a little terrified!"
Reflecting on the significance of the Bowl Award, the honoree emphasized her gratitude to the many Scarsdale volunteers she had met and worked with along the way, and who contribute to the dynamic community that is Scarsdale. She expressed her heartfelt thanks, saying that "one of the sweet things about living here is the spirit of volunteerism, and all that can be accomplished together, especially in light of the acts we have witnessed recently," said Ms. Lichtenberg. "We have to hold on to these things, or the world gets too dark."
"I am so proud to chair the Scarsdale Bowl Committee as we select such an outstanding honoree," said Nancy Michaels. "Michelle is devoted to the Scarsdale community, volunteering her time and energy to numerous and varied organizations, always with her wonderful sense of humor, smile, and thoughtfulness. She is eager to bring people in, and to connect them with the issues or people that would strike a chord. Michelle hasn't just served on multiple boards and committees in town--she pushes for change that makes for a better Scarsdale, and she gets results."
Ms. Lichtenberg began her volunteer work in Scarsdale at the schools with a series of PTA leadership roles at Greenacres, the Scarsdale Middle School, and at the High School. Under her leadership in 2003, the High School PTA tamped down pre-prom parties where kids would often get intoxicated, and instead instituted the now-beloved Red Carpet tradition, where students gather at SHS with their families and community members to take photos and board waiting buses.
Since then, Ms. Lichtenberg has led the Scarsdale League of Women Voters, been a member of the Scarsdale School Board Nominating Committee, co-chaired the Scarsdale Task Force on Drugs and Alcohol, and been an active member of the Friends of Scarsdale Parks, Scarsdale-Edgemont Family Counseling, and the Scarsdale Forum. She has also chaired the Scarsdale Procedure Committee, which administers the annual non-partisan elections in town, as well as the Council on Human Relations. Perhaps most significantly, in recent years, Ms. Lichtenberg, a former Scarsdale Public Library Trustee and President, has been a major force in the reimagining of the Library, playing a crucial role in the fundraising effort, serving on the Capital Campaign and Major Gifts committees, while also participating enthusiastically as a member of the Friends of the Scarsdale Library Board. "Michelle's unwavering commitment to seeing the project through to fruition, along with her ability to build teams and provide support, was remarkable and will have a lasting impact on this community for generations," says Dara Gruenberg, who co-chaired the Library's capital campaign.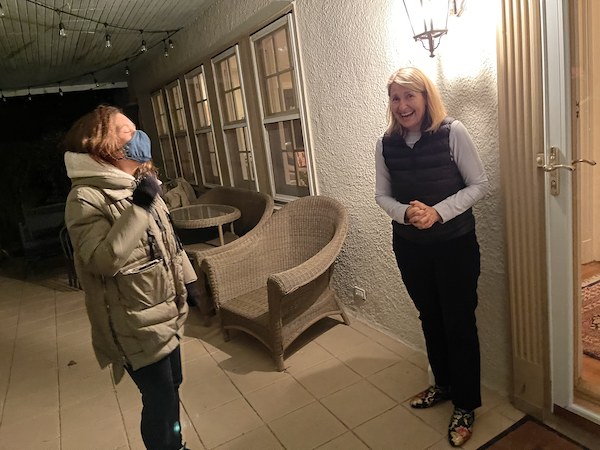 Nancy Michaels and Michelle Lichtenberg
As if that's not enough, Ms. Lichtenberg is a member of the Greenacres Association, has been a Scarsdale Foundation Trustee since 2017, a STEP board member since 2009, and served on the Scarsdale Citizens Nominating Committee, where she is currently on the Procedure Committee. Also a board member of the Scarsdale Adult School since 2015, and an active volunteer at White Plains Hospital, Ms. Lichtenberg normally visits critically ill patients in the hospital's cancer center on a weekly basis, something that is not permitted currently due to Covid, and is working toward her accreditation in Healing Touch therapy.
A new grandmother, Ms. Lichtenberg delights in her family. Her sons Andrew and Alec both graduated from Scarsdale High School. Andrew, an attorney, his wife Michelle, and their baby daughter, Lila, live in Brooklyn, and Alec, a teacher, lives in Queens with his partner Natasha. Michelle relishes weekly trips to Brooklyn to hang out with Lila, loves to travel to far-flung places (during non-Covid times), and enjoys bike rides with her husband Frank, who is a Columbia Business School professor. On any given Sunday, they all might be found on the Lichtenbergs' front porch taking part in a family drum circle.
Since the traditional celebratory dinner is not possible given the pandemic, Ms. Lichtenberg will be honored at a small private outdoor reception this spring. Assuming the current health crisis has passed, the Scarsdale Foundation Bowl Dinner will be back, bigger than ever, in 2022. On April 28, 2022--please save that date!--we hope to gather in force to raise a glass to the spirit of volunteerism in Scarsdale by honoring not only Ms. Lichtenberg, but also 2020 Bowl recipients BK Munguia and Jon Mark, as well as spotlighting the future 2022 Bowl recipient. The entire community will be invited to come out to celebrate on that special evening! Hopefully we will have an unmasked ball!
(Pictured at top) Bowl Committee Chair Nancy Michaels, 2021 Scarsdale Bowl Honoree Michelle Lichtenberg, Bowl Committee Secretary/Treasurer Abby Sroka
Latimer Reports 6,459 Vaccinated But Shortages Hamper Process
Details

Category: Around Town
Published:

20 January 2021

Written by

Sammy Silberberg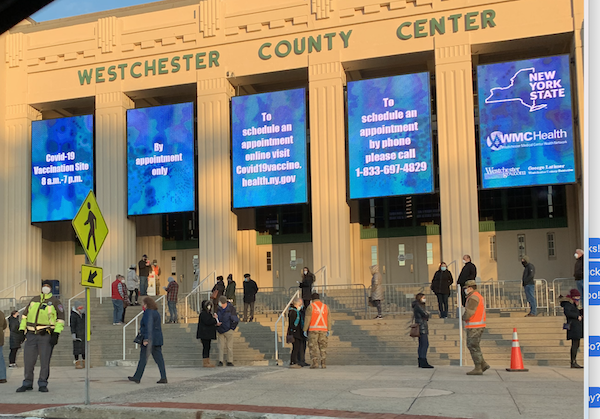 Westchester County Center is the largest vaccine distribution center in the county.As Westchester County begins vaccinating its residents, many are finally seeing the light at the end of the Covid-19 tunnel. On January 19, 2021, Westchester County Executive George Latimer held a live conference to brief the public on the state of the Covid-19 pandemic in Westchester. The first topic discussed was the status of vaccinations and the second was the number of positive Covid-19 cases and hospitalizations in the county.
The Vaccine
New York State is currently in the early stages of vaccine distribution. On Wednesday, January 13, 2021, the Westchester County Center opened as the largest vaccine distribution center in the county. The building was originally transformed from a sports venue into an antibody testing site, and it now serves as a major vaccine operation that has vaccinated 6,459 individuals in under a week. This site will operate seven days a week until every Westchester resident is vaccinated. Additionally, there are other smaller vaccination locations such as the White Plains County Health Clinic, which has vaccinated 1,980 people to date. The county is hoping to hit 10,000 total vaccinations by the end of this week.
New York is currently in stage 1A/1B of the vaccination process, meaning that all frontline workers, healthcare workers, first responders, individuals over 65, and individuals with a compromised immune system are eligible to sign up for a vaccine appointment. You can find out if you're eligible HERE.
Shortage
While New York State was originally promised 300,000 vaccine doses per week from the federal government, this figure has dropped in recent days as the government does not have an adequate supply of the vaccine. As a result of this shortage, many residents are unable to make appointments despite being eligible for the vaccine. As more doses become available, appointment slots will open up for individuals hoping to be inoculated. Residents of New York State can contact the Covid-19 Hotline at 1-833-NYS-4-VAX (1-833-697-4892) for questions regarding the vaccine and how to sign up for an appointment.
Safety
Country Executive Latimer then addressed some of the concerns many residents have over the efficacy and safety of the vaccine. Because the current demand for the vaccine is so high, the county has yet to officially address the population of people who are skeptical about getting the shot. During the conference, Mr. Latimer showed a video featuring Dr. Dial Hewlett, the Medical Director for the Division of Disease Control for the Westchester County Department of Health. Dr. Hewlett discussed his own experience receiving the vaccine, and the importance of mass inoculation to protect the most vulnerable in our society from this virus.
Next, Mr. Latimer addressed the concerns over the new U.K. variant of Covid-19. While the strain is a more communicable form of the virus, it has not been determined to be more dangerous or fatal than the original strains. He confirmed that a Northern Westchester resident tested positive for this Covid-19 variant and that thorough contact tracing is being done for this case to limit the spread of the virus. Mr. Latimer assured the public that although this mutation may seem alarming, Westchester County is prepared to manage this new challenge.
Assistance
Ken Jenkins, the Deputy County Executive, then specifically addressed the senior citizens in the community and the challenges they face with regards to getting the vaccine. Many senior citizens either do not have access to a computer or are unsure of how to sign up for a vaccine appointment online. Mr. Jenkins advised residents who require assistance to call the Department of Senior Services (914-813-6300) for help signing up for an appointment. While the department cannot make the appointment for a patient, they will help residents navigate the process.
Covid-19 By the Numbers
Positive Cases
To date, 84,420 Westchester residents, or 5.2% of the population, have tested positive for Covid-19.
Within the last two weeks, the county has seen 11,453 positive cases. These figures are quite high for the county and are approaching the figure of 12,000 positive cases that was seen at the peak of the pandemic in March 2020.
County officials expected a surge in cases in the weeks following Thanksgiving, Christmas, and New Year's. Additionally, the new U.K stain of the virus may be contributing to this surge. It is now past the two-week mark since New Year's Eve and officials are hoping to see a plateau and decline in active cases looking forward.
Hospitalizations
As of Sunday, January 17, 2021, 513 Westchester patients are hospitalized with the virus. This is below the peak figure of 545 hospitalizations seen during the peak of the pandemic. This figure is also below what the county experienced last week and the week before that. Hopefully, this is a signal that hospitalizations are trending downward, but officials will be unable to make that determination for several weeks.
Deaths
Sadly, 1,797 residents have died in total from Covid-19. Unfortunately, 61 of these deaths are just from this past week, and 114 people have died in the last two weeks. This is one of the most significant death ratios the county has seen since the peak of the pandemic in March 2020. Officials are hoping to amplify the number of residents being vaccinated to combat these figures. However, this vaccination process is entirely dependent on the number of doses that New York State receives from the federal government.
Press Questions
There have been many complaints about the inability to sign up for vaccination appointments. Recognizing that this holdup is the result of a lack of doses from the state and the federal government, are you offering advice to officials in Albany or to people having trouble making appointments?
Mr. Latimer emphasized that he is lobbying officials in Albany and that we have already seen policy changes made based on this advocacy. For example, the testing policies and quarantine guidelines for schools have both changed in part because of lobbying efforts by Westchester County. While the county is experiencing a high volume of complaints from eligible residents who are unable to secure Covid-19 vaccination appointments, Mr. Latimer stated that the volume of these complaints has dropped dramatically in the last 10 days as more people can successfully make appointments. He highlighted again that vaccinating as many people as possible is the primary goal of the local government, and that as more doses become available, more people will find available appointments.
Some people have complained that they are having issues securing an appointment for the second vaccine dose after they received the first dose. What is your message to providers who are having trouble distributing the second dose?
Mr. Latimer stated that the state must be informed of any provider that is not prepared to administer the second dose of the vaccine. He said that people should contact the Westchester County Executive's office if they need help solving this specific issue and securing an appointment for their second inoculation.
Some people have reported that they were unable to receive the vaccine due to a previous cancer diagnosis. Have you heard anything about this?
Mr. Latimer stated that he has not heard anything about this particular issue and that he will seek to answer this question at a later press conference. He also said that while certain categories of illness may make a person illegible for the vaccine, this decision is up to the state and is not determined at the local level.
What are your thoughts on Westchester residents going to Florida to get vaccinated?
When answering this question, Mr. Latimer began by emphasizing that this is the type of issue that arises when you do not have a federal vaccination program. Part of the reason the management of the pandemic has been so chaotic is that state and local governments never had federally regulated testing, virus management, or vaccination programs. In this void, he stated, each state designed its own protocols, and some states have a more first-come-first-serve vaccination system than others. Mr. Latimer went on to discuss how this system can lead to more tech-savvy, or younger individuals being able to secure vaccine appointments before people in older, more at-risk populations. He then stated that although he does not begrudge people trying to get a vaccine, we need to focus on the most at-risk populations. He emphasized that he is fine with people trying to obtain a legal shot, but that he has a problem with people illegally skipping lines or skirting rules to get the vaccine.
Are you noticing that there are certain areas in the county with fewer vaccine registrations than other areas?
Mr. Latimer said that there is no data available to him that breaks down vaccine registrations in the county into specific demographic categories. The county only knows the age and the occupation of residents signing up for vaccines. However, he said that based on anecdotal evidence, communities of color are more skeptical of the vaccine. Mr. Latimer highlighted the need for credible spokespeople from these communities to speak to the efficacy and necessity of the vaccine. He also stated that officials must ensure that vaccination locations are available in all corners of the county. Inaccessibility should not be an issue when trying to make vaccine appointments, and residents cannot all be expected to travel to White Plains to receive their vaccines.
The Governor of New York State sent a letter to the CEO of Pfizer asking to buy doses directly for New York State. Do you plan on sending a letter like this one?
Mr. Latimer rejected this idea and stated that because Pfizer's CEO denied Governor Cuomo's request to bypass the federal government, that it is very unlikely the same request would be accepted from a County Executive. He then highlighted a point he made several times throughout the day's briefing: the federal government failed to make a national vaccine distribution plan. Mr. Latimer said that energy that should have been spent on developing a robust national vaccine plan was redirected elsewhere and that he rejects any point of view that is the opposite of that statement. He emphasized that this void is how people end up skipping the line and flying to Florida for a vaccine and that "this is insanity and not how you operate." Mr. Latimer said that within his domain of government, he seeks to find common ground with people of different backgrounds, points of view, and political affiliations. He said that the federal government must find a way to effectively buy, pay for, and distribute this life-saving product. Going forward, Mr. Latimer urged residents to demand more of the new federal administration that will be inaugurated on January 20, 2021. He concluded by stating that, "it didn't have to be this way, and hopefully it won't be this way as we go forward."
CNC Announces Slate of Candidates for Village Mayor and Trustees
Details

Category: Neighborhood News
Published:

21 January 2021

Written by

Joanne Wallenstein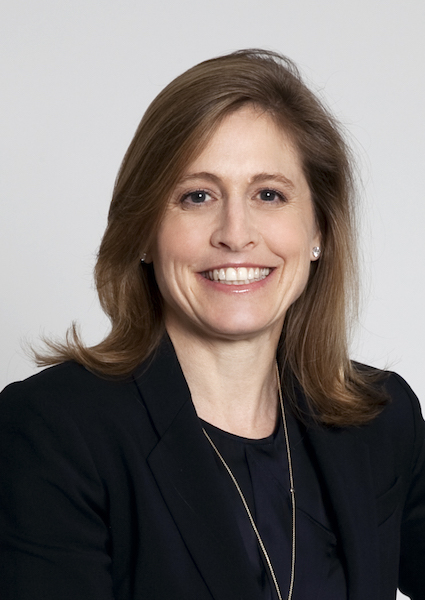 Jane Veron has been selected as the Non-Partisan Party's candidate for Mayor.Just as the Inaugural celebration wrapped up on Wednesday night January 20, 2021, we received word that the Citizens Nominating Committee (CNC) had selected the following slate of candidates for Scarsdale Mayor and Village Trustees:
Jane Veron of Fox Meadow, a Village Resident for 23 years, Village Mayor
Sameer Ahuja of Heathcote, a Village Resident for 21 years, Trustee
Jonathan Lewis of Edgewood, a Village Resident for 19 years, Trustee
Ellen Plum of Fox Meadow, a Village Resident for 21 years, Trustee
Eric Lichtenstein, Chair of the CNC said, "Starting in late November, the CNC went to work in finding potential candidates for both Trustee and Mayor. Over the last two months, the CNC conducted extensive diligence along with hours of discussions. While our meetings and reference conversations are not shared publicly, the CNC considered and researched carefully the background, experience, and qualifications of each trustee and mayoral and engaged in significant deliberations."
Here is an explanation of the vacancies that the CNC was charged with filling: Mayor Marc Samwick will complete his two-year term as Mayor and Trustee Seth Ross will complete two terms as Village Trustee. Trustee Rochelle Waldman, who served one two-year term, opted not to run for a second term and Trustee Jonathan Lewis will complete one term and is running to serve a second two-year term.
Meet the Candidates
Jane Veron
Jane Veron has been selected as the party's candidate for Mayor. She served two terms as a Village Trustee, from 2016-2020. As the liaison to the Scarsdale Library she worked to advance the public/private partnership for the library renovation and expansion which is now complete. She chaired the Ad Hoc Committee on Communications to improve outreach and transparency. She has been a champion for the revitalization of the Village Center and recommended code changes to improve business downtown and the opening of the large dining tent on Spencer Place along with other initiatives to bring residents to the Village.
She is a former chair of the Scarsdale Bowl Committee and the Scarsdale Planning Board and also served as President of the Scarsdale League of Women Voters. She is the CEO and Co-founder of The Acceleration Project a non-profit organization that provides business consulting to small businesses.
Commenting on her nomination, Veron said, "I am thrilled and honored to receive the CNC nomination. I love Scarsdale and feel so lucky to live here. I am guided by optimism and hope, and I seek to inspire the best in us. I want everyone in Scarsdale to feel welcomed and included and will take great care to represent all members of the community. If elected, I will work with the board, staff, and residents to protect the best of Scarsdale's legacy and to imagine and build an even better future."

Asked about her priorities she replied, "The immediate priorities are matters of public health, safety, and welfare. We need to continue to do everything in our power to safeguard and support our community through the pandemic, to provide essential services, and to manage in a tight budget environment. We have a duty to our taxpayers to be cognizant of economic pressures. But I am encouraged by the prospect of a post COVID world and want to begin planning. Scarsdale is a wonderfully forward-thinking community, and I am eager to consider important initiatives around infrastructure, sustainability, revitalization, traffic safety, technology, and recreation. Our agenda will ultimately be set by the collective needs of the community."
Sameer Ahuja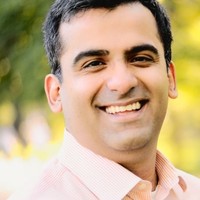 Sameer Ahuja will run for his first two-year term.Sameer Ahuja, is a candidate for his first term as Village Trustee. He has been a resident of Scarsdale for a combined 21 years. He graduated from Scarsdale High School in 1992 and moved back with his family in 2014. He currently serves on the Village Advisory Council on Communications. Professionally, Sameer has been an entrepreneur for nearly 20 years. He currently works as the COO (GM) of GameChanger Media Inc., a NY-based sports technology company owned by DICK'S Sporting Goods.
Ahuja said, "I am delighted and humbled that the CNC has nominated me as one of the candidates for Village Trustee and thank its members for their service. Scarsdale is a special place for me and my family from the time we moved here as immigrants - I have seen for nearly four decades how Scarsdale has welcomed so many people of the highest character, integrity, intellect, and achievement. I look forward to providing a voice for our increasingly diverse community and hope that my background in entrepreneurship and technology can help in tackling the important issues facing the village. The opportunity to live in a place as special as Scarsdale is something I have never taken for granted. It would be a privilege to serve."
Jonathan Lewis

Candidate Jonathan Lewis is running for his second two-year term as Village Trustee. He is the former Chief Investment Officer of Fiera Capital Inc. where he was a member of firm's management committee. In this role, he led investment teams managing $20+ billion across a variety of asset classes and strategies. He also championed the integration of Environmental, Social and Governance factors in Fiera's investment process. Prior to his firm's acquisition by Fiera in 2015, Jonathan was the Chief Investment Officer of Samson Capital Advisors. He co-founded Samson in 2004, a fixed income boutique with a focus on public finance and municipal credit. He oversaw the development of firm's investment process and strategy implementation. Samson managed over $7 billion in assets, largely in municipal bonds, at the time of its sale. Jonathan has been a trader, managed mutual funds, and championed the integration of human rights indicators in currency selection.
Jonathan is the Treasurer of the Phi Beta Kappa Foundation and Society where he serves on the executive committee and chairs the investment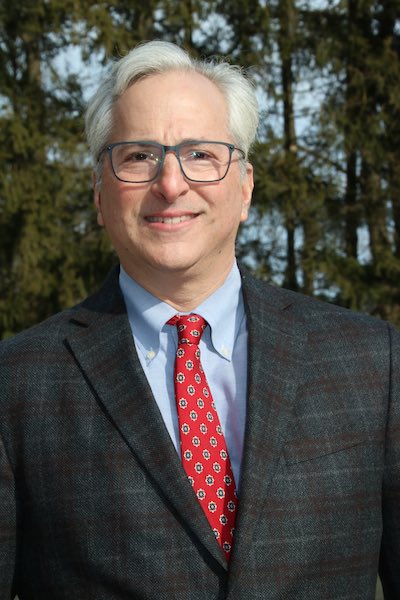 Jonathan Lewis has been selected to run for a second term as Village Trustee.committee of the endowment. He led Phi Beta Kappa to become a United Nations Principles of Responsible Investment Signatory this past year. He is also a trustee of Yonkers Partners in Education, a former Trustee of the Scarsdale Board of Education, and a former President of the Scarsdale Forum. He was a candidate for Congress in the 2018 Democratic Primary.
Jonathan has written two books for Yale University Press related to national security and policy matters. Jonathan has been a member of Business Executives for National Security (BENS) and in his work for BENS he co-chaired their intelligence reform initiatives in the 1990's and served on its Task Force on Domestic Security. In this work, he was one of four task force members responsible for developing recommendations for how to improve the relationship between Federal, State, and Local security and law enforcement officials to enhance the safety of communities around the nation.
Asked why he wants to continue to serve Lewis said, "I have lived in Scarsdale for nearly two decades and I love our "village in a park." For me, the best way to fight the pandemic and the economic crisis around us is to preserve our village and what makes it special."
"We face great economic and budgetary challenges. We need to rethink how municipal government functions in the 21st century and how we address the significant budget challenges caused by this crisis. I believe Scarsdale Village government should be a national model in innovation to address our budget challenges. We need to reengineer the delivery of municipal services in a more sustainable, cost-efficient manner. We need to rethink how we protect our open spaces and make our streets and sidewalks safer for walking and cycling. This will help us reduce our carbon footprint and promote more sustainable lifestyles."
Candidate for Trustee Ellen Plum was not able to provide her information by press time, so we will include details about her next week.
The election will take place Tuesday March 16, 2021 at the Scarsdale Congregational Church. Eric Lichtenstein served as Chair and Steve Pass served as Vice Chair of the CNC. In addition to the candidates for Village office, the CNC selected Jill Spielberg as Chair and Jon Krisbergh as Vice Chair for next year's CNC. The CNC also elected Richard Pinto to serve as Vice Chair of the Procedure Committee.
With Vaccines in Short Supply, the Scramble for Appointments is On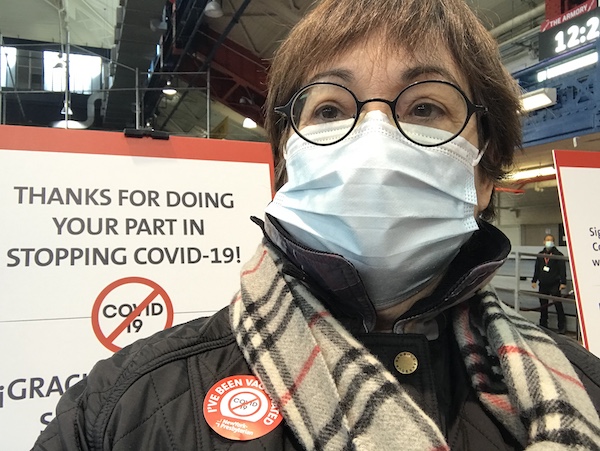 BK Munguia got her shot at the NY Presbyterian Armory on Sunday January 18.With the government's decision to make everyone 65 and up eligible for the COVID-19 vaccine, the scramble is on to secure an appointment. Though it's only been 10 days since the vaccine became available, for the most part, those who are determined have been successful at receiving their first dose and getting an appointment for their second.
We've heard myriad tales of how and where people are getting appointments.
Closest to home is the Westchester County Center where 6,400 vaccines have already been administered but there are currently no more appointments. The Javits Center in New York City was also giving vaccines, but there are no more appointments there either.
Andrew Sereysky, President of the Greenacres Association and his wife Joan felt lucky to secure appointments at the Westchester County Department of Health facility at 134 Court Street in White Plains. He reports that they were in and out within 45 minutes and the process was smooth and professional. They were given the Moderna vaccine and so far they feel fine.
Scarsdale Bowl winner BK Munguia was thrilled to receive her first dose at the NY Presbyterian Fort Washington Armory in Washington Heights. The 65,000 square foot indoor track and field complex at 216 Fort Washington Avenue and 169th street has 70 vaccine stations. After an initial appointment in Huntington was cancelled, former Scarsdale Village Trustee Stacey Brodsky and her husband David also got appointments at the Armory on Inauguration Day, which gave them much to celebrate. Those who are eligible can sign up here.
One friend was able to get an appointment for a vaccine at the Rite Aid in Peekskill. However, when he arrived, he learned that the staff had neglected to take the supply out of the freezer and he was instructed to return later in the day.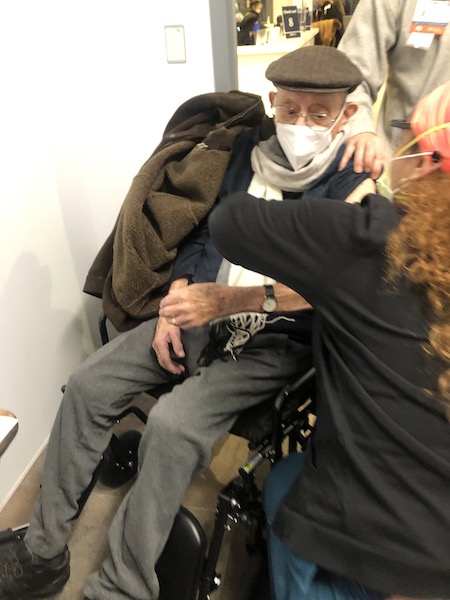 Augustine F. Trapasso, age 96, and his aide Donah got their vaccines at the Westchester County Center.Geralyn Della Cava was able to get appointments for her 96 year-old father Augustine F. Trapasso and his aid Donah to get the vaccine at the Westchester County Center on Sunday January 18. She says, "The process went very smoothly ... very pleasant people working there and very kind. We only waited 15 minutes. We set up the next appt immediately after he received the shot for three weeks later."
Scarsdale's Frank Lichtenberg got an appointment at Metropolitan Hospital on the Upper East Side. His wife Michelle, another Scarsdale Bowl winner, went along and they gave her one too! Here is the site to sign up for vaccines through New York City Health and Hospitals.

In the first few days some received appointments from Mt. Sinai and received their vaccines. But those with later appointments found that they were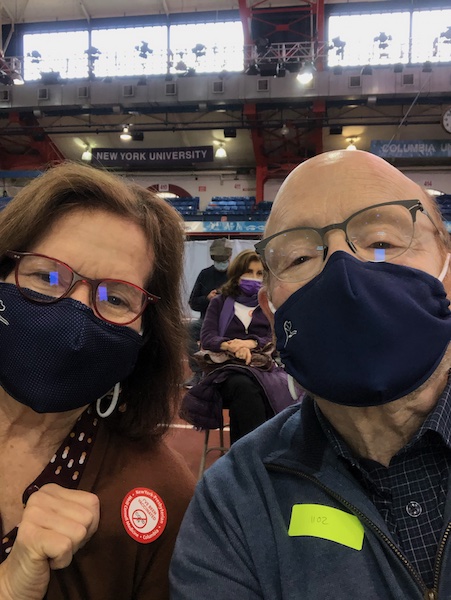 Former Village Trustee Stacey Brodsky and her husband David, got their first dose on Inauguration Day.cancelled due to a shortage in the supply. Their website says, "Because of sudden changes in the allocations of COVID-19 vaccine that we are receiving, we unfortunately had to temporarily pause scheduling of non-employees and cancel patient appointments scheduled from Friday, January 15, through Tuesday, January 19. Vaccine appointments for Wednesday, January 20, and beyond remain on the calendar. We will confirm those appointments 24 to 48 hours in advance, and we will contact those whose appointments were canceled as soon as vaccine supplies are available to reschedule." Here is the link to their website.

Frustrated with the slow flow of the vaccines, NYS Governor Andrew Cuomo sent a letter to Pfizer asking to buy the vaccines directly from the company but that request was denied. The state received just 250,000 vaccines this week, down from 300,000 last week, so it could take months to vaccinate all the eligible people in the first two groups.
Where else might you find a vaccine? Here are some sites to check:
Another resident reports success on Essen Health Care however they have now paused on scheduling appointments as they have no more vaccines. They suggest you check their site daily to see if more appointments become available.
Please share any information you have about getting a vaccine in the comments section below or email it to scarsdalecomments@gmail.com.
Former Scarsdale Resident Frank Sobel Passes Away at 93
Frank (far right) with the Sobel clan.Frank M. Sobel passed away peacefully at the age of 93 on January 11, 2021 in Delray Beach, Florida. He is predeceased by his wife, Toni and his son, Marc. He is survived by his wife Carol; his children Ralph, Nancy, Ricky and John; his daughters-in-law Alice, Debbie, Nanette and Liz; his grandchildren Chris (Ken), Kevin (Amy), David (Jackie), Michael, Steven, Alexis, Jessica and Andrew; and his great-grandchildren Ben, Jack, Lila and Adam. He was President of Canterbury Belts, Ltd. from 1955-1995, when he retired.
The Sobel family included five children, four boys and one girl. They lived on Garden Road in Scarsdale for 22 years, from 1960 to 1982. All the kids were athletes and the four boys were captains of the soccer team. The youngest brother became a professional tennis player.
Frank loved playing tennis, traveling, "Dirty Harry" movies, ice cream, and most of all, his family. He was quick-witted, with a deep moral compass and a strong sense of loyalty. A private service took place on Friday, January 15, 2021 at Mt. Nebo Funeral Home in Kendall, FL. Contributions may be made in Frank's memory to The Michael J. Fox Foundation for Parkinson's Research.
How do you Perceive Diversity and Inclusion in Scarsdale? Give Your Input
Details

Category: Village Voices
Published:

22 January 2021

Written by

Joanne Wallenstein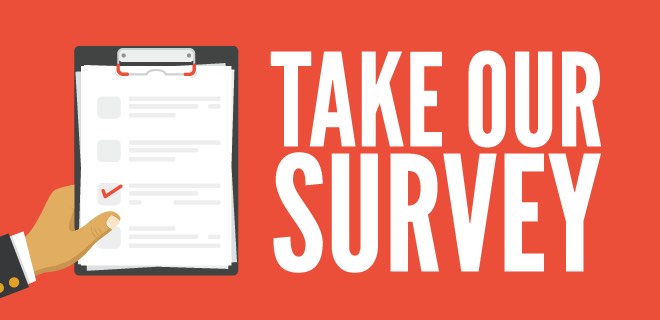 The Ad Hoc Council to Combat Racism and Bias (CCRB), formed by resolution of the Village Board on July 20, 2020, is interested in learning about your viewpoints on diversity and inclusion in Scarsdale, including the incidence of discrimination and bias within the community.

To that end, the CCRB has been conducting listening sessions over the past several months with various segments of our community and is now expanding outreach to solicit insights and experiences from all residents, as well as others who visit, work, and have other occasion to be in Scarsdale. While such sessions have been focused on gaining insights from target Scarsdale population to-date, the next listening session, being held on Wednesday, January 27, at 8:00 PM by ZOOM, is to hear from all Scarsdale residents wishing to express their viewpoint or relate a specific experience. To participate, please send an email to the CCRB using CCRB@scarsdale.com and a confirmation will be provided, including the information needed to join the listening session. Please note that the CCRB listening sessions are not public meetings; only persons wishing to convey their relevant viewpoints and experience(s) are invited to participate and there will not be opportunity for Q&A or other form of public comment.

To facilitate broad public participation in this effort, including persons unable to attend a CCRB listening session, the CCRB has launched a Community Experience Questionnaire.

Every Scarsdale resident is requested to complete the online questionnaire, indicating whether they have experienced racism, bias, or discrimination in Scarsdale, and if so, to share such experiences with the Council. In addition, please provide ideas focused on how Scarsdale can be a more inclusive community. Non-residents are encouraged to complete the questionnaire, as well. Hard copies are available in the Village Hall lobby and may also be requested by emailing CCRB@Scarsdale.com. Feedback received will help to inform future public meetings on this topic and help to shape the findings and recommendations report that will be prepared and presented to the Village Board. Please take time to complete the Community Experience Questionnaire today.
Westchester Residents 65 and Over Scramble to Find Vaccines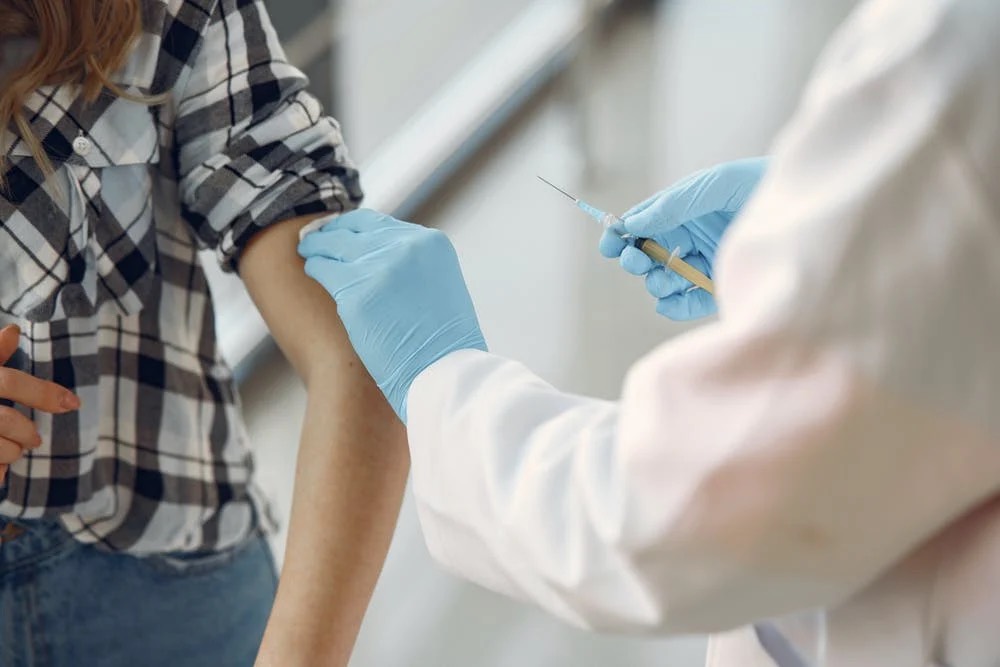 After much criticism about the slow rollout of the COVID-19 vaccine, on Monday January 11, 2021, New York State cleared people aged 75 years and older to receive it. On Tuesday January 12, he changed that to 65 and over, and now thousands are scrambling to find out where and how to get the shot. According to the Governor, NYS now has 7 million people eligible for the vaccine, with only 300,000 vaccines available.
In Manhattan, some of have been successful at scheduling appointments at NYC Department of Health Facilities and at several hospitals.
In Westchester, it's taking a few more days to make a plan.
At his weekly briefing on Monday January 11, 2021, Westchester County Executive George Latimer announced that the county is working to deliver the vaccine according to New York State guidelines.
The state's expanded list of who is eligible for the vaccine is as follows:
• People 75 and older (Since changed to 65 and older)
• Teachers and education workers
• First responders
• Public safety workers
• Public transit workers
• High-risk hospital workers (emergency room workers, ICU staff and Pulmonary
Department staff)
• Residents and staff at nursing homes and other congregate care facilities
• Federally Qualified Health Center employees
• EMS workers
• Coroners, medical examiners and certain funeral workers
• Staff and residents at OPWDD, OMH and OASAS facilities
• Urgent Care providers
• Individuals administering COVID-19 vaccines, including local health department staff
• All Outpatient/Ambulatory front-line, high-risk health care workers of any age who
provide direct in-person patient care
• All staff who are in direct contact with patients (i.e., intake staff)
• All front-line, high-risk public health workers who have direct contact with patients,
including those conducting COVID-19 tests, handling COVID-19 specimens and
COVID-19 vaccinations
• Doctors who work in private medical practices and their staff
• Doctors who work in hospital-affiliated medical practices and their staff
• Doctors who work in public health clinics and their staff
• Registered Nurses
• Specialty medical practices of all types
• Dentists and Orthodontists and their staff
• Psychiatrists and Psychologists and their staff
• Physical Therapists and their staff
• Optometrists and their staff
• Pharmacists and Pharmacy Aides
• Home care workers
• Hospice workers
• Staff of nursing homes/skilled nursing facilities who did not receive COVID vaccination
through the Pharmacy Partnership for Long-Term Care Program
Latimer provided the following resources to help residents find out if they are eligible for a vaccine, and if so, where to get one.
First, to determine your eligibility and to receive an email and a text message when you qualify, go to this site and answer the questions and register:
Latimer asked that younger relatives or friends help older people to sign up if they are having trouble with the website.
For those who prefer to schedule an appointment on the phone, a vaccination hotline will open at 4 PM today, Monday January 11, 2021. The NY State COVID-19 Vaccination Hotline to schedule vaccination appointments for eligible New Yorkers is: 1-833-NYS-4-VAX (1-833-697-4829).
For eligible people to get an appointment for a future date, at the Westchester County Center, click here:
Latimer said that the Westchester County Center will open this Wednesday or Thursday as a facility to dispense vaccinations. It will NOT BE A WALK-IN facility. You will need an appointment to receive one at the County Center.
Help Available: If you're having trouble navigating the websites, Scarsdale students will be happy to help you to get an appointment. A group called VAX HELPERS has been formed. Call the at (914) 574-7863. If they don't pick up, leave a message. You will need to supply them with the following:
Your Name
Allergy History
Address
Phone Number/Email Address
Date of Birth
The state has also issued this list of locations that will be administering vaccines, but we do not know if they have supplies now: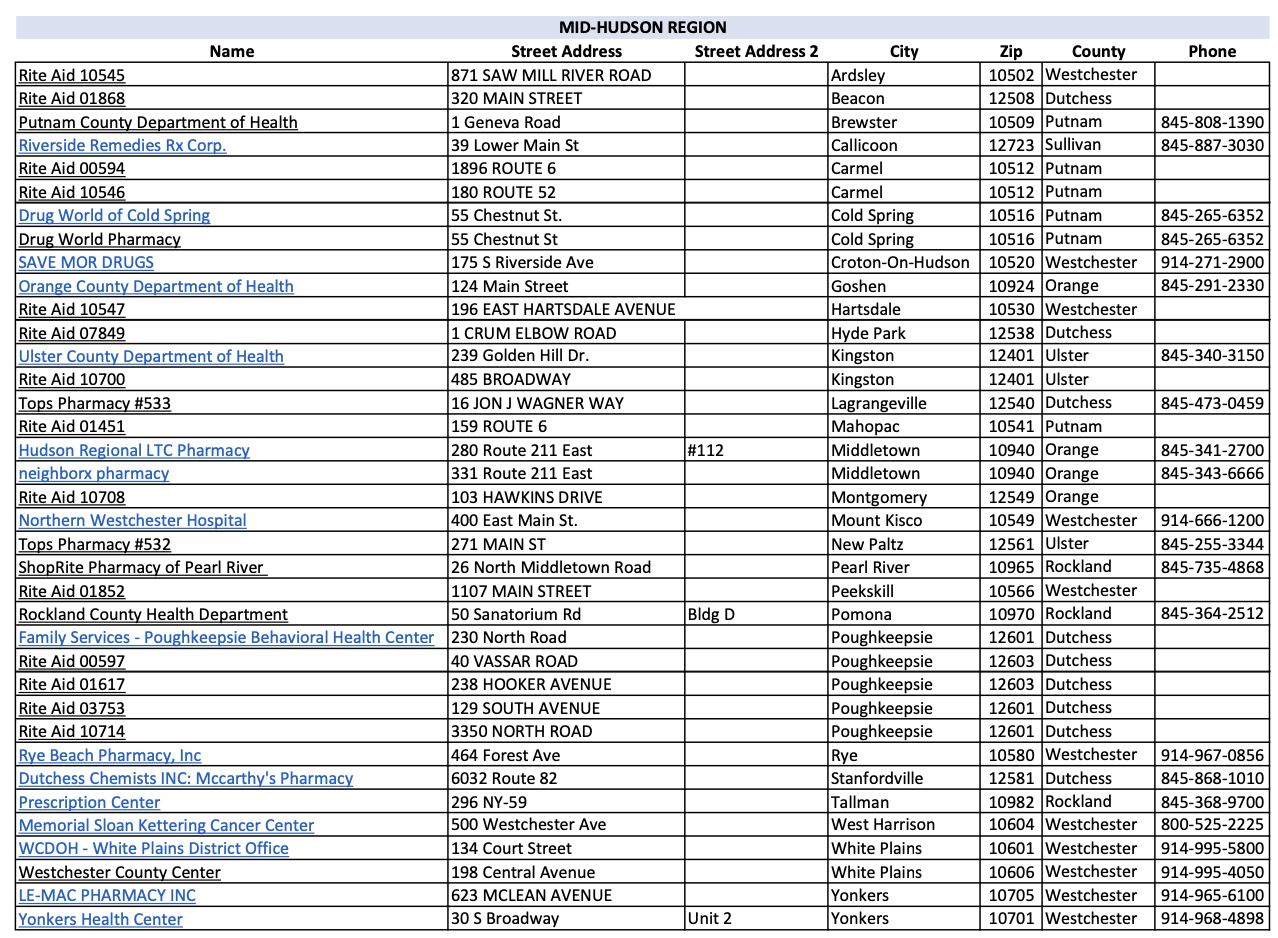 Volunteers Needed
The Hudson Valley Regional HUB, WMCHealth is seeking volunteers to support the administration of the COVID-19 vaccine.

Volunteers are needed to assist with operations and activities at vaccination sites, such as registration and check-in, data entry, greeting and routing participants, traffic flow, and other administrative tasks. Volunteers with specific clinical credentials to administer the vaccine are also needed.
Volunteers must be 18 years of age in good health and proficient in English, with bi-lingual skills also being important. Those working at the vaccination site will be provided with training, PPE and will be able to receive the vaccine, if they wish.

Site locations will be announced in the coming days and will operate 7 days a week. Multiple shifts are available. Volunteers are asked to commit to three shifts a week during a 30-day commitment.
To register to be a part of this historic vaccine program, please click here.

COVID Spread
Turning from the vaccines to the current infection counts, Latimer reported that the COVID spread is increasing. He said, "We have grim numbers."
As of January 11, 2021 there were 11,265 active cases in Westchester County, higher than the number as we had on April 10, 2020. This is up from 9,278 last week and 8,000 two weeks ago.
As of Saturday January 9, 2021, 504 people were hospitalized but the County's bed count is higher, with about 2,500 beds so we have not reached a crisis situation. This is a 10% increase over last week and on Halloween night, October 31, 202, there were only 51 in the hospital, one tenth of today's count.
As of Monday January 11th the county dashboard showed 83 active cases in Scarsdale and a 5.1% positive rate for the county overall.
Check the county dashboard for the latest numbers here:
Latimer to Seek Second Term
In other news, Latimer announced that he will run for a second two-year term as Westchester County Executive.
An email from his campaign says, "It has been my honor to serve you and all of Westchester's residents in navigating an irresponsible fiscal situation passed on by the last administration, a national political environment that warrants local focus on long overdue social justice reforms and an uncharted pandemic that has created further economic struggle for many along with a health care challenge that we must resolve so that more Westchester residents and New Yorkers do not suffer.

I am proud of my first term record with two consecutive years of zero property tax increases, timely budgets with no lay-offs or service cuts and swift action on so many social issues like justice reform, LGBT equality and women's rights.