Halloween Costume Winners: Check These Out!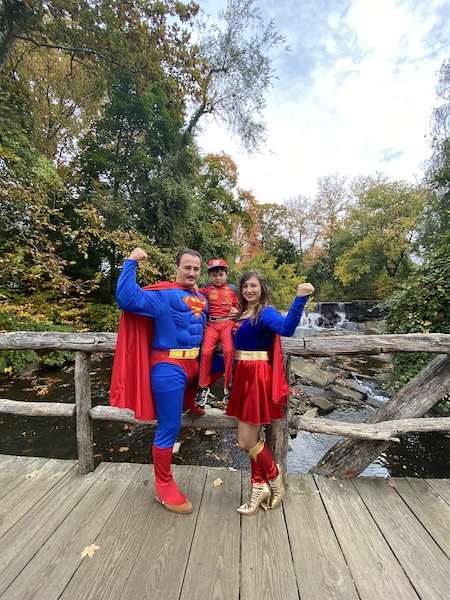 Grand Prize: Lamonarca "Super Family"This year the Scarsdale Recreation Department was unable to host their traditional Halloween parade, but like everyone else, they adapted and sponsored an online Halloween Costume Contest. According to Recreation Supervisor Dan Walczewski, the Village received over 50 entries and from those selected prize winners for the spookiest, cutest, most creative costumes and more. The Grand Prize went to the Lamonarca family posing as a "Superfamily." Take a look below at all the imaginative entrants.
Grand Prize: Lamonarca "Super Family"
Spookiest Costume: Aidan Roche as a Ninja
Best Pet Costume: Orca Fusco as Chucky
Most Comical Costume: Benji Miller as Dwight Schrute
Best Makeup: Christy Eguiluz and Martha Passaretta as Dia De Lost Muertos
Best Homemade Costume: Nino DeMartino as Taco Dog
Best Setting: Raphaela Berckemeyer as Ursula the Sea Witch
Best Family Costume: The Wald Family as Star Wars
Cutest Costume: Christopher Bongiorno Horne as Little Leopard
Most Relevant: Serena Lin as Purell
Most Creative: Gabrielle and Emma Daniel as Jellyfish and Scuba Diver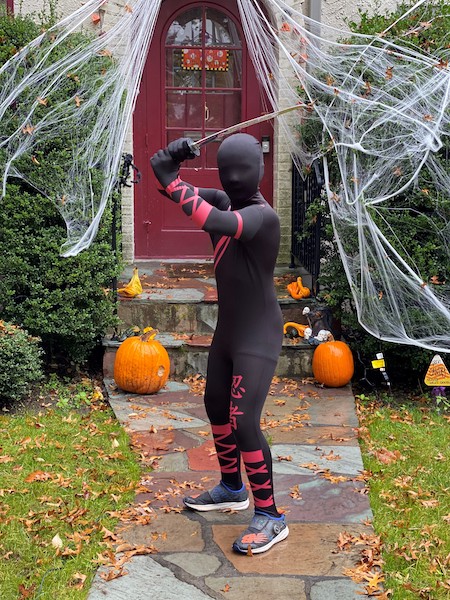 Spookiest Costume: Aidan Roche as a Ninja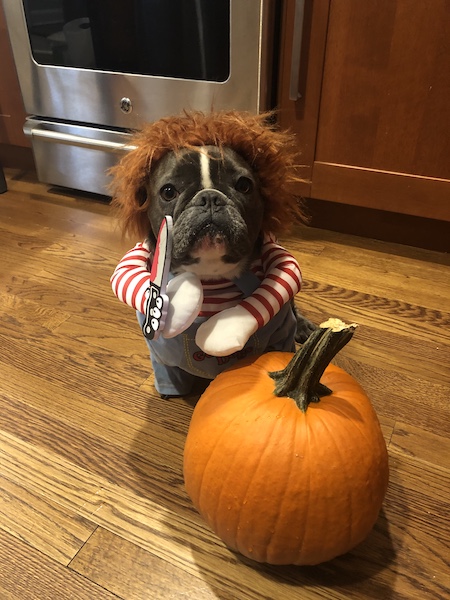 Best Pet Costume: Orca Fusco as Chucky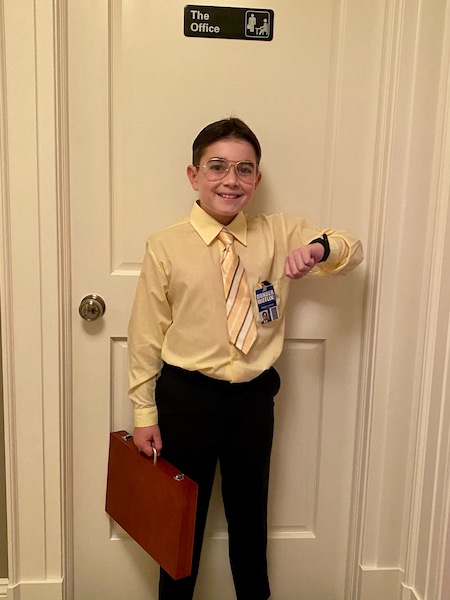 Most Comical Costume: Benji Miller as Dwight Schrute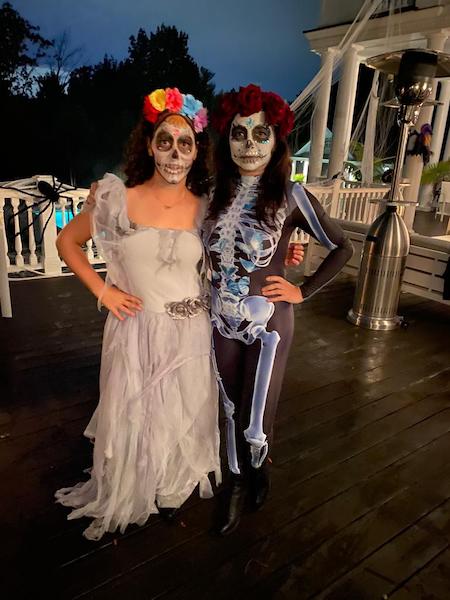 Best Makeup: Christy Eguiluz and Martha Passaretta as Dia De Lost Muertos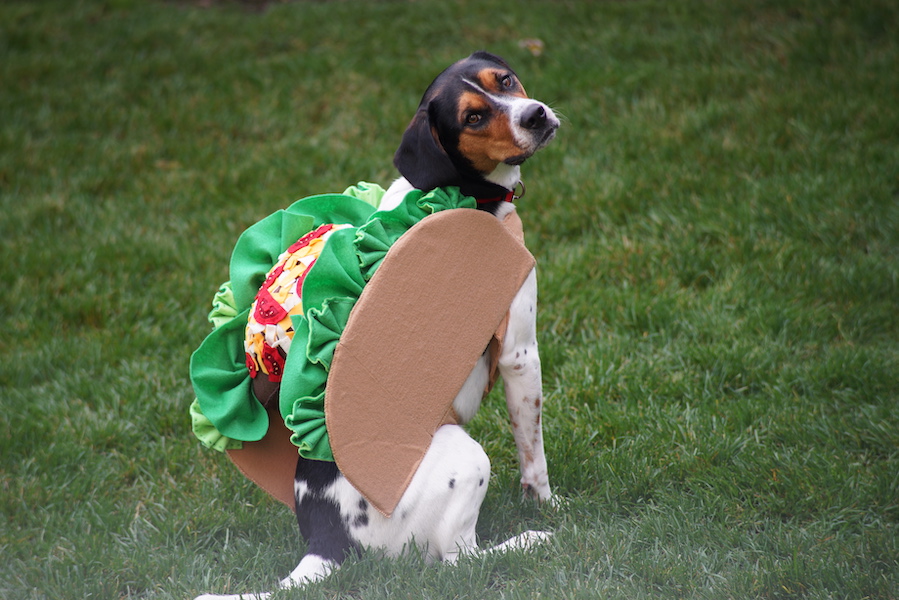 Best Homemade Costume: Nino DeMartino as Taco Dog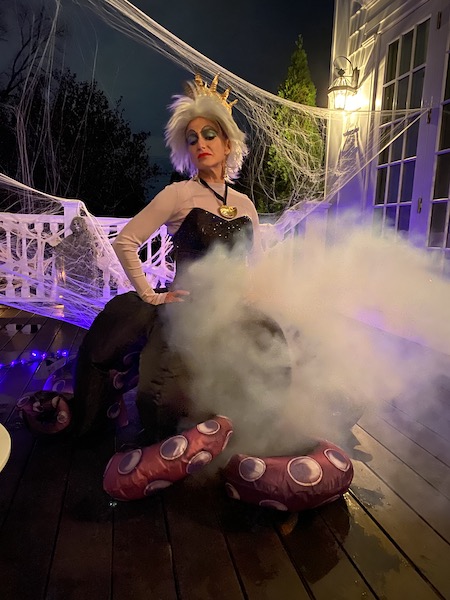 Best Setting: Raphaela Berckemeyer as Ursula the Sea Witch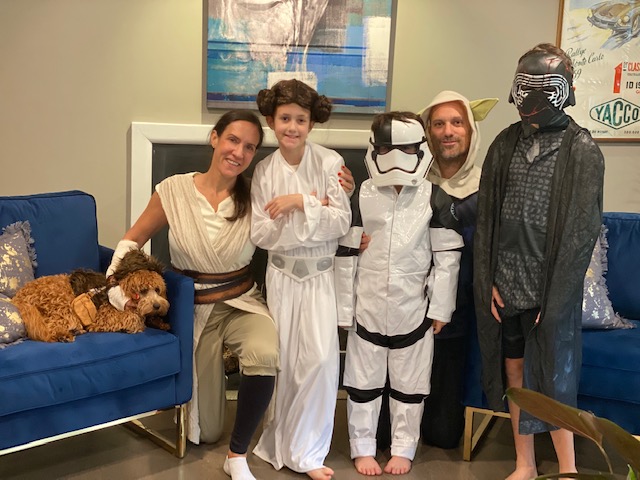 Best Family Costume: The Wald Family as Star Wars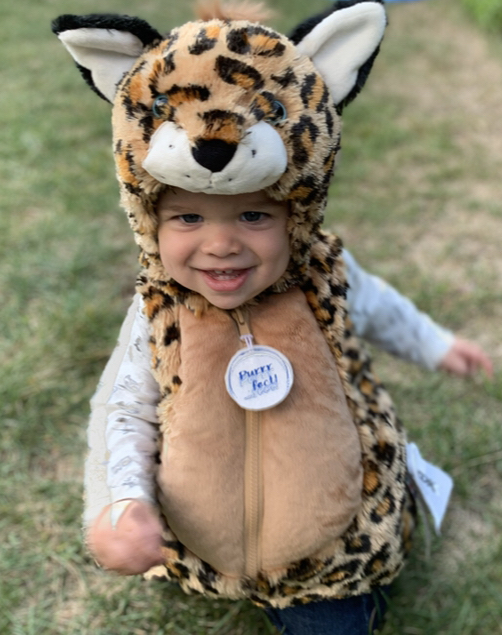 Cutest Costume: Christopher Bongiorno Horne as Little Leopard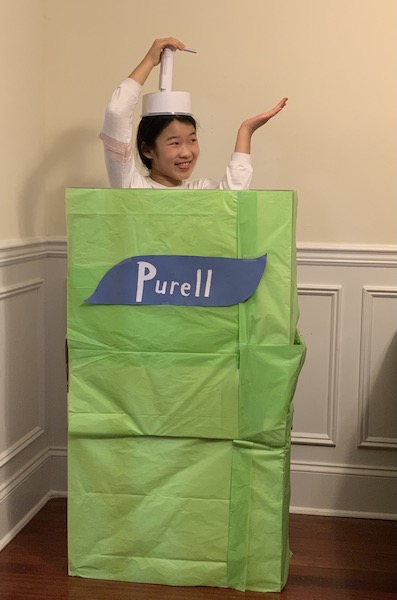 Most Relevant: Serena Lin as Purell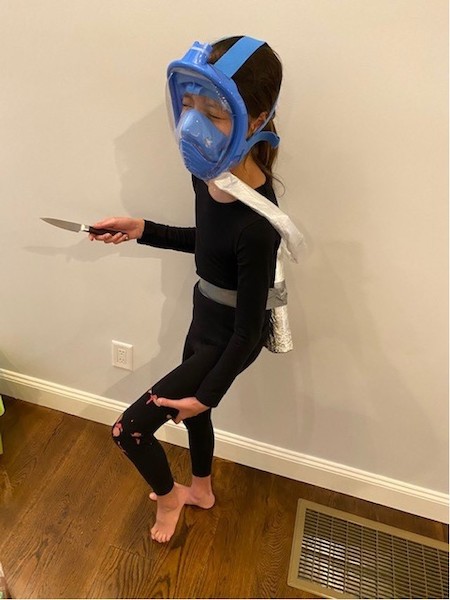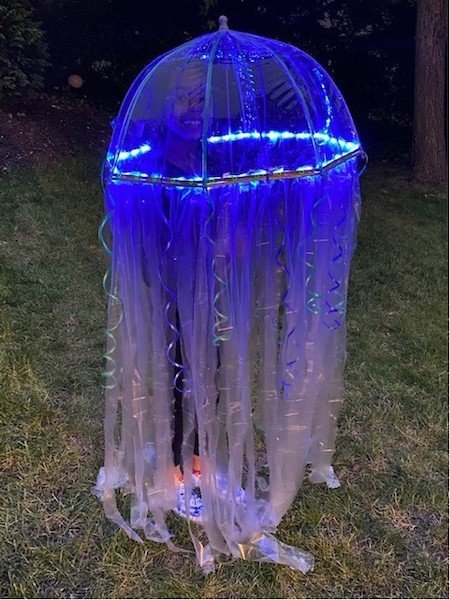 Most Creative: Gabrielle and Emma Daniel as Jellyfish and Scuba Diver
Library To Open In November, Resident Encroaches on Right of Way Plus More from the Village Board
Details

Category: Village Voices
Published:

28 October 2020

Written by

Joanne Wallenstein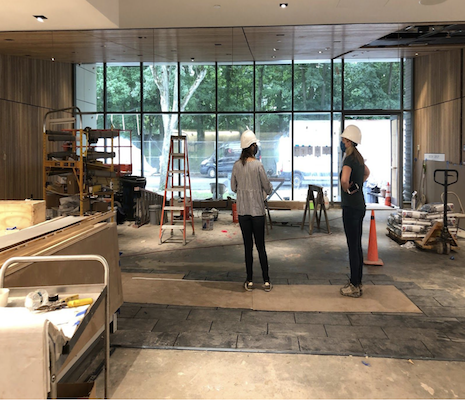 A cafe in the entrance to Scarsdale Library will serve drinks, sandwiches, salads and more.The Scarsdale Library will open in just a few weeks. Plans for the opening of the renovated Scarsdale Library and a new café as well as a discussion of the use of open lands were among the items discussed at the Village Board meeting on October 27.
Library Opening
The library is expected to have a limited opening in late November. At the Village Board meeting, Margot Milberg, President of the Scarsdale Library Board of Trustees announced that a vendor for the library café had been selected. The library committee spent months scouting and meeting with vendors and they believe that Larchmont Epicure, operating as Apiary will provide delicious food at reasonable prices. The café will be located in the glassed library entrance.
Village Trustees approved a resolution to award the contract to run the Larchmont Epicure, granting them the license at an annual fee of $6,000 and 4% of gross revenues. The menu will include breakfast, sandwiches and entrees, salads, cakes, cookies, treats and snacks and a selection of coffees and beverages. The vendor has a mobile app to allow people to pick up food and go. They will use recyclable containers.
In anticipation of opening during COVID, the library has issued a survey and they encourage residents to complete it. Find it here. https://www.scarsdalelibrary.org. Responses to their survey will help to identify priorities.
Encroachment on Village Owned Land
A proposed resolution for a license agreement for Corell Road residents to use Village -owned land that abuts their property elicited an interesting discussion about residents' use of Village-owned property.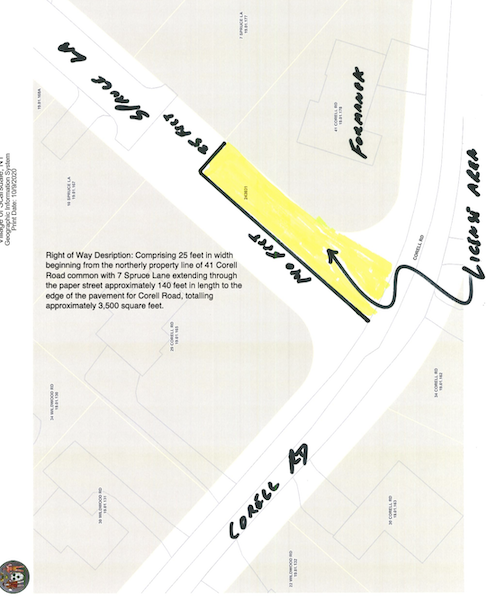 Diagram shows the paper street and the encroachment.
At issue was 3,500 square feet of property located on a paper street between Corell Road and Spruce Lane in Secor Farms. The paper street is fifty feet wide and 170 feet long and is located next to 41 Corell Road, owned by Bari and Peter Formaneck. They encroached on this property by extending their lawn, installing lawn furniture, fencing and landscaping walls, gardens, shrubbery, planting beds and trees.
In order to allow them to continue their "passive use" of the property," Village staff did what they usually do, which is to propose a licensing agreement which would require the Formanecks to pay the Village a $1,250 administrative fee and an annual maintenance fee of $150.
However, before reading the resolution, Trustee Jonathan Lewis objected on the grounds that this allowed residents to take open space owned by the Village at a minimal cost. He said, "I believe we need a reset on how we approach the encroachment on public lands ….. I have no interest in promoting a land grab for public lands." He pointed out that open space is at a premium and that the Village should have a carefully considered policy about how and if residents can encroach on this land. He said, "Approval of this resolution sends the wrong message to residents about our role as stewards of the environment and equitable treatment." He requested a discussion of the Village's remaining open spaces and the policy for managing these lands.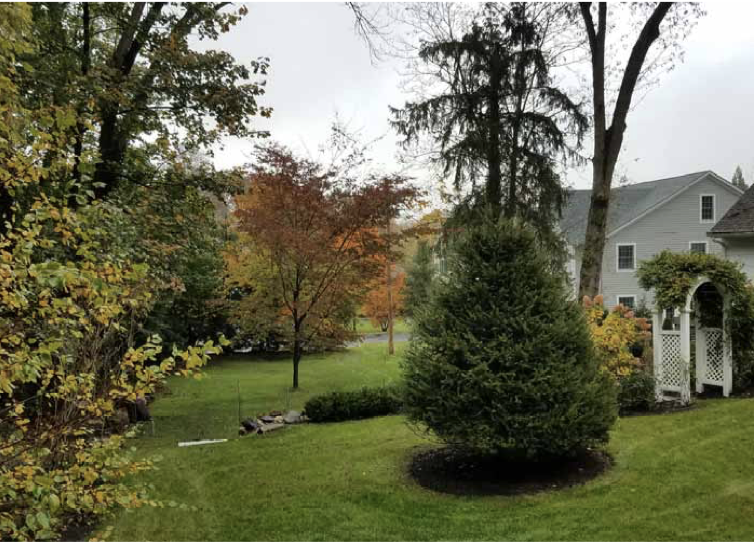 Residents improved the area with landscaping and trees.
Village Manager Steve Pappalardo said that the Board has approved revocable licenses in the past. He said the Planning Board did a study of paper streets in the Village in 1999. There were 32 paper streets in the Village and they recommended that some be maintained as paper streets for possible use later on and others be "de-mapped." This paper street was on the de-map list. At the time, they discussed selling some of this property to neighboring property owners who might want to add it to their lots. However for this paper street, there are public utilities underneath it, complicating a sale. Pappalardo pointed out that if residents are granted a license, it's up to them to care for the land and it lightens the load of Village landscapers who have to mow the lawn and maintain the property.
In the discussion that followed, Trustee Lena Crandall said, "Our open space inventory needs to be updated." She said allowing vegetation to grow in these open spaces is good for flood mitigation. Trustee Arest was disturbed that the application for a license was submitted after the residents had encroached on Village owned land, not before. Seth Ross suggested that the Village Manager bring these licensing applications to the Board in advance of drafting an agreement. He said there are not so many that it would be burdensome.
After considerable discussion, the resolution was tabled to give Trustees and opportunity to further examine this case and to formulate a general policy.
Comments from the Mayor and Village Manager
In other business, Scarsdale Mayor Marc Samwick encouraged everyone to exercise their right to vote either early or on election day.
Village Manager Steve Pappalardo shared that the Village had just undergone an inspection by FEMA to evaluate the Village's flood mitigation efforts. The Village received a strong numerical score that validates the Villages commitment to a comprehensive approach to flood plain management. As a result, residents who live in flood prone areas are qualified for a 10% reduction on flood insurance.
Pappalardo reviewed the work of Scarsdale Family Counseling Service and their programs to assist many segments of the community including youth, families and seniors. He emphasized that their service to the community has been especially valued during the pandemic. He encouraged those in need to contact them at www.SFCS.org.
Regarding Halloween, on Saturday October 31, Pappalardo said that the Village is advocating to both the New York State and CDC guidelines and that door to door trick or treating has been identified as a high-risk activity. These guidelines along with ideas for a safe and fun Halloween can be found on the Village website at www.scarsdale.com.
Public Comments
Jon Gliedman of Lyons Road spoke in support of improving traffic safety and asked the Village to make the intersection of Lyons Road and Sprague Road and a four way stop by adding two stop signs to the intersection. Brandon Cole agreed with Gliedman.
Leah Dembitzer, President of the League of Women Voters of Scarsdale noted that extended hours for early voting has been added at all locations due to high voter turnout. Absentee ballots can be dropped off at drop boxes at these locations. For voting on election day, some locations have changed and voters should look up their polling place on the Board of Elections website here:
Bob Berg supported the proposal for a four way stop on Lyons and Sprague Road. He said another pedestrian was hit in a crosswalk on Popham Road last week. He said the Village could designate short stretches for lower speed limits at dangerous points around the Village point.
Bob Harrison said he ran a successful youth tennis tournament last weekend.
Finances
The Village Board of Trustees held a work session on finances prior to the meeting. They projected that they would have a shortfall of $2.4 million this year. This is due to lower than expected revenues from sales tax ($661,000), parking ($1,495,000) and recreation ($303,000). This is a better scenario than originally projected. The Village has already set aside $2.5 million in a COVID account and has a positive fund balance to cover shortfalls. The Village's situation is stable. However, shortfalls are expected to continue and Village managers will prepare for this in the months to come by suggesting budget reductions of 10% by department.
Bond Resolution
The Board approved a resolution authorizing the issuance of $1,750,000 in bonds to finance various improvements to the water supply and distribution system.
Gift from the Scouts
The Village accepted a gift of $2,000 from Edgewood Girl Scout Troop 2701 which has been disbanded. The funds will be used to replace benches in Davis Park.
Great Ideas for Risk-Free Halloween Fun

Though everyone is wearing a mask, this Halloween will be like none other. New York State has issued guidelines for celebrating Halloween and trick or treating comes with many warnings. The state advises against taking treats that are handed out at the door or picking up treats from a bowl that may have been handled by others. They advise against being in crowds outside or at indoor parties and gatherings.
Instead of traditional trick or treating they are recommending that people celebrate Halloween with the people who live in their own households, in other words, make your own fun. Some alternatives that are recommended are home decorating, pumpkin carving, watching spooky movies or conducting a scavenger hunt. Since this may take a little effort, here is a list of ideas that you can enjoy at home:
Costume Contest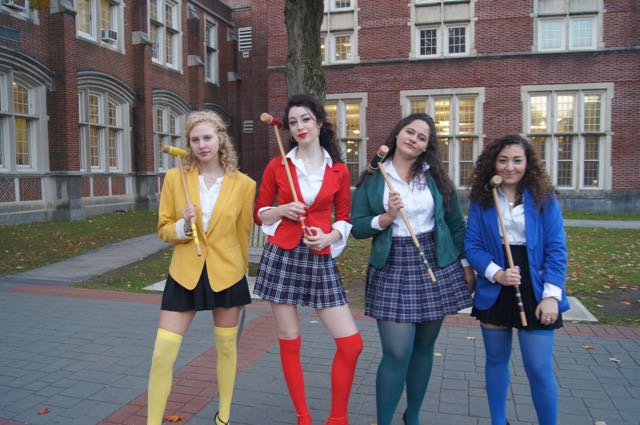 The Village of Scarsdale is hosting a costume contest and is encouraging residents to email photos to the judges. The photos will be posted on the Village website and shared with the media. Gift certificates to local businesses will be awarded to the winners.
Here are instructions from the Village on how to participate:
"Your costume can be as an individual or as a family Feel free to include pets, props, backgrounds, or whatever you think you need to make the best costume you can! Costumes must be current (no reusing old photos!) No photo manipulation is allowed (stay away from filters & photoshop.) There are no age limits. All costumes will be judged on creativity. Entry is free and easy. Simply email your photo(s) to dwalczewski@scarsdale.com by Wednesday, October 28."
Pet Costume Contest
Dress up your favorite pooch, cat, gerbil, or family pet for Halloween. Take a picture and send it to scarsdalecomments@gmail.com. Costumed pet photos will be featured on Scarsdale10583.com.
Scavenger Hunt
Have the family collaborate on a list of things to find for a scavenger hunt in and around the house. Then swap lists with a friend with similarly aged children. Time yourselves to see which family finds the items on the list first. Alternatively, parents can put together a list of clues and the kiddoes can go hunting around the neighborhood. And if you are a little short on time, Scarsdale Pack 440 has put together a family scavenger hunt that weaves through Greenacres and the Village. Clues can be found here. Submit your answers by November 1st to ScarsdaleCubs@gmail.com for a chance to win a gift card donated by Learning Express.
Spooky Tales
If you are looking for something a little out of this world, check out the Intrepid's Spooky Planetarium (Ages 5–15) on Thursday, October 29, 3:00-5:00 pm. Witches and spiders and ghosts… in space! Discover eerie creatures lurking in the night sky as the Intrepid explores the astronomical origins of Halloween and shares a few haunting tales of unexplained phenomena witnessed by astronauts.
Online Scavenger Hunt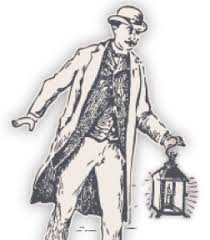 If your family is itching to get out of the house, and even out of town, check out Haunted Tales, the online Halloween scavenger hunt offered by Watson Adventures, $19 per participant (appropriate for ages 10 and up). It will take you from Coast to Coast virtually in the course of an hour. You can have a team of up to 6 people in the public hunts, and your team members can be in different locations. (Note there must be an adult participant and interaction with other teams is limited to the opening and conclusion of the hunt.) Or, if you have enough friends you can also set up your own private hunt. Click here to find out more.
Reverse Trick or Treat

Two Edgemont boys came up with an idea for a Reverse Trick or Treat Safe Halloween to make Halloween 2020 safe—and raise money for American Red Cross Covid relief. Peyton Levine and Ryan Stuzin are encouraging you to give to the Red Cross and get a complimentary bag of candy. To participate, email your name, address and how many children you would like treats for to: edgemontredcross@gmail.com. Red Cross asks for $10 but accepts whatever you can afford. On Halloween, a bag of candy will be delivered to your door and you can make your contribution. Supplies are limited. RSVP by Friday October 30 at noon.
Movie Night
Hold an outdoor Halloween movie night. Have individually wrapped spooky treats and single serve drinks at your "concessions" stand. Use x's (or body outlines like in a crime scene if you have a steady hand) to mark where guests can park their chairs/blankets.
For added fun, send each guest the name of a product or service for which they can shoot their own Halloween-themed commercial. You can air these before the main attraction.
If you're looking for Halloween content, Historic Hudson Valley has produced two new short films, The Misadventures of Ichabod Crane and The Legend of Sleepy Hollow: A Shadow Puppet Film that will stream free to audiences this Halloween
Historic Hudson Valley has reimagined Washington Irving's "The Legend of Sleepy Hollow" with two new interpretations debuting this fall, The Misadventures of Ichabod Crane and The Legend of Sleepy Hollow: A Shadow Puppet Film. These two new short films will stream as a double feature for free on Historic Hudson Valley's Facebook page on Oct. 31 starting at 3pm, giving families across the country a chance to experience Halloween in Sleepy Hollow Country.


The Misadventures of Ichabod Crane, featuring Master Storyteller Jonathan Kruk, adapts Historic Hudson Valley's Irving's 'Legend' event for at-home viewing. Filmed in Sleepy Hollow's Old Dutch Church, this dramatic performance immerses audiences in Washington Irving's legendary tale and is recommended for ages 6 and up.

"When Historic Hudson Valley invited me to collaborate with storyteller Jonathan Kruk on an adaptation of Washington Irving's 'The Legend of Sleepy Hollow,' my goals were to translate his wonderful one-man show into cinematic form, capture the excitement of live performance, and bring a touch of strangeness," said Guido Jiménez-Cruz, director and co-writer of The Misadventures of Ichabod Crane. "Beyond the original text, I looked for inspiration in the candid magic of theatre and the simplicity of early cinema."

The Legend of Sleepy Hollow: A Shadow Puppet Film is an enchanting, family-friendly adaptation featuring the artistic wizardry of author-illustrator David Hyde Costello and the spellbinding voice of poet Malik Work. Featuring music by Costello and cellist Wayne Smith, this all-ages film blends the ancient art of shadow puppetry with Irving's classic American ghost story.

"These films represent an exciting extension of HHV's mission to share the history and culture of the Hudson Valley in innovative and accessible ways," President Waddell Stillman said. "'The Legend of Sleepy Hollow' is a story with universal appeal, and we are delighted to mark its 200th anniversary with two equally visionary but very different cinematic versions of Washington Irving's classic."

"Sleepy Hollow is usually crowded with visitors looking for a glimpse of the Headless Horseman at this time of year," added Elizabeth L. Bradley, Vice President for Programs and Engagement. "These exciting short films provide us with fresh ways to share the mystery and magic of the spooky season with audiences of all ages, all over the world."

Both films are also available on-demand on Historic Hudson Valley's YouTube channel.
Virtual Trick or Treat for Unicef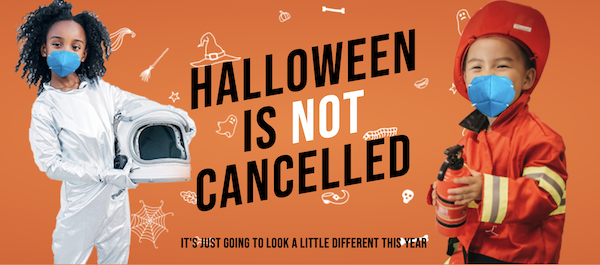 UNICEF USA has launched a Trick-or-Treat for UNICEF virtual experience. In honor of the 70th anniversary of this iconic, American tradition, this year's initiative will be comprised of fun, digital and interactive experiences all while teaching children the importance of giving back and fundraising for a socially distanced Halloween.
Parents and teachers can register and create an online profile by visiting trickortreatforunicef.org where they will receive a Virtual Collection Box with a customized link and QR code. By participating in fun activities and watching educational videos, children will earn Trick-or-Treat Coins that add up to real-life donations. As coins are collected, children will be able to say where they would like their earnings to go, empowering them and connecting their efforts to positive impact for children around the world.
Do you have Halloween ideas? Please share them in the comments section below or email them to scarsdalecomments@gmail.com.
Who Should Receive the 2021 Scarsdale Bowl? Committee Seeks Recommendations for Honoree
Details

Category: Neighborhood News
Published:

31 October 2020

Written by

Joanne Wallenstein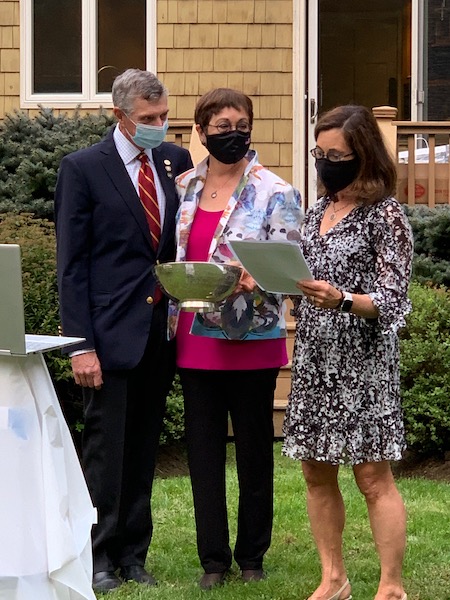 2020 Bowl Honorees Jon Mark and BK Munguia with Bowl Chair Nancy MichaelsThe 2021 Scarsdale Bowl Committee will begin working to select the 2021 recipient of the Scarsdale Bowl award at its meeting on December 13 and is seeking recommendations from the community for next year's honoree.
The Scarsdale Bowl, under the sponsorship of the Scarsdale Foundation, has been awarded annually since 1943 to an individual (or in exceptional cases, to a married couple) who has given "unselfishly of their time, energy, and effort to the civic welfare of the community." The founding donors of the Bowl believed that "many who serve generously and voluntarily, without office, honor, or publicity, are those deserving of having their names permanently inscribed on the Scarsdale Bowl." The community celebration dinner is currently scheduled to be held on Thursday, April 22nd, 2021 at Brae Burn Country Club in Purchase.
Randy Guggenheimer, President of the Scarsdale Foundation, announced that Nancy Michaels will once again serve as chair of this year's Scarsdale Bowl Committee, and Abby Sroka will continue as the Secretary/Treasurer. Members of the Bowl Committee serve a staggered two-year term. The members of the newly-appointed class of 2022 are Sergi Flaster, Elyse Klayman, Michael Rosen, Svati Shashank, Scott Silberfein, Loretta Vickers, and Han Zou. The continuing class of 2021 is comprised of Matthew Martin, Dana Matsushita, Jeff Robelen, Andrea Seiden, Janice Starr, and Amber Yusuf. Jennifer Love, a Scarsdale Foundation trustee, will serve on the Committee as liaison.
The Scarsdale Bowl Dinner 2021, themed "Shine on Scarsdale," will pay tribute to the 2021 recipient, as well as officially honor 2020 Bowl winners BK Munguia and Jonathan Mark because we were unable to gather as a community during the pandemic. The Committee is grateful that despite the dinner's cancellation, the Scarsdale community has been generous, waiving ticket reimbursements and making donations toward the Foundation's college scholarships, which are now more crucial than ever. The hope is that next year the community will be able to properly celebrate the spirit of volunteerism, central to the civic life of Scarsdale, and that another group of deserving students will benefit from the evening's proceeds. In addition, the new Honor Roll will allow everyone to recognize the day-to-day volunteerism of friends and neighbors while generating more support for the Foundation's projects.
The Bowl Committee welcomes community input for suggestions for the next Bowl honoree. Recommendations are requested by November 25th, but will be accepted any time before the December 13t meeting. Nominees must be Scarsdale residents who do not currently hold elective office. Any member of the Bowl Committee will gladly answer questions, and Chair Nancy Michaels may be reached at 725-8310 or at NancyMichaels311@gmail.com. Nominee recommendation forms may be accessed here.
Additional information about the Scarsdale Foundation and the Scarsdale Bowl may be found at www.scarsdalefoundation.org. Looking forward to being together next year!
The Surprising History of Scarsdale's Black Community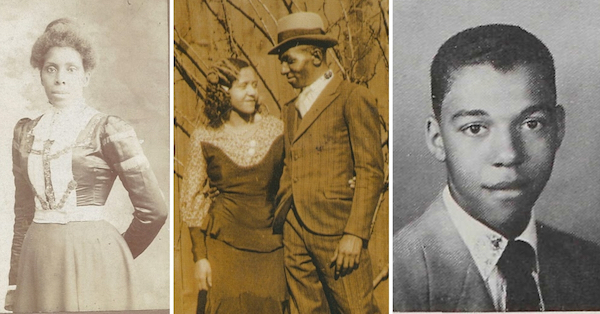 With the issue of race in the forefront, Scarsdale attorney, teacher and historian Jordan Copeland has produced a fascinating video highlighting his research on the Black community in Scarsdale, from slavery to the modern era. Originally delivered as a public cosponsored by the Scarsdale Forum, Scarsdale Public Library, and Scarsdale Historical Society, the video is posted on YouTube and can be viewed here:
The research includes historic photos, documents, maps, newspaper articles and live interviews with the descendants of Scarsdale's first black residents Black people who grew up in Scarsdale from the 1950's to 80's. They paint a portrait of a strong Black community which has been an important part of Scarsdale but has not always been fully accepted.
He begins with the story of Scarsdale's earliest Black residents who were two thirds of Scarsdale's population in 1712. In fact, Thomas Hadden, the first owner of what is now Wayside Cottage and 150 acres of land, had three children with his wife and another five with his slave or "wench Rose" who he provided for in his will at the time of his death in 1762.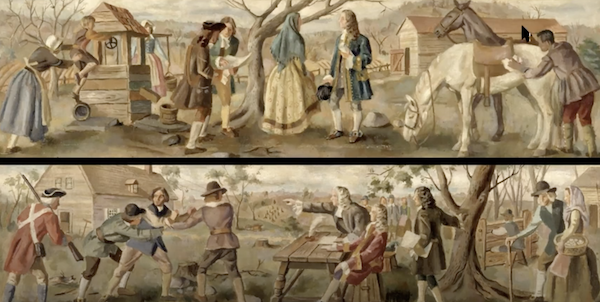 As evidence, Copeland shows a set of murals that is still displayed in the Scarsdale Post Office that depicts the formation of Scarsdale in 1701 when Caleb Heathcote bought the land from the widow Richbell. The mural includes one slave tending to a horse.
Though discrimination was not unusual throughout Village history, Black children were permitted to attend school with their white peers, which was highly unusual. He shows several school photographs, including a one room Quaker School in the 1890 and another of the students of the Griffin School in the 1920's. Both pictures show both white and black children and adults in attendance at school and the building that housed the Griffin School remains today on the grounds of the Quaker Ridge Golf Club.
By the 1930's, Scarsdale's Black population had grown to 482, but many were living in white households as maids, butlers and chauffeurs.
One of neighboring Edgemont's first Black homeowners ended up in court. Joshua Cockburn, a wealthy steamship captain purchased a tract of land in what was known as "Edgemont Hills." He built a Tudor style home there in 1937 but was sued because the covenant on the land barred black homeowners. A neighbor feared that Black families would harm their own real estate values. Cockburn was defended in court by Thurgood Marshall but lost the case. Despite the defeat he remained in the home because the decision was not enforced.
Copeland shows that Blacks did not significantly participate in Scarsdale's transition from an agrarian to a suburban community. Even as late as the 1960's, Blacks met discrimination when attempting to purchase homes in Scarsdale.
Copeland includes an interview with Joretta Evans Crabbe who shared what happened when her parents tried to buy a home in Scarsdale in 1969. They went into contract to purchase a home in Heathcote without meeting the current owners face to face. When the sellers realized that the buyers were Black, the homeowner called Crabbe's father and asked him to back out of the deal. He said, "My wife is threatening to kill herself and pull up all the plants if we sell it to a Black family." He then offered the buyers $10,000 on a $40,000 house to back off, but her parents refused.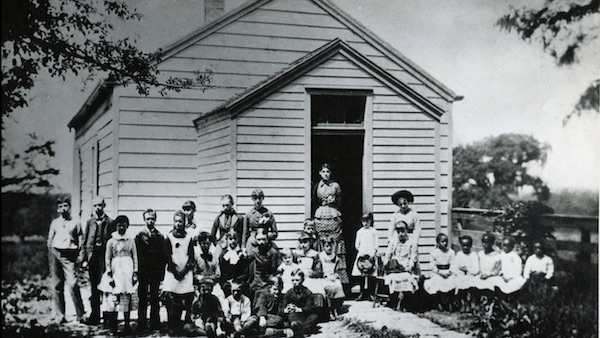 Black and White Students at school in the 1890's
This is just one of the scores of revealing stories that Copeland elicited in his hours of interviews with current and former black residents of Scarsdale.
Here are a few quotes from others who shared what it was like to grow up in Scarsdale.
"We had wonderful friends who were white – but we were "other."
"I didn't go to my prom because there was no one to invite me."
"I had to work twice as hard to be half as good."
"What was hard, was not coming from a family with money."
Some of the listeners who posed questions to Copeland during his presentation hosted by the Scarsdale Forum asked if he would seek changes based on his findings. One wanted to know if streets like Cornell and Griffin that were named after slaveholders should be changed. Another asked if the mural at the post office should be taken down. Copeland made it clear that his purpose for now was to uncover Scarsdale's history rather than to proscribe change.
Copeland is continuing his research and welcomes input. He has set up a discussion and avenues for people to learn more, take action, and support each other. If you are interested, please fill out this form.