BramLee Heights Residents Ask Committee to Save Historic Home at 112 Lee Road
Details

Category: Shout it Out
Published:

27 February 2020

Written by

Joanne Wallenstein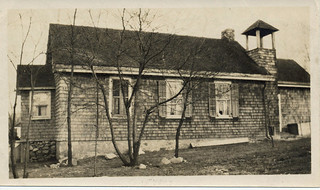 The original meeting house, NELIC Hall at 112 Lee Road.
Residents gathered at a meeting of the Committee for Historic Preservation on February 25 to attempt to save the first house built in BramLee Heights which also served as a meeting house and a Dutch church.
An application has been filed to completely demolish the home at 112 Lee Road which was built in 1906 by the North End Land Improvement Corp (NELIC). According to CHP historian Jonathan Lerner, at the time, Scarsdale only had 800-1,000 residents, and the house, formerly known as NELIC Hall served as the gathering place for union hall meetings and the fire company. For eight years it became the Dutch Reform Church.
Lerner noted that Lee Road is named after the owners of the North End Land Company and the house is important in the history of the Village.
Neighbor Lisa McIver attended the meeting and presented some history about the house to the committee, including archived notices in the Scarsdale Inquirer that show the establishment of the church in 1912 and a minstrel show in Nelic Hall in 1913. She said, "If there is any house in BramLee Heights that means something, it is this one." She also submitted a petition with 40 names asking for the house to be preserved.
Natalie Reich of 125 Lee Road noted that the site provides "greenery and history" and it would be sad to have it torn down. Neighbor and realtor Sheri Wolfe of 117 Lee Road said, "Houses on Brown and Brambach Roads have been torn down and replaced with cookie cutter homes. Our street is beautiful. I want to preserve the history of the neighborhood."
The committee is charged with considering the following criteria to determine whether a property is historic and should be preserved:
In making a determination whether to grant an application for a certificate or to deny such application and require that the building in question be preserved, the Committee shall consider the level of significance in American history, architecture, archeology, engineering and culture present in the building, as well as the integrity of location, design, setting, materials and workmanship , and
1. That the building is associated with events that have made a significant contribution to broad patterns of Village, regional, state or national history; or
2. That the building is associated with the life of a person or persons of historical significance; or
3. That the building is the work of a master and embodies the distinctive characteristics of a type, period or method of construction that possess high artistic values; or
4. That the building has yielded or may be likely to yield information important in prehistory or history,
B. The Committee may consider if the building is listed on the National Register of Historic Places, New York State Register of Historic Places or Westchester County Inventory of Historic Places. A national, state, or county listing alone is not sufficient to warrant preservation.
In this case, the committee needs to determine if 112 Lee Road meets criteria #1, "That the building is associated with events that have made a significant contribution to broad patterns of Village, regional, state or national history;
In the discussion about the decision, committee members regretted that they did not have all this information before the meeting and said that the onus to provide historical information was on the applicant who claimed there was little to discover.Committee member Kevin Reed said, "I cannot decide tonight – I need time to look at it. We need to judge it on all the facts and not just some of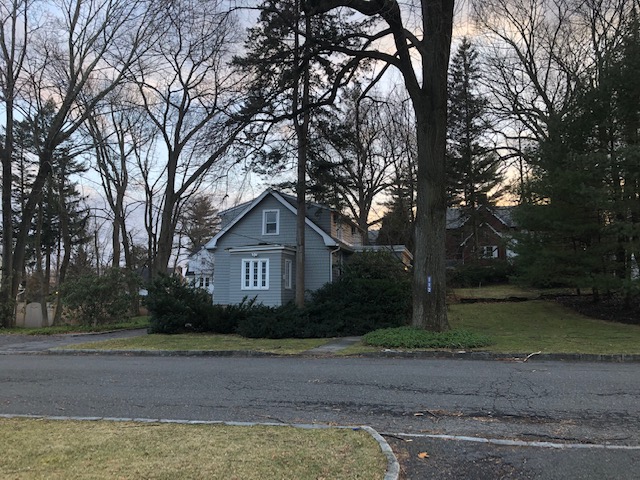 112 Lee Road today.them."
Mark Behr, an architect and committee member noted that the home had been extensively renovated in the 1960's and said, "The board has to consider the structure as it stands today. Should we consider this building or the historic structure that was there? If a building has been altered, should it still be preserved?... It is now a 1960's house."
At the end of the discussion, Kevin Reed made a motion to table the decision until the committee's next meeting and it was approved.
Commenting on the article, former resident Alan Sacks said, "The house at 112 Lee is over a century old. Yes, it's been modified, but the basic is hand-built. In other parts of the country this would be deemed a treasure. Maybe a partial restoration is in order. Why do we need another styro McMansion?"
Modern Cantonese Fare in a 19th Century Mansion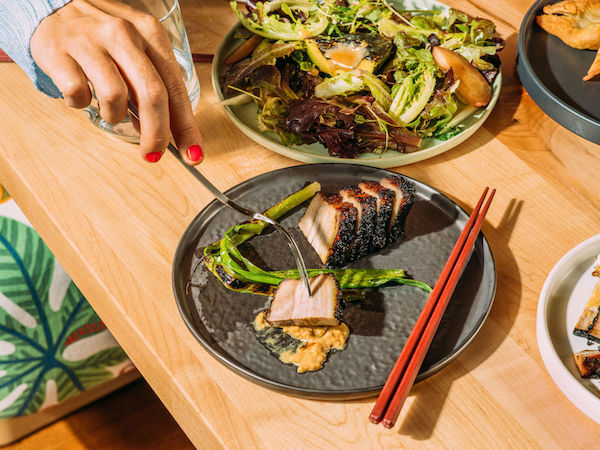 Photo Credit: All Good NYCIt's an unlikely combination: a restaurant featuring reimagined Cantonese food in a historic 19th century Georgian mansion on an old estate. But that eclectic mixture of past and present is what you'll find at Goosefeather Restaurant at Tarrytown House in Tarrytown. Finding it might not be as easy as you would think – as once you enter the 26 acres estate off East Sunnyside Lane you are taken up a long winding drive, passing a conference center and hotel rooms before reaching the King Mansion at the top of the hill.
Built in 1840, the home changed hands many times. In 1900 it was purchased by Thomas M. King, Vice President of Baltimore and Ohio Railroad, and the house retains his name more than a century later. The main floor of the house has several dining rooms and a bar where Goosefeather is thriving. Upstairs the mansion operates as a hotel, with ten bedrooms available.
Downstairs the ceilings of the four dining rooms and bar have been painted a la Jean Miro, making for another juxtaposition in era and style.
The menu is the work of Chef Dale Talde who has run several successful restaurants, appeared as a popular cast member on Top Chef and authored his own cookbook, Asian American. With a big variety of small and large plates, vegetables, noodles, barbecue, fish and beef, there's something for everyone, no matter what their food preferences or dietary restrictions. It's a great place to sample and to share.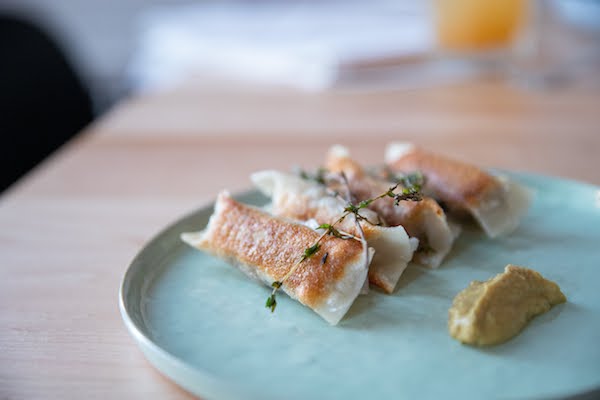 The menu is divided into seven categories: Salads, Vegetables, Dim Sum, Chinese Barbecue, Noodles and Rice and Large Plates. Our party of four was able to try quite a few selections, and we ended up cleaning the plates.
To start we ordered the grilled delicata squash, served with sesame leaf green goddess and Imperial style Chinese broccoli. Also tempting were the dry aged beef pot stickers with Chinese mustard horseradish. In fact every imaginative dish in the menu is topped with an even more flavorful sauce.
On the waiter's recommendation we ordered the Char Sui Berkshire Pork Belly, with grilled scallions and Chinese mustard and we were glad we did. The pork was blackened on the outside, tender on the inside and well complemented by the spicy mustard.
Not to be missed was a large bowl of pork fried sticky rice topped with chicharrones, egg and Chinese bacon. There was plenty for everyone and the rice was flavorful and done right. Another hit was the Cantonese roast duck with scallions, caramelized hoisin, lettuce and drunken cranberries. Roll all this up in a lettuce leaf and enjoy.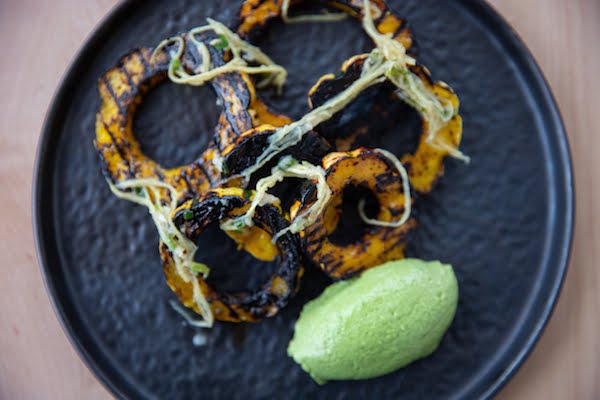 What else? From the large plates we ordered steamed branzino with ginger olive scallion relish and Marcona almonds as well as wok-roasted scallops with snow peas and cashews. The fish was fresh and both seafood plates were tasty.
We should also note that our servers were friendly, helpful and efficient – and we were able to enjoy our meal at a leisurely pace in a spacious dining room that allowed for private conversations.
We booked on RESY and were cleared for a table using the NOTIFY feature that alerts users if a table becomes available at your desired time.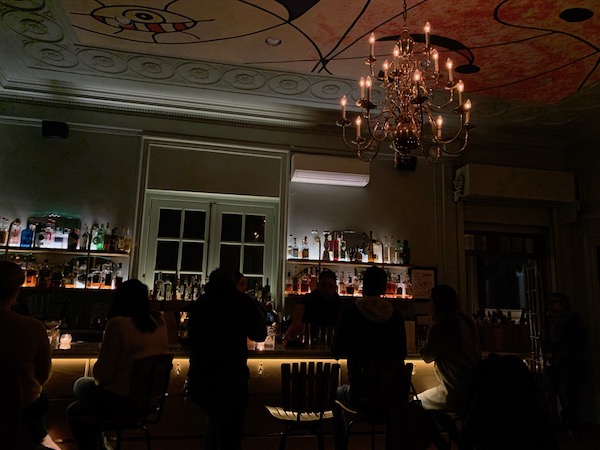 So if you need a diversion consider taking a short trip across the county to sample exotic cuisine in a novel setting at Goosefeather.
Goosefeather
49 E Sunnyside Ln,
Tarrytown, NY 10591
914-829-5454
www.goosefeatherny.com
info@goosefeatherny.com
Photo Credit: Matthew Mancuso
Local Boy to Appear in Caroline, or Change on Broadway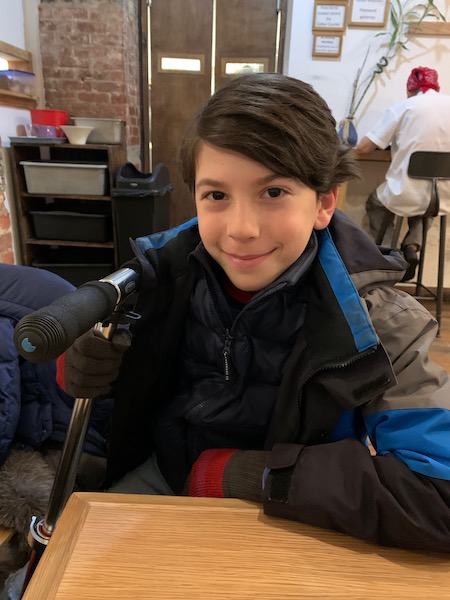 Ten year-old Jaden Myles Waldman, formerly of Scarsdale, is currently rehearsing to perform in the Roundabout Theatre production of Caroline, or Change. Written by Tony Kushner, the musical is set in Lake Charles, Louisiana in 1963 and tells the story of African American maid Caroline and her relationship with Noah, a young boy in the Jewish family for which she works. The backdrop is the American south at a pivotal time in the fight for racial equality. Jaden is now rehearsing for the role of Noah and learning to sing the score, composed by Jeanine Tesori.
We had lunch with Jaden in midtown Manhattan during a break in his busy week. We walked and he arrived by scooter, which Mom Stacie says makes it easier for Jaden to get around town.
Due to the six-day a week rehearsal schedule, Jaden and his mom have sublet an apartment near the theater district so that he could get to work on time without having to commute from Connecticut, where the family now lives.
Stacie explained that Jaden is not missing his schoolwork during the run of the play. Roundabout has two highly skilled tutors that work with him three hours a day so that he keeps up with his fourth grade class. She says that the tutors are excellent and sometimes even give Jaden extra work.
This is not Jaden's first gig -- he has performed in many commercials, recently co-starred on an episode of the Amazon Prime series The Marvelous Mrs. Maisel and will appear in HBO's miniseries The Plot Against America in March. Jaden has recently done film work and he played the principal role of Ben in the Radio City Christmas Spectacular twice. Caroline, or Change, however, marks his Broadway debut and his first musical; he seemed to be thriving with the vocal coaching, dance instruction and the intensive acting lessons involved in learning his role.
Previews begin March 13th and the show opens April 7th. As an alternate, Jaden is guaranteed to perform each week and also has to be at the theater for all performances. It seems like a lot to ask a boy of ten, but Jaden was clearly enjoying it.
What about his Dad and sister back home in Connecticut? Stacie said with help from her mother and wonderful neighbors, sister Carly has been managing just fine.
Watch for Jaden Waldman in the Roundabout Theatre production of Caroline, or Change at Studio 54 beginning March 13, 2020.
Scarsdale Welcomes New Village Assessor Victoria Sirota
Details

Category: On Our Minds
Published:

26 February 2020

Written by

Joanne Wallenstein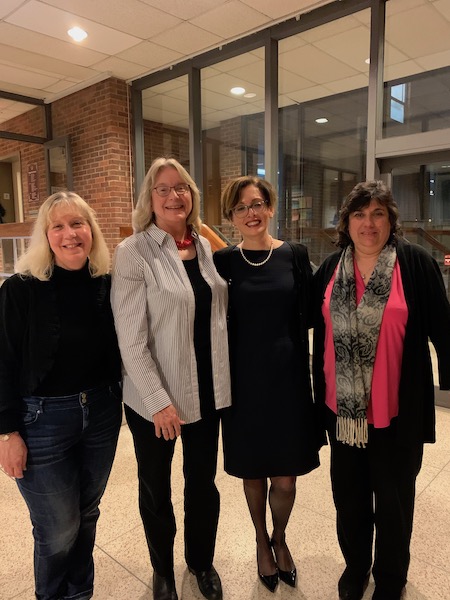 Theresa Diamond, Jane Lawrence, Victoria Sirota and Margaret SmoyverScarsdale has a new Village Assessor. Victoria Sirota, who served as assessor in North Castle has accepted the job and was officially appointed at the February 25 meeting of the Scarsdale Village Board of Trustees. Here are comments from Trustee Justin Arest, welcoming Sirota and thanking those who filled the void while the Village undertook their search.
As many are aware, former Assessor, Nanette Albanese unexpectedly resigned from her position on Friday, March 1, 2019. The Village wasted no time setting up a plan and I am very proud that the hard work of many has led us to the appointment before us tonight, just less than one year later. I would be remiss if I did not make a few comments of appreciation before proceeding. I am a huge advocate of process and ensuring that the proper steps are taken by the right people in order to promote the best decisions and hopefully the best outcomes. But, regardless of how impressive of a plan could be implemented in terms of a search, without stability in our Assessor's office over the past year, none of it would have been possible. We are all very grateful for the hard work and substantial time put in by our Village Manager to ensure our incredible professionals had the resources they needed, including the important addition of Edye McCarthy as a consultant. Thank you to Edye for her assistance. I need to extend a big thanks to Ms. Jane Lawrence who I imagine would never have believed anyone had they told her she would have served as Acting Assessor for a year. She continued to say yes when Scarsdale needed her and for that we should all be grateful. To say that her service was integral would still be an understatement.
Finally, quick thanks in the interest of time, to all of the participants of our search committee, the outside professionals that aided us and at times educated us, former HR Director Adil Tahir and current HR Director Angela Sapienza-Martin who did most of the leg work and helped us stay organized, and former Mayor Dan Hochvert, current Mayor Samwick and Village Manager for their leadership and unwillingness to ever panic.
Over the course of this process we received over 30 resumes from interested applicants. Of those, over a dozen candidates were seriously considered and many of them were interviewed multiple times by the search committee as well as the Board of Trustees. The road to get here might have been a little longer than anticipated but, I could not be more pleased to introduce Scarsdale to Victoria Sirota.
Victoria comes to Scarsdale from the Town of North Castle where she has served as its Assessor for 8 years. She holds a BS in Accounting and a BA in Russian from Rutgers University where she graduated Phi Beta Kappa. Victoria is a CPA and spent fifteen years in the accounting and taxation fields until deciding to take a step back and spend more time with her family.
Victoria's career in municipal assessments began in 2012 when she was appointed to be the sole assessor for the Town of North Castle. Victoria, along with the assistance of her professional staff in North Castle prepares, maintains and defends an assessment roll of approximately 4,800 properties for the purposes of taxation for the Town (that includes the hamlets of North White Plains, Armonk and Bedford-Banksville), five school districts, Westchester County and various special districts. Victoria is a member of the Institute of Assessing Officers. Otherwise known as the IAO, it is chartered by the New York State Board of Regents. An assessor with an "IAO" designation, such as Victoria, is recognized as one who has achieved the highest level of professional competence in his or her field. Additionally, Victoria is a member of the NYS Assessors Association where she plays a valuable role on its Legislative Committee, and, an Executive member and also Past President of the Westchester County Assessor's Association.
Victoria is looking forward to working with our community and encourages residents to call and/or stop by the Assessor's office with any questions related to exemptions, assessments or even just to introduce yourself.
Vicki Presser Presses On
Details

Category: School News
Published:

24 February 2020

Written by

Joanne Wallenstein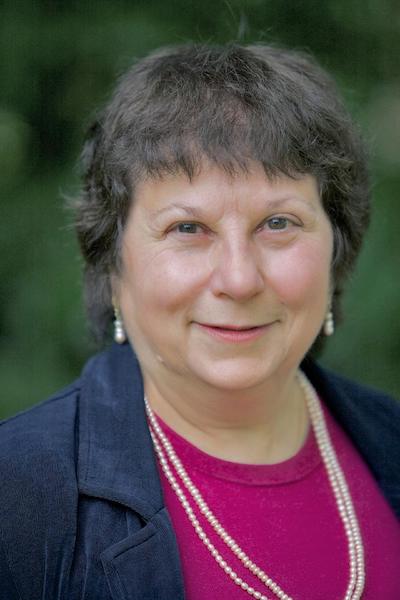 Vicki Presser, the Public Information Officer, media liaison and the voice of the Scarsdale School District has announced she will retire in June after 18 years on the job.
We asked Presser a few questions about her role, her history and the future and here is what she shared"
What are your current responsibilities?
I write or edit all the articles in Insight, and take the classroom photos that are published there; I gather and edit the articles for 'Dale Dispatch; I send Board meeting notices and news releases out to the news media and the community, and write and distribute Board Highlights; I edit reports and papers written by our District administrators; I write special pieces as needed; I answer community and reporter requests for information; I post items on the District Facebook page and contribute to Website postings; I notify news media concerning inclement weather postings; I take part in Safety, Security, and Emergency Management committee work; and there's probably more things that are not coming to mind just now! Oh right: I help bewildered, lost people in the hallway -- a lot. That just happened, so it reminded me.
How has the job changed during your tenure?
Google Docs is a game-changer, as they say. So much easier to collaborate on drafts and keep track of changes.
Under which superintendents did you serve and how did their communication styles vary?
Just Dr. McGill and Dr. Hagerman.
How has the advent of social media affected the way you communicate with the community?
In 2002 Facebook was barely a thing. Now we have nearly instantaneous access to information. But the same rules of communication apply - be clear, concise, and mindful of community concerns.
Were you ever fooled into reporting a fake story or fake news?
Nope. I'm the one telling people to go to Snopes and check the veracity of a story BEFORE passing it around.
What was one of the funniest stories you ever reported?
Not exactly that, but here's one of my favorite stories: It was Human Rights Day at the Middle School some years ago. I had twisted my ankle badly the day before, but gamely limped around the hallways taking photos -- until principal Mike McDermott stopped me and said, "young lady, I'm sending you to the nurse's office!" Now, that is truly one of the perks of working in a school district.
Down the road, what changes in district communications do you anticipate?
I've already seen the transition from phone calls to emails to texts. But some things never change -- for example, a print newsletter is still the only reliable way to reach everyone living in the community.
Do you think the job description for your replacement will differ from what you currently do?
I'm certain my successor will find new and better ways to get the work done -- and will probably also be able to reach items on top shelves.
What do you plan to do in your retirement?
I was recently elected to the White Plains Common Council, and very much enjoy serving the community where I've lived for nearly 40 years. But another title I got in January is even more exciting -- Grandma! My new granddaughter is in Chicago; regular visits will be in order. Apart from that, I'll be glad to have more time to read, take part in synagogue activities, attend concerts, and visit museums and parks.