How Much Screentime is Too Much? Here's What the Experts Say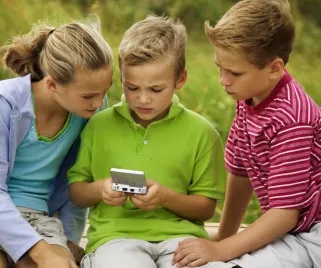 Screen time for kids has increased many-fold since the closing of schools due to COVID-19 in March of 2020. Screens have become necessary for schooling, but one of the biggest discussion points among parents is the additional time their kids are spending online for social interaction or gaming.
News headlines warn that screen time is up 500% among kids and that myopia will be the next public health problem due to screen time. But some have come to the conclusion that it's a throwaway year and have decided to let their kids use their devices at will. Should it be a concern? How much screen time is too much screen time and what techniques can parents effectively use to cut back screen time?
At the beginning of the pandemic, many parents encouraged screen time so kids could keep in touch with friends through gaming and face time. It helped keep kids busy while parents got used to working at home. "Gaming with friends seemed like such a safer option than getting together in person," said a mom of three boys. "But it began as an hour of Fortnight together and evolved into hours a day and wanting to be on with their friends all weekend long." She went on to explain that once the warmer weather hit, she expected her kids to want to see their friends outside instead of gaming with them inside, but it became a constant fight to get them to go outside or do much of anything else.
According to the Child Mind Institute, it's a good idea to ask yourself the following questions, to make a determination based on your family's circumstances of how much screen time is too much.
-Is my child getting enough sleep or is screen time affecting this?
-Is my child still spending quality time with family?
-Is my child getting daily exercise?
-Is my child keeping up with schoolwork and homework?
-Do they interact with friends and/or family while on screens?
If you answered "no" more than "yes," it may be time to place limits on screens.
I know that I have had to repeatedly remove devices from my kids' grips and have found other devices hidden in closets and under beds. Recently I found my son's phone stashed in his room in an alarmed box he wired together at Camp Invention.
Are screens affecting your familial relationships? Does your child get angry when they come off a screen? Do they seem irritable and cranky when they need to stop gaming or their time limit on Tik Tok has come to a close?
Studies have shown that screen time can cause extended release of dopamine in the brain, leading to lack of impulse control. A piece published in Journal of the International Child Neurology Association by Dr. Aric Sigman caught a lot of attention recently.
In it, he writes, "'Addiction' is a term increasingly used to describe the growing number of children engaging in a variety of different screen activities in a dependent, problematic manner." He defines screen addiction the following ways:
• Preoccupation
• Withdrawal symptoms
• Increasing tolerance
• Failure to reduce or stop screen activities
• Loss of outside interests
• Continuation despite negative consequences
• Lying about extent of use
• Use to escape adverse moods
Dr. Pam Hurst-Della Pietra, Founder and President of Children and Screens at the Institute of Digital Media and Child Development linked screen addiction or excessive screen time to lack of sleep, being reclusive and irritability. These are all signs that your child needs an adult to intervene and limit screen time. Some describe it like the "cry it out" technique used on babies to get them to sleep through the night. The first few times you limit the device the kid may freak out, but once you set and solidify boundaries and hold your ground, it will get progressively easier.
A mom from Edgemont said her kids' screen time increased during the pandemic, "…as necessitated by school demands, but the overflow into free-time use has also increased." I asked her if it was for the better (e.g. she could get work done, her kids were happy) or for the worse (e.g. worse overall behavior, lack of interpersonal relationships) and she thinks it is definitely for the worse, including for their postures. She has limits on screen time/gaming during the week and it's been successful as they don't ask for their devices. Her secret? "I confiscate them completely. Out of sight, out of mind." Where she struggles, however, is during the weekends and during breaks. "It's been hard keeping them off their devices and getting them outside for physical activity. Their moods change and they want to stay on way past their limits. They chip away at me and after working all week, I cave. And much more than before COVID. It's quick, built-in entertainment, but I think it provides little value beyond that."
The American Academy of Pediatrics (AAP) and most child health experts agree that it's more important than ever to set limits for time on screens. The AAP recommends no screen time at all for kids under 2 years of age other than face timing family and friends.
Other guidance is as follows:

-Don't make screens totally off limits
-Stay on course- set day and time limits and stick with it
-Model healthy screen use (e.g. no screens while eating)
-Consider bonus time for good behavior
-Brainstorm off-screen activities your child likes and remind child of this when screen time has ended or it's a non-screen time
-Focus on creating a balance between screens and the real world
-No screens one hour before bedtime
-Take breaks every 20 minutes so child can focus on something further away
Speaking of eyesight and focusing, myopia, or near-sightedness, does not have strong data correlating it with screen time even though it has made some headlines. However, some people do experience blurriness, eye fatigue or dry eyes after being on a screen for a long period of time.
What's the bottom line? If you're feeling guilty and think your kids are on screens too much, make an effort to revamp your guidelines. Be clear, concise and consistent with these rules. If you think your child has a true addiction and their screen time affects relationships within the family, speak to your pediatrician for guidance.
The alternative? Try it my way. Just grab the ipads, laptops, phones and chromebooks and lock them in a closet while mumbling something like, "See if you'll EVER get these back!"
Popular Sports Commentator Charged with Child Pornography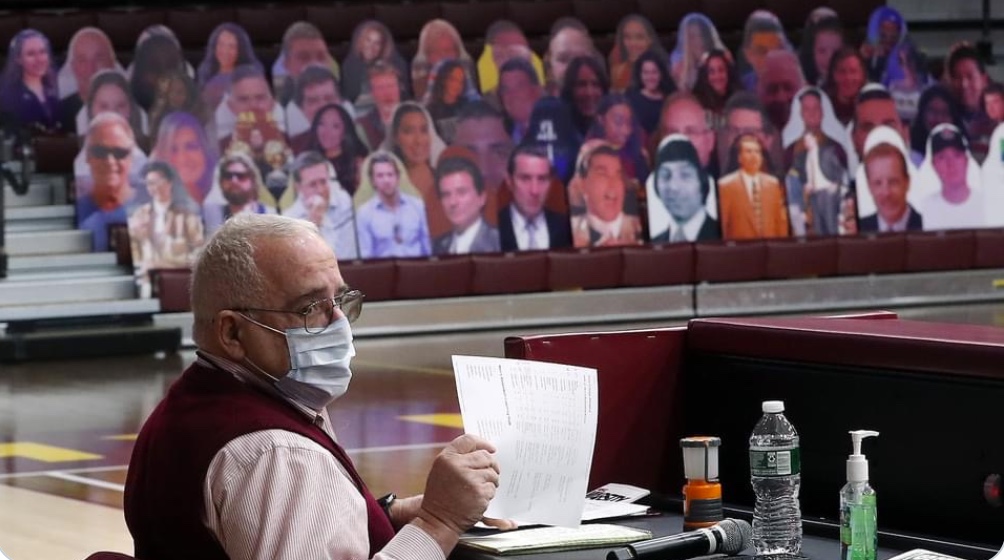 A Somer's man and graduate of Scarsdale High School who served as the announcer at SHS basketball games and as a soccer official at high school games has been charged with Receipt and Possession of Child Pornography by the U.S. Attorney's Office of the Southern District.
A memo from the Scarsdale Schools says Leaf last announced at a Scarsdale game in February 2020 and officiated at a game in October 2020. It says, "The Scarsdale Schools were not contacted by investigators regarding this case, nor were wenotified of the investigation prior to his arrest. We currently have no complaints or other indication that any of our students are involved."
The press release from the Department of Justice alleges that Leaf used Skype to chat with ha 15 year-old victim, posing as Alex Bronson. It says, "During the course of these communications, Minor-1 sent LEAF a video of himself masturbating in the shower and a fully nude photo of himself in a bedroom. In addition, law enforcement officers uncovered almost a dozen images and videos containing child pornography on LEAF's home computer."
Leaf was a long time public address announcer for the annual Section 1 boys and girls basketball championship at the County Center and was enshrined in the Westchester County Sports Hall of Fame. The town of Somers declared November 10, 2017 as Richard Leaf Day. Leaf was also the president of the Westchester-Putnam Approved Soccer Officials Association Inc.
The FBI asks anyone who may have been in contact with Leaf to with information to If you believe they've been in contact with Mr. Leaf, please call 1-800-CALL-FBI or reach them online at tips.fbi.gov.
Why You Should Vote in the Upcoming Uncontested Election for Village Mayor and Trustees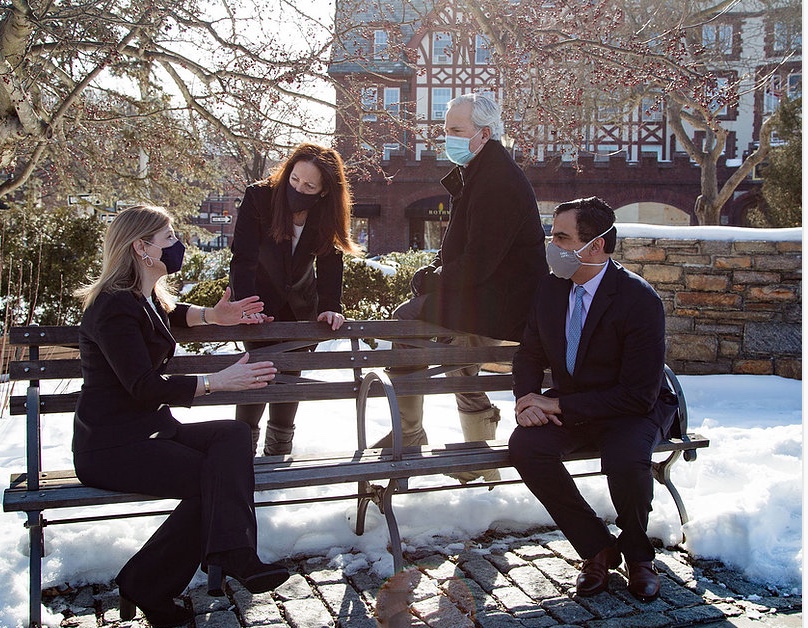 Jane Veron, Karen Brew, Jonathan Lewis and Sameer Ahuja have been nominated to serve as Mayor and Village TrusteesScarsdale Village will elect a new mayor and three Village trustees on Tuesday March 16, 2021. The election will be held at the Scarsdale Congregational Church at 1 Heathcote Road, with the polls open from 6 am to 9 pm.
The Scarsdale Citizen's Nominating Committee has selected four candidates, and this year they are running unopposed.
The Scarsdale Citizen's Non-Partisan slate is as follows:
Mayor: Jane Veron
Village Trustee: Sameer Ahuja
Village Trustee: Karen Brew
Village Trustee: Jonathan Lewis
Find information about the candidates and the non-partisan system here:
You might ask why you should vote in an uncontested election?
There are many good reasons. By voting, you demonstrate your support for Scarsdale's unique non-partisan system of governance that has served the Village well for almost 100 years. The Scarsdale Citizen's Non-Partisan Party "promotes the election of non-partisan candidates and encourages cooperative, deliberative and open civic government to attract highly qualified individuals to public service."
Representatives from Scarsdale's five neighborhoods are elected for staggered three-year terms to serve on the Citizen's Nominating Committee in a general election. These nominators recruit, vet and select qualified candidates to serve Village office for designated terms, ensuring term limits and a progression of leadership. Candidates are not selected because of their stance on a single issue, but for their ability to consider all views and reach consensus on what is best for Scarsdale.
The non-partisan system averts the need for costly and divisive political campaigns while inviting widespread participation in the process and fosters a sense of community. It also encourages qualified candidates to run who might otherwise be discouraged from serving if they had to run time consuming and expensive campaigns.
So though you're not being asked to choose candidates from different parties in this upcoming election, you are being asked to show your support for Scarsdale's non-partisan party and the residents who have stepped up to serve.
If you're not already registered to vote the last date to register with the Westchester County Board of Elections is Friday, March 05. Mail-in registration forms are available at the Scarsdale Village Clerk's Office, online from the Westchester County Board of Elections, or in-person at the Westchester County Board of Elections Office, 25 Quarropas Street, White Plains.
In order to register to vote, one must:
-Be a U.S. Citizen;
-Be 18 years of age by the date of the election in which you want to vote;
-Live at your present address at least 30 days before an election;
-Not be in prison or on parole for a felony conviction;
-Not claim the right to vote elsewhere.
Registered voters who will be out of Westchester County on Village Election Day, or for other reasons including concern about contracting or spreading COVID-19, as provided on the absentee ballot application form, can obtain an absentee ballot by filling out an application form at the Village Clerk's Office in Village Hall, requesting one by phone or mail, or downloading one directly from the Village website. The last day for the Village Clerk to receive an application by mail for an absentee ballot is Tuesday, March 09, 2021; however, applications made in-person will be accepted until Monday, March 15, 2021. Absentee Ballots may be accepted by mail, drop box or in person until the close of polls on Tuesday, March 16th.
All others are encouraged to vote at the Scarsdale Congregational Church at 1 Heathcote Road in Scarsdale from 6 am to 9 pm on Tuesday March 16, 2021.
Pay It Forward; Give It Away Rather Than Throw it Away
Details

Category: On Our Minds
Published:

02 March 2021

Written by

Joanne Wallenstein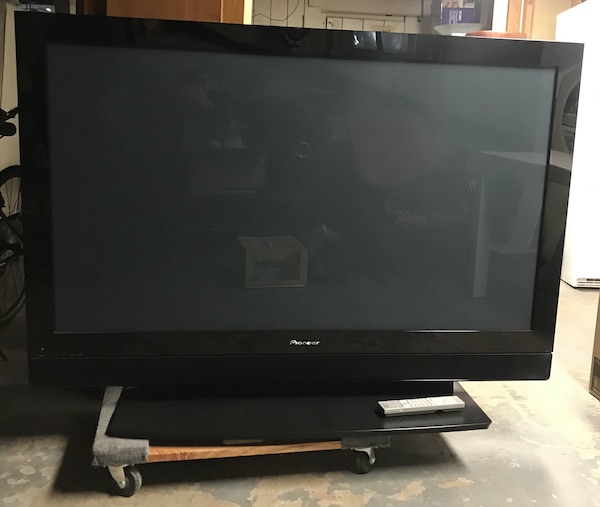 (This article was submitted by Greenacres resident David Fenigstein)
Let's face it, we live in a world of over consumption. Some of that is by our own choice, as we want the latest and greatest, and some is simply because products have a limited lifespan and eventually need to be replaced. Either way, whenever we add something new to our lives, something needs to be removed, which usually means it's sent to the trash either to be buried or burned or in the best case scenario recycled. However, I have found an even better way of avoiding throwing items into the trash and the best part is it's easy, free and the best part... someone comes to your house to take it away!
Recently I replaced my 20+ year old garage door opener with a new more quiet one which also happened to have cool new features such as battery backup and remote open/close. Was there something wrong with my old opener except for age and a noisy motor...No, it still worked perfectly fine. So instead of hauling it off to the metal bin at the recycling center (metal should not go in the trash BTW), I posted it on Craigslist for free. I had been thinking that no one would want a used contraption such as this, but low and behold after I posted it I was flooded with offers almost instantaneously. Within a day, the opener was picked up and off to a new owner, a school teacher who had the same model opener which recently quit on him and he had since been lifting the door manually due to the cost of a new one. So as the saying goes, "One Man's Trash is another Man's Treasure", and what I have learned after doing this for many items from furniture to tires to kids toys is that you can basically give anything away for free.
My wife and I have posted countless items on Craigslist as well as Facebook Buzz that we no longer need, but still have plenty of useful life. There are plenty of other places to donate as well. It's easy to give things away for free, but just requires a bit more work than tossing it in the trash. In the end though it helps others to donate, is better for our environment than adding it to the trash, and is also so much more satisfying to know that your items are getting a second life. Driving around town, I see so many items put to the curb that are perfectly good and could be used by others. Of course there is a chance someone will drive by and take it, but most likely it will end up getting tossed - versus a 100% certainty that if you post it online, someone who wants or really needs your item will take it!
Some may be concerned about strangers coming to your house and I do usually ask a few questions on Craigslist to know that the person is really interested before giving my address but have never once had an issue. Most importantly, the items you are posting are free so you don't need to meet anyone or collect payment, you simply leave it somewhere outside for them to grab it, like a front porch, lawn or curb. So the next time you are ready to get rid of something, give posting a try. I bet you'll feel better knowing your stuff is going to someone who actually wants it and you are not only helping the environment, you are helping others!!
Note from Joanne at Scarsdale10583.com - if you have something you would like to give away, send us a photo, description and contact information to scarsdalecomments@gmail.com and we will post it for free.
What Metrics Need to Be Met to Reopen Scarsdale Schools?
Details

Category: School News
Published:

02 March 2021

Written by

Joanne Wallenstein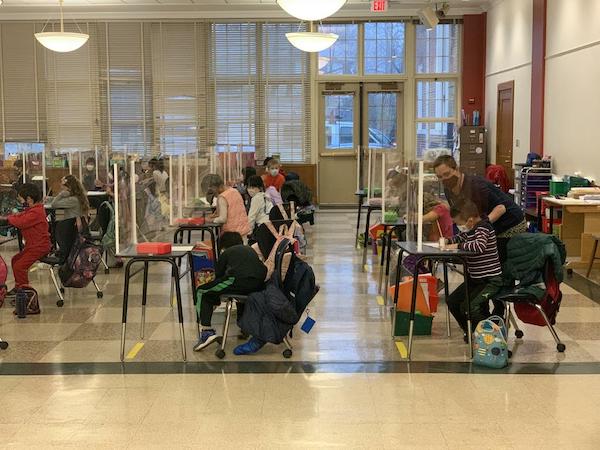 With so many neighboring districts reporting plans to re-open schools full time as well as the availability of vaccines for teachers and indications from the NYS Health Commissioner that the six foot social distancing requirement may be relaxed, many are wondering what's holding Scarsdale back from re-opening the schools?
Ardsley, Bronxville, Briarcliff, Byram Hills, Chappaqua, Dobbs Ferry, Eastchester, Harrison, Hastings on Hudson, Mt. Vernon, New Rochelle and Rye are either in school full time or have announced plans to transition to full time school in the next few weeks. In Scarsdale, elementary school students will return to school, however the Middle School is only moving to 2 days and alternate Wednesdays on March 17 and the High School is going from 2 half days to 2 full days in school on March 8.
Plastic Barriers
We learned that the district has purchased plastic partitions and thought that might be a sign that a fuller return to school was in the offing, however the information we received from Superintendent Thomas Hagerman offers no timeline and makes no guarantees. Here are responses from Hagerman received on March 1, 2021:
(Q) The parents shared the news that the district has purchased 4,200 barriers to be used for grades 3-12. Will these be installed soon or are they intended for the fall?
(A) So far we have spent approximately $180K in total for barriers as follows:
-Mid/Late Summer 2020: $53,000 - 660 barriers primarily for special education settings and one for each classroom for one on one instruction if needed. Also for offices. Prices were extremely high at this point and time was of the essence.
-Late-Fall 2020: $32,000 – 1,200 barriers for k-2 students primarily used at lunch.
-Early-Feb (on order): $93,000 – 4,200 barrier for grades 3-12 primarily to be used at lunch and instructionally as determined by teachers.
-An additional $2,000 for miscellaneous other barriers needed along the way related to all of the above
(Q) Howard Zucker has indicated that the state is re-examining the six-foot rule and says he wants to get kids back in school. Will this change the district's plans?
(A) If the NYSDOH changes the social distancing requirement to say, 3ft., this will not change plans--which has always been to get all kids back in school as soon as it is safe to do so for students and teachers--but it would certainly accelerate our timeline.
(Q) I am sure you are aware that many Westchester districts have now announced plans to fully re-open in March and April. Do you expect Scarsdale to follow suit?
Like other districts, we have been planning for a full return throughout this process. The availability of vaccinations for faculty and staff is new risk mitigation that we will believe will help us lessen six-foot social distancing and get us back into school more quickly.
Metrics
Since the beginning of the crisis, parents requested a list of required metrics that, if reached, would enable full-time school to open. Concise criteria for opening were never presented, but one fact was clear. Both the administration and the Board of Education insisted that the school's physical plant could not accommodate the full school population at six feet apart as required by the NYS Department of Health.
Social Distancing
When parents repeatedly questioned calculations that showed there was insufficient space inside the buildings, the administration invited district architect's BBS to present their plans at an 11/16/20 Board of Education meeting. At the time, Architect Kevin Walsh of BBS shared his schematics for the layout of two sample elementary school classrooms, one at Heathcote and another at Edgewood. Walsh showed desks placed six feet apart with 56 square feet of space per occupant. According to Walsh, the layout must allow for two means of egress from each classroom. For a classroom of 785 square feet, 14 students could be accommodated along with a teacher and an aid. Depending on the number of teachers and aids, an additional student or two could be added.
Relying on these calculations the board and the administration spent months claiming that this was a major hurdle for full time school.
Frustrated with the architect's analysis, Scarsdale resident Irin Israel obtained floor plans of the elementary schools and used a graphic approach to draw in the desks in the rooms. He quickly noted that desks that bordered the walls of the rooms did not need six feet of distance on the side abutting the wall, saving considerable space.
However, when he presented his renderings to the district, they failed to acknowledge his solutions. He wrote to the Board and administrations saying, "Comparing the architect's square footage method (which was used to make all layout determinations and decisions this past summer and fall) to the graphic method (which I presented on 11/9/20), the graphic method allowed for an additional 507 kids to fit in our Scarsdale schools at six-foot distancing (17% more children).
Then suddenly, on February 9, 2021 Superintendent Thomas Hagerman announced that students in grades three through five would return to school in March, following grades K-2 on November 30, 2020. This meant that the elementary schools would be fully populated with students and staff.
Explaining the change in direction, Dr. Hagerman made a distinction between six feet of social distancing and remaining "functionally six feet apart." Here is what his email said.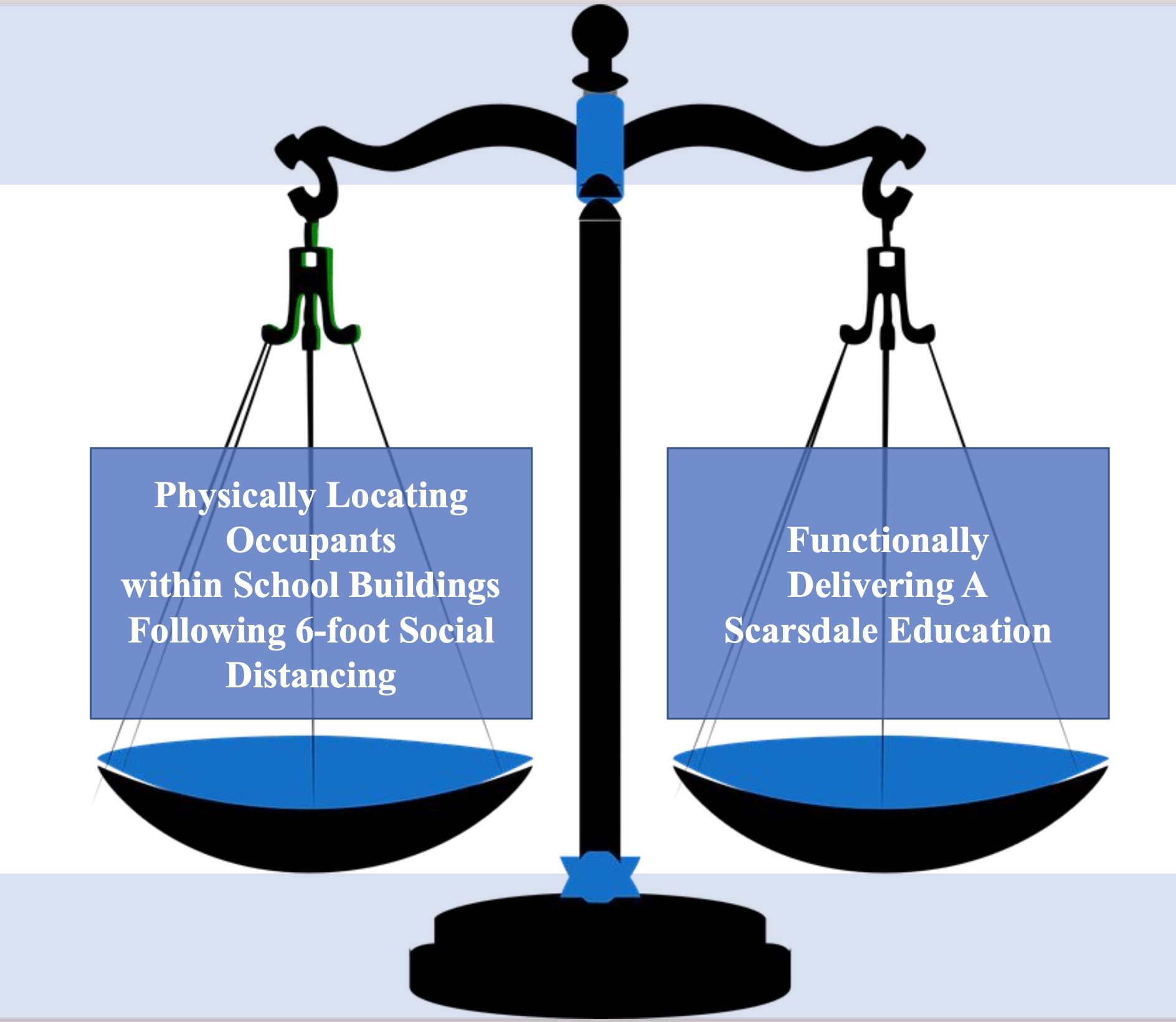 A report from District Architects BBS dated January 8, 2021 showed that the full school populations of each elementary school could safely attend school.
"Specifically, how can students fit back into our buildings when we were told they could not because of the need for six-foot social-distancing? The answer is that students could not have fit all this time and remained functionally six feet apart. The idea of social-distancing focuses on reducing the contact between all individuals in an environment. In our assessment, this concept goes beyond the measurement of six feet between desks to encompass the full range of functions necessary to run a school. The new arrangement moves from a more cautious application to accepting a purely mathematical interpretation of 6 feet of distance. This represents a fundamental change in our application of social-distancing, and, at least partially, weakens one of our core mitigation efforts. We resisted this for some time primarily because of health and safety promises we had made to the staff and community, but also because we did not have confidence in our ability to run "school" safely and effectively, given the complex intricacies of a typical day."
Now a response to a FOIL request from Israel, reveals that the district was aware that there was adequate space in the schools for all elementary school students to be social distanced at six feet. In fact, the administration received a report from district architects BBS dated January 8, 2021, that demonstrated how the rooms could be laid out to give students and teachers ample space. Why the change in the numbers?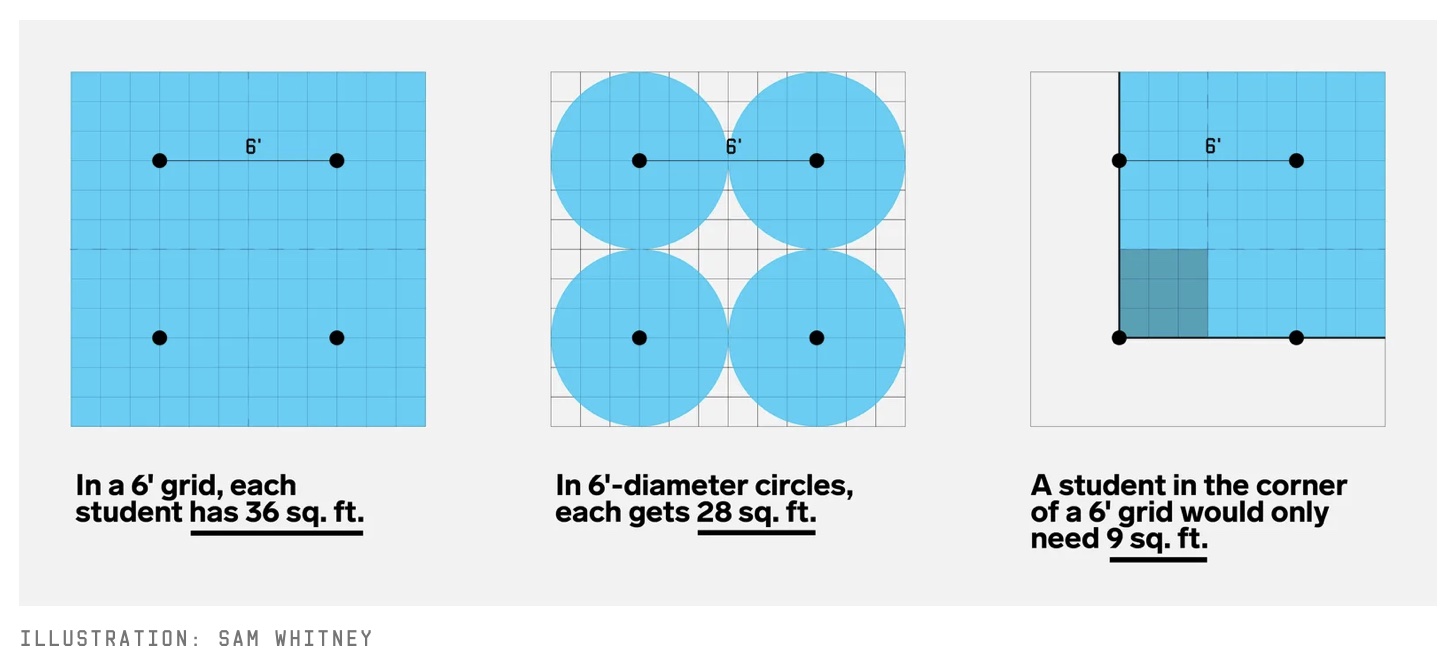 An analysis from Wired Magazine shows that 56 square feet of space per student is far more than is needed to maintain 6 feet of social distancing.It appears that the architects initially used a simple mathematical calculation to determine how many students could safely fit into schools. Architects assumed that each student would need 56 square feet of space, and they took that number, divided it by the total square footage of the school and calculated the number of people that could be safely placed in the building. That figure of 56 square feet was far higher than the 44 square feet used by neighboring districts –and 44 square feet was later determined to also be too high. See the analysis here:
In the report from the architects dated January 8, they compare the square footage method to the graphic method and determine that all students and teachers could safely attend school, and there would still be remaining open spaces. In the most extreme example, only 22 rooms at Greenacres would be needed, leaving 18 rooms including the learning commons, gym and new multipurpose rooms open for use.

January 8, 2021 analysis from BBS Architects
However, as far as we know, the administration did not share this report with the Board of Education and did not make it available to the public.
With this new information in hand, Israel shared it with Board of Education and asked the following:
1) Comparing the architect's square footage method (which was used to make all layout determinations and decisions this past summer and fall) to the graphic method (which I presented on 11/9/20), the graphic method allowed for an additional 507 kids to fit in our Scarsdale schools at six-foot distancing (17% more children).
2) 40 rooms, including some large rooms like gyms, would be unused and not needed for classes (but could be used for other purposes) even with all children fitting at six-foot distancing. 40 empty rooms.
3) Zero rooms need more than capacity (at six feet), only 12 rooms total in the 5 schools would be 100% capacity (at six feet), and 79% of rooms used would be at 80% or less of capacity (at six feet).
Basically, it's not even close.
Before you yell "density!", keep in mind that we have yet to hear any metrics of density and where the line between safe and unsafe lies. Regardless, with these drawings, while the school density would obviously increase, the density per classroom would not increase at all.
I spent much time this past fall illustrating exactly what these documents show, and here, it is unequivocally proven true: that all current in-person Scarsdale elementary children can fit full-time at six feet and have been able to fit since the beginning of the school year.
1) Is BBS Architects the correct district architect for Scarsdale? This architect has blatantly dropped the ball by using a sub-par mathematical equation to position the children in our schools. This was a simpler and less effective method, rather than doing the full work to assess the maximum capacities within the safety regulations. Their information misled the district and community and affected many critical decisions this year.
2) After denying the truth of this information, the District learned the truth on 1/8/21, yet did not share this pertinent information with the community nor the Board. In fact, I would suggest that the administration would not have revealed this information to the Board had it not been for my request, since they had not revealed it until my request was being filled 7 weeks later. This is further lack of transparency. This is information that must be used to judge the Administration's performance in attempting to follow the Board's policy directive of getting the children back into school full-time safely and according to the regulations this year. It is critical that this information be used when judging the performance of the current Superintendent and Administration this school year.
What's Next?
The district's lack of transparency, even with the Board of Education, is puzzling. Why did they conceal this information? What other factors are preventing the opening of the schools? What is the district's agreement with the teachers' union? With adequate social distancing, a supply of plastic barriers and staff vaccinations in place, what are the reasons for not reopening schools?
As the weeks go by, and many grow increasingly frustrated with ZOOM school, social isolation and fears for their children, many parents are waiting for answers.
Meet Jane Veron, Candidate for Mayor of Scarsdale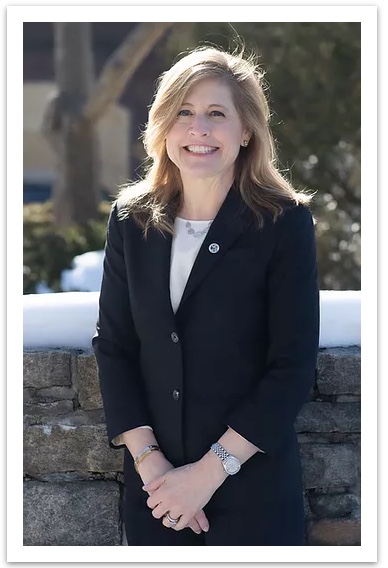 Former two-term Village Trustee and 23-year Scarsdale resident Jane Veron has been nominated by the Scarsdale Citizens Nominating Committee as the Scarsdale Citizen's Non-Partisan Party's candidate for Mayor of Scarsdale. Veron has a lengthy and impressive record of both volunteer and professional positions.
In Scarsdale she was the Chair of the Scarsdale Planning Board, President of the League of Women Voters of Scarsdale, Chair of SNAP, and President of the Fox Meadow Neighborhood Association. In recognition of her sustained and significant impact on the community, she received the Mayor's Award for Exceptional Leadership and the Daily Point of Light Award granted by Points of Light, the organization founded by President George H.W. Bush.

She is CEO and co-Founder of the Acceleration Project (TAP), a nonprofit that provides high-caliber consulting services to high potential small businesses, particularly those owned by women and People of Color. Prior to TAP, Jane spent her career in strategy and marketing, working at Bain & Company and American Express and also has experience in private equity and venture capital as an investor and board member.

Jane earned a BA magna cum laude from Yale University and an MBA with honors from Harvard Business School.

We asked Jane a few questions about the state of the Village and her agenda for leading Scarsdale. Here is what she shared:
(Q) You had a few months to take a break from Village governance. What did this additional time give you the opportunity to do?
It is not really my temperament to take a break. I remained engaged with Village matters, attending every public Board meeting by Zoom. I also continued to participate as a resident volunteer on the Scarsdale Business Reopening Task Force, sharing best practices and planning for the spring. I listened attentively during the budget meetings and was proud of my former colleagues and Village staff as they dove deep into the line items, wrestling with difficult tradeoffs. As a resident, I appreciated the opportunity to hear their dialogue.
During these past few months, I did spend more time with my friends and family, played more paddle tennis, skied, read and listened to books, and of course, watched trending series on Netflix and Hulu.
I also invested a tremendous amount of time in my professional life. As CEO of The Acceleration Project, a nonprofit dedicated to keeping small businesses and local economies thriving, I worked to ensure we have strong leadership in place to deliver on our high growth plans. We serve underrepresented small business owners, particularly women and People of Color; since the pandemic hit, the national demand for our services has markedly increased. We doubled in size since March 2020 and have great momentum heading into 2021.
I have been spending a great deal of time thinking about how we transition our Village from austerity management during COVID to new beginnings. Many of us have suffered tragic loss and significant hardship, and unfortunately, there will still be tough times ahead; yet I am hopeful that Scarsdale will reemerge from the crisis with renewed optimism, and I am committed to leading the way.
(Q) With some distance from day to day operations, have you had any insights into the way the Village runs and what you might do differently?
(A) Village staff works extremely hard to serve residents, and operating in a COVID environment has taken an enormous personal toll. Yet along with the struggles, we have seen opportunity. Department heads have done more with less, and while some practices are not sustainable, other solutions could become permanent. At the top of the list for immediate adoption should be digitization to promote operational efficiencies. We must leverage technology and rethink service delivery. We need to continue our conversations with residents to understand what they truly value and what we know to be key differentiators for Scarsdale.
(Q) What will be your initial priorities?
(A) At the first organizational meeting, I would like to kick off a strategic and financial planning process. Together, we will articulate a vision for Scarsdale that honors the past and builds for the future. Our mission will be to ensure that Scarsdale remains the best place to live.
As we emerge from COVID constraints, I would like to institute regular work sessions to discuss our strategic priorities. I've already reached out to my running mates and former colleagues to listen to their perspectives and have incorporated their thinking.
As a starting point for our strategic and financial planning discussions, I propose four pillars:
Quality of Life
Infrastructure
Public Safety
Economic Revitalization
As we collectively detail the priorities embedded in the four pillars, we will consider advancements in three areas:
Communications
Sustainability
Technology
Together the Board, Staff and community will deliberate, evaluate, and develop short- and long-term plans.
In concert with the planning effort, I hope to institute a reengineered budget process, building on our excellent foundation and augmenting it by incorporating the best paradigms out there. We are entering a new world and must look holistically at our costs, revenues, borrowing and reserves.
With the upcoming retirement of our esteemed Village Manager Steve Pappalardo, a top priority will be to design and conduct a robust and comprehensive search process. Village Manager Pappalardo devoted his heart and soul to our community and set the bar very high. As we know so well, the quality of our Village staff distinguishes us, and we commit to filling this role with someone extraordinary.
(Q) You've had many years of experience dealing with many aspects of the Village including land use, downtown revitalization, development and the renovation of the library. What are you most passionate about?
I am passionate about building community, about protecting and enhancing the magic of Scarsdale. We are incredibly fortunate to have unique assets, some shiny and new like our library and others that need immediate attention such as our pool complex. We want to bring vitality to our Village Center and other retail hubs that have suffered enormously during COVID; a thriving local economy will fortify our Village. We need to continue to maintain our beautiful open spaces, parks, and sporting fields. After these months of social isolation, there is pent up desire to come together. I want life to be easier, more uplifting, and invigorating. I am about hope and possibility.
(Q) The Village is facing a deficit due to a loss in revenues and an increase in expenses. It seems that most people value the services the Village provides and do not want to see cuts. Do you think that they would be willing to pay additional fees or taxes to retain these services and programs?
(A) One of the reasons I want to combine strategic planning with financial planning is because I think we need to take an integrated approach. The post COVID world will likely be different from what we've experienced in the past. We cannot predict how resident behaviors and needs will change. What is clear to me is that residents value their quality of life, their feelings of safety and security, the uninterrupted delivery of Village services, the beauty and character of tree-lined streets, and the vibrancy of our town. Scarsdale delivers across the board, but there is still significant work to do. While there is much cause for optimism with vaccine roll outs and normalcy on the horizon, Scarsdale will remain under budgetary pressure for the foreseeable future. We cannot know whether our nonproperty tax revenue will return to prior levels. Relying on budgetary surpluses to fund capital projects and taxing to fill the gap is not a sustainable strategy. We are cognizant that our residents feel the pressure.
(Q) As part of the COVID relief package, some in Congress are asking for funds for municipal governments. Do you think Scarsdale will be eligible for these funds?
(A) It would be wonderful to receive funds from the federal government. Our local officials understand most specifically what is needed to reinvigorate our Village. That being said, I would never develop a budget with the expectation that we will be granted funds. I would never build a budget on hope.
(Q) The Enterprise Fund for the Scarsdale Pool has been depleted and the pool complex is in need of repairs. How will you approach this issue?
(A) Day one, I plan to kick off the process to create a visioning study and resident needs assessment for the pool complex. We have deferred focus on the complex, and we cannot continue. The pool is at the end of its useful life, and to keep it functioning, we have been funding emergency repairs. Membership is declining as residents go elsewhere. I firmly believe that if we reimagine the complex and invest in its future, more residents will return and enjoy this amazing asset. By reversing membership declines, we will be able to build back our enterprise fund and celebrate in our new facility.
(Q) The job of Mayor is in many ways a full-time, two-year commitment and you're a very busy person. How will you fit everything in to your schedule?
(A) Working hard is nothing new to me. I like to get things done and work collaboratively to accomplish more together. I set a demanding pace when I served as Trustee and expect to do the same if I am elected Mayor. On the professional side, I have an extraordinary team at TAP, and they are used to my government schedule. Our rapid growth closely tracks my four and a half years on the Village Board. Everyone on my management team is exceptional in her own right.
All Scarsdale residents are encouraged to vote in the Village election on Tuesday March 16 from 6 am to 9 pm at the Scarsdale Congregational Church, 1 Heathcote Road, Scarsdale. Information on registration or obtaining an absentee ballot can be found here.
Locals Answer the Call to Volunteer at Vaccination Sites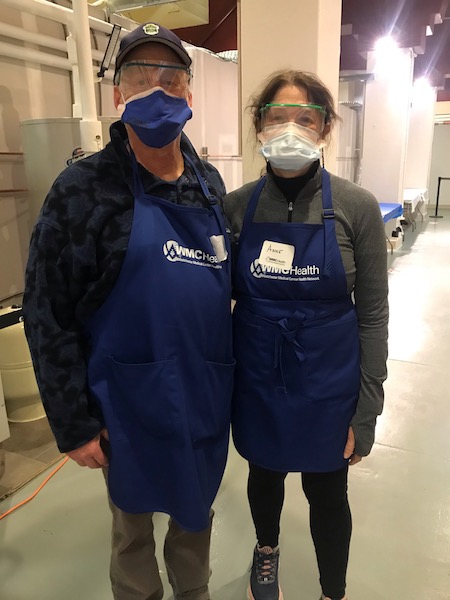 Mark and Anne Ellman, ready to help at the Westchester County CenterWhile some of us have been focused on how and where we'll get a vaccine, some of our neighbors have been working to administer thousands of vaccines at the Westchester County Center. Anne and Mark Ellman saw the call for volunteers to man the effort in January and quickly stepped up, though they were not immune to the mighty virus. This week, Scarsdale resident, Dara Gruenberg joined the effort as well.
Here is what they shared:
Anne and Mark Ellman
(Q) How did you get involved?
(A) In the January 7, 2021 edition of Scarsdale10583 we saw an article that said that Westchester Medical Center (WMC) was looking for volunteers for the County Center location. We provided information on-line that allowed WMC to do a background check. Several days later we were accepted into the program. Due to the substantial need for volunteers, they have asked volunteers to make a long-term commitment. There is no guarantee that volunteers will get vaccinated.
The announcement said, "Volunteers are needed to assist with operations and activities at vaccination sites, such as registration and check-in, data entry, greeting and routing participants, traffic flow, and other administrative tasks. Volunteers with specific clinical credentials to administer the vaccine are also needed. Volunteers must be 18 years of age in good health and proficient in English, with bi-lingual skills also being important. Those working at the vaccination site will be provided with training, PPE and will be able to receive the vaccine, if they wish.
Site locations will be announced in the coming days and will operate 7 days a week. Multiple shifts are available. Volunteers are asked to commit to three shifts a week during a 30-day commitment.
To register to be a part of this historic vaccine program, please click here.
(Q) Did you already have immunity? Were you concerned about exposure?
(A) Neither of us have had Covid and as far as we know, we did not have immunity.
Yes, We were very concerned about exposure and continue to be, but feel we are minimizing that risk.
(Q) What training did you have - what did you learn?
(A) The training is on the job. It is not complicated and is handled on the day of your first volunteer session. We have learned many things. Clearly, many of the people, particularly the elderly, have not been in a public space for many, many months. There is a lot of anxiety. They need to have warm eyes peering above the mask and a smile behind the mask to make them feel comfortable in such a large space with so many people. And yes, they can tell we are smiling behind the masks!
The whole experience can be overwhelming for them. That said, the County Center operation is so well run, with many, many dedicated people. Almost without exception, people leave marveling at the massive, well run operation. Yes, there have been a few days that had long waits. But considering that they are asked to handle as much as an extra 1,000 plus people in a day due to weather related cancellations, many of whom come well before their assigned time in order to beat the snow predicted later that day, the performance has been amazingly efficient. I know one of the last days I worked they said they averaged 299 people an hour for the day.
(Q) What precautions do you take when you go to the center?
(A) We double mask with one being an N95 and we wear clear goggles. We try to be very conscience of our distance to people.
(Q) What is your role?
(A) Every day is different. Welcoming and reassuring guests once they check in and enter the queue, Keeping the queue moving forward, Answering basic questions about the process, Directing newly vaccinated guests to the observation room, data entry, and other general tasks, as needed such as pushing wheel chairs or cleaning pens!
(Q) What has surprised you about the experience?
(A) It is a team effort to make the County Center vaccination program run. Of course you need the medical staff to give the actual vaccine but the National Guard, EMS, Parks Department, Law Enforcement and volunteers are all a part of what makes it work so well. The dedication of all of those involved is truly inspirational.
(Q) Have any of the people who were vaccinated had bad reactions immediately after receiving their shot?
(A) The County Center only gives the Pfizer vaccine. We have seen very few reactions to the vaccine. Generally it has been mostly anxiety and the EMS staff is always available and very present for anyone in need.
(Q) Why have you found it fulfilling?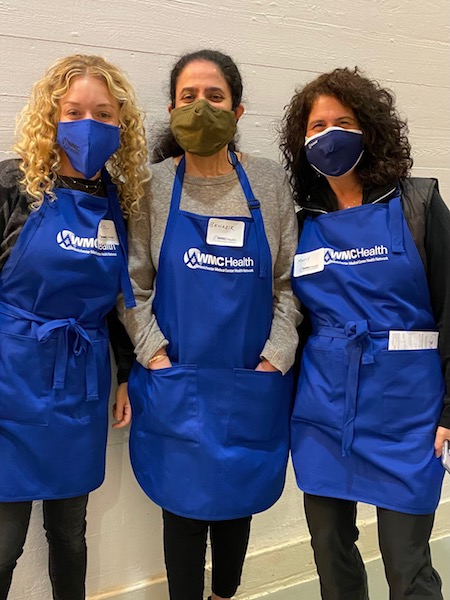 From Left to Right, Scarsdale residents Dara Gruenberg, Benazir Kannan and Marcy Krevitt.
(A) We have the time to give to the program and they need us and appreciate all that we do. The volunteers are a big part of the whole operation. It would be hard to do it without us. Most people leave and compliment us on what an amazing experience they had. The scope and scale of the national vaccination effort is historic and it is really fulfilling to help play a little part in it. Seeing so many elderly so relieved to be finally receiving their vaccines and anticipating getting their normal lives back is the best part of it.Dara Gruenberg

Dara Gruenberg, who just began this week gave her initial impressions of the operation. She said, "The County Center Vaccine Facility is a well oiled machine. The Westchester Medical Center Staff, site administrators, the National Guard, members of Westchester County Parks, EMTs and local law enforcement and volunteers all work together seamlessly to help people feel comfortable and move them through to get their vaccinations in an efficient and safe manner. Everyone is so cheerful, and people are constantly thanking one another. It is such an uplifting environment to be in especially after being so isolated this last year. It is invigorating and inspiring to be able to help in this way. I feel honored to be a part of this historic moment and full of hope that we are beginning to see the light at the end of the tunnel. The best part of the job is interacting with people arriving to get their vaccines and chatting with them to put them at ease."
Village Accrues over $900,000 in Fees for Unpaid Taxes and More from the Village Board
Details

Category: Village Voices
Published:

24 February 2021

Written by

Sammy Silberberg
When the Village Board of Trustees approved installment payments of taxes in 2020, they hoped to ease the burden of large school and village tax bills on residents, especially in light of the pandemic. So rather than receiving one payment coupon for their school and village taxes, property owners received envelopes with two coupons. A printing error cause some confusion but most paid the first installment of their tax bills on time. However, when it came time to make the second installment, it seems that many forgot. To date, 414 property owners have not paid the second installment of their school taxes, leaving them liable for steep penalties. Others neglected to pay their Village taxes as well. So this new installment tax plan may prove to be a very expensive gift to the Village who is realizing sizable revenues from penalties for non-payment.
This was to be the subject of a work session of the Scarsdale Board of Trustees scheduled before the Village Board meeting on Tuesday, February 23rd. However, the Board spontaneously switched the work session to a private Executive Session, leaving participants in the dark. Village Mayor Marc Samwick later reported that this change was made so that the Board could consult with legal counsel relating to the issue of unpaid taxes with Scarsdale's new two-installment payment system.
At 7 pm the Board reconvened for its regularly scheduled public meeting where members voted on several resolutions and heard from constituents on a variety of issues. Mayor Samwick opened the meeting by addressing two key issues facing the town; the fees for delinquent taxpayers due to the new two-payment tax system and the Village's 2021-2022 fiscal budget. Regarding the tax payment delinquencies, Village Treasurer Ann Scaglione reports that about 500 homeowners failed to make their second payments on-time and incurred sizable fees. As of Monday, February 22, fees for unpaid school tax bills amount to $787,000 and fees for unpaid Village taxes amount to $180,000. Treasurer Scaglione wants residents to be aware that the penalty on unpaid Village taxes increases from 8% in February to 9% in March, and she encourages all unpaid taxes to be paid by the end of February.
Below are excerpts of the Mayor's statement on these two topics:
Two-Payment Tax Collection System:
Recognizing the havoc [the pandemic] wreaked upon personal finances, a suite of strategies was developed to reduce the financial burden of property taxes… Scarsdale Schools approached the Village in May 2020 and suggested that we consider transitioning to a two-installment tax collection system, rather than our long-standing single-installment plan. The rationale was simple: Help Scarsdale property owners with cash flow by allowing them to defer half of their property tax obligations to a second installment… The Village Board adopted a resolution implementing the new system on June 09, 2020.

Subsequently, the Village's multi-pronged communication effort included mayoral commentary during Village Board meetings, press releases announcing the transition and reminding taxpayers of last dates to pay without penalty or interest, and delinquency notices after payments that were missed.
The tax bills, themselves, plainly stated the percent penalty information for late payments as well as the dates of penalty escalation. Our efforts exceeded the regulatory notification threshold by a substantial margin.
The Village not only leveraged numerous tools in seeking to help taxpayers amidst the pandemic, including transitioning to the two-installment tax remittance structure, but also endeavored to reduce taxpayer exposure to penalties and interest by providing notification of upcoming dues dates, stating statutory penalties for late payment, and providing late payment reminders to delinquent taxpayers… I and the Village Board regret that a portion of our taxpayers neglected to remit payment on-time and were thus exposed to seemingly harsh statutory penalties, which the Village lacks legal authority to reduce, waive, or reimburse. It is unfortunate that our efforts to help reduce fiscal stress amidst the pandemic yielded an unintended outcome for some, though I am also encouraged to report that over 94% remitted timely payment.
In the future, I implore all taxpayers to diligently track the tax remittance schedule and to call our Treasurer's Office at 914.722.1170 with any tax remittance questions. We are here to help residents, within the confines of State and local codes.
21-22 Village Budget:
The Village went through extraordinary measures to propose a budget for the 21-22 fiscal year, which starts on June 1st... The Village acted quickly and decisively to address the fiscal impacts of the pandemic by implementing austerity spending constraints, which the Village continues to operate under, and to allocate funds into a COVID Reserve Account that now totals $2.25 million. The Village further identified $1.7 million of funded capital reserves that could qualify, if needed, for borrowing with an associated reallocation of those reserve funds to further supplement the COVID Reserve Account…Looking forward to the 21-22 budget, we continue to see some of the strains from the pandemic on our budget, most notably from an expected shortfall in parking and related revenues. The proposed tentative budget uses $2.25 million of fund balance, consisting of the use of $1,023,000 of unassigned General Fund Balance that is generally included each year in the budget plus funds from the COVID Reserve Account.
The First Pass Budget showed a proposed tax increase of 4.87%. This level of tax increase was not acceptable to the Board and staff and we pushed to find an incremental $187,300 of revenues and to reduce $413,705 of expenses, for a total net budget reduction of over $600,000. The resulting year-to-year proposed increase in the tax levy is now 3.42%, for a total tax levy of $43,239,747 and an overall General Fund budget of $60,131,681. To put this in perspective, a residential property owner owning a home assessed at $1,510,000, representing the current average home assessment in Scarsdale, would pay $7,293 in Village property taxes in FY21-22. This represents an increase of $182 year-to-year. The tax levy increase of 3.42% is below the NYS Property Tax cap limit for 2021-22…We will be conducting public briefing sessions to review the operating and capital budgets, including the public's ability to ask questions and provide input in the proposed budgets. The Operating Budget Briefing Session will be held tomorrow, February 24th, at 5pm and the Capital Budget Briefing Session will be held one week later on March 3rd, also at 5pm. Both meetings will be held via Zoom and links to join the meetings may be found on the Village website.
Public Comments
Following the Mayor's comments, the Board heard from Scarsdale residents during Public Comment.
• Michelle Sterling requested that the Board schedule a public hearing on proposed changes to the leaf blower code so that residents can reap the benefits.
• Bob Harrison, conveyed his dismay at the Board's surprise private Executive Session earlier that evening. He also asked for an update on the updated Village and school taxes from last year and asked if there were plans to use those overdue funds to reduce the 3.4% proposed tax increase for the 2021-2022 fiscal year. Mayor Samwick responded by stating that it would be financially imprudent for the board to use funds from a current fiscal year (that may result in a deficit) in a subsequent year. During the second round of Public Comment later in the evening, Mr. Harrison again expressed his displeasure about the 3.41% tax increase and said he felt strongly that the Board could lower the increase further.
• John McCann said that he was looking forward to the vote later in the evening on the renaming of Crossway Field and he notified the Board that he would raise the funds to pay for any plaques or sign changes associated with the renaming.
• Paul Fix spoke about the significance of Coach Richard "Rippy" Phillips to his family. He stated that it was "astounding how many letters [supporting the field name change] came in. To see how many members of this community, how many lives were affected is breathtaking… [this name change] is the first step towards thanking Rippy for everything."
Next, Trustee Crandall announced that the library's Virtual Vital Aging Series "Covid-19 Vaccinations: With Dr. Michael Palumbo" on March 3rd at 1:00 PM is available for signups HERE. Trustee. Crandall also said that the Senior Citizen Advisory Council reported that seniors have been able to schedule their Covid-19 vaccinations despite some technological obstacles and the short supply of available appointments. The Senior Citizen Advisory Council is looking forward to the Scarsdale Library grand reopening and would appreciate a designated space and time to use the library when it opens. Finally, Ms. Crandall announced that seniors in the community have been taking advantage of the Zoom events available to them, and many are attending Westchester Chamber Music Society and Scarsdale Recreation Department online events.
Trustee Waldman updated the Board about library events where they are ending the celebration of Black History Month with an event on black citizenship in the age of Jim Crow on Friday, February 26th at 7:00 PM. Residents are encouraged to learn more and sign up HERE. Additionally, if any teenagers are interested in joining the Teen Advisory Library Board, there is a meeting on Saturday, March 6th at 2:00 PM and you can sign up HERE.
Next, the Board voted on five resolutions, all of which passed unanimously. The first was the Resolution to Establish Fiscal Year 2021-22 Village Wide Fees and Charges presented by Trustee Arest. Mr. Arest emphasized that the Board can change certain charges at any point, so just because a charge is constant at this point does not mean that rate is permanent. Village Clerk Donna Conkling will publish the changes of the fees and schedule to the Scarsdale Village website. Trustee Crandall stated that she is "looking forward to further discussion of water rates… it is important to keep a close eye on those to keep up with present and future expenses… during [the Board's] next term I hope the Board can address the penalty for offenses… the standard penalty is $250 per violation per day. Our expenses have gone up, and we hear from the public that we need to do a better job of enforcing the Village Code. We need to study the penalty amount to see if it is still appropriate."
The second resolution, presented by Trustee Crandall, was the Resolution to Establish the Climate Smart Communities Task Force. The resolution states that "whereas the Board of Trustees believes that climate change poses a real and increasing threat, exhibiting the potential for significant harmful disruption to natural and human systems, including environmental, social, and economic impacts; and whereas, by way of resolution (attached) adopted by the Village Board on February 11, 2020, the Village of Scarsdale adopted the Climate Smart Communities Pledge, comprised of the following goals:

1. Build a climate-smart community
2. Inventory emissions, set goals, and plan for climate action
3. Decrease energy use
4. Shift to clean, renewable energy
5. Use climate-smart materials management
6. Implement climate-smart land use
7. Enhance community resilience to climate change
8. Support a green innovation economy
9. Inform and inspire the public
10. Engage in an evolving process of climate action"
The task force is charged with "developing, recommending, and assisting, as needed, with implementing context-sensitive strategies and activities supportive of CSC Certification program goals" and drafting and presenting a proposed workplan to the Board that will be updated annually. Mayor Samwick stated that the Board is "excited about the many opportunities" this task force will present to address the climate crisis and he looks forward to the future of the task force.
The third resolution, entitled the Authorization to Execute an Intermunicipal Agreement with Westchester County for the Use of Voting Machines, provides for the use of four Optional Scan Voting Machines, one Ballot Marking Device, and three Privacy Booths, and the technicians necessary to operate the voting system for the Annual Scarsdale Village Election on Tuesday, March 16th.
The final two resolutions were presented by Trustee Waldman. The first was the Resolution to Name the Football Field at the Crossway Athletic Complex the Richard "Rippy" Philipps Field at Crossway. Below is the bio of Richard "Rippy" Philipps that was included in the resolution:
Philipps Bio Richard "Rippy" Philipps has been an integral and passionate part in the success of Scarsdale Youth Football for the past 26 years. He is the President of Scarsdale Raider Football consisting of athletes participating in Youth Flag and Tackle Football Programs, as well as enthusiastic parents that help out in any way they can to improve the interest in youth football in the Scarsdale community. In addition, Rippy was an Executive Board member within the Scarsdale Youth Football League (tackle) formerly run by the Scarsdale Recreation Department and is now part of the Westchester Youth Football League Board creating and implementing all safety Policy and Guidelines for the league ensuring Scarsdale youth tackle football remains vibrant and competitive. His countless hours and tireless effort on and off the field to improve the youth football program in Scarsdale has been extremely beneficial to the whole community.
Some additional Scarsdale Raider Football club responsibilities include ordering game uniforms, practice jerseys, and player and field equipment. Rippy is also the head coach for the 7th/8th-grade football team, his biggest and most fulfilling role as a volunteer. His inspirational leadership has benefited many Scarsdale athletes moving on the high school and college levels. What goes under the radar is the significant amount of student athletes he has mentored not only in sports but assisting them in real life matters in the Scarsdale community. With the recent COVID-19 pandemic, and the lack of tackle football not being allowed in NYS, Rippy help create, in conjunction with the Scarsdale Recreation Department, an energized Youth Flag Football program in Scarsdale which has over 230 participants from Kindergarten to Grade 8. In 2007, Rippy received the Westchester County "Volunteer Youth Sports Coaching Award. Lacrosse is one of his other passions. He has previously coached in our Scarsdale Recreation Department youth lacrosse programs.
What sets Rippy apart from all of our other volunteer coaches and makes his dedication to the Recreation Department and the Scarsdale community that much more special, is the fact that he has never had a child go through the football or lacrosse programs. The Scarsdale Recreation Department greatly appreciates his continuing contributions and dedication to not only our Recreation Department but to all student athletes and non-athletes in the Scarsdale community.
Before voting yes, Trustee Arest, commented that "this vote was harder than I thought it would be… we have not had a process on this and we haven't had discussions on what policies will look like going into the future. It hurts our credibility when residents come and ask us for things… and we tell them we must follow a process… and then we didn't follow them here… Rippy has had a great impact on so many people in Scarsdale… the letters written on his behalf were moving and spoke well on his behalf… it is incredible what he has accomplished… so many have had their lives touched and improved by Rippy and that is why I will vote aye."
Trustee Whitestone also spoke about the impact of Coach Rippy and said that "his dedication and commitment has provided the vitality for the program that has impacted hundreds of people… I have seen this firsthand with the participation of my own son… he continues to make these meaningful contributions… it is great to be able to honor him in this way."
The final vote came from Mayor Samwick who stated that he "would like to enthusiastically vote aye… I have three sons all of who went through the football program. I have seen how Rippy works with young children with kids not just on his team and in high school… I have heard stories of him helping people with jobs and being there for people when they are in need… and then we saw this incredible outpouring from the community, it was overwhelming, it was remarkable. As elected leaders of the Village, we have to work on a wide array of things here, [it is nice] to do something that is so heartwarming, so based in the goodness of our community. That is what Rippy is… he exemplifies the goodness that is Scarsdale."
The final resolution was the Authorization to Conduct the Annual 15K/4M Road Races. For the past 51 years, the Village Parks and Recreation Department has partnered with the Scarsdale Antiques Running Club to sponsor the annual 15K, 4-mile, and Kids Fun Run road races in the Fox Meadow and Greenacres neighborhoods. This year's races will take place on Sunday, April 11th from 9:00 AM – 12:30 PM. The races will include Covid-19 mitigation measures and necessary staff support activities, including traffic control measures, event management, and public notification of race day detours.
As the last agenda item, Mayor Samwick announced the upcoming scheduled meetings:
Thursday, February 25, 2021, 5:00 PM – Village Board Work Session – via Zoom: To consider the appointment of individuals to various Boards, Councils and Committee Positions/Vacancies

Monday, March 01, 2021, 6:00 PM – Village Board Work Session – via Zoom: Advisory Council on Technology – Presentation of Village-Wide Information Technology Report

Tuesday, March 09, 2021, 7:00 PM – Village Board Regular Meeting – via Zoom (Subsequent Meeting Notice with Time and Format Changes to Follow)

Thursday, March 11, 2021, 5:00 PM – Village Board Work Session – via Zoom: Consider the appointment of individuals to various Boards, Councils and Committee Positions/Vacancies

Monday, March 22, 2021, 4:30 PM – Joint Meeting of the Scarsdale Board of Trustees and the Scarsdale Board of Education – via Zoom

Budget discussions:
Village Board Work Sessions – Zoom Video Conferencing Tuesday, March 09, 2021 – 5:00 P.M.
Briefing Session – Zoom Video Conferencing:
-Wednesday, February 24, 2021 – 5:00 P.M. – Operating Budget
-Wednesday, March 03, 2021 – 5:00 P.M. – Capital Budget