A Bronx Tale and A Dinner Tale
Category: On Our Radar
Published: Thursday, 05 January 2017 13:46
Stacie M. Waldman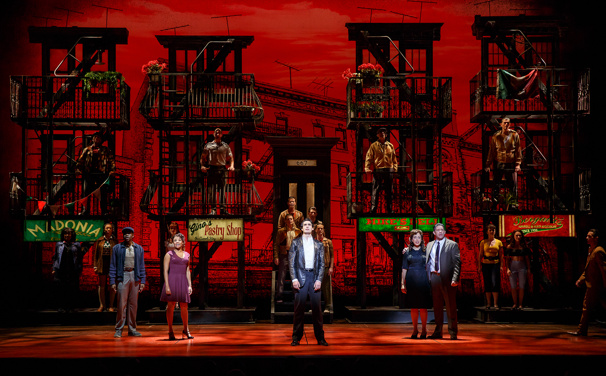 It's not often that you get to eat a themed dinner at a restaurant owned by a Broadway writer and then see his play, all in one night. I was lucky enough to enjoy A Bronx Tale themed meal at Chazz Palminteri's Ristorante Italiano followed by great theater at his musical on Broadway.

A Bronx Tale, the unexpectedly adaptable musical that is based on a play of the same name by Chazz Palminteri (now a Westchester resident) and later the critically acclaimed film. The film starred Chazz as Sonny, the mob boss, and was directed by Robert De Niro. I can only attribute much of the perfection of A Bronx Tale, the New Musical to the book by Chazz and the superb co-direction by Robert De Niro and Jerry Zaks. I was pleasantly surprised by the heartfelt music and lyrics and then learned that Alan Menken and Glenn Slater were the pair behind them. That's right, the Disney duo famous for box office smashes "Tangled," "The Little Mermaid" and "Aladdin" (Menken) as well as Broadway's School of Rock (Slater) wrote the music and lyrics for A Bronx Tale- and it does not disappoint. Choreography by Sergio Trujillo rounds out the famous (and fabulous) creative team. The set (Beowulf Boritt) was impressive and the lighting and variance of angles allows the audience to feel like they are seeing Belmont Avenue from different vantage points. Lest one forget the sound; I was able to hear and understand every character so caps off to Gareth Owen, Sound Designer.
Beyond the upbeat music and choreography is a story that will stick with you long after leaving the Longacre Theatre. It is relevant today even though it opens in the 1960's. Beginning with the song (that I'm still humming) "Belmont Avenue," the story tells of a boy's coming of age in the Bronx when race relations between the Italian and African-American communities were strained. Young Calogero, (played by Athan Sporek in this performance) is an only child being raised by loving, working-class parents Lorenzo (Richard H. Blake) and Rosina (Lucia Giannetta). Young Calogero accidentally witnesses a murder by mob boss Sonny (Nick Cordero) then flat out denies Sonny's involvement when questioned by the NYPD. Sonny takes a liking to Calogero, nicknames the boy "C" and then Athan Sporek/Young Calogero takes over the stage and crushes his solo, "I like it." Sonny introduces "C" to dice- throwing and the mob scene. He wins a large sum of money during the song "Roll 'em" but his father finds out how he won it and forces him to return it to Sonny. We then see Calogero (Bobby Conte Thornton) as a young adult in 1968 who looks remarkably like his younger version. Against his father's wishes, he has secretly kept a strong relationship going with Sonny. He joins a gang and develops a crush on an African American girl named Jane (the talented Ariana DeBose) and their story is explored while Calogero's relationship changes and develops with both Sonny and his father until tragedy strikes.
I had a chance to talk to the exceptionally talented and gotta-pinch-him cute Athan Sporek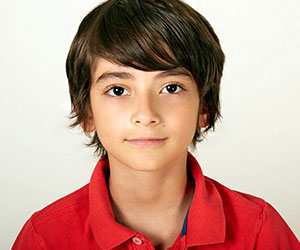 after his performance as Young Calogero. (Athan shares the role of Young Calogero with Hudson Loverro). At age 9, you'd expect this to be Athan's debut on the Great White Way but he was also the youngest Gavroche on Broadway in Les Miserables history (during his younger years). I asked him how the two shows compare from his point of view. "I guess you could say this show is a bit jazzier than Les Mis," he said. "I love both styles but what's cool about A Bronx Tale is that I get to sing, dance and act- I can do all the things I love in one role." According to Athan, why should people come see A Bronx Tale? "Just like Jane says in the show," he remarked, "it's a story that'll make you laugh and cry. As far as co-directing goes, it doesn't get better than this!" I had a chance to meet Athan's mom and asked her for one quick highlight of the whole experience so far. "It was when Athan asked, 'Now that I know Chazz, when do I get to meet the real Mafia?'"
Not exactly close to the theater but highly convenient to Grand Central Station is Chazz Palminteri's Ristorante Italiano so naturally I had to try it before the show. Beyond the intelligently thought out menu and perfectly cooked and presented cuisine, there's Chazz himself who frequents the restaurant.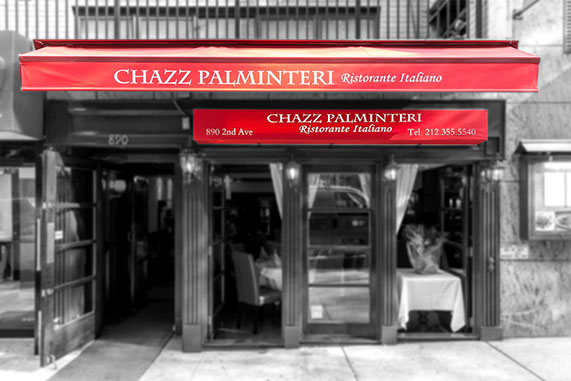 In honor of the opening of A Bronx Tale on Broadway, the restaurant has a set "Bronx Tale" dinner menu as an option. It's an impressive offering for a fabulous price. The wine menu was varied and extensive without being over-the-top. The service was top notch from start to finish and the ambiance was lovely. We began with the grilled calamari which was drizzled with olive oil and balsamic and was a notable introduction to our meal. We also had the salmon tartare over avocado topped with arugula and capers; fresh, simple stacked ingredients that were heavenly for the tastebuds. The Secondi came out piping hot and we split the Osso Buco (only served when the chef decides to cook it) and pistachio crusted halibut over homemade gnocchi in a white wine and porcini mushroom sauce. The Osso Buco was absolutely delectable if a bit fatty for my personal palate. The halibut/gnocchi dish was expertly prepared, well-seasoned and filling. (As if I could skip dessert.)
While consuming about 3,000 calories worth of Tiramisu that was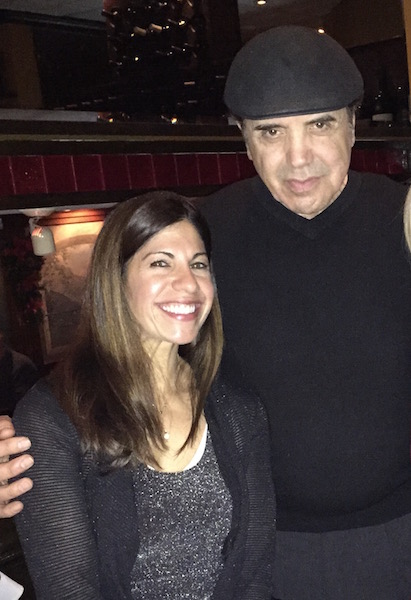 so good you could have convinced me I was in Rome, I looked up and Chazz himself. He was excited that we were going to see A Bronx Tale after our meal and mentioned that it was Athan Sporek's (young Calogero's) debut performance. "Those kids are great, both of them. Ya better get goin'," he said as we frantically hailed a cab. But first, I couldn't resist a photo. I just wish I had practiced my Bronx mobster face beforehand because, well, Chazz had.
A Bronx Tale is playing at the Longacre Theatre and has a running time of 2 hours. Rush tickets are available when the box office opens. Note: There are several very loud gunshot sounds, a couple of curse words, sexual innuendo and a word quickly spoken by a character making it possibly inappropriate for young children.
Chazz Palminteri Ristorante Italiano is located at 890 Second Avenue between 47th and 48th and is open for lunch and dinner daily.