Now Is the Time to Pass the Climate and Community Protection Act
Published: Tuesday, 14 May 2019 10:16
Joanne Wallenstein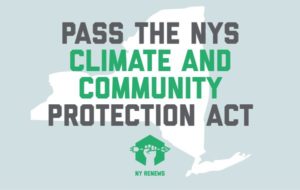 Dear Editor, On Friday May 3, 2019, I attended a panel discussion at the Rye Nature Center concerning the Climate & Community Protection Act and was glad I arrived early as there was standing room only for many people. State Senator Shelley Mayer lead the panel consisting of five experts, New York State Senator Todd Kaminsky, who sponsored the bill, Ed Berry of the Sierra Club, Raya Salter, Principal Consultant of Imagine Power LCC, Ellen Conrad, Co-founder and President of Bedford 2020, and Ryan Madden, Sustainable Organizer of the Long Island Progressive Coalition & committee member of NYRenews.
I learned the State Senate is revising the bill which had passed the NYS Assembly four times in previous sessions. The senate is working with the Governor, who wants more aggressive goals to combat climate change than the original bill.
The New York State Budget yielded many environmental victories. An historic $300 million for the Environmental Protection Fund, A $500 million for clean water infrastructure, a state-wide ban on single use plastic bags, a comprehensive food waste reuse and recycling policy, and a congestion pricing plan for lower Manhattan that will raise revenue for public transportation and reduce pollution in New York City.
Now it is time to further NYS's environmental victories and pass the Climate and Community Protection Act (CCPA) to set New York State on a path to reduce carbon admissions. We only have until the end of June 2019 to pass this bill; otherwise it waits until next year. With the Intergovernmental Panel on Climate Change (IPCC) and 13 US federal agencies warning that there is at most a 12-year window to limit a climate catastrophe, passing this bill could not come at a more urgent time.
Please call your New York State legislators in the Assembly (Amy Paulin 914-723-1115), and Senate (Andrea Stewart-Cousins), as well as Governor Cuomo (518-474-8390), and let them know you support the Climate & Community Protection Act – CCPA (S2992/ A3876). Ask them to act quickly to pass the Climate and Community Protection Act (CCPA) and make New York State a leader in clean energy for the welfare of our economy and our citizens.
Elaine Weir
138 Brewster Road
Scarsdale, NY 10583
914-874-4574 cell