A Secret Garden on Popham Road
Published: Wednesday, 28 August 2019 17:59
Joanne Wallenstein
When Alfredo and Malula Gonzales bought their first floor apartment at 50 Popham Road 17 years ago, they didn't even realize it had a terrace. It was wintertime when they made the purchase, and they didn't look outside.
Their first spring they were pleasantly surprised to find the spacious terrace, and started to embellish it with a few potted plants during their first season on Popham Road. They had moved to the apartment from Parkfield Road where the house already had a beautiful garden designed by the former owner, fashion designer Vince Camuto. When they moved, Alfredo was afraid he would miss the garden and the barbeque.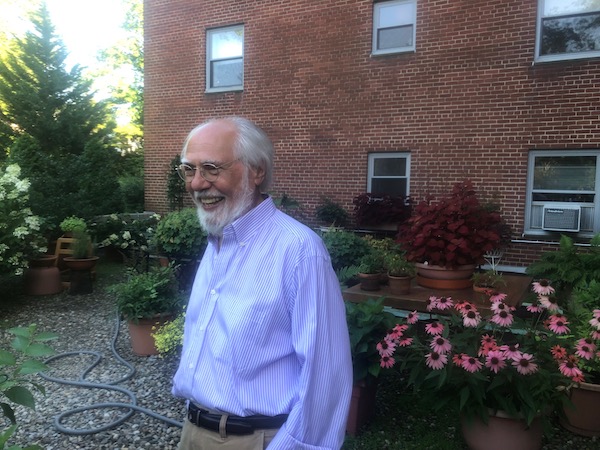 Alfredo in his garden.At Popham Road, the terrace on their apartment overlooked a beautiful garden on the 4-acre property that includes the building, and the Gonzales' were inspired by the view. Each year they added both perennials and annuals to the terrace, until the garden became their passion and obsession.
Alfredo was no stranger to gardens, He grew up in Venezuela where he was the eighth of nine children. Their
tropical garden in the tropics required twice a day watering, and when he came home from school, he was responsible for the second shift.
Now in its 17th year, his garden on Popham Road is filled with flowering hydrangeas, climbing ferns, clematis, coneflower, coleus, begonias, marigolds and more. The two spend many happy hours planting, potting and weeding – much to the joy of their neighbors, who look out and see the garden from their windows above.
Each year, the Gonzales invite their neighbors to the terrace for drinks, hors d-oeuvres and a closer look at the plantings.
Discussing his garden, Alfredo said, "When you retire, you must have a hobby. The garden is mine."