Concerned About Voting in Person in the Village Election? There's Still Time to Vote by Absentee Ballot
Published: Friday, 13 March 2020 08:47
Joanne Wallenstein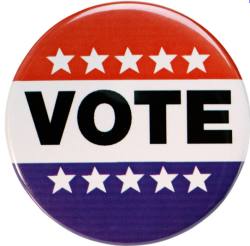 The Village has received many queries from those who would like to vote in the Village election on March 18 but are concerned about going to the poll at the Scarsdale Congregational Church.
Village Clerk Donna Conkling has an easy solution for you. Simply go online today Friday March 13 or Monday March 16 and download the application for an absentee ballot. Complete it and bring it to Village Hall before 5 pm on Monday. Staff will give you a ballot, you can complete it and give it to them on the spot.
You must apply by Monday March 16 at 5 pm.
For those who vote in the person, the poll at Scarsdale Congregational Church at 1 Heathcote Road will be open from 6 am to 9 pm on Wednesday March 18.
Village staff are working with church personnel and county election officials to maintain a clean, safe environment for voters; and residents are urged to participate in this important contested election. Scarsdale Mayor Marc Samwick assured the public that the voting areas will be disinfected continually throughout the day, and voters are welcome to bring their own pens and/or gloves to the polls.
Find all information about the election here:
Conkling said that the CDC has issued new guidelines about voting during the outbreak, and voting by absentee ballot will minimize the risk of personal interactions:
Here are the CDC's recommendations for election officials:

Actions for elections officials in advance of election day

Encourage voters to use voting methods that minimize direct contact with other people and reduce crowd size at polling stations.

Encourage mail-in methods of voting if allowed in the jurisdiction.

Encourage early voting, where voter crowds may be smaller throughout the day. This minimizes the number of individuals a voter may come in contact with.

Encourage drive-up voting for eligible voters if allowed in the jurisdiction.

Encourage voters planning to vote in-person on election day to arrive at off-peak times. For example, if voter crowds are lighter mid-morning, advertise that in advance to the community.