Village Election Postponed Until April 28
Published: Monday, 16 March 2020 20:39
Joanne Wallenstein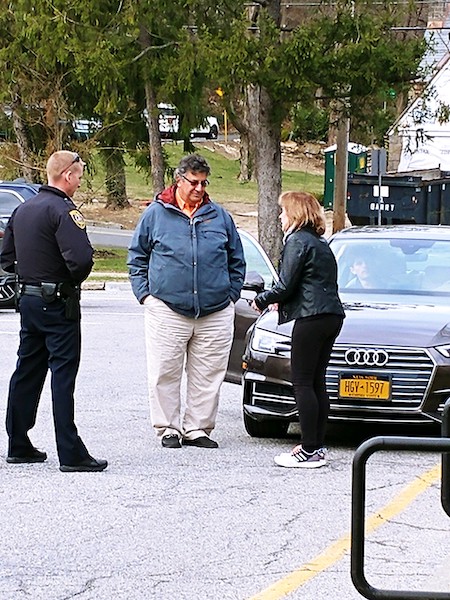 Candidate Robert Berg speaking to Village Clerk Donna Conkling and a police officer outside Village Hall on Monday March 16. Photo credit Lisa VanGundyIn an effort to keep New Yorkers safe during the COVID-19 pandemic, Governor Andrew M. Cuomo today issued an executive order delaying village elections statewide until the April 28 primary election.
"Our top priority has been keeping New Yorkers safe and stopping the spread of the novel coronavirus," Governor Cuomo said. "Public health officials have been clear that reducing density is one of the most effective ways to stop the spread and delaying village elections will help ensure poll workers and voters are not potentially exposed to the virus and at the same time maintain integrity in our election system."
Commenting on the delay, Scarsdale Non-Partisan Party Campaign Chairs Dara Gruenberg and Jon Mark said, "We applaud the Village's effort in requesting a postponement which resulted in putting the interests of our friends and neighbors first. We are pleased with the Governor's action to postpone the Village election until April 28th. As the days have gone on, the situation has become more dire, and we are relieved that the community does not need to gather for this particular purpose. We are grateful to those who made the extraordinary effort to vote by absentee ballot. We fully expect that Scarsdale will come together as one community to support each other in the challenging days ahead. "
Scores of voters lined up outside Village Hall on Monday March 16 to vote via absentee ballot before the 5 pm deadline. The Village Clerk's office was overwhelmed. In order to issue the ballots they had to type a personalized envelope for each voter, a time-consuming process. It is unknown whether these absentee ballots will count for the postponed election.