Vigil Called Off In Bronxville
Published: Monday, 01 June 2020 21:17
Joanne Wallenstein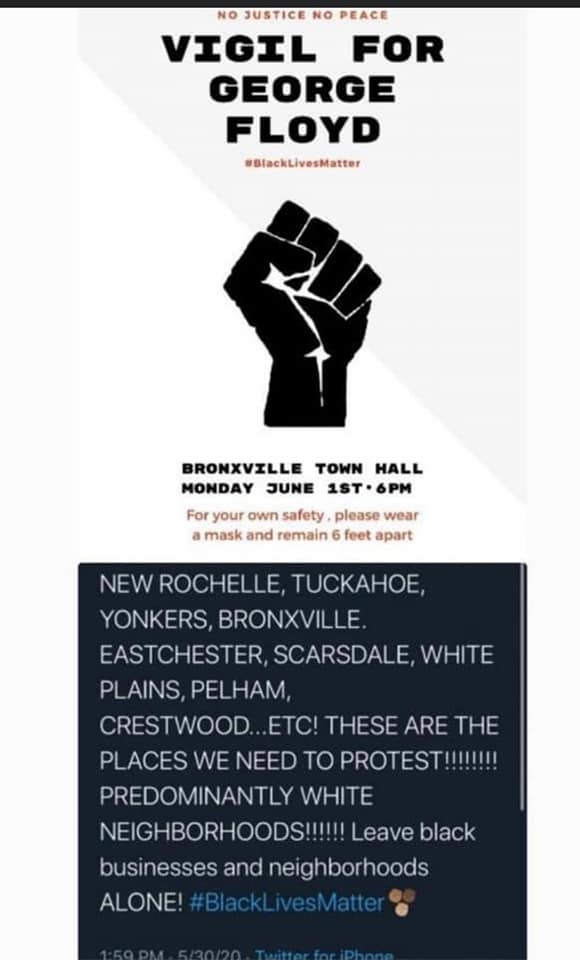 A call for a vigil in Bronxville for George Floyd sponsored by Black Lives Matter on June 1 set off fears of demonstrations and potential violence in Southern Westchester. The post at left appeared on Facebook during the afternoon and residents were worried that the trouble they see on television was coming their way.
The post showed a black fist and said, "Bronxville Town Hall, Monday June 1, 6 pm. For your own safety please wear a mask and remain 6 feet apart."
Underneath it read, "New Rochelle, Tuckahoe, Yonkers, Bronxville, Eastchester, Scarsdale, White Plains, Pelham, Crestwood etc! These are the places we need to protest!!!!! Predominantly white neighborhoods. Leave black businesses and neighborhoods ALONE."
A twitter post showed signs that read "A call to action" posted in Bronxville. The signs gave instructions on how to protest George Floyd's death. A subsequent Twitter post said that the vigil was cancelled, and photos of boarded up restaurants were posted.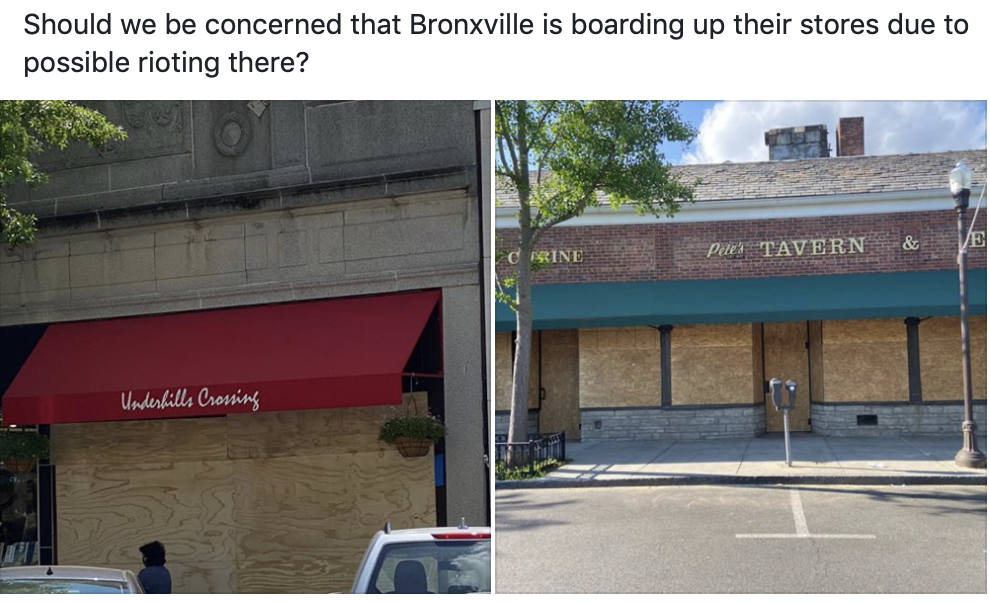 A Facebook post from Bronxville Police Chief Christopher Satriale said, "The Bronxville Police Department and our partners are committed to keeping the Village safe this evening.
At 8 pm, Scarsdale Village Trustee Justin Arest sought to put the matter to rest, and posted the following on Facebook: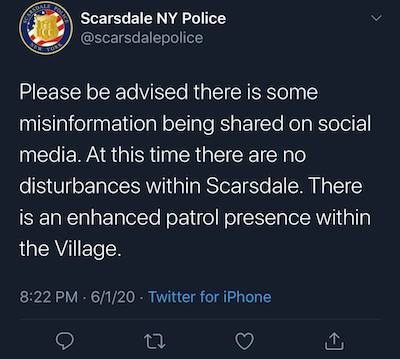 However, it's clear that police were concerned because they stepped up their patrol of the Village.
An email to Scarsdale Police Chief Andrew Matturro was not answered. If you know more about this, please email us at Scarsdalecomments@gmail.com, or comment below.