SBA Seeks Contributions for Permanent Dining Tent in the Village
Published: Tuesday, 02 February 2021 12:35
Joanne Wallenstein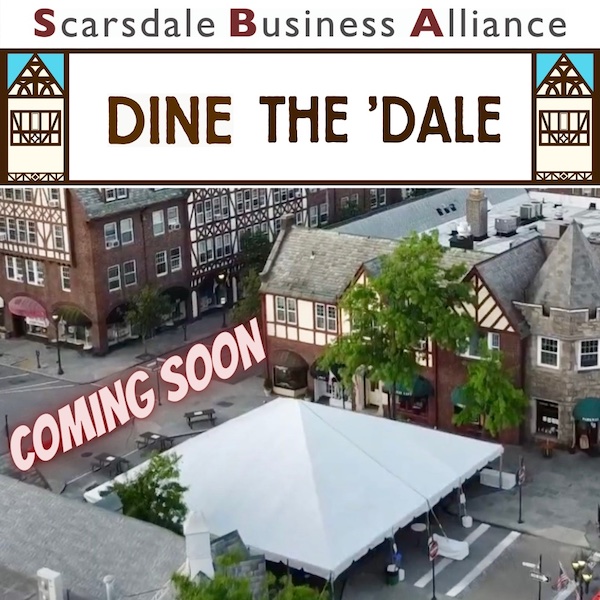 From June through December 2020, in an effort to support Scarsdale Village and our local merchants during the global pandemic, the SBA organized and executed the Dine the 'Dale tent initiative, which involved leasing and installing a 2,500 square foot tent on Spencer Place along with picnic tables placed under and adjacent to the tent. This initiative was a huge success, creating a safe destination for multi-generational community members to gather, dine and socialize, while bringing vitality to our downtown center and supporting local businesses, including 27 participating restaurants.

The SBA thanks its past donors for their incredible generosity and is seeking community support from individuals and corporate sponsors for their next major initiative: to purchase and maintain the 2021 Dine the 'Dale tent area on Spencer Place.

As a result of the initiative's overwhelming success, the SBA is seeking funding to purchase and maintain the tent area again this year, and for future usage as well. The tent will be installed by April 1st and will remain up through August, with the possibility of being extended through November, similar to last year. In addition to being a safe place to gather and dine, the SBA hopes to offer programming during the late afternoon and evenings from local businesses, non-profit organizations and service providers.

The SBA is a non-profit organization, dedicated to supporting the Village of Scarsdale and its local businesses. The SBA works with local merchants, government, property owners, real estate corporations, community members and other local groups to help make Scarsdale a thriving village.

Like all other businesses, the SBA suffered financially in 2020 due to the COVID-19 pandemic. Many merchant members were unable to pay their annual dues, and free provisional memberships were given to all 10583 businesses in order for the SBA to offer its assistance and services to its local businesses. In addition, SBA's annual fundraising events were cancelled.

The SBA is extremely thankful and grateful to Scarsdale Improvement, the lead sponsor of this initiative.

Please consider supporting the SBA as we continue to reimagine outdoor usage of space, making our Village center a destination and supporting our local merchants.
SBA Community Donor Levels: $1000 Leader, $500 Benefactor, $250 Friend, $100 Patron, $50 Supporter (Name will be recognized on the SBA website and in the Scarsdale Inquirer and Scarsdale10583 thank you ads).
SBA Corporate Sponsor Levels: $10,000 Presenting Sponsor (limit 4), $5,000 Platinum Sponsor, $2,500 Gold Sponsor, $1,000 Silver Sponsor (Name/logo will be recognized on the SBA Website and social media platforms, included in the Scarsdale Inquirer and Scarsdale10583 thank you ads, and logo printed on sponsor signage. Presenting Sponsor logos will be affixed to the tent).

Corporate Sponsorship must be confirmed prior to March 1st, 2021 to be included in onsite signage.
The SBA is a 501(c)(6) non-profit organization. Contributions to 501(c)(6) organizations may be deductible as a business expense; however, contributions are not deductible for federal income tax purposes as charitable contributions. Please consult your tax advisor.

Donate Now:
Press Contact: Marcy Berman-Goldstein (marcy@iammorescarsdale.com; 917-940-3944)