The SHS Library: A Hub for Students During an Up and Down Year
Category: On Our Radar
Published: Tuesday, 15 February 2022 08:44
Adam Katcher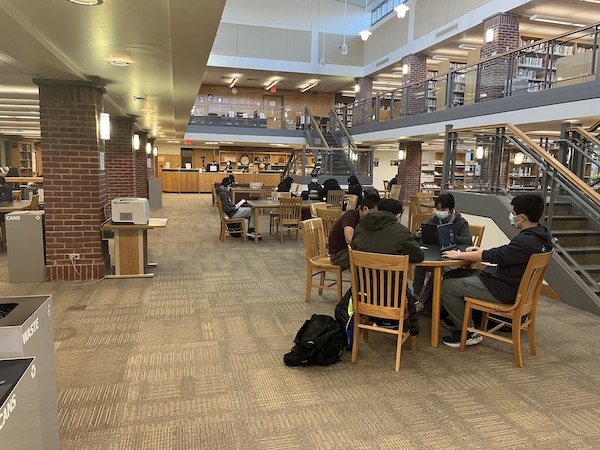 At a time when students feel like they have nowhere to go the Scarsdale High School Library has become a refuge. Though typical libraries are silent and staffed with strict librarians who shush students and discourage conversation the SHS Library has proven to be the exception. It's a place where students who want to work on group projects find space for collaboration and those who want to chat with friends can relax on comfortable furniture. Those who want quiet can find ample spaces in which to study.
The SHS library is a distinctively wonderful community. Some students might not see it that way at first glance, but when viewing from the mezzanine, it is easy to see how the multifocal space allows dozens of high-school tales to coexist.
Walking through the main doors of the library, one sees an open core with several tables swarming with students. On the right, there are more tables, separated by short bookcases. On the left side, large book stacks isolate the tables near the windows. Couches are scattered throughout. Once in the heart of the library, one looks up to see the mezzanine, jampacked with books on one side and tables for work on the other.
The two stories have their own stories. The first floor is the center for collaborative work, whether it be group projects or studying together. There is respectful decorum, but there's a reasonable buzz in the room. Freshmen surround certain tables, sophomores and juniors others, while seniors mark their territory wherever they can – especially on the couches. The mezzanine is different, as it is reserved for quiet work. With both tables and cubicles, there is lots of space to study in typical-library conditions.
The center for study has not always had this intricately-balanced feel. Whether due to COVID-19-enforced changes or already-in-motion decisions, the library has become a home for students, and not by accident.
Librarians Liz Waltzman and Katja Rossi share great enthusiasm for the dynamic and its evolution, with the former describing her theory on why the library is a popular location: "I think people like to come here because it's such a comfortable place. It has a nice feel physically, the way it is set up…It's a very inviting and cozy space."
Rossi added, "It's cozy, with books and the wooden tables, couches, and more... It's nice to see we have all kinds of students here: ninth graders through seniors. I think it's a nice place – a safe place – to come."
When talking about the plan for the future of the SHS Library, Waltzman said, "Our other goal has been, for years now, to make the upstairs mezzanine level more of a quiet study area, and I think that that, for the most part, has worked well."
She explained how the rules and setup have evolved, "We used to be able to eat in the library, and it was more chaotic and messier. Getting rid of that has changed things for the better. We also got rid of almost all of our desktops for a variety of reasons. That also minimized people gathering around them. I do think we were on our way to making the library a better place [before COVID]."
Discussing traffic in the space, Waltzman discussed the gradual reintegrating of students last year. Comparing the traffic now to two years ago, she said, "We get more crowded than we might otherwise because it's harder for us to enforce the distancing rules, and I think that there's a level of freedom in here that sometimes is difficult for us to manage. We do the best we can. But I think once the mask restrictions are lifted and people are more likely to go to the learning commons or other places, we may see this go back to where we originally planned to be headed, which was a bit quieter."
Inevitably, the library's rise in popularity has not come without some consequences. Waltzman explains, "The only thing I worry about is when it is very crowded, the kids who actually need to get work done, they might feel uncomfortable or get frustrated."
Rossi followed up by noting, "We do have two classrooms we let people go in if they want to work in a quiet study space." Waltzman agreed, "If someone needs truly quiet study, we will accommodate it, but it may be that a ninth grader doesn't know to come ask us that. With the exception of a couple of periods, it is pretty manageable."
The social and physical architecture of the library is not the only way the SHS library has retained its importance at the high school. For all the SHS Library does for students who are not in class but want to get work done, the library has done an equal amount to make English assignments and Social Studies research projects more interesting or detailed.
Waltzman highlighted this trend, stating, "We have had, more so this year than ever, ninth and tenth grade English teachers coming in for independent reading."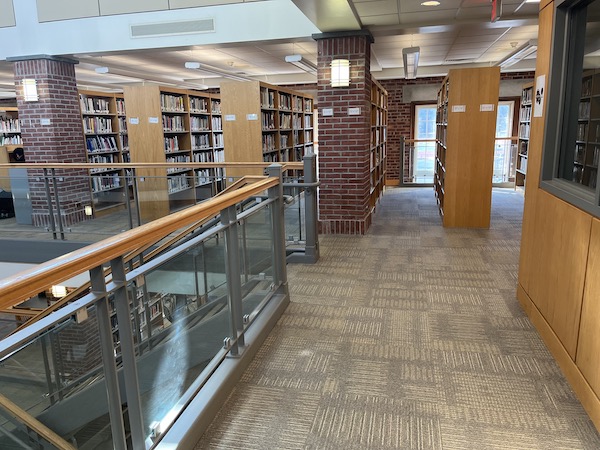 Rossi added, "We have been doing book talks for classes, and then let them pick and choose their own book, which has been really nice, to give a choice to the students to see the variety of young adult books we have."
Waltman continued, "They are hopefully reading it because they like it, and not just because it was handed to them for an assignment."
Students notice the welcoming environment and it's nearly impossible to find a Scarsdale high schooler who has anything negative to say about the library. It has evolved from just another school library into the go-to hub for students to study, share ideas, civilly socialize, research, and so much more. The library is one of the school's most complex, and pivotal, communities.