GoFundMe Page Set Up to Help Victim of Head-On Collision in Scarsdale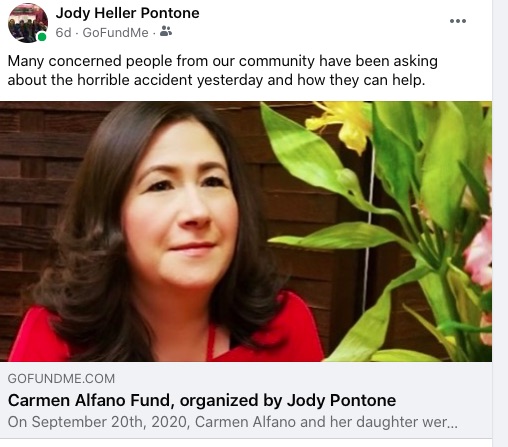 Friends of Carmen Alfano, who was badly injured in a head on collision in Scarsdale on September 20, have set up a GoFundMe page to help her pay for extensive medical expenses required for her recovery.
When the accident occurred, Alfano was on her way home to New Rochelle after caring for a Scarsdale resident's pets. She was driving a 2005 Mercury Sable when her car collided head on with a 2015 Porsche 911 convertible at Church and Rectory Lanes.
Though the man who was driving the Porsche escaped with lacerations and was able to get out of his car on his own, Albano's lower extremities were pinned in the dashboard and pedal area of the car, and both of her legs were fractured. In order to extract her from the car, firefighters used a dash lift and roll and Hurst tools to remove the roof, doors and glass of the car. Albano was treated by medics from SVAC while still in the car. Then firefighters lifted the dashboard, cut back the driver's seat and Albano was lowered and slid onto a backboard before being transferred to a stretcher. She was transported to Westchester Medical Center. Her daughter was in the passenger seat and is being treated for trauma and injuries.
After a week of several surgeries and a stay in the ICU Carmen is waiting an additional surgery to save her leg which was profoundly damaged in the accident. She is able to speak and is eating a little as well. According to Jody Pontone, the concern and kindness from the Scarsdale community was a great source of comfort to Carmen's husband Mark and their children, Jordan and Lexi.
Pontone has set up a GoFundMe page on Facebook and welcomes community support for Carmen Alfano. Click here to contribute.