Photo Opps: Vaccine Cards, Eagle Scouts and a Day of Hope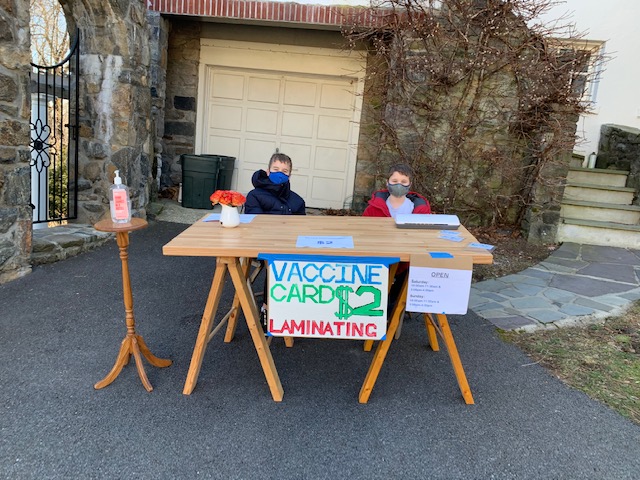 Here's some news and photos from around the neighborhood as spring emerges and spirits lift:
Opportunity Knocks

Maxwell(11) and Charlie (8) Geer realized that vaccination cards would soon be as essential as driver's licenses. On one of the first warm days this year, they set up a table outside their Greenacres Avenue home to laminate neighbors inoculation cards. Let's hope they keep it up as more of us get vaccinated.
Eagle Scouts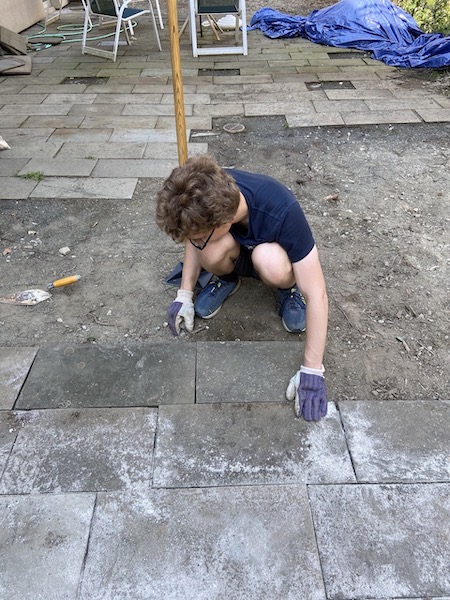 George Primoff rebuilt a patio at Scarsdale Synagogue.Tyler McCarthy and George Primoff were officially recognized as Eagle Scouts, the highest level attainable in scouting, at a Court of Honor held at Hitchcock Church earlier this year.
Both 18 years-old , George graduated in 2020 and Tyler is set to graduate this year from Scarsdale High School. They started out as cub scouts in Scarsdale Pack 440, chartered by Hitchcock Church, over ten years ago and then joined Troop 4, also chartered by Hitchcock, as Middle Schoolers.
Currently studying engineering at Northeastern University, George is an avid backpacker and was a member of the High School's Ultimate Frisbee and Wrestling teams. For George's Eagle Scout service project, he rebuilt by hand a large outdoor patio space at his synagogue, Scarsdale Synagogue, which had fallen into disrepair. George's project resulted in an attractive outdoor space that allowed the congregation to gather in a safe, socially-distanced manner for celebrations.
Tyler has held leadership positions as Patrol Leader, Assistant Senior Patrol Leader and Senior Patrol Leader with the Troop. Tyler also attended the National Scout Jamboree and Sea Base High Adventure. By earning the rank of Eagle Scout, Tyler follows in the footsteps of two grandfathers, his father, brother and cousin. Tyler's Eagle Project entailed building four houses for the Scarsdale Fire Department that are used for training. The houses are made of wood and stand about 4 feet high with four rooms and an attic with windows and doors. It teaches the different ways fire and smoke move through a house depending on the airflow in the house.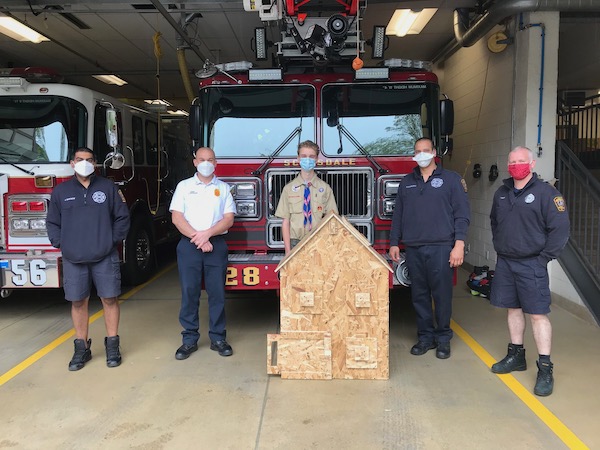 Tyler McCarthy built 4 woodhouses to be used for training of firefighters.
While Tyler and George grew up in scouting, middle and high school boys are welcome to join Troop 4 with or without previous scouting experience. For further information, please contact scoutmaster@scarsdale4.mytroop.us.
(Contributed by Midori Im)
White Plains Hospital's Day of Hope
On March 9th, 2020, White Plains Hospital received its first COVID-19 patient—marking the start of a journey that changed us all. One year later, the hospital brought together its leadership, COVID-19 survivors, elected officials and community members to reflect and honor its healthcare heroes—first at 6:30 AM as its morning shift employees arrived to work, and again at 6:45 PM as first responders joined in a community applause in front of the White Plains Hospital Emergency Department. Attending were COVID-19 survivors, including Hugo Sosa, former FDNY Captain who beat COVID after a 44-day hospitalization; The Westchester Children's Chorus; Susan Fox, WPH President and CEO; White Plains Mayor Tom Roach; and nurses, physicians and staff who led the COVID fight.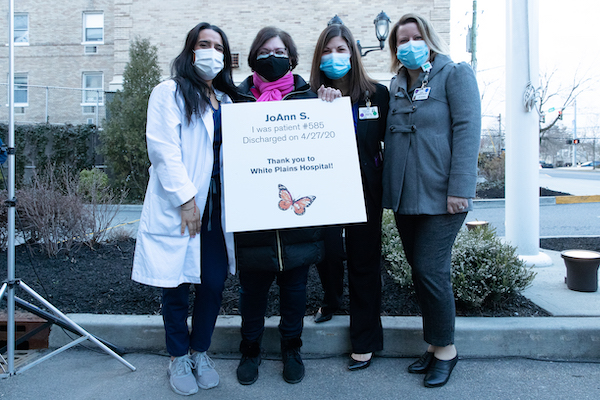 COVID survivors thank White Plains Hospital.