8,000 Children's Books to Travel 8,000 Miles
Thursday, 07 March 2019 08:34
Last Updated: Thursday, 07 March 2019 08:38
Published: Thursday, 07 March 2019 08:34
Joanne Wallenstein
Hits: 2109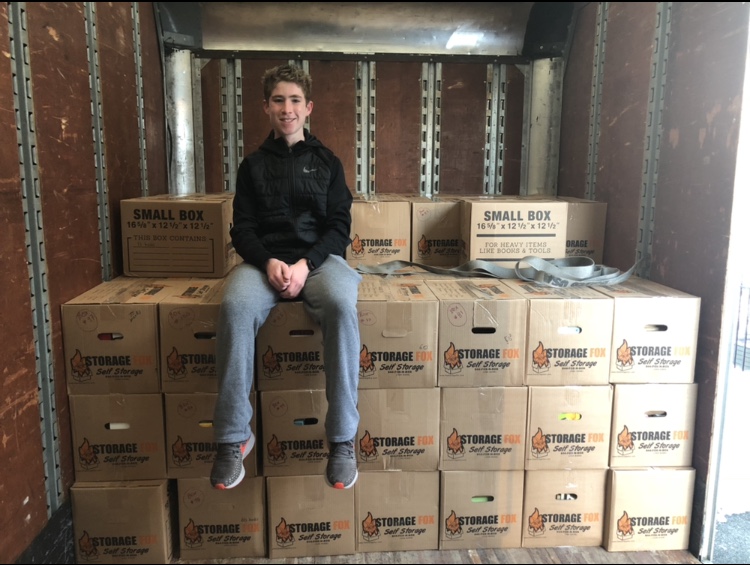 You never know how a trip abroad can impact a student. During a summer volunteer trip to South Africa, SHS Senior Zach Hoexter witnessed firsthand the poor living conditions and the absence of any books or school libraries. Inspired to help, when he returned home he used social media to organize an ambitious book drive and his efforts yielded thousands of books. In fact he amassed over 8,000 books in his Scarsdale garage.
How to ship these books overseas?
In the past few month he secured donated boxes, packed up the books and coordinated with Safmarine, its agent DAMCO and EcoChildren (the South African non profit), On Wednesday March 6 at 6:45 am he helped pack up the truck and sent over 8,000 donated children's books officially on their 8,000 mile journey to South Africa.
In the coming days, the books will be loaded from the New Jersey warehouse into the shipping container. Safmarine, which is part of Maersk, the big international shipping firm, will ship them out March 14th from Port Newark to Port Durban, SA where the books are expected to arrive in Johannesburg on April 16.. The family is now looking into the possibility of traveling to South Africa so that Zach can be there for the books' arrival and help to set them up in the primary schools where libraries are so desperately needed.
His mom Elizabeth Hoexter said, "So many in our community so generously donated - large and small - to his effort. It is so moving."