Westchester County D.A. Holds Court at Scarsdale Library
Category: On Our Radar
Published: Thursday, 16 March 2023 12:33
Deborah Skolnik
Libraries, stereotyped as places where stern librarians hush visitors, are thought of as paragons of law and order. But on Sunday, March 12th, Scarsdale Public Library took things to the next level when the Scarsdale Forum hosted Westchester District Attorney Mimi Rocah for an informative, hour-long talk. Heading into her third year in office, she spoke about her experiences on the job so far, from victories to continuing challenges. A rapt audience listened to her reflections, while also volunteering thoughtful questions.
To kick off the conversation, a moderator asked Rocah to list the three accomplishments she is proudest to have achieved in her two years in office thus far. "Top of mind, it's in creating the conviction review unit," she said. This team, she explained, closely examines convictions to ensure the correct person is being punished. "It is something that I think every modern prosecutor's office needs to have," Rocah contended. "I'm sure you've read in the news that innocent people do get convicted of crimes…it's a guardrail against that."
Next, she cited her office's work with crime prevention through diversionary programs. Typically, these initiatives direct eligible felons with mental health or substance abuse issues into treatment programs rather than prison. "But [my office] said, 'what about people who are committing lower-level crimes—the misdemeanors, the small-non-violent, low-level first-time offenders and second offenders?' We want to get those people social services and get them out of the criminal justice system at that early stage," Rocah shared. She and her office have made numerous efforts towards this goal, including by creating Fresh Start, a diversion program which lets participants avoid a court record.
Lastly, Rocah expressed pride in structural changes she has made within her office. "Some of those would literally put you to sleep," she joked. To make things simple, she focused on one key shift: reducing the number of prosecutors who work on a given case. "Maybe two people [now] have the case, and they have it through the life of the case," she says. The end result is that the system is more victim-centered and responsive.
Rocah's partner in the presentation was Berit Berger, Executive Assistant District Attorney for Policy and Strategic Initiatives, and Chief Ethics Officer. Berger explained what a massive undertaking some of the restructuring has been. "We have a hundred and thirty line prosecutors, assistant district attorneys, thirty-four criminal investigators, and over ninety support staff," she explained.
Rocah also brought up a rule she instituted: "When there is a violent crime or homicide, someone from our office will contact the victim or the family of the victim within 24 hours," she said. In addition, her office has set up a streamlined hotline, so callers aren't drawn into a black hole of transfers. To address hate and bias crimes, she has appointed a special coordinator who makes sure such offenses are tracked and prosecuted when possible.
As the event progressed, Rocah and Berger reflected on their efforts working with the federal government and local organizations for better gun control. "One of the things we're making a push on is to educate the community about the tools we have, because you can have the strongest gun rules in the country, but they're not self-executing," Berger said. "If people don't know about them, we can't use them." The office has also reached out to schools to share the red flags that a teen is in danger of shooting themselves or others.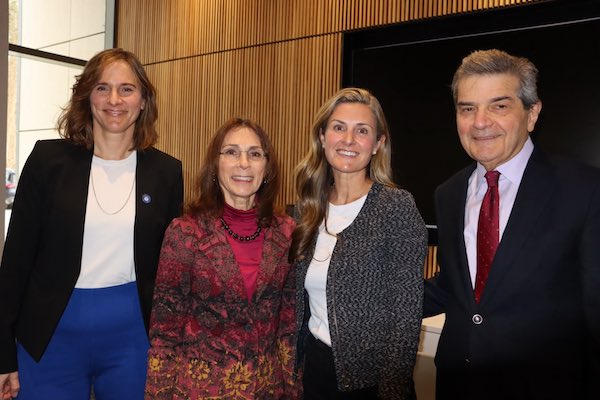 Of course, Rocah still faces challenges as well. One audience member, who volunteers at the Pace Women's Justice Center, asked what is being done to address domestic violence. Rocah acknowledged that the D.A.'s office could use more resources in that area, but stressed that within the past six months, it developed a Misdemeanor Domestic Violence Bureau. The group's mission is to make sure that local courts that handle domestic violence cases be supervised by a prosecutor who specializes in this area.
Yet not all crimes involve physical violence. Rocah spoke about the new head of her office's Cyber Crimes Bureau, who has years of experience addressing the problem. When another attendee asked what was being done to prevent scams aimed at the elderly, Rocah reassured him that her office has an Economic Crimes Bureau focused on such issues. Not surprisingly, the topic of cannabis use came up as well. "This whole landscape is really changing," Rocah acknowledged. Her office, she said, is particularly concerned on the sale of cannabis to minors, as well as those who drive under the influence.
For anyone interested in learning what other problems the Westchester County District Attorney's Office can help with, its website (https://www.westchesterda.net/) has useful guidance. Simply by attending the afternoon's talk with Rocah, though, audience members came away with a wealth of insights.

Photo Credit: Lisa Van Gundy

Pictured at top: Mimi Rocah and Berit Berger

Pictured above: Mimi Rocah, Susan Douglass, Berit Berger and Eli Mattioli