Boys' Tennis, Boys' Golf and Girls' Golf Teams Take Sectionals: Plus More on the Raiders
Category: On Our Radar
Published: Thursday, 25 May 2023 01:09
Sajiv Mehta
Boys' Tennis – On Sunday, 5/21, the team was victorious in the Section 1 championship, sweeping the field 4-0. The very next day (Monday, 5/22), the Raiders won again, this time in the sub-regional round of the state tournament with a score of 6-1. Standouts like sophomore Sam Saeed will look to lead them past Ithaca at the Binghamton University tennis courts at 1pm on Thursday, 5/25. After failing to capture the section title last year, the team has proven to be resilient this year, going much further than just a section championship.
Girls' Golf: At the Section 1 Girls' golf tournament, the Raiders were successful yet again. As a team, they finished in 2nd place with a total score of 317. However, individually, they found even more success. Most notably, sophomore Emma Lee successfully defended her title from the '22 season, shooting even-par 72 on both days to clear the field and assert yet again that she is the best player in the section. She will have the opportunity to play in the New York State tournament in June, as will fellow sophomore Allison Khan. Sophomore Chloe Ji also had a solid two rounds, missing out on a state tournament berth by just one stroke.

Boys' Golf – On Tuesday, 5/23, the Raiders competed for a team Section 1 title. After coming in 2nd in the regular season differential, they lost home course advantage for the section championship for the first time in half a decade. This meant that Scarsdale had to go try and win at Rye Golf Club, Rye's home course. Other than Rye, Bronxville and John Jay Cross-River played. After losing to Bronxville by a wide margin last year, Scarsdale came to play this Tuesday, shooting 197, better by 8 than the closest other time, Rye. John Jay Cross-River shot 207 and Bronxville came in 4th place with a score of 217. Junior Justin Liu and sophomore section champion Leo Chu led the Raiders with scores of 2-over 38. It was another extremely successful year for Scarsdale, finishing with a record of 16 wins and 1 loss. They have now won 6 championships in the last 10 seasons.
Girls' Flag Football – Scarsdale prevailed against a struggling Poughkeepsie team in the first round of the playoffs on Thursday, 5/18,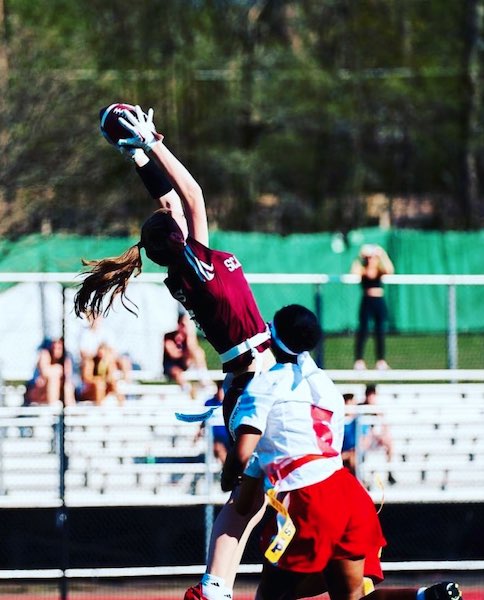 winning 7-0. Then, on Saturday, 5/20, the team won a thriller at home against Clarkstown, leading them into the Section 1 championship against Eastchester at Mahopac High School on Wednesday, 5/24. Unfortunately, leaders like junior quarterback Ivy Boockvar weren't able to overcome an extremely strong Eagles team, who won 20-0. Overall, however, the Raiders were still extremely successful for the second straight year, finishing with a record of 14 wins, 2 losses, and 2 draws. They will look to repeat their success for the third straight year in 2024.
Boys' Lacrosse – This week, boys' lacrosse began their playoff run in hopes of three-peating as Section 1 champions. On Tuesday, 5/13, the Raiders played Wappingers in the sectional quarterfinal and opened strong. They dominated at home, 15-1, with several players taking on a meaningful role. Junior Jake Goldstein led the team in points, as he has at several points this year, scoring 3 goals and 2 assists. Fellow junior Rhett Needleman also scored 3 goals. Scarsdale's faceoff specialist, senior Colby Baldwin, also scored a goal while dominating at his position as usual, winning 12 of 13 draws. Now, the team looks ahead to a matchup against Carmel on Friday, 5/24 in the sectional semifinal.
Girls' Lacrosse – Scarsdale's season came to a close on Friday 5/19. In a tough first-round matchup against a dominant North Rockland squad, the Raiders fell, 12-4. Their final record for the season sits at 6 wins and 11 losses, but with Division 1 college recruits like junior Nina Franco on the team, they will look to rebuild and come out stronger next spring.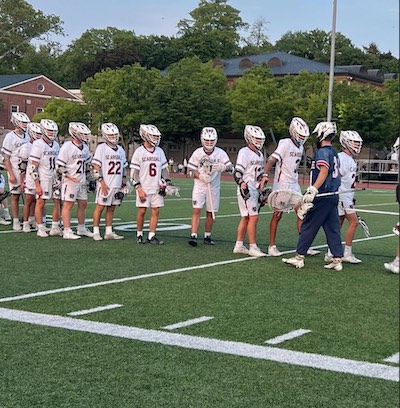 Softball – On Thursday, 5/18, the Raiders lost a close game in the first round of the Section 1 playoffs to a strong Ossining team. The final score was 10-6, Ossining, bringing Scarsdale's overall record to 8 wins and 13 losses. With many key returners coming back next season, the team will look to make a key playoff run in 2024.