The Subtle Flavors of Iran at Shiraz Kitchen
Category: On Our Radar
Published: Wednesday, 29 June 2016 19:16
Judie Dweck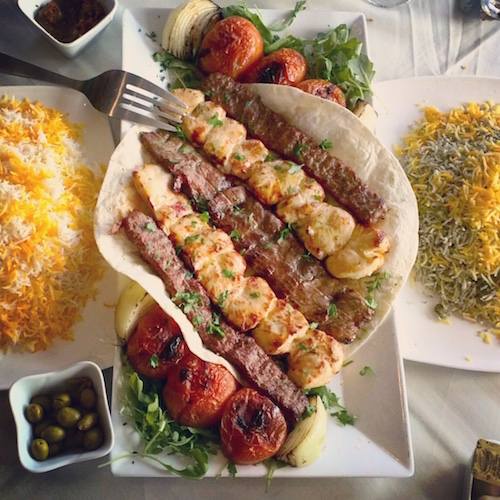 The city of Shiraz in Iran is a cultural center, known for the poetry of Hafez and Sa'di. It is also the home of lush and beautifully patterned hand woven rugs. Upon visiting Shiraz Kitchen in Elmsford, we find that Shiraz is memorable for its fine culinary delights. The Persian cooks like the Persian rug makers weave beautiful colors and patterns, with the rug makers using wool, while the cooks at Shiraz Kitchen weave their magic with interesting ingredients, some familiar and others more exotic in our culture.
Reza Parhizkaran is the new owner and has brought a wonderful new feeling to this Persian restaurant. He is a welcoming host who greets his guests warmly. The restaurant seats about 96 guests. Parhizkaran said,"Making my guests happy and comfortable is very important. Good service and attention to detail are necessary, as well. Our food is traditional with creative touches. In planning the extensive menu, we experimented and played with items until we achieved a favorable result. My mother's cooking served as an inspiration for many of our dishes. "Among the changes at Shiraz Kitchen is the addition of many local beers and international wines. Parhizkaran believes that," a happy staff means happy customers."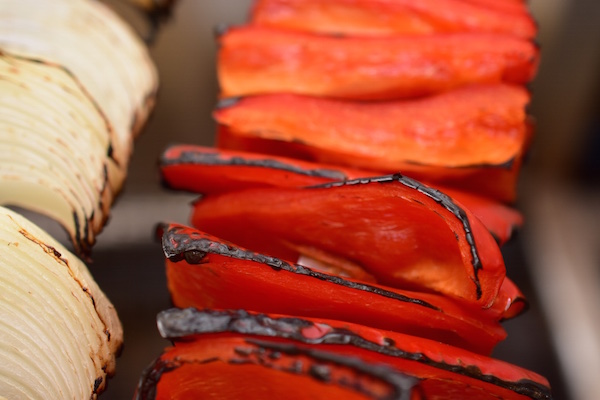 The space has a brighter look with white, rather than black linens on the tables. A large round table sits at the front bay window, and an oblong table seating a large group is at the back of the room. Many small tables can accommodate groups both large and small.
Dining at Shiraz Kitchen will open your eyes and taste buds to the exciting combination of herbs, spices, fruits, vegetables, fish, poultry and meat which form this outstanding cuisine. The extensive choice of appetizers is most enticing. With soothing music playing in the background, we examined the menu. As in many mid-eastern countries, yogurt is an important part of the cuisine. We sampled labneh , strained yogurt flavored with olive oil and za'tar, mast-o – musir, a thick yogurt with shallots and white pepper and my favorite, kashk-e- bademjan, a spread of mashed fried eggplant, fried onion, garlic and dried yogurt. The smooth eggplant combined with the crunchy fried onion lent a super texture to his dish. Each of the dips were perfect with the Persian bread, similar to naan. Marinated vegetables, mixed pickles, stuffed grape leaves and hummus are other appetizers yet to be tried. Very special and a must have dish is tadig. The crusty rice, very crispy is cut into squares and topped with gheimeh bademjan, a stew of beef eggplant and potatoes, sprinkled with crisp potato sticks. It was a great way to start our meal. We cleansed our palate with a refreshing arugula salad. Figs, feta cheese, radishes, tomato, dried cranberries and sunflower seeds were dressed in a fresh tart lemon vinaigrette. Other salads include a falafel salad and a mixed green salad. If soup is your desire, a classic ash-e reshteh with beans, herbs, noodles, dried yogurt, onion and fried garlic is a good choice.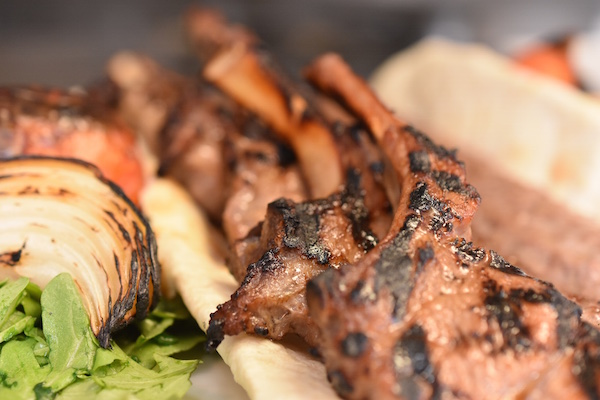 Along with salt and pepper, a large shaker of sumac, a sour tasting seasoning is offered to sprinkle on your kabobs or salads. Entrees here include several stews, some suitable for vegetarians. A classic ghormeh sabzi with beans, herbs, beef, dried lime and sautéed onion was quite tasty. Fesenjan with meatballs, walnuts and pomegranate is filled with unique flavors. Broiled branzino, trout or salmon and a large variety of kabobs are offered. Many entrees arrive with roasted tomato and saffron basmati rice. I was in my glory as I picked up my baby lamb chops and savored every last bite of these marinated treasures. My koobideh kabob was simply seasoned and served with a grilled whole tomato, onion and red bell pepper. Saffron basmati rice was on our platter. In Iran, rice appears in large quantities at just about every meal. At Shiraz Kitchen be sure to sample the many interesting varieties. I just loved the shirin variety with orange zest, pistachios and almonds. Equally as divine is the albaloo variety with sour cherries and pistachios. The combination of sweet and savory is tantalizing and very common in Persian cuisine. Future meals might include rice with fava beans and dill and one with dried barberry and pistachios.
We topped off our meal with hot tea traditionally served in small slender glass cups. Mine was Persian black tea with fresh mint and saffron, an exotic combination. Shiraz Kitchen offers many desserts both Persian and international. From baklava to tartufo to the classic faloodeh, frozen Persian rice noodles flavored with cardamom, rose water and sour cherry syrup. We enjoyed pomegranate sorbet and saffron ice cream.
If your meal has inspired you to cook at home in the style of Persia, stop next door at the Shiraz Market where you can purchase spices, herbs, breads, pastries and rice and many of the ingredients needed for the Persian cook.
If you choose lunch at Shiraz Kitchen a 3-course prix fixe menu is offered, from Tuesday through Friday. It includes a choice of appetizer, entrée, dessert and tea.
Enjoy a Persian culinary adventure by dining at Shiraz Kitchen, where Reza Parhizkaran is your gracious host.
Shiraz Kitchen
83 East Main Street
Elmsford
345 6111
Ghormeh Sabiz (Serves 4-6)
Persian Herb Stew
2 pounds lamb or beef cubes
1 cup dried red kidney or pinto beans, soaked overnight
1 large onion, finely chopped
4 bunches Italian parsley
1 bunch cilantro
2 large leeks or green part of 4 scallions
Small bunch of fresh fenugreek or 1 Tbsp. of dried fenugreek
3 or 4 dried lemons or 3 Tbsps. fresh lemon juice
Salt and pepper to taste and 1 tsp. turmeric
2 Tbsps. vegetable oil to sauté onions
1/3 cup vegetable oil to sauté the herbs
Enough water to reach about 2 inches in the pot.
*Unusual ingredients available in Persian market
Wash and dry all herbs. Chop them finely. Heat the 1/3 cup of oil in a large skillet, and sauté the herbs in it over medium heat. Stir frequently and set aside. In a large pot, sauté the onion in the 2 Tbsps. of oil until golden. Add meat, turmeric, salt and pepper and fry until all sides of the meat are browned. Add the drained soaked dried beans, fried onions and dried lemon. Add about 2 inches of water to cover the mixture in the pot. Bring to a boil and lower heat to medium. Cover pot and cook for about 1 and ½ hours. Adjust seasonings and continue to simmer for about a half hour. Add a bit more water if needed.
This dish reheats well and is delicious the next day.
Judie Dweck has been writing about restaurants and food for many publications. She teaches creative cooking to children at Scarsdale elementary schools. Through the years, her articles have appeared in Jack and Jill Magazine, Spotlight, The Pleasure of Cooking and The Scarsdale Inquirer. She balances her restaurant tastings with daily ballet classes.