The Lively Flavors of Thai Food at I Thai Resturant
Category: On Our Radar
Published: Tuesday, 12 July 2016 17:30
Judie Dweck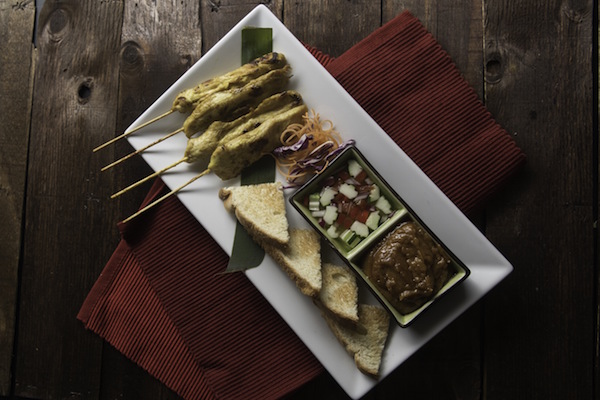 Down a garden lined path, you enter I Thai, the new delightful gem of a Thai restaurant in White Plains. It replaces Reka Thai Restaurant and has been refurbished. The aromas that emanate from the kitchen are lemongrass, lime, cilantro, garlic and chili peppers. The menu at I Thai is a galaxy of beautifully combined flavors and textures. There is a fine balance between spicy and sour, mild and pungent, as well as crunchy and smooth, resulting in a cuisine that is lively and irresistible.

I Thai is very simply decorated which allows you to focus on the lovely presentation of the Thai dishes. Seating about 70, the tables are nicely spaced. We were seated in a small alcove where crisp white curtains were on the windows that overlooked the beautiful flowers outside. One wall is covered with a mural depicting the many provinces of Thailand. This logo is repeated on the placemats.

I Thai is owned by Jutamas Homtrakul and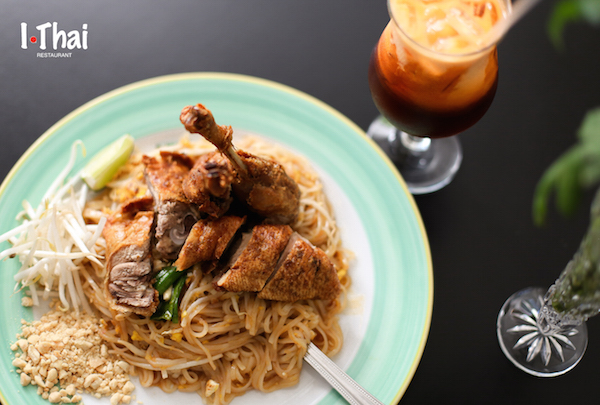 Sirikom Likitvanichkul, seasoned restauranteurs. I was greeted by General Manager Navanid Thongruang. He indicated that," I Thai is traditional and authentic in its food, and modern in its presentations. Among the several Thai restaurants in the area, ours is special because it is authentic and serves the type of dishes that is served in Thai homes. We like the friendly feeling in White Plains and we have many repeat customers. A nice feature is that we will adjust the levels of spice upon request. My favorite part of the business is dealing with our guests."

I did not get to meet the highly experienced chef, but the food that was presented to me speaks for itself, in other words, superb. One could easily make a meal of the varied appetizers presented here. We started with the ever popular chicken satay. Threaded on bamboo skewers, the chicken slices were marinated in coconut milk and spices. They were nicely grilled and served with a chunky peanut sauce and classic cucumber dip. Toast triangles shared the plate. Dumplings of several varieties are an important part of the cuisine. We sampled vegetable filled round green dough steamed dumplings as well as pleated thin dough encasing a chicken mixture. A light chili sauce accompanied them. Particularly tasty was a flaky pastry crescent, wrapped around a curried chicken and potato mixture, for a savory starter, as well. Shrimp rolls and vegetable rolls are other pleasant street food selections. Future appetizers may include Thai wings, crispy calamari and steamed mussels. For the soup lover try the classic tom yum shrimp soup. It awakened my taste buds with the first spoonful. Chili paste, mushrooms, lemongrass and cilantro added flavor to this bowlful.

Salads of green mango and shrimp, crispy duck salad and papaya salad are yet to be tried. We entered the realm of entrees. We loved the chicken massaman curry enriched with coconut and peanuts. It was mild, as requested, and richly textured. Perhaps next time we will try it with beef. Duck is popular among the entrees. Crispy duck tamarind included tender duck meat combined with broccoli florets and baby corn in a sweet and sour tamarind sauce. The crispy pineapple duck curry was especially good. Tomatoes, basil, red bell pepper strips and pineapple gave this dish a colorful flair. With soft shell crabs in season we chose Crab pad Thai. These Thai rice noodles are addictive when tossed with tofu, tamarind, scallion, bean sprouts, palm sugar and peanuts. A crispy plump soft shell crab topped this mélange for an excellent dish. Black noodles and drunken noodles are yet to be tried. Several varieties of fried rice are most appealing. We savored a mound of crabmeat fried rice. The generous amount of crabmeat was enhanced with cucumber, lime wedges, grape tomatoes and cilantro for a fine variation of the popular fried rice. From the selection of sautéed dishes we chose mixed seafood with a cashew sauce. The octopus was scored before sautéing for a curlicue look. Combined with shrimp and mussels, and a pop of color from baby corn and red and green bell peppers in a rich cashew sauce it was a very nice dish. Other sauce possibilities are Thai basil, eggplant basil, fresh ginger, garlic and sweet and sour varieties.

To accompany your meal there are many signature drinks. Ginger Swing, Bangkok tini, and gimlet lime tini are among then. I enjoyed several traditional non alcoholic beverages. Thai iced tea, ginger lemon tea with shredded fresh ginger and lemon slices for a sweet and tart experience and with dessert the sweet and delicious Thai iced coffee with sugar, strong coffee and evaporated milk. Thai coconut ice cream with palm seeds and peanuts and fried ice cream are among the desserts. My finale was the outstanding half of a ripe mango with sweet sticky rice, a perfect ending to a many faceted meal.

A prix fixe lunch is offered here as well as happy hour with appetizers and drinks. Since Thai food is perfect party fare, I Thai does a brisk catering business, as well.

Enjoy a meal at I Thai where the combination of herbs and spices and fresh ingredients, combine to create many harmonious dishes.

I Thai Restaurant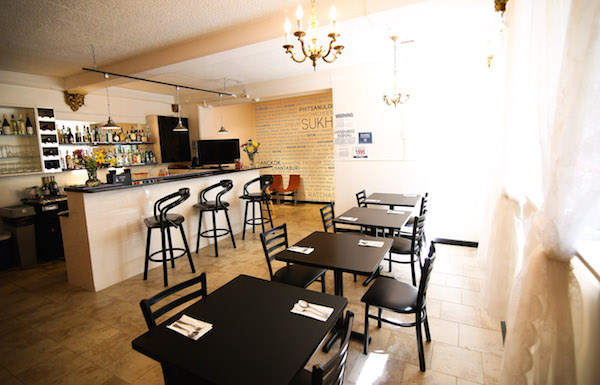 2 Westchester Avenue
White Plains
(914) 289 1888

Thai Chicken Satay: For 4 serving as appetizer
Ingredient Lists :
Chicken
1/2 cup coconut milk
1 tablespoon fish sauce
2 teaspoons curry powder
2 teaspoon palm sugar
1/4 teaspoon salt
1/4 teaspoon pepper
2 pounds boneless, skinless chicken breast, cut into 16 thin strips
Preparation :
Preparing chicken: Whisk coconut milk, fish sauce, curry, palm sugar, salt and pepper into the big bowl stir it together. Put chicken into the bowl and pour in marinade. Plastics Warp over the bowl and put into the fridge over night to marinade chicken.

Preheat grill to medium. Remove chicken from marinade; discard marinade. Thread each piece of chicken onto a metal or bamboo skewer. Grill for 5 to 7 minutes, turning once, until chicken is cooked through and no longer pink. Serve with Peanut sauce and Cucumber Sauce.

Tips : For bamboo skewers, soaked in water for 20-30 minutes prior to use which the bamboo skewers will not get easy to burn when you grilled the chicken satay.

Pad Thai (Stir-Fried Noodles) For 2-3 serving

Ingredients Lists :
Half Roasted Crispy Duck
8 Ounces dried Thai rice noodles, preferably around 1/4 inches wide
3 tablespoons vegetable oil
3 large garlic cloves, minced
1/3 cup extra-firm tofu, cubed
2 large eggs
1/4 cup fish sauce
1/4 cup tamarind juice
2 tablespoons palm sugar or brown sugar
2 teaspoons paprika or ground hot chili pepper
6 scallions or Chinese chives, cut into 2-inch pieces
2 cups bean sprouts
1 tablespoon pickled radishes or turnip Optional
1/4 cup peanuts, chopped
1 lime, cut into wedges

Cooking :
Firstly, prepare the small bowl mix fish sauce, tamarind juice and palm sugar all together and taste by you can adjust flavors of salty, sour and sweet (called Tamarind sauce)
Then prepare your Crispy Duck by fried or roasted as you decided and for the pad thai bring a large pot of boil water and add the noodle to cook for 7-10 minutes make sure that tender and almost cooked but not too soft. Drain the noodles and set aside.

After that prepared a wok or pan-fried turn on heat pour oil and then put the garlic and firm tofu stir it until their turning golden brown then put pickled radishes or turnip, egg stir it together and put in the noodles and now put in the tamarind sauce. Stir it make sure your noodle is cooked then put paprika or ground hot chili pepper, scallions or Chinese chives, bean sprout. Stir a few more time until noodle be soft, dry and very tangled.

Judie Dweck has been writing about restaurants and food for many publications. She teaches creative cooking to children at Scarsdale elementary schools. Through the years, her articles have appeared in Jack and Jill Magazine, Spotlight, The Pleasure of Cooking and The Scarsdale Inquirer. She balances her restaurant tastings with daily ballet classes.