Enticing Indian Cuisine at RaaSa
Category: On Our Radar
Published: Tuesday, 26 July 2016 17:19
Judie Dweck
The free-standing building on East Main Street in Elmsford has been home to Indian restaurants for many years. We first discovered it as Malabar Hill, then Raasa, and most recently, while the name remains RaaSa, it is under new ownership and the exciting new menu is filled with many innovative modern touches, making the new RaaSa the place to visit for truly fine Indian dining. Park your car in the adjacent lot and the gray and white façade of RaaSa immediately makes you feel that you are visiting a friend's home. What originally was a traditionally decorated spot agleam with glittering Indian artifacts has been transformed into a contemporary space with high ceilings allowing the sunlight to permeate the dining area. Copper balloon shaped chandeliers and delicate birdcages are suspended from the ceiling. Remaining on several walls are wallpaper bookshelves which lend a warm homelike atmosphere to the area. White linens adorn the ninety seat dining room. On a pedestal at the entry is a four headed elephant, with each head signifying good fortune. (Upon leaving, I think it signifies good food, as well.)

RaaSa translates as the essence of life. It has the feeling of a musical beat and the many poses of a dancer. Words like emotion, sentiment and flavor come to mind with mention of the word raasa.

RaaSa is proudly owned by the husband and wife culinary team of Ashok Salian and Priya Kapoor Salian, both culinary school graduates who met while working in the hospitality field in Phoenix. Upon moving to New York, they were part of the opening team of the well-known Tamarind in Tribeca along with award winning, renowned chef, Peter Beck, who now heads the kitchen at RaaSa. Priya learned to cook from her mom, who felt it was a skill for every young girl to learn. "I got very curious about cooking with spices and herbs and my passion led to culinary school and eventually to opening our restaurant. We believed that Westchester needed a fine dining Indian restaurant. Our menu required extensive planning and focuses on healthy preparation of dishes from the many areas of India."Ashok Salian helped in his family kitchens in India from a very early age. He would have loved to have his grandfather visit RaaSa. Ashok has a university accounting degree, but his culinary education is what he chose to follow. "Everybody wants food, and if I can make people happy by offering the best meals, then I am happy as well." He is involved with maintaining the highest level of excellence at RaaSa. He is an expert mixologist and has created many unique beverages, all prepared with fresh juices and appropriate to accompany the food served at RaaSa. RaaSa Bloody Mary with madras spices, mango mint margarita, orange zinger, cucumber basil gimlet, and ginger lime martini are some of his creations. Many beer selections and a full bar are offered. Having worked in many restaurants including Keen's Steak House, his future may include opening an upscale steak house with Indian specialties.

For several hours, at a sunny corner table, I enjoyed a multicourse tasting, in which many imaginative touches elevated classic dishes to memorable ones. You may want to start with a sampling of Indian Street Food from the Chat Corner Menu.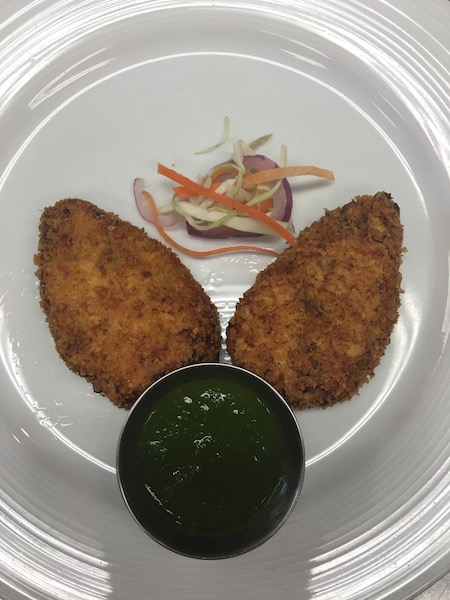 Try a variety of crisps, fritters and pastries as you check out the large menu. From the appetizer section, we started with the classic lasoni gobi. These cauliflower florets were seasoned with garlic, ginger and a bit of jalapeno and black pepper for a bit of heat. Cresting on a pool of tangy sauce and sprinkled with scallion it was delightful. From the familiar to a dish more unique to me was ambiya tikki. Here roasted fresh beets were combined with chick pea flour to form tasty fritters. Complimented with fresh mango relish they were unusually good. Shredded cabbage and carrots completed the presentation of these croquettes. Chennai jhinga, a very popular non vegetarian appetizer, was outstanding. Shrimp and avocado coconut chutney topped a lentil and rice pancake. Garnished with fresh cilantro it was terrific. One of my favorites was patili ka keema. The ground lamb was tossed with a perfect combination of herbs and spices. This mound of deliciousness was surrounded by triangles of multilayered flat bread. It would have been very easy to fill up on this outstanding dish, but there was more to come. From the twenty appetizer selections, I look forward to trying lamb kebab with
pineapple chutney, cochin kekda, lump crabmeat with roasted coconut, mustard seeds and curry leaves and yam kebabs. Of course, you must sample one of the tandoori dishes. These marinated fish, meat, poultry and vegetables are grilled in the clay tandoor oven for superb results. We savored the adarki salmon. The pristine salmon filet was marinated with black pepper and fresh ginger. Served as requested, on the rare side, it arrived with beautifully flavored lemon basmati rice, shredded cabbage and carrots and coriander chutney. It was a simple, healthy and wonderful choice. Jumbo shrimp and fennel, Chilean sea bass with green herbs and spices, lamb chops, chicken and a mixed grill are all beautifully enhanced with marinades when cooked in the tandoor at RaaSa.

Entrees both classic and modern are all enhanced by the expert use of spices and herbs. Samunder se, a mélange of seafood in a coconut milk, tomato based sauce, navratan korma, malai kofta, chicken tikka masala, lamb rogan josh and shrimp chettinad are among the many entrees. They may be familiar dishes, but in the hands of the chefs at RaaSa, they take on a new and outstanding taste. At the suggestion of Priya, I sampled avadhi dum. This huge lamb shank was slowly simmered in a sauce rich with onion, tomato and a perfect combination of spices to tender perfection. The marrow was still in the bone for added indulgence. With barely any room left, I sampled the best biryani I've ever had, served in a bowl sealed with bread to keep in the moisture. Mine was studded with lamb, chicken and shrimp and served with raita. Accompany your meal with the well known variety of Indian breads. Important to call to your attention is that everything is prepared from scratch. This is not a one sauce fits all restaurant. Each sauce is carefully designed to suit each dish.

We completed our meal with a creamy glass of mango lassi and a taste of kubani double mitha, an apricot bread pudding. Other choices are cardamom yogurt with fresh mango, an orange flavored panna cotta and other classic Indian desserts.

Lunch here is not the usual pre prepared buffet. Start with a buffet table of appetizers, soup and salads and then have your entrée prepared to order where you can mix and match your protein with a variety of sauces accompanied by rice, dal and bread. Catering and lunch boxes to go are also offered to go.

A visit to RaaSa is a special treat. An upscale, friendly, authentic and creative experience awaits you. Try it soon.

RaaSa

145 East Main Street
Elmsford
(914) 347 7890

Recipe: Chicken Tikka Masala (Serves 4)

Ingredients:

4 chicken breasts, boned, skinned and cut into cubes
1 teaspoon each of cumin powder, coriander powder, cardamom powder, red chili powder, garam masala, dried fenugreek*
2 Tbsps. Butter
1 cup tomato sauce
1 cup chopped onions
1 Tbsp. finely chopped ginger
1 Tbsp. finely chopped garlic
½ cup cream
½ cup chopped cilantro
2 Tbsps. Sugar
2 Tbsps. tomato paste
Salt to taste

Instructions:
Place butter in a pot. Add ½ cup of the chopped onions and sauté. Add chicken and sauté until lightly browned. Set the mixture aside. In the same pot, add the remaining onions, ginger, garlic and the spices and sauté until slightly browned. Add tomato sauce, tomato paste, sugar and salt to taste. Simmer for about 5 minutes. Return chicken mixture to the pot and add the cream. Simmer again. Garnish with chopped cilantro and serve with naan and basmati rice.

* Available at Indian grocery


Judie Dweck has been writing about restaurants and food for many publications. She teaches creative cooking to children at Scarsdale elementary schools. Through the years, her articles have appeared in Jack and Jill Magazine, Spotlight, The Pleasure of Cooking and The Scarsdale Inquirer. She balances her restaurant tastings with daily ballet classes.