Scarsdale Village Leads Westchester with First Ever Food Scrap Recycling Program Curbside Pickup Service
Published: Wednesday, 21 March 2018 14:19
Jennifer Rossano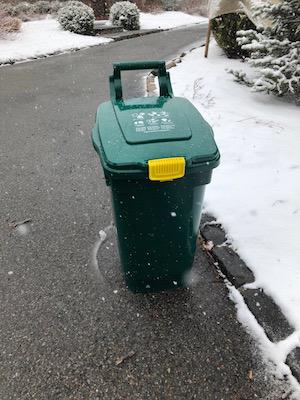 Trustees unanimously endorse plan for sanitation department to provide weekly curbside pickup of food scraps, the first program of its kind in Westchester County, engaging residents to broaden scope of recycling practices.

On Tuesday, March 13th the Scarsdale Village Board of Trustees unanimously voted in favor of implementing weekly curbside pickup of food scraps, underscoring their commitment to provide sanitation services that will make it easier for residents to engage in a broadening scope of recycling practices. The recommendation was presented to the Board of Trustees by the Conservation Advisory Council (CAC) as part of their Sanitation Study submitted in December 2017. Scarsdale will become the first municipality in Westchester County to provide such a service – history in the making.

Scarsdale launched its Food Scrap Recycling Program in January 2017, providing residents with a home starter kit and establishing a drop-off site for food scraps at the Recycling Center, 110 Secor Road. By metrics alone, the program has been an enormous success, with over 160,000 pounds of food scraps being recycled into compost in 2017. More than numbers, the program's success highlights an emerging mindset within the community about waste reduction and recycling at large. As early as 2nd grade, Scarsdale students learn the three R's: reduce, reuse, recycle, and toward the end of their educational journey, high school students can enroll in Food for Thought, a course that connects local, national and global issues surrounding food and sustainability.

Several towns have followed Scarsdale's lead in creating a Food Scrap Recycling Program. Larchmont, Mamaroneck, Bedford, Greenburgh and more recently New Castle and Rye Brook have all followed suit.

The new weekly curbside service is expected to roll out this spring and will operate in a similar manner to our current curbside paper recycling pickup. Residents will be notified of the new service schedule once it is finalized by the Sanitation Department. The Recycling Center drop-off site will also remain open. The service is open to all residents. Residents just need to email composting@scarsdale.com stating that they would like to sign up for the program.

The CAC's recommendation to launch a furniture donation program was also approved by the Board of Trustees at last Tuesday's meeting. A large furniture collection bin will be set up at the Recycling Center where residents can bring furniture and other household items. These donations will be picked up by Furniture Sharehouse, a local nonprofit organization that provides furniture and household items to those in need throughout Westchester County.

For more information about the work of the CAC, click here.
For further questions, email composting@scarsdale.com.