Scarsdale Girls' Varsity Basketball Team Now 5-5 and Shooting for the Playoffs
Published: Tuesday, 15 January 2019 10:59
Kevin Walker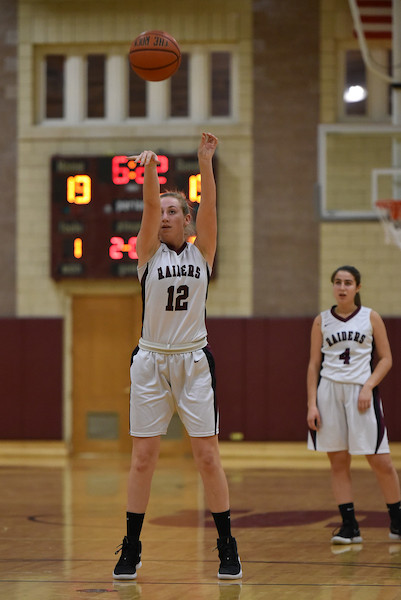 Captain Kayla Maroney '20 shooting a free throwThe Scarsdale Girls Varsity Basketball team has had a solid season so far with a record of 5-5. When five strong seniors graduated from the team last year, the players and head coach Mike Blanco knew that this would be a rebuilding year and that they would have to put in effort to bring the new team together. The new players include five freshmen, two sophomores and one junior and they worked hard with the six returning players to prepare for a tough schedule. The Raiders began with a good showing in the Kari Pizzatolla tournament hosted at Scarsdale and then lost their first league game to a strong Mt. Vernon team.
They continued to practice over the December break and participated in the Stamford Tournament, where they had a tough loss to Kolbe Cathedral with a score of 52-36, but several players put up strong numbers. Returners Kayla Maroney '20, Nina Metviner '19 and Meghan Quirk '20 scored 18, 6 and 5 points respectively. Newcomers Ava Morin '22, Abigail Talish '21 and Moira Conlan '22 contributed as well. The team fared better in their second game, beating Westhill 36-22. The final score was composed of Maroney's 11 points, junior Jess Solodar's 9 points, senior captain Emmeline Berridge's 8 points and Quirk's 4 points. Coach Blanco was pleased with the team's defensive effort while playing without starters Hope Walker and Nina Metviner, who were out due to injury and illness respectively. Maroney's performance in these games earned her the All-Tournament title.

After spending all of December break on training, competing in the Stamford tournament and bonding outside of practice, the team has grown very close. "The entire team works extremely well together and everyone supports each other on and off the court," said Solodar. The girls knew their chemistry would be a key asset for them as the season moved forward.
The Raiders moved on to win a nail biter against league opponent New Rochelle with strong showings from several players and a game-winning basket by Solodar.

On January 3rd, the girls beat rival Mamaroneck , with Maroney, Berridge and Metviner scoring 17, 13 and 8 points.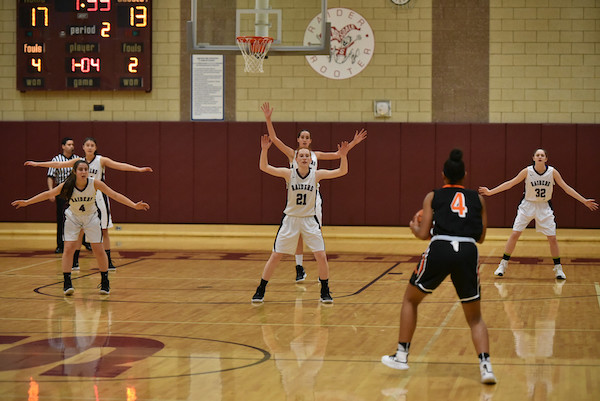 The Raiders on defense

The next day, they fell to powerhouse team Our Lady of Lourdes but not without strong performances by several players, with Solodar scoring 13 points.

The following week, the Raiders hosted White Plains. Scarsdale took an early lead, but their opponent soon stepped up their defensive efforts and forced several turnovers. A few Scarsdale starters got in foul trouble early in the game, leaving some of the newcomers to fight the battle. Scarsdale eventually lost to White Plains 47-36, with Maroney and Metviner scoring 15 and 12 points each. Solodar, Berridge and Walker added 5, 3 and 1.

Coach Blanco is pleased with the team's progress and the strong performances from his returners and new players alike, but he is also focused on maximizing the team's chances in the playoffs. "At the moment, we are going through some position changes to adapt to each player's skill level," said Captain Nina Metviner '19. Today the team is facing Fox Lane, where they can use their chemistry and possibly try out position changes.
Photos by Jon Thaler. See more and buy yours here.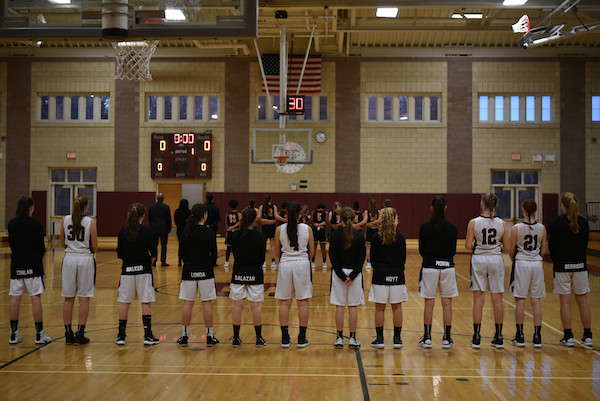 Preparing for the game