Village Announces New Superintendent of Public Works, Residents Voice Support for Limiting Gun and Vape Sales
Published: Thursday, 24 January 2019 14:17
Laura Halligan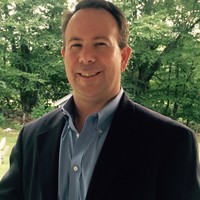 Jeffrey Coleman has been selected to be the new Superintendent of the Department of Public WorksOver the past few months, the village has been actively recruiting for a replacement for Benny Salanitro, former superintendent of the Scarsdale Department of Public Works (DPW). Salanitro's last day on the job was Friday, January 18. According to Scarsdale Village Manager Steve Pappalardo, "This title of superintendent of public works is a competitive Westchester County civil service position, with an active list of candidates… Many are local DPW professionals known to us, and our preference was to hire one with a professional engineering license in civil engineering, such as our predecessor."
The unanimous choice of both village staff and the board of trustees is Jeffrey Coleman, who currently serves as the DPW director for the town of Cortlandt. Pappalardo and Salanitro know Coleman well, as he served as the commissioner for public works in New Rochelle for a number of years. Coleman holds a master's degree in public administration, and is a New York State-licensed professional engineer and a certified professional traffic operations engineer, and has a Westchester County "class D" potable water distribution license.
"Jeff is more than qualified for the position, having the requisite responsibility and experience in union management, personnel matters, public works operations, including sanitation, highway, central garage, emergency management and water, budgeting experience, experience with public presentations, and very importantly, constituency services." He is scheduled to join the village on February 11, and said his new role was "a unique opportunity, considering Scarsdale's reputation as a professional run government."
Fire at 72 Mamaroneck Road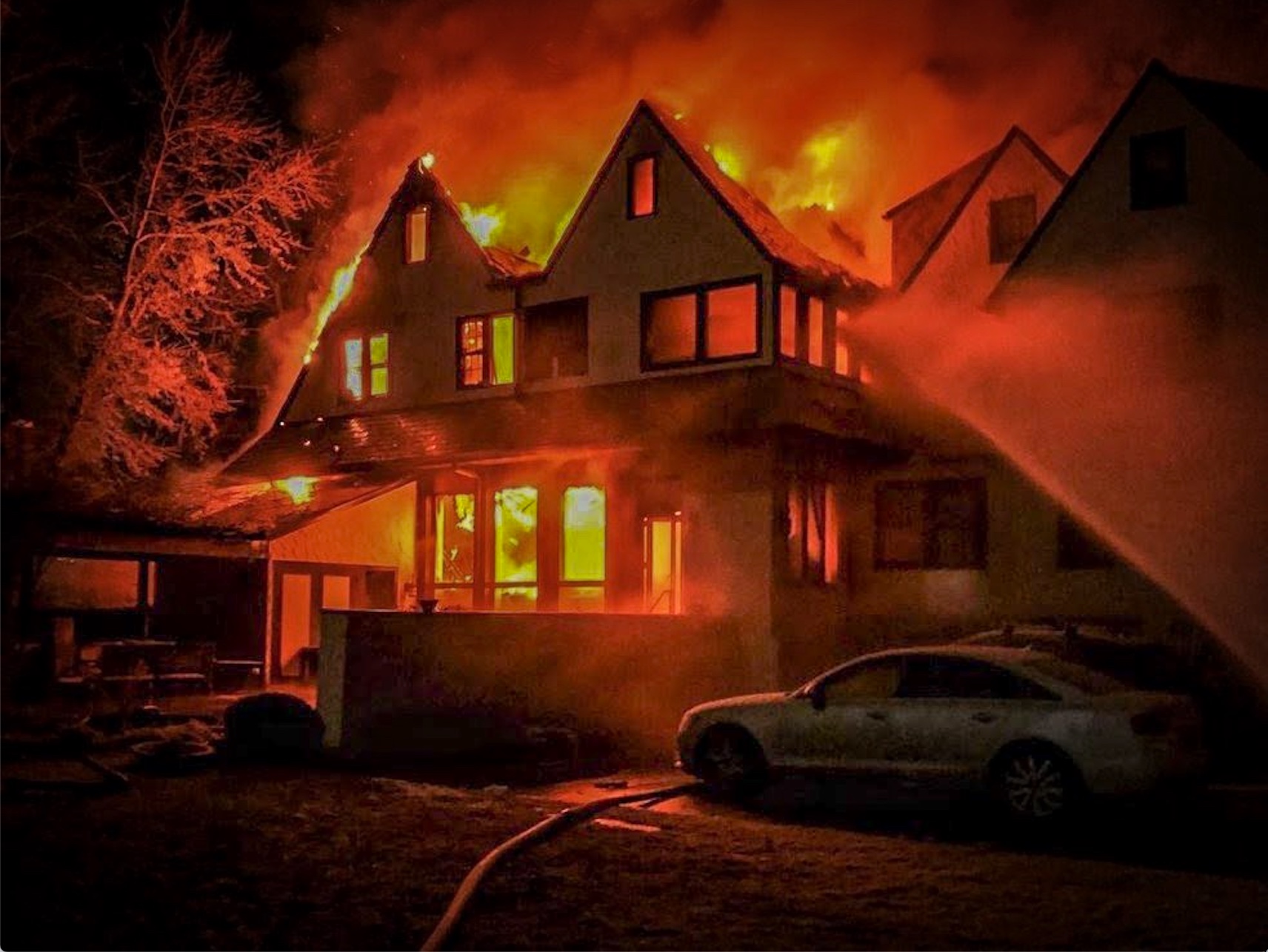 Photo provided by the Scarsdale Fire Department
Pappalardo also addressed Monday's devastating fire at 72 Mamaroneck Road. "At approximately 1:00 am… the Scarsdale Fire Department was dispatched… When (firefighters) arrived, the residents of the property had already exited the home, and were being treated and sheltered by Scarsdale Volunteer Ambulance Corps members, eight of whom responded to the scene with an ambulance."
He continued, "A mutual aid response was activated, with 11 departments responding, consisting of roughly 80 fire and EMS personnel, including over 20 Scarsdale volunteer firefighters. The firefighters valiantly battled the blaze in extreme weather conditions. The severe weather complicated the response and suppression efforts, with wind, cold and ice influencing the performance of the equipment and fire personnel safety on scene. A Westchester County Bee-Line bus was deployed to provide warming for the firefighters, as did the SVAC ambulance, while on site. In addition, SVAC members treated firefighters while on duty, and transported a handful to White Plains Hospital for additional medical attention."
Pappalardo went on to say that the fire continued to smolder into the afternoon, with the fire department continuing to work until any additional flare-ups were unlikely. A Westchester County "Cause and Origin" team was called in to determine how the fire started, but was unable to do so because of limited safe access to the home site. The team did say that it was accidental and may have been related to a wood fire in the fireplace lit earlier in the evening.
Pappalardo concluded by saying, "As the manager, I want to take the opportunity to thank the members of the fire department, both career and volunteer; the police department, who helped with traffic control; the Scarsdale volunteer ambulance corps members; the mutual aid communities responding; and members of the public works and water departments, who provided assistance throughout the day, keeping the fire hydrants and fire hoses functional… It was truly a team effort under extreme, severe conditions. We wish we could have saved the home, but most importantly, the family is safe."
Eight-Hour Parking on East Parkway
In other news, Josh Ringel, assistant to the village manager, announced that there is new eight-hour parking available in 34 spaces on East Parkway, between the Scarsdale Police Department's sub-station and the current merchants' parking lot.
A meter permit will be required to park from 8:00 am to 11:00 am, Monday through Friday, but please note that payment is required Monday through Saturday, from 8:00 am through 6:00 pm. The meters will be open to the general public after 11:00 am, Monday through Friday, and after 8:00 am on Saturdays.
Permits may be purchased from the village clerk Village Clerk for $85; however, permit holders are not guaranteed a space. All motorists parking in the area (including permit holders) must pay at the pay station at times payment is required. Motorists may use the permit at the 12-hour meters along Scarsdale Avenue if the East Parkway spaces are occupied.
Ringel also mentioned that the meters in this location have been placed as part of trial program with the company Flowbird. The village welcomes any public feedback as part of its review of the devices; email parking@scarsdale.com with comments or questions about the time and equipment change.
Support for Restricting ENDS and Gun Sales
Later in the meeting, Trustee Carl Finger moderated a public hearing on a proposed zoning code revision that would regulate the sale of electronic nicotine delivery services (ENDS) and guns. Specifically, the amendment would prohibit the sale of ENDS within 1000 feet of "sensitive-use" areas, frequented by youth, including day care centers, schools, playgrounds, arcades and houses of worship, etc., and prohibit the sale of guns within a radius of 250 feet of those same locations.
Jordan Copeland (Woods Lane) began the public commentary by stating, "I'm here on behalf of the (Scarsdale) Advisory Council on Youth, of which I am the chair. We are unanimously and enthusiastically in favor of this zoning change. If there's one word to describe teenagers, I would say it would be 'impulsive.' …All the brain science bears out that they're not ready to calculate long-term decisions. I see the zoning change (as a way) of taking the candy away from the cash registers. We don't want teenagers walking around making impulsive decisions."
Barry Kramer, president of the Garth Road Cooperative Council, followed, and asked how the zoning change would affect Garth Road. "I know there's a Chabad on Garth Road (in Scarsdale) and a Cornerstone Children's Daycare Center, also on Garth Road. With your current zoning, would these not be allowed on Garth Road?"
Village Attorney Angela Sapienza-Martin responded, "(ENDS) sales cannot occur within 1,000 feet of those areas… regardless of whether they're located in Eastchester or Scarsdale, or any other municipality that Scarsdale is located adjacent to, whether that be New Rochelle, White Plains or Yonkers… At this juncture, it would not be possible to have (ENDS) sales (on Garth)… Chabad would be considered a house of worship and (Cornerstone) is a daycare facility." With regard to gun sales, she emphasized that a different restriction, a radius of 250 feet, applied, which can lead one to assume that it's unlikely that gun sales would be permitted on Garth either.
Elissa Ruback (Carthage Road), representing the Scarsdale PT Council, read a statement detailing the negative health impacts of ENDS and related statistics, and expressing support for the amendment. Karen Ceske, who spoke on behalf of the high school PTA, followed and echoed the PT Council statement.
Michelle Sterling (Brayton Road) spoke next and shared her observations about e-cigarette use. She began by saying that she noticed several evacuations at the high school recently. After some research, she discovered that "there's frequent e-cigarette use (in the school)… and it sets off fire alarms, most of the time in the bathrooms… It's pretty much a weekly occurrence… and there have been some weeks where it's happened more than once." Sterling continued, "What do we do about this? It's really serious… For younger kids, they're giving them a lot of education… But, kids who are already in high school didn't have that because this is such a new thing. I think it's really great that the village is doing something about this."
Noah Kroloff (Butler Road) then said, "The ability to get addicted to vaping is very high… once kids start using it, it's extremely difficult to stop… I'm very happy that the board is taking some action here; I wish we could do more… I've spoken to other parents and they feel the same way. On the topic of guns… the epidemic of shootings in schools is a crisis in this country and the federal government has done nothing. To the extent we can do something locally, I think it's necessary; I think it's admirable, and I thank you for that. Again, I wish we can do more."
With no additional public comments, Finger then reported that the legislation would be addressed in two weeks.
Before the hearing was closed, Trustee Justin Arest added, "We are not infringing on anyone's legal right to use… ENDS products or to bear arms… This is our community doing what we can at the local level, for the safety and welfare of our families and, most importantly, our children."