Man Struck by Train at Hartsdale Station Was a Person of Interest in Double Murder in the Bronx
Published: Monday, 18 February 2019 14:45
Joanne Wallenstein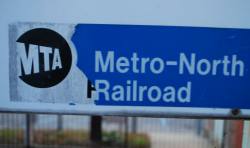 (Updated at 7:43 pm February 18): The New York Police Department has confirmed that the man who jumped in front of train at Hartsdale Train Station on Sunday morning February 17, was a "person of interest" in the murder of a mother and her 14 year-old son in the Bronx early Sunday morning.
On Monday afternoon, MTA police confirmed the identity of the man who apparently jumped in front of a moving northbound train at Hartsdale Station around 9:45 am on Sunday. They said that 51 year-old Hector Cruz of the Bronx died in an apparent suicide.
Now the NYPD is reporting that Cruz was wanted for questioning in the death of Marisol Ortiz, age 51, and her son Alanche Delorbe, age 14, who were strangled, stabbed and bludgeoned with exercise weights earlier Sunday morning in their apartment in Belmont.
(Posted February 18 at 2 pm) The MTA has identified the man killed at Hartsdale Train Station on February 17. According to Aaron Donovan from the NYS Metropolitan Transportation Authority, the MTA investigation determined that Hector Cruz, a 51 year-old man from the Bronx, was killed when he was struck by a northbound train at Hartsdale Train Station at around 9:45 am on February 17. The cause of death was ruled as "non-accidental" and "non criminal," suggesting that Cruz intentionally jumped in front of the moving train.
If anyone has further information on Mr. Cruz, please share in the comments section below or email us at scarsdalecomments@gmail.com.