Early Westchester Voting Results Show Democrats in the Lead: Comments from the Candidates
Published: Wednesday, 04 November 2020 08:05
Joanne Wallenstein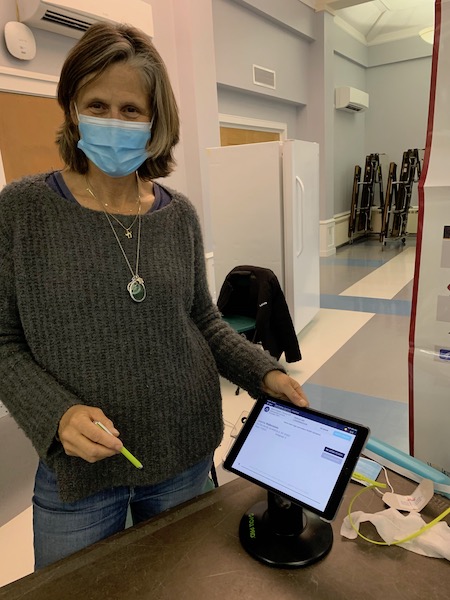 Though the final results are not in for Westchester County, the unofficial tally as of 1 am on November 4 shows big wins for the Democrats in many races.
Starting at the top of the ballot, Westchester voters went for the Biden/Harris ticket with 63% of the vote to 36% for Trump/Pence.
Jamaal Bowman, who defeated Eliot Engel in the primary for the 16th Congressional District ran against Conservative Party candidate Patrick McManus and took home 79% of the vote, making Bowman the new Congressman for some Scarsdale residents.
Newcomer and Democrat Mondaire Jones, running for the 17th Congressional District won 59% of the vote to Republican and retired firefighter Maureen McArdle-Schulman's 37%.
In the NYS Senate, Majority Leader Andrea Stewart Cousins ran unopposed and therefore took 100% of the votes. Scarsdale's longtime Assemblywoman Amy Paulin also ran unopposed with 100% of the vote.
Stewart-Cousins reported that the Democrats had retained their majority in the NYS Senate. She said, "Despite a difficult night for many Democratic candidates throughout the state and nation, the Senate Democratic Conference comfortably retained our majority and will be welcoming a historic group of new upstate Democrats to the Senate. With the record high number of outstanding absentee ballots that are overwhelmingly Democratic, we will add even more victories to our majority as the vote counts continue. The Senate Democratic Majority will continue to lead New York State forward as we recover from this pandemic and economic crisis."
Commenting on her re-election Paulin said, ""I am humbled and grateful to continue to represent our community in the State Assembly. Your vote sends a message of confidence that inspires me to continue to work diligently to improve the lives of all residents in my district. The pandemic has left so many of us struggling and it is my mission to do everything I can to alleviate and remediate this situation." She added, "While I know many of us are anxious to see the election results, we must be patient and wait for all the votes to be counted. With the record-breaking number of votes cast, it may take days or weeks before we know the final results."
Another race to note is the 40th state senatorial district where former Westchester County Executive Rob Astorino ran on the Republican and Conservative party lines against State Senator and Democrat Peter B. Harckham. As of 1 am on November 4, Harckham was leading narrowly with 52% of the votes to Astorino's 48%.
Top of mind for many in Scarsdale was the race for Westchester County District Attorney, featuring another Scarsdale resident Mimi Rocah, who defeated incumbent Anthony Scarpino in the June primary and took 64% of the vote on election day, defeating Republican Bruce Bendish.
A press release from Rocah says, "I am honored to be Westchester's District Attorney-Elect, and I look forward to serving every community of Westchester with respect, integrity, and a commitment to justice for all." She continued, ""As we await the results of other local and federal races, it is imperative that every vote is counted. Every voice should be heard. This has been a difficult year for many of us -- we have battled the coronavirus pandemic, economic recession, faced a reckoning on racial injustice, and acknowledged a loss of faith in many of our public institutions. The importance of transparent leadership at the local level that is focused on integrity and fairness has never been more clear. These values have been the foundation of my campaign since we launched nearly a year ago when I pledged to 'do the right thing, in the right way, for the right reasons.' From conviction integrity to gun violence prevention, from support for victims of sexual assault and domestic violence to holding public officials accountable, I am ready to hit the ground running."
Below is a statement from Myra Saul, Chair of the Scarsdale Democratic Town Committee on the unofficial election results released to the public: "Based upon the unofficial results of the votes counted so far, the Scarsdale Democratic Town Committee is gratified that all of our congressional, state and county candidates are leading in their respective elections. We congratulate especially our fellow Scarsdalians--Amy Paulin and Mimi Rocah. Of course, in accordance with New York election law, absentee ballots that were postmarked by election day and received by November 10th are still to be counted. We will not have a final tally for awhile."
"Our community and nation needs to heed that message on a national level. Each state has its own election laws and must follow its own procedures. Votes are still being counted in several states that will determine who has won the presidency. President Trump cannot declare himself the winner, stop the counting in some states and encourage the counting where he currently leads in others. Let's be clear. His statement last night wasn't just a lie. It is a signal to his followers to distrust any ultimately unfavorable results and sows further division when we so very much need healing in our country. We need to ignore the undemocratic, bombastic noise out there and count every vote."
Also weighing in on this historic election is the League of Women Voters of Scarsdale. They said, "The League of Women Voters of Scarsdale Board of Directors thanks our community members for their engagement and participation in the voting process during this unprecedented time, in the midst of a global pandemic. As so many voters cast their ballot by mail and absentee ballot this year, it will take time to count every vote.
Across the United States, election officials are taking the time to conduct an accurate and complete count, as required by law. A delayed result due to an increased number of mailed ballots is to be expected and indicates that the system is working to ensure the integrity of our election process. A complete and accurate ballot count is more important than a fast ballot count. The League thanks the election officials, poll monitors, and League volunteers who helped facilitate our elections and worked to inform voters.
Scarsdale voters report that many waited on long lines to vote early, prior to election day. However for voting on election day, with so many polling places open in Scarsdale, there were virtually no crowds. People voted quickly and easily. For the first time this year, the polls were equipped with electronic tablets to look up voters and verify their signatures.
Scarsdale10583 will update and finalize these numbers as the results come in.