Michelle Lichtenberg to Receive the 2021 Scarsdale Bowl
Published: Tuesday, 12 January 2021 18:31
Joanne Wallenstein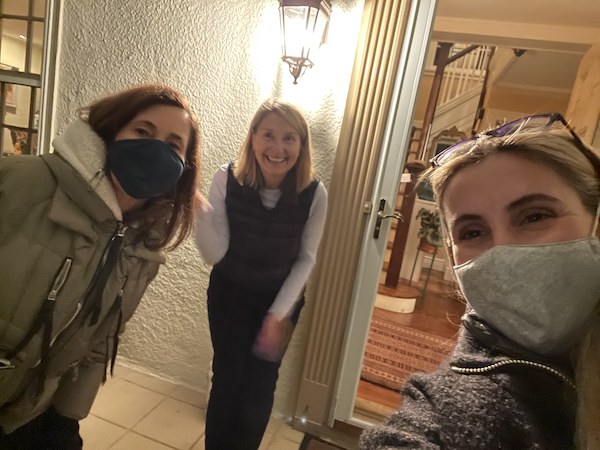 (This note was sent to Scarsdale10583 from the Scarsdale 2021 Bowl Committee)
Michelle Lichtenberg, an extraordinary Scarsdale resident with decades of dedication to Scarsdale volunteerism, will be the 2021 recipient of the community's highest award: the Scarsdale Bowl, which has been awarded annually since 1943 to "one who has given unselfishly of time, energy, and effort to the civic welfare of the community."
The Bowl Committee, a diverse group of 15 community volunteers, selects the recipient after reviewing many worthy candidates who are nominated annually by the community. This past Sunday evening, the 2021 Bowl Committee voted to honor Ms. Lichtenberg. Afterwards, Bowl Committee Chair Nancy Michaels and Secretary/Treasurer Abby Sroka surprised her in person with the news, to which a shocked Ms. Lichtenberg responded with characteristic modesty, "I am honored and overwhelmed." Then she added, demonstrating her reliable sense of humor: "and a little terrified!"
Reflecting on the significance of the Bowl Award, the honoree emphasized her gratitude to the many Scarsdale volunteers she had met and worked with along the way, and who contribute to the dynamic community that is Scarsdale. She expressed her heartfelt thanks, saying that "one of the sweet things about living here is the spirit of volunteerism, and all that can be accomplished together, especially in light of the acts we have witnessed recently," said Ms. Lichtenberg. "We have to hold on to these things, or the world gets too dark."
"I am so proud to chair the Scarsdale Bowl Committee as we select such an outstanding honoree," said Nancy Michaels. "Michelle is devoted to the Scarsdale community, volunteering her time and energy to numerous and varied organizations, always with her wonderful sense of humor, smile, and thoughtfulness. She is eager to bring people in, and to connect them with the issues or people that would strike a chord. Michelle hasn't just served on multiple boards and committees in town--she pushes for change that makes for a better Scarsdale, and she gets results."
Ms. Lichtenberg began her volunteer work in Scarsdale at the schools with a series of PTA leadership roles at Greenacres, the Scarsdale Middle School, and at the High School. Under her leadership in 2003, the High School PTA tamped down pre-prom parties where kids would often get intoxicated, and instead instituted the now-beloved Red Carpet tradition, where students gather at SHS with their families and community members to take photos and board waiting buses.
Since then, Ms. Lichtenberg has led the Scarsdale League of Women Voters, been a member of the Scarsdale School Board Nominating Committee, co-chaired the Scarsdale Task Force on Drugs and Alcohol, and been an active member of the Friends of Scarsdale Parks, Scarsdale-Edgemont Family Counseling, and the Scarsdale Forum. She has also chaired the Scarsdale Procedure Committee, which administers the annual non-partisan elections in town, as well as the Council on Human Relations. Perhaps most significantly, in recent years, Ms. Lichtenberg, a former Scarsdale Public Library Trustee and President, has been a major force in the reimagining of the Library, playing a crucial role in the fundraising effort, serving on the Capital Campaign and Major Gifts committees, while also participating enthusiastically as a member of the Friends of the Scarsdale Library Board. "Michelle's unwavering commitment to seeing the project through to fruition, along with her ability to build teams and provide support, was remarkable and will have a lasting impact on this community for generations," says Dara Gruenberg, who co-chaired the Library's capital campaign.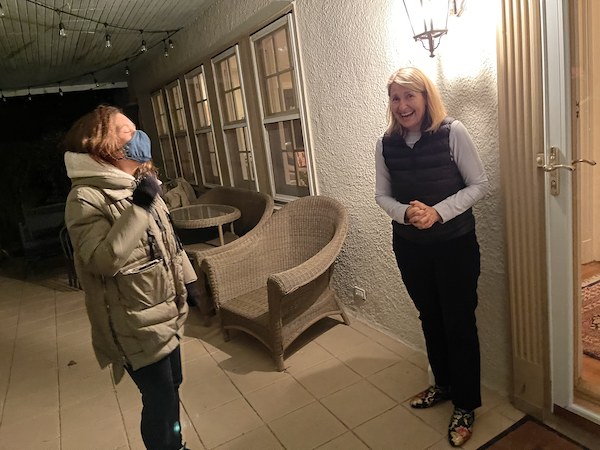 Nancy Michaels and Michelle Lichtenberg
As if that's not enough, Ms. Lichtenberg is a member of the Greenacres Association, has been a Scarsdale Foundation Trustee since 2017, a STEP board member since 2009, and served on the Scarsdale Citizens Nominating Committee, where she is currently on the Procedure Committee. Also a board member of the Scarsdale Adult School since 2015, and an active volunteer at White Plains Hospital, Ms. Lichtenberg normally visits critically ill patients in the hospital's cancer center on a weekly basis, something that is not permitted currently due to Covid, and is working toward her accreditation in Healing Touch therapy.
A new grandmother, Ms. Lichtenberg delights in her family. Her sons Andrew and Alec both graduated from Scarsdale High School. Andrew, an attorney, his wife Michelle, and their baby daughter, Lila, live in Brooklyn, and Alec, a teacher, lives in Queens with his partner Natasha. Michelle relishes weekly trips to Brooklyn to hang out with Lila, loves to travel to far-flung places (during non-Covid times), and enjoys bike rides with her husband Frank, who is a Columbia Business School professor. On any given Sunday, they all might be found on the Lichtenbergs' front porch taking part in a family drum circle.
Since the traditional celebratory dinner is not possible given the pandemic, Ms. Lichtenberg will be honored at a small private outdoor reception this spring. Assuming the current health crisis has passed, the Scarsdale Foundation Bowl Dinner will be back, bigger than ever, in 2022. On April 28, 2022--please save that date!--we hope to gather in force to raise a glass to the spirit of volunteerism in Scarsdale by honoring not only Ms. Lichtenberg, but also 2020 Bowl recipients BK Munguia and Jon Mark, as well as spotlighting the future 2022 Bowl recipient. The entire community will be invited to come out to celebrate on that special evening! Hopefully we will have an unmasked ball!
(Pictured at top) Bowl Committee Chair Nancy Michaels, 2021 Scarsdale Bowl Honoree Michelle Lichtenberg, Bowl Committee Secretary/Treasurer Abby Sroka